Creative and Cheap DIY Christmas Gift – Candy Cane Lip Balm
This post contains affiliate links. If you click and make a purchase, I may receive a commission. Thanks.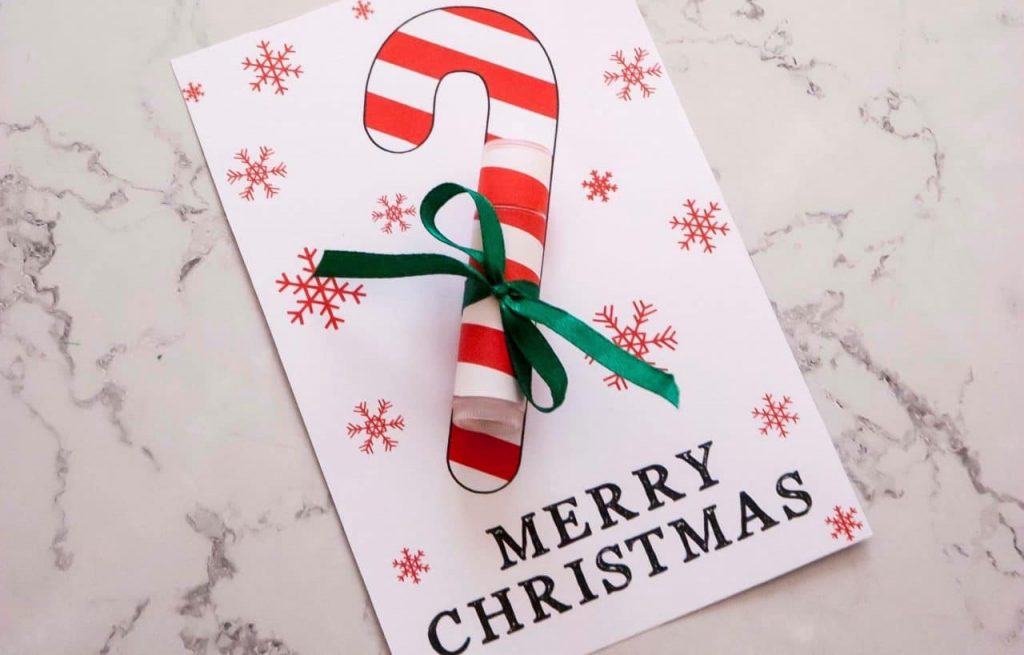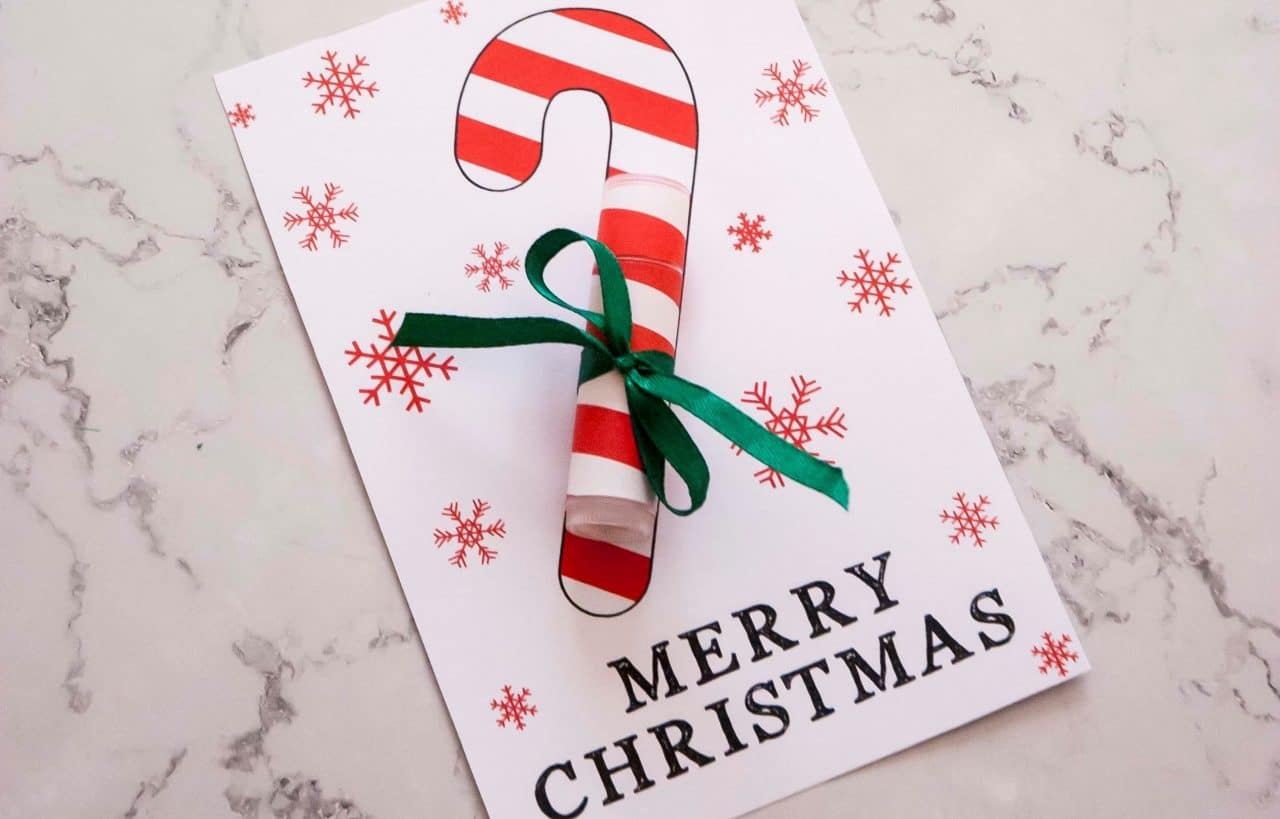 DIY candy cane lip balms make great Christmas gifts and stocking fillers. This candy cane lip balm is easy to make, so you'll be able to do it even if it is your first time making lip balms. You will also be surprised at how cheap it is to make your own lip balms, especially if you make many at the same time. This DIY candy cane lip balm is perfect if you need many cheap and easy DIY Christmas gifts, for example for all of your friends.
Each year I prepare small, cheap DIY Christmas gifts for each of my colleagues. I used to make Christmas cards myself and add some nice chocolate to it but last year I stepped up my game and made them homemade lip balms. They loved it!
So I decided to improve my DIY Christmas lip balms and share it with you. I wanted these DIY candy cane lip balms not to only smell like a candy cane but to look like ones too. I think red-white layered lip balms look really festive.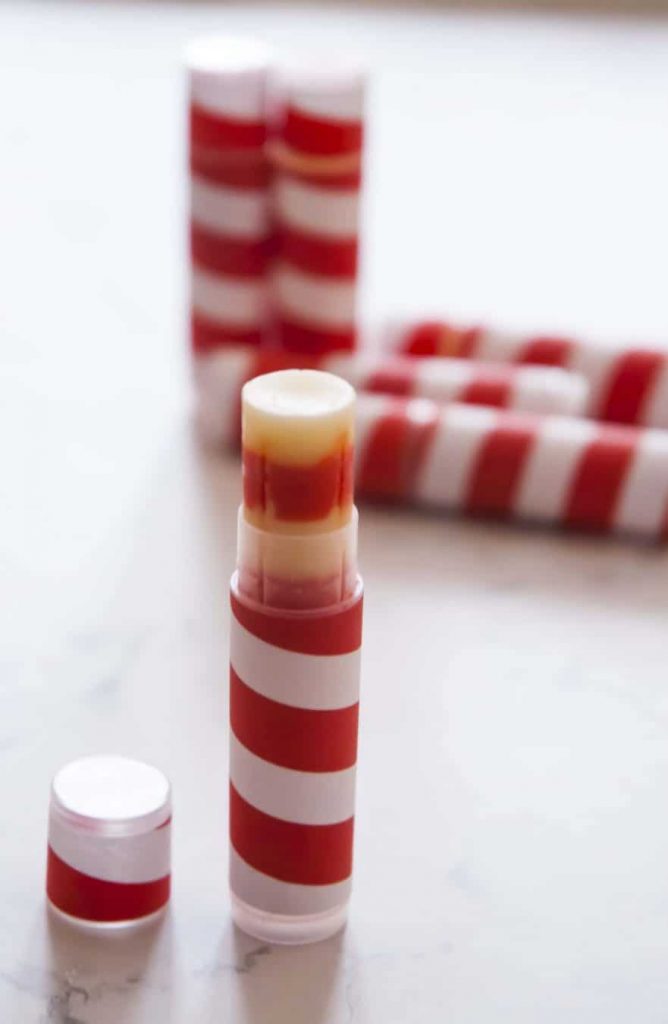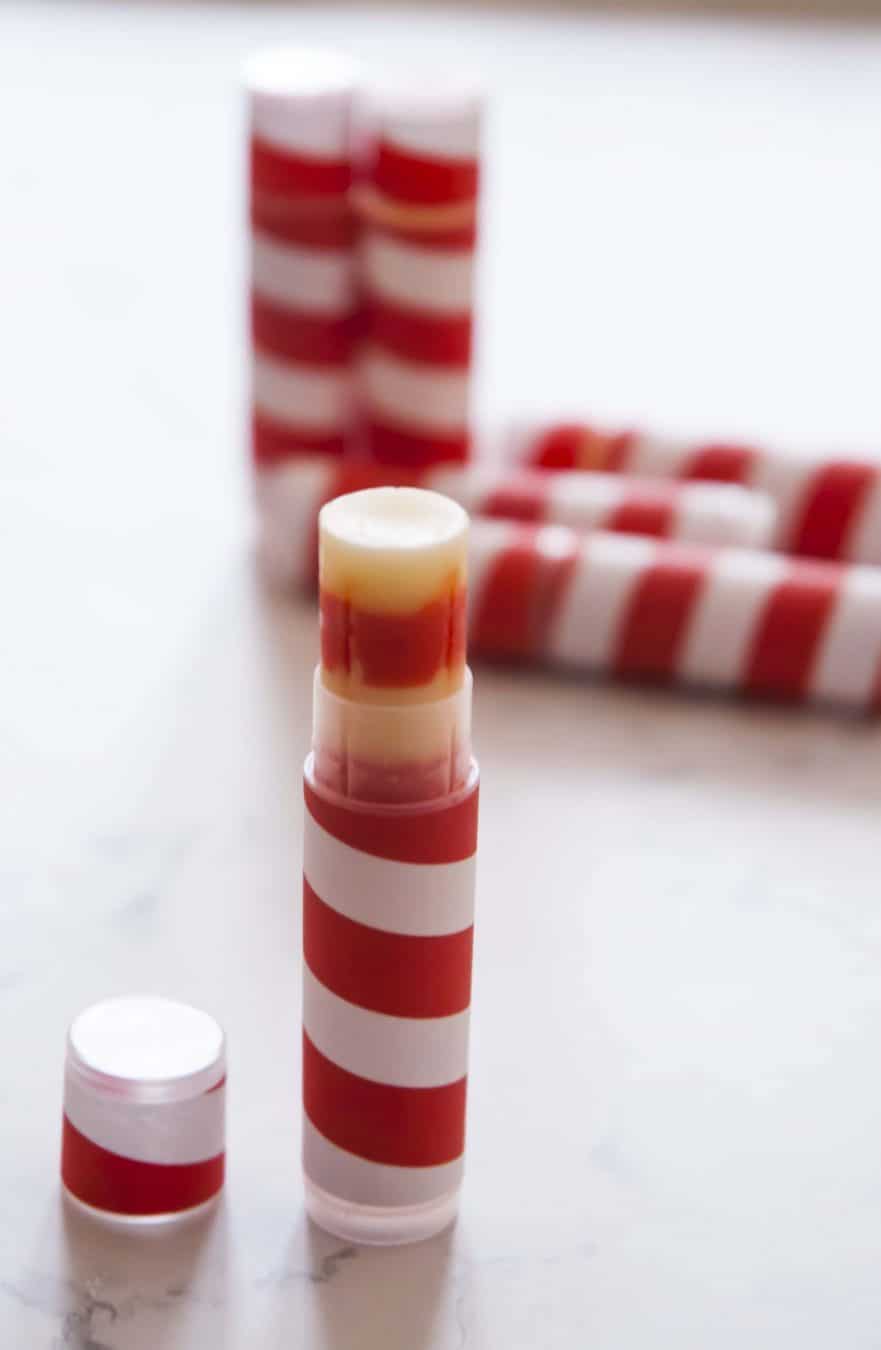 Things you will need to make Christmas candy cane lip balms
» 1 tbsp Beeswax. I recommend getting this beeswax because it is white. Yellow beeswax will make your lip balm yellow and that is not the look we are going for.
» 2 tbsp Shea butter
» 2 tbsp Sweet almond oil. You can use any other oil that you have but try to choose an oil that is light in color. Something like olive oil will feel great on the lips but it will make your lip balm look yellow. For this candy cane lip balm recipe, we need to keep the colors as light as possible. The goal is for the lip balm to look like a candy cane. Sweet almond oil is one of my favorite oils and is light in color. You can read more about it in my post about Sweet almond oil.
» 1/4 tsp Red mica powder
» 12 drops Peppermint essential oil
» 8 drops Vanilla essential oil
You will be able to make 8 lip balms with these quantities.
For a DIY candy cane lip balm Christmas card, you will also need a thick paper, a ribbon and adhesive paper sheets.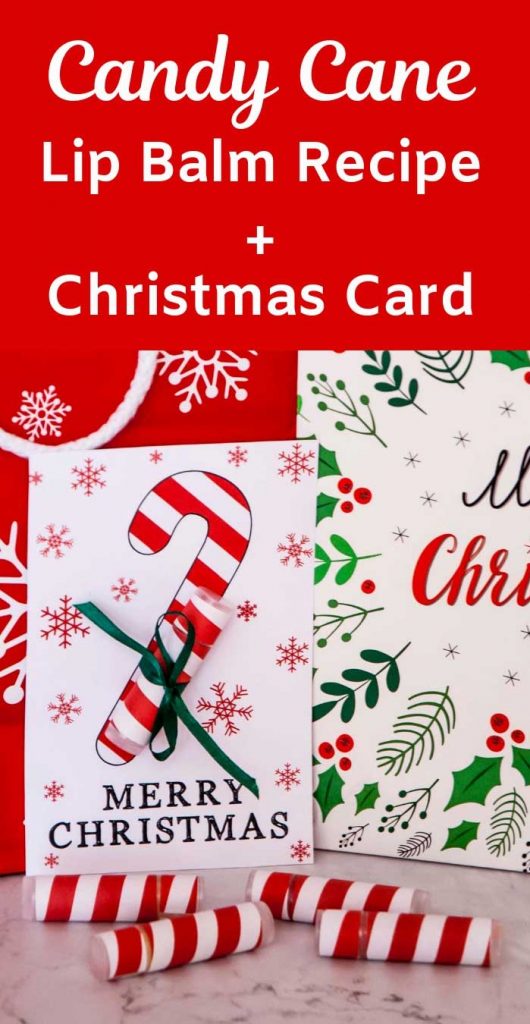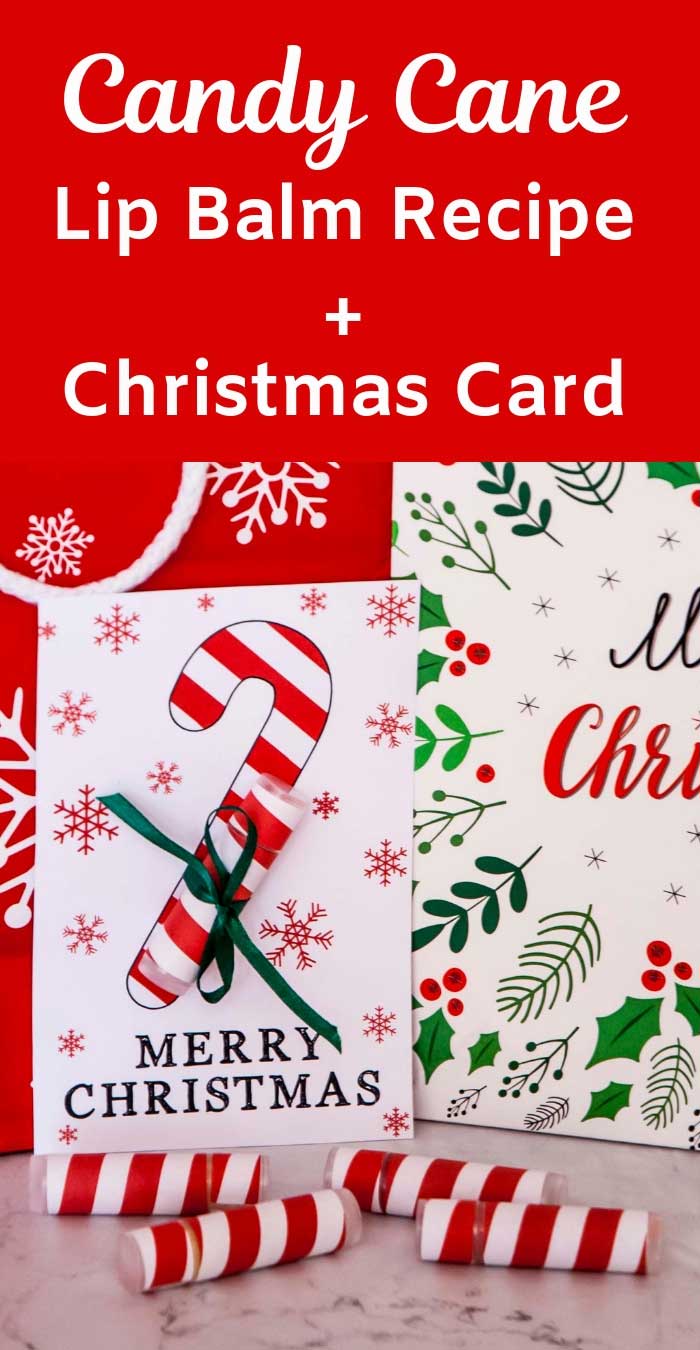 How much it will cost?
DIY lip balms are very cheap to make. You need to buy all the ingredients and essential oils but, if you make more than 10 lip balms, it quickly pays off. You only need a little bit of these ingredients to make a bunch of lip balms so you will have plenty of leftovers for other DIY projects.
I tried to do some math and it costs about $0.80 to make one candy cane lip balm with this recipe. On top of that, you probably will need to buy a ribbon and a thick paper for the Christmas card.
You should be able to fill in 8 lip balm tubes with this recipe. This means you should be able to prepare 8 useful and creative DIY Christmas gifts for only $6.40.
How to make layered candy cane lip balms
1. First of all, we need to melt and mix ingredients. Take 2 heat-proof bowls and add equal amounts of beeswax, shea butter and sweet almond oil to each.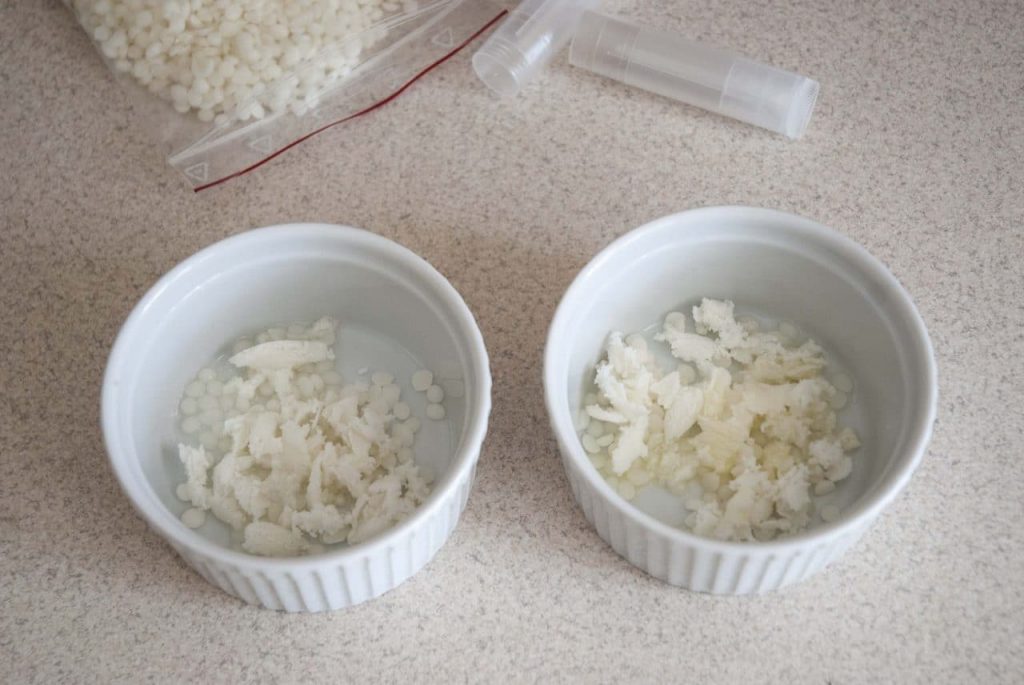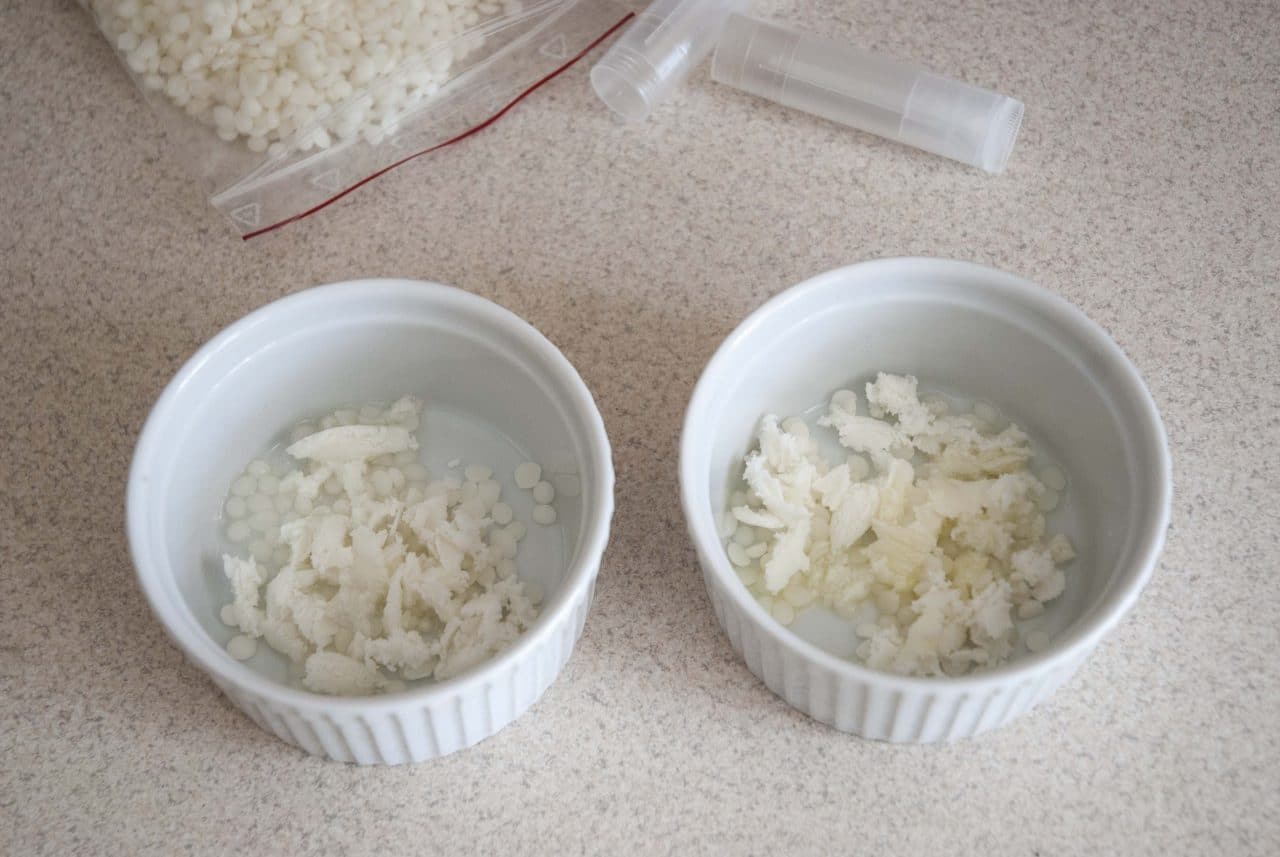 2. Place both bowls into a pot with hot water. Place the pot on the stove and heat up on low heat. Wait till all ingredients will melt and mix well.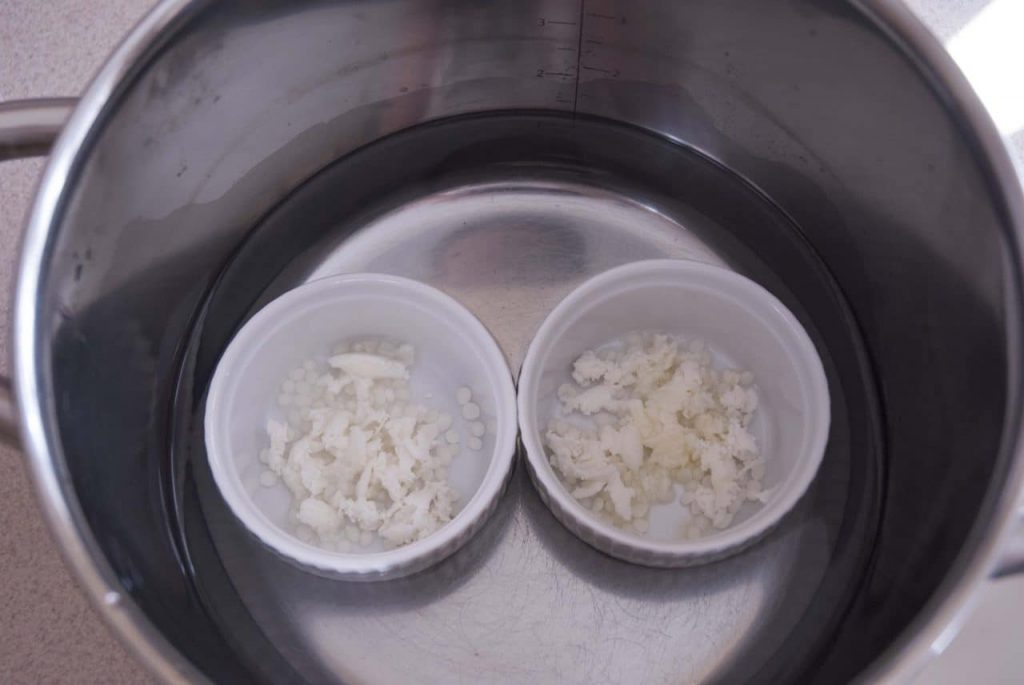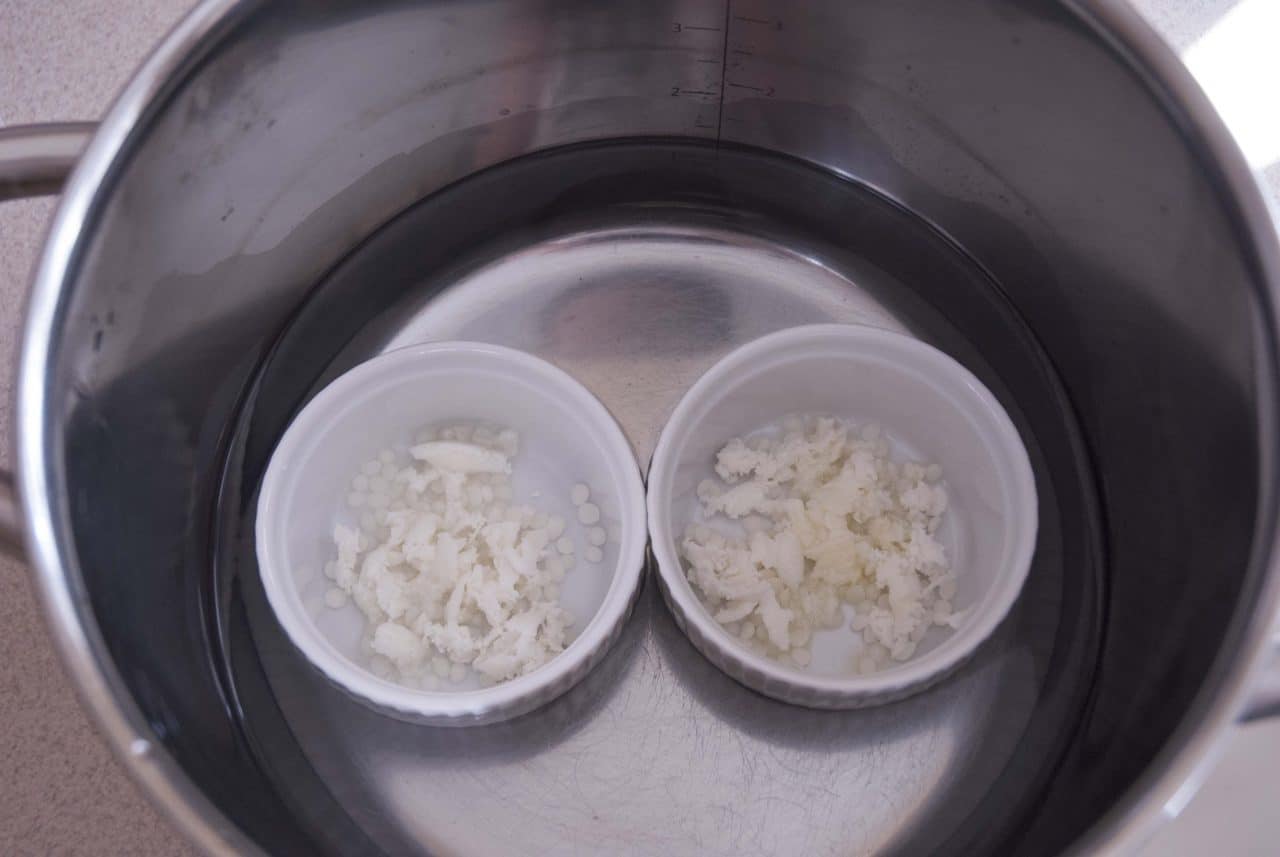 3. Add the essential oils to each bowl and mix. You do not want to expose your essential oils to unnecessary heat for too long, so add them once other ingredients have melted.
4. Add red mica powder into one of the bowls and mix well.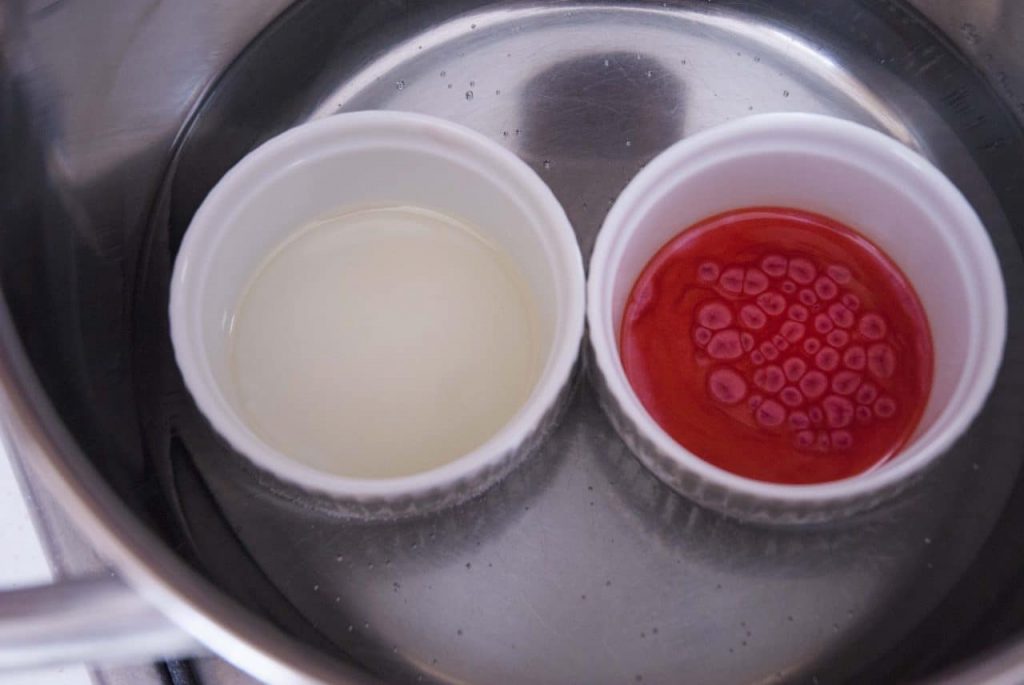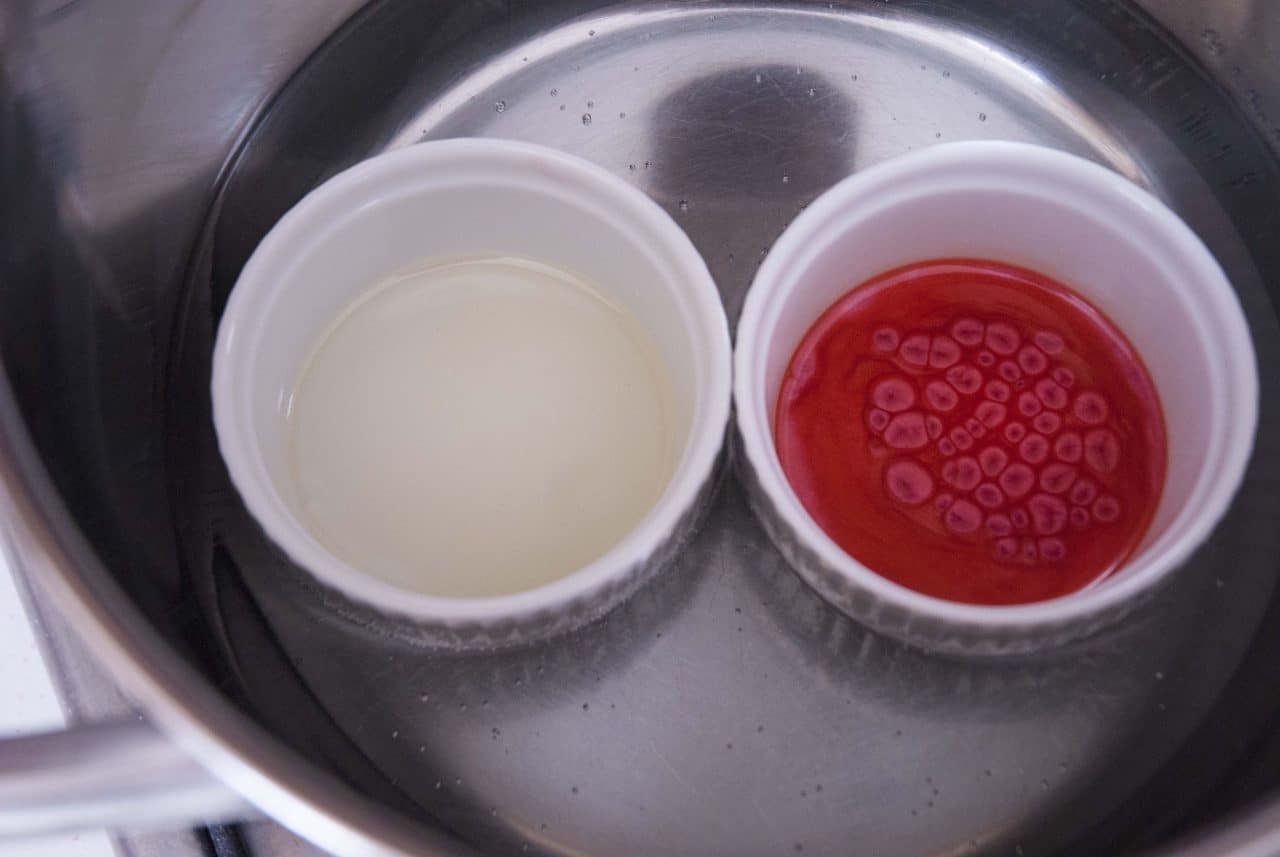 5. It's time to pour candy cane lip balm mixture into the lip balm tubes. It's a slow process so you need to keep your bowls in the hot water all the time. Don't worry if mixture solidifies, you can always heat it up again.
Take a teaspoon and slowly pour a little bit of white lip balm mixture into the tubes. Let it solidify a little bit and pour the red layer. Repeat until you fill the entire tube.
* If you get an uneven layer you can fix it by rubbing lip balm into the paper. It will even out the surface and your layers will look tidier.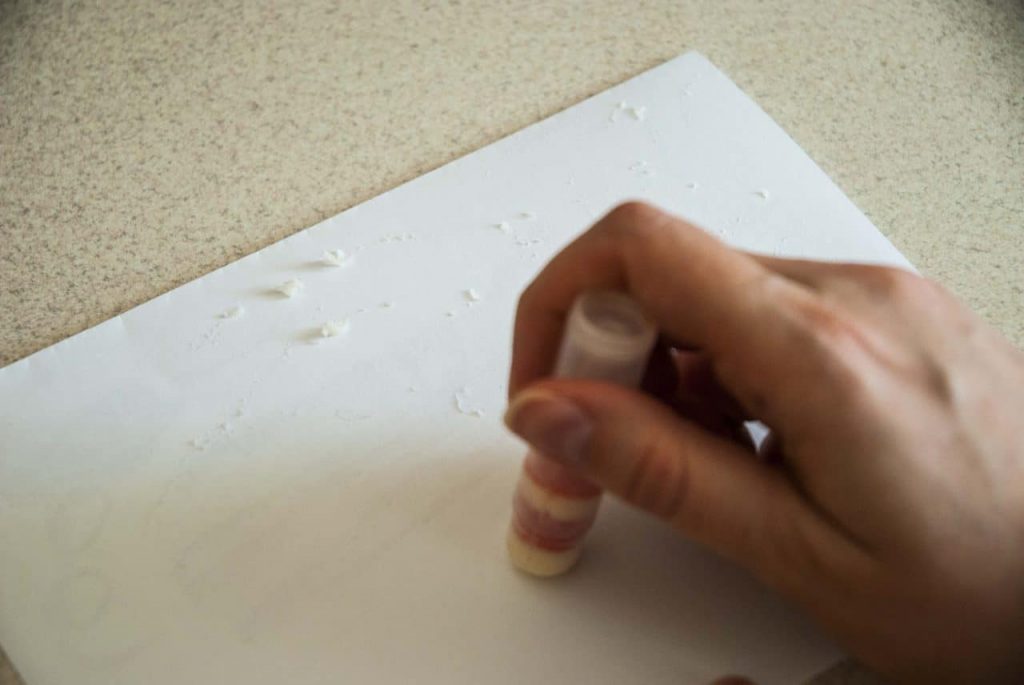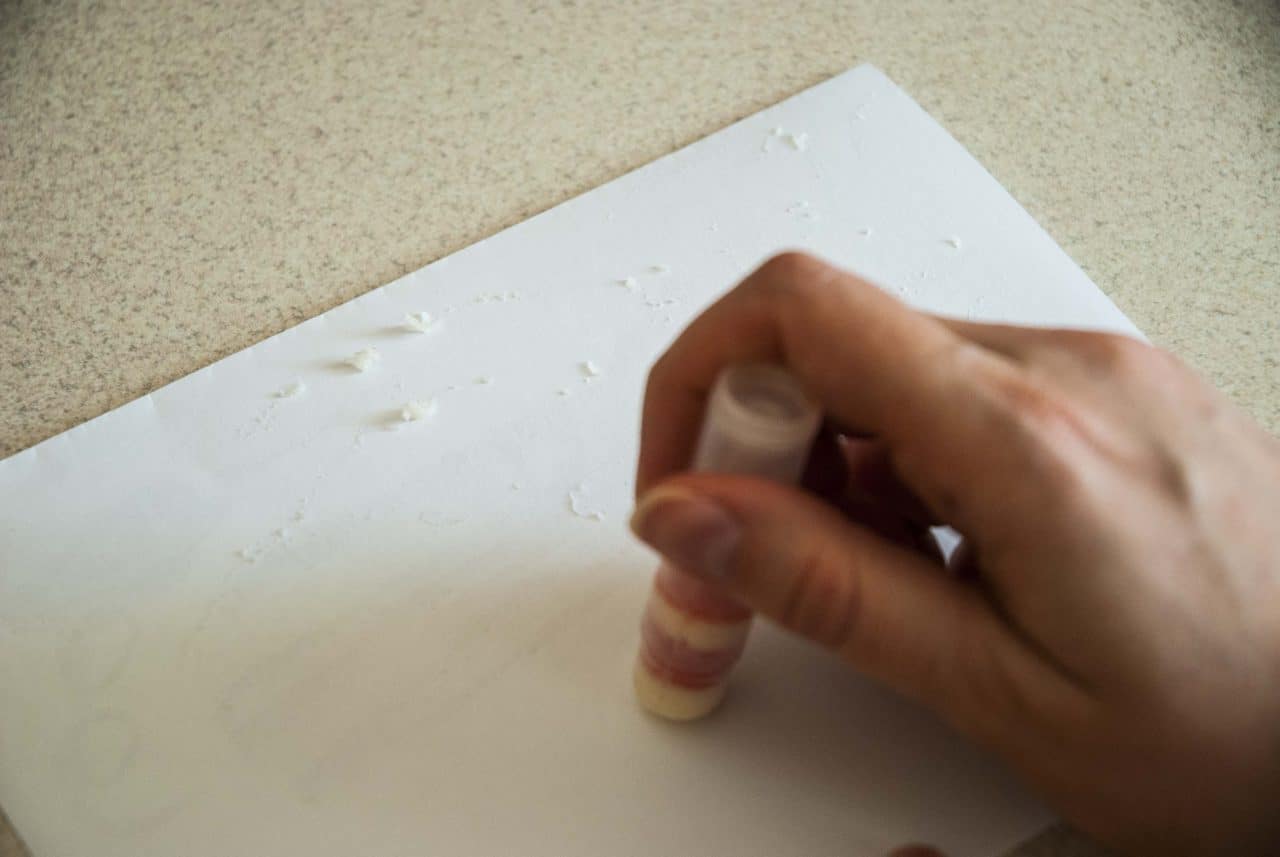 6. Once all tubes are fully filled leave them to solidify for a couple of hours and they will be ready.
Note: if you think that layering lip balm is too much work you can make a solid color (simple or with red mica). They will still look and smell amazing.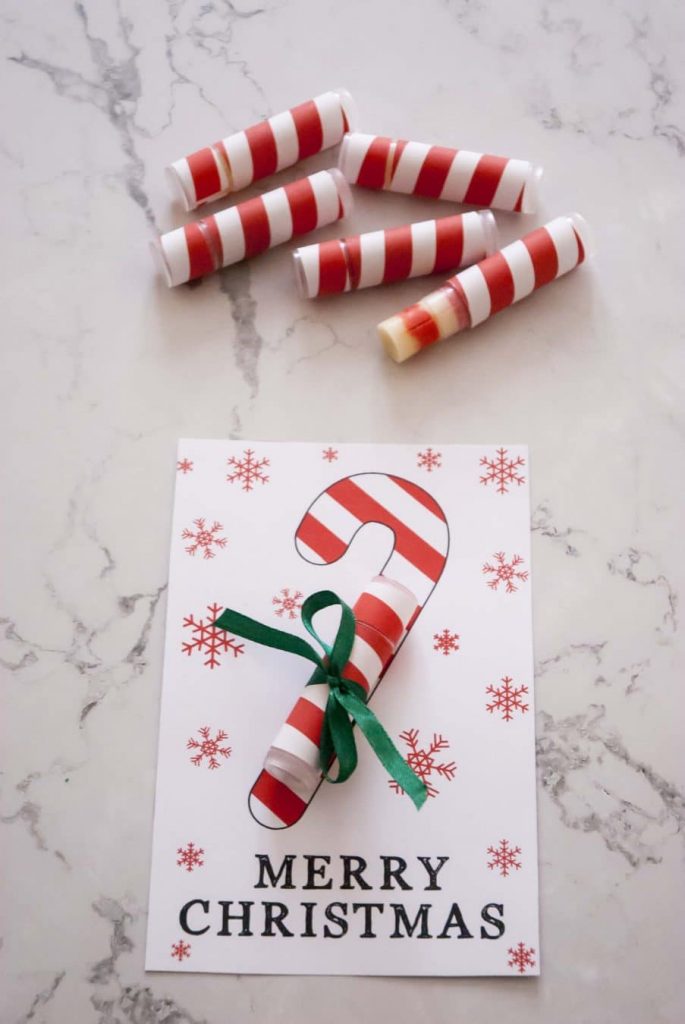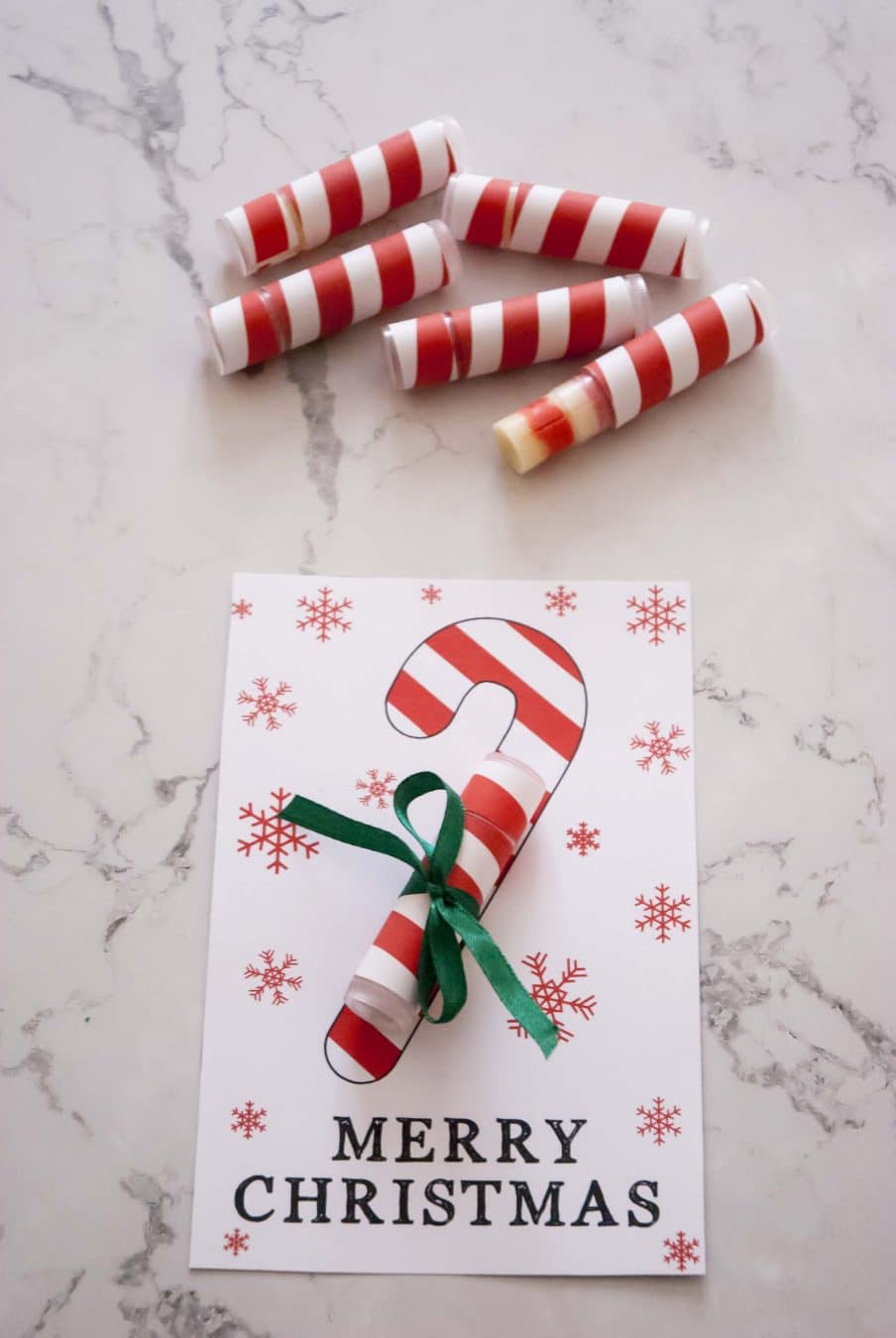 DIY candy cane lip balm as a Christmas gift
I don't know if its just me but I find packaging is a very important part of the gift. Especially when we talk about small, inexpensive gifts like these DIY lip balms. How you present the gift matters and that's why I designed these Christmas lip balm cards. I liked the idea of this lip chapstick looking like a candy cane and thought that I might as well incorporate that into a Christmas card. So you won't even have to buy a Christmas card. This makes it a very original and cheap DIY Christmas gift.
How to use this Christmas card and lip balm labels
I made two files for this Christmas project. One is for the card itself and the second one is for lip balm labels.
Candy cane lip balm labels. I print my lip balm labels on adhesive paper sheets like these. This adhesive paper comes in a standard size and is printer friendly. I use these sheets for most of my labels.
Use the bigger square for the body of the lip tubes and smaller rectangular part for the caps.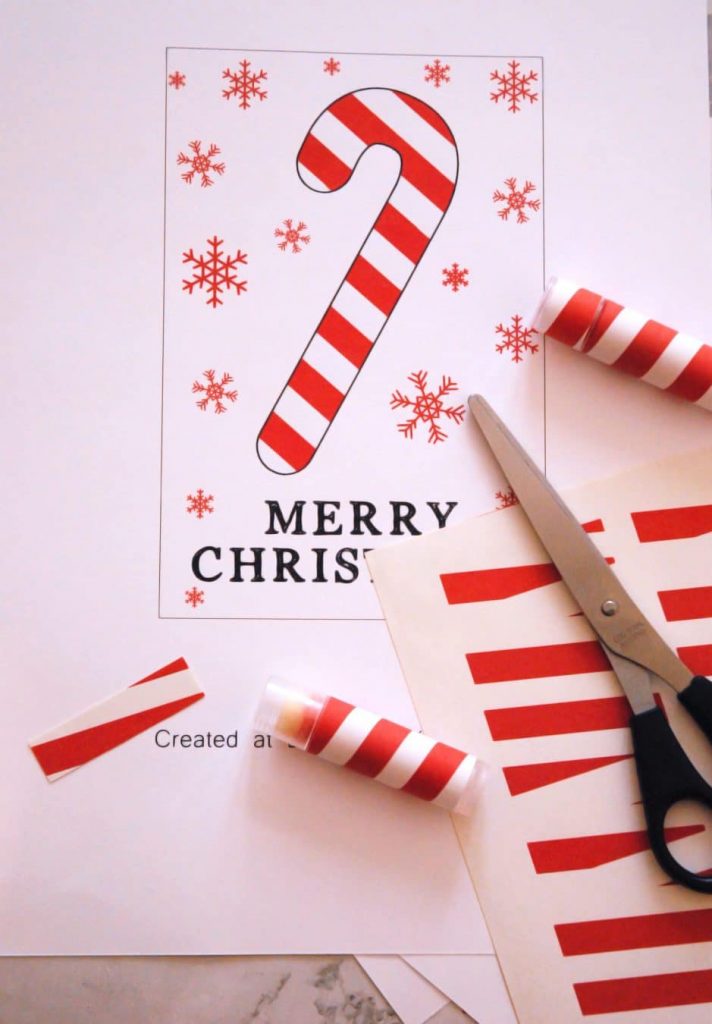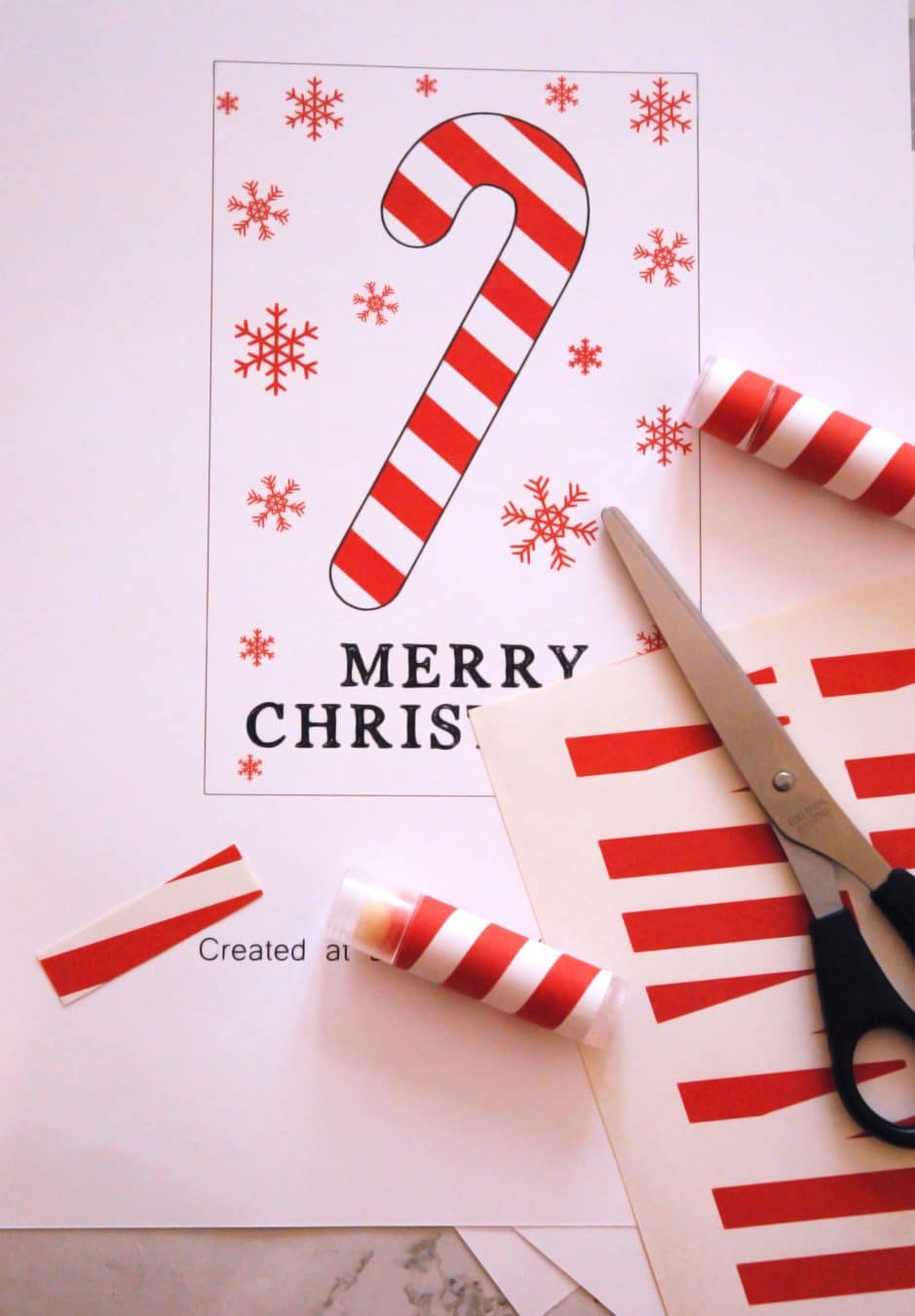 Christmas lip balm card. For good quality results, I recommend printing this Christmas card on a thick paper.
Print out the card, cut a small line on each side of the candy cane and insert ribbon into the slots.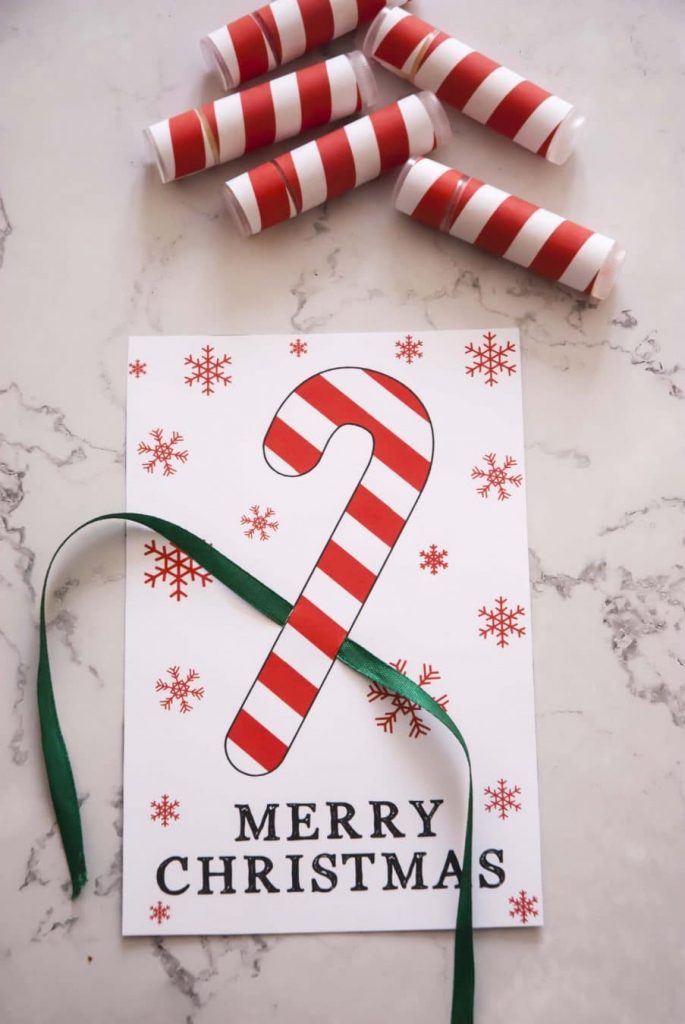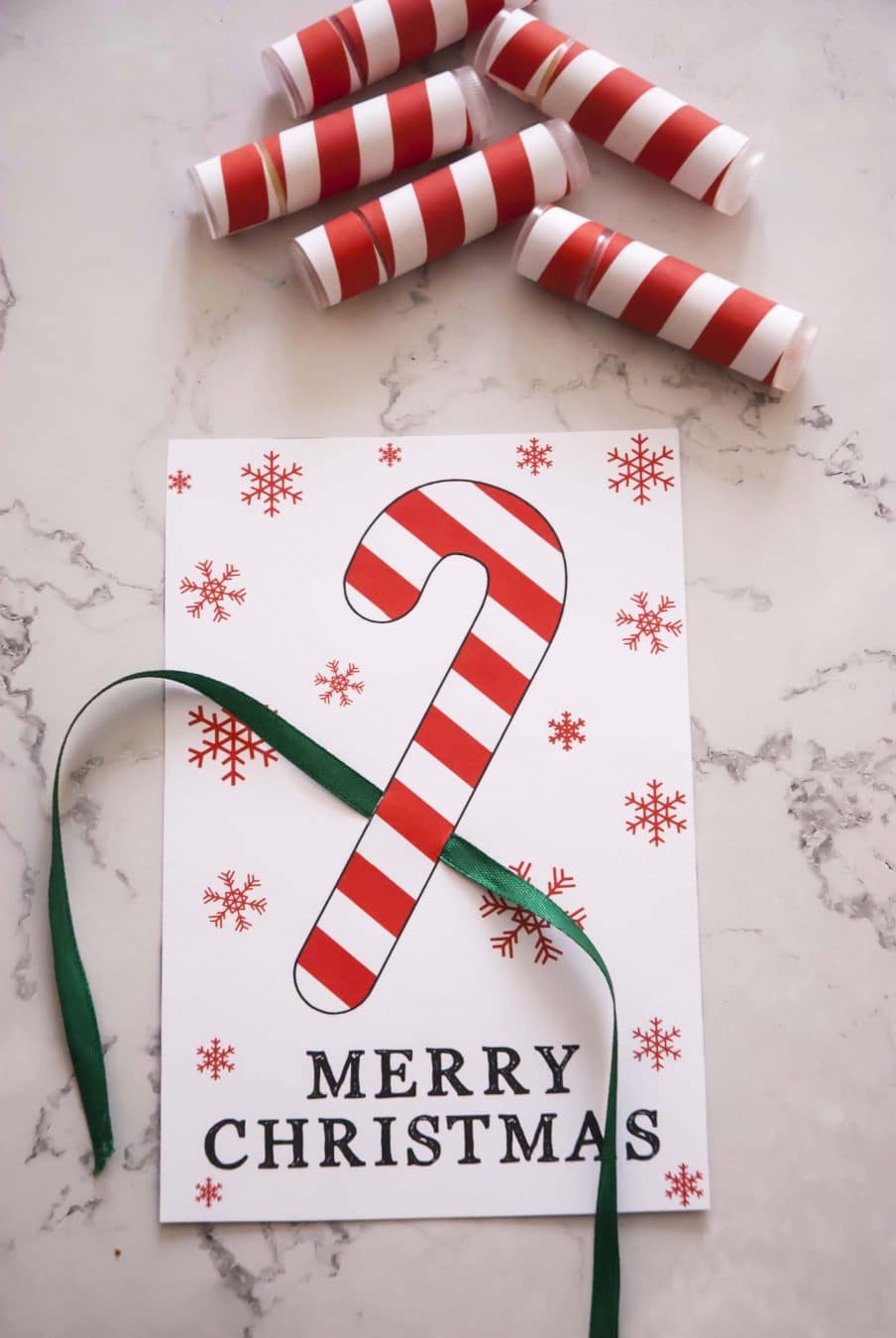 Place your homemade candy cane lip balms and tie the ribbon. Whoala! Your DIY Christmas gift is ready.
Let me know if you liked this DIY Christmas gift project in the comments below. Also, I will be making more Christmas beauty recipes and would like to hear what Christmas smells you like the most.
If you are not ready to make this project just yet, save it for later on Pinterest.