DIY Cupuacu Body Butter Recipe (Most Moisturizing Butter!)
This post contains affiliate links. If you click and make a purchase, I may receive a commission. Thanks.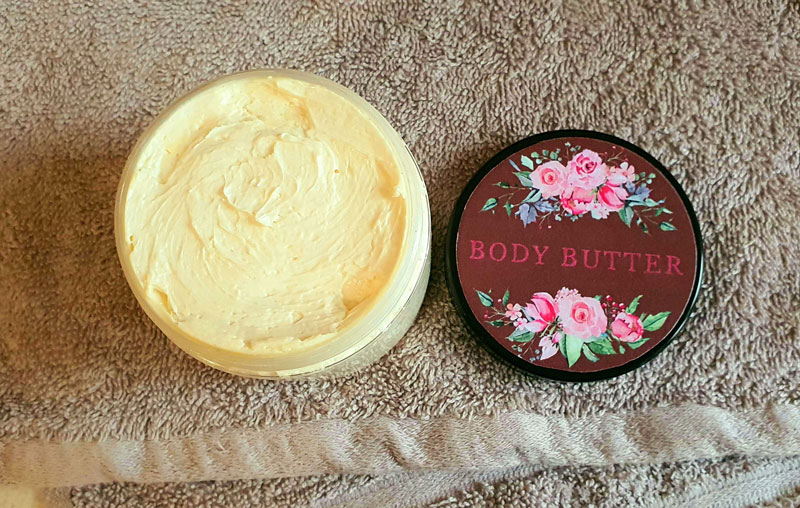 In this post I will share with you my DIY cupuacu body butter recipe. Cupuacu butter is an INCREDIBLE moisturizer. Together with some other epic ingredients this body butter is exactly what your skin needs.
When making body butters, I like to keep things simple. I create recipes that are easy to make and don't need many ingredients. I don't like stuffing tens of ingredients into a recipe if I don't have to. I also understand that you may not want to purchase 10 ingredients to make a body butter. So, instead, I spend time researching the ingredients and choose the ones that will add the most benefits. Just like my popular DIY 3-ingredient body butter recipe, which is naturally not greasy due to carefully selected ingredients, this cupuacu body butter recipe also has only 3 ingredients (+ 1 optional) and is naturally not greasy.
Content of this post:
– What to expect from this DIY cupuacu body butter recipe aka the power of the cupuacu butter
– Other ingredients in the recipe
– Cupuacu body butter recipe
– Steps to make the body butter
– Free printable label for your homemade body butter
Pin for later: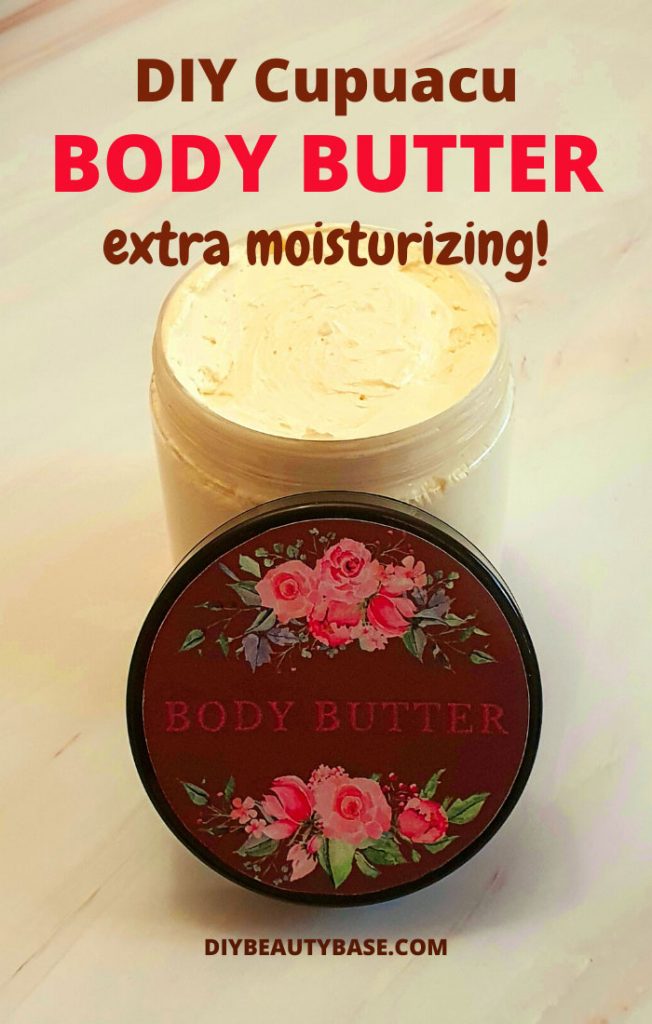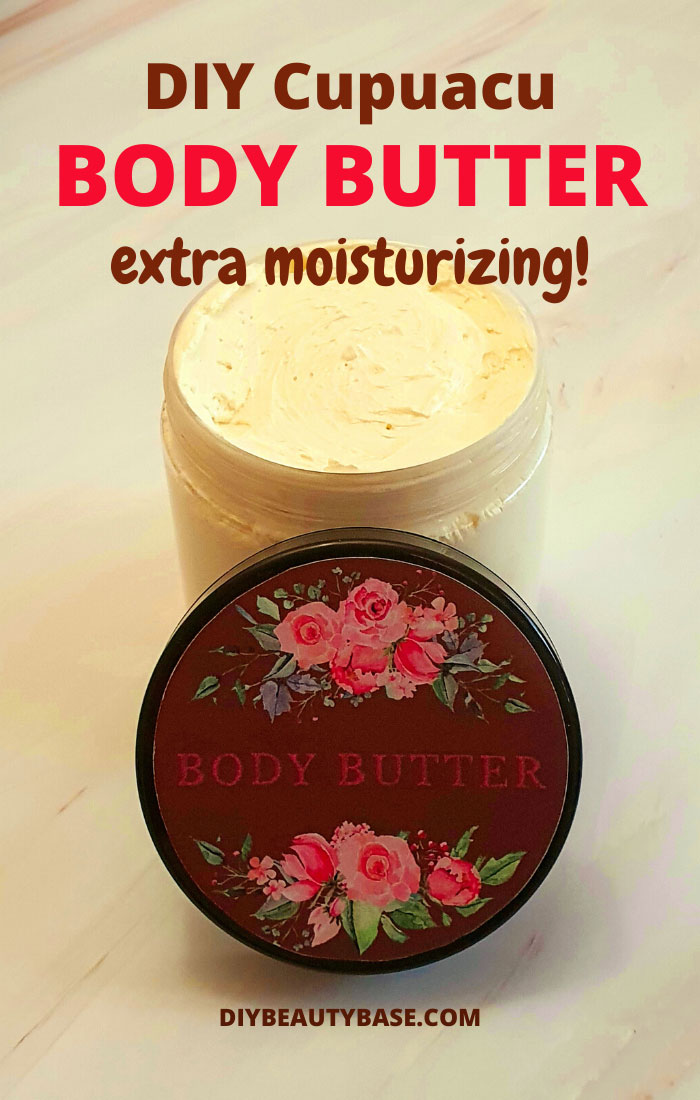 What to expect from this DIY cupuacu body butter recipe?
If you have never worked with cupuacu butter before, this recipe might turn out to be the MOST MOISTURIZING DIY body butter you have ever made. Did you know that cupuacu butter can hold up to 450% of its weight in water (based on research paper)? This is way more than Shea butter and even Lanolin! Cupuacu butter is able to moisturize the skin for up to 8h, which is simply incredible. 
Another great quality of the cupuacu butter is that it is non-greasy. It absorbs quickly and leaves a silky, almost satin-like feel. A game changer.
Something to be aware of when shopping for cupuacu butter is that it has a pretty strong aroma.
Aroma is sweet, with chocolate notes. Similar to that of unrefined Cocoa butter. I personally, love the smell. It reminds me of a nutty chocolate. However, some people hate it.
If you don't like how Cocoa butter smells, you most likely won't like the smell of cupuacu either. In that case opt for a refined cupuacu butter instead. You will loose some vitamins and anti-oxidants but you will be able to enjoy its moisturizing power and silky texture without the scent.
If you would like to learn more about cupuacu body butter and its benefits for skin, click on the link to read more – Cupuacu Butter Skin Benefits & Uses in Skincare.
Other ingredients
Jojoba Oil
Jojoba oil has the closest composition to our own skin sebum. This means that it balances the oil in the skin, rather than adding oil to it. This makes it beneficial for all skin types. It adds moisture where it's needed, but can also help reduce excess oil production. On top of that, Jojoba oil is packed with antioxidants and vitamin E, which can help reduce inflammation and enhance wound healing.
Jojoba is a pretty light and non-greasy oil, so won't add greasiness to our body butter. It is a very stable oil and has very long shelf life. A must have for every skin care maker.
Rose Damascena Absolute or Rose essential oil
Unrefined cupuacu butter has an aroma that is difficult to hide. I like it and I could use this body butter without added scent. However, if you don't, get the refined version (link) and then you can have any scent you want by adding essential oils or fragrance.
In my recipe, I use unrefined butter and combine it with Rose damascena absolute. This combo is absolutely amazing. The scent is strong, sweet and sensual. Think nutty – sweet – chocolate – roses.
On top of that Rose oil adds additional benefits. It can aid skin regeneration, improve skin hydration, brighten discolorations and improve complexion with broken capillaries.
If you have a pure Rose damascena essential oil, go ahead and use it for this recipe. I purchased Rose Absolute Essential Oil (in jojoba oil)  instead because it is a cheaper way to enjoy Rose scent.
Vitamin E
Vitamin E is optional. I always add it to my recipes because it helps to extend shelf life of oils and adds anti-aging benefits.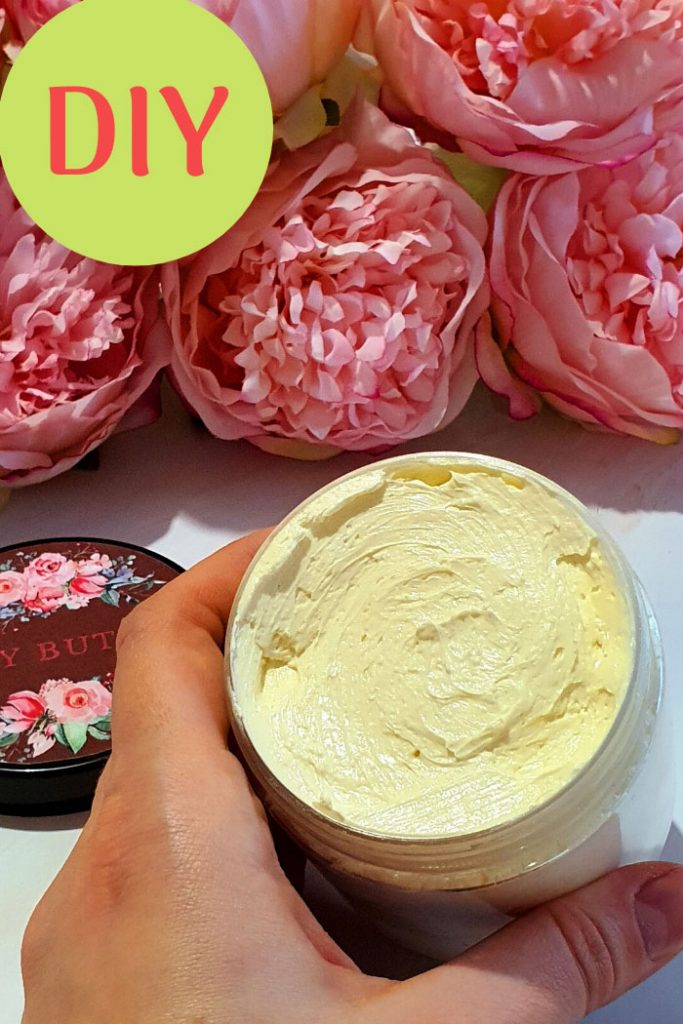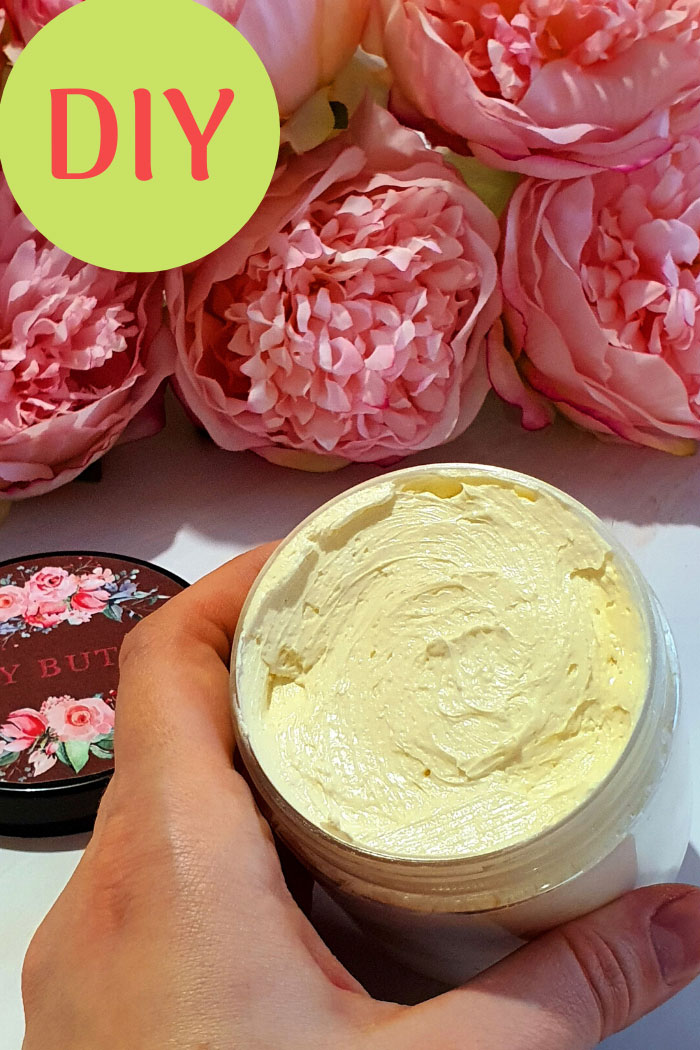 Cupuacu Body Butter Recipe
68% | 75g | 2.65 oz  – Unrefined cupuacu butter 
29%| 32g | 1.13 oz – Jojoba oil
2.5% | 2.75g|0.1 oz – Rose Absolute Essential Oil (in jojoba oil) 
0.5% | 0.45g | 0.02 oz – Vitamin E
This recipe will make approx. 110 g / 3.9 oz and will fill out jar 120 g / 4 oz.
Steps to make the body butter
1. Measure your cupuacu butter and melt it in a "water bath". You can try melting it in a microwave, but be careful not to overheat it.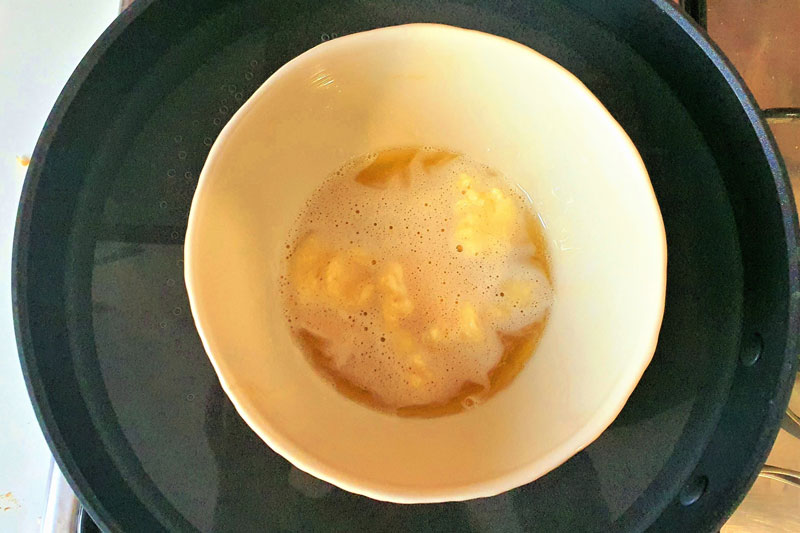 2. Once melted, remove cupuacu butter from the "water bath" and allow to cool down at room temperature. Keep mixing the liquid butter every couple minutes – it helps to avoid crystallization.
3. Once the bowl with your butter is barely warm to the touch, add your Jojoba oil, essential oils and Vitamin E. Mix well.
4. Wait until the body butter mix fully cools down to room temperature. At this point, you can place it in the fridge to speed things up.
5. Whip the butter with a hand mixer until it looks fluffy. It usually takes about 5 minutes of whipping.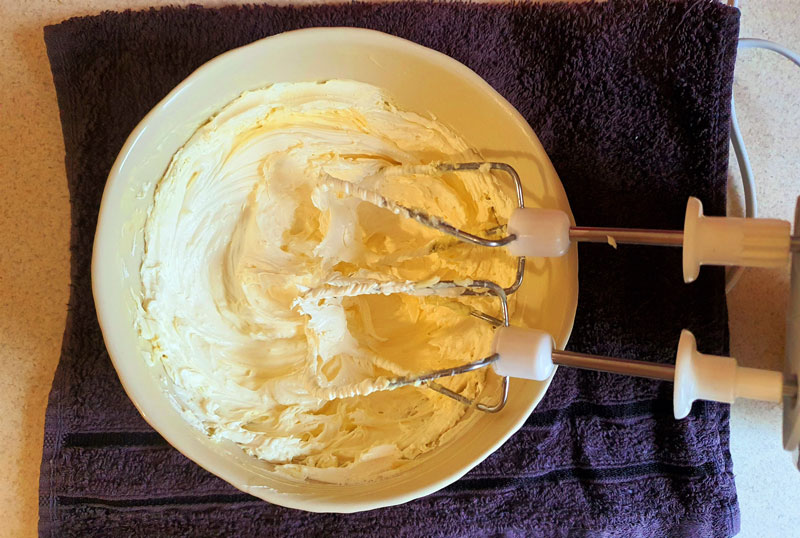 6. Place the finished body butter in a container, put the label on and you are done:)
Cupuacu Body Butter Labels
I created beautiful labels to complement the body butter recipe that you can download here:
PDF LABELS – Rose & Chocolate Body Butter
In my opinion, the label represents the sensual rosy chocolate scent pretty well. Print out the label on an adhesive paper sheet, cut out and stick it on the jar. If you want to protect your label from grease and water, place a wide transparent sticky tape over the label.