DIY Shea Butter Lip Balm Recipe with Argan Oil + Free Labels
This post contains affiliate links. If you click and make a purchase, I may receive a commission. Thanks.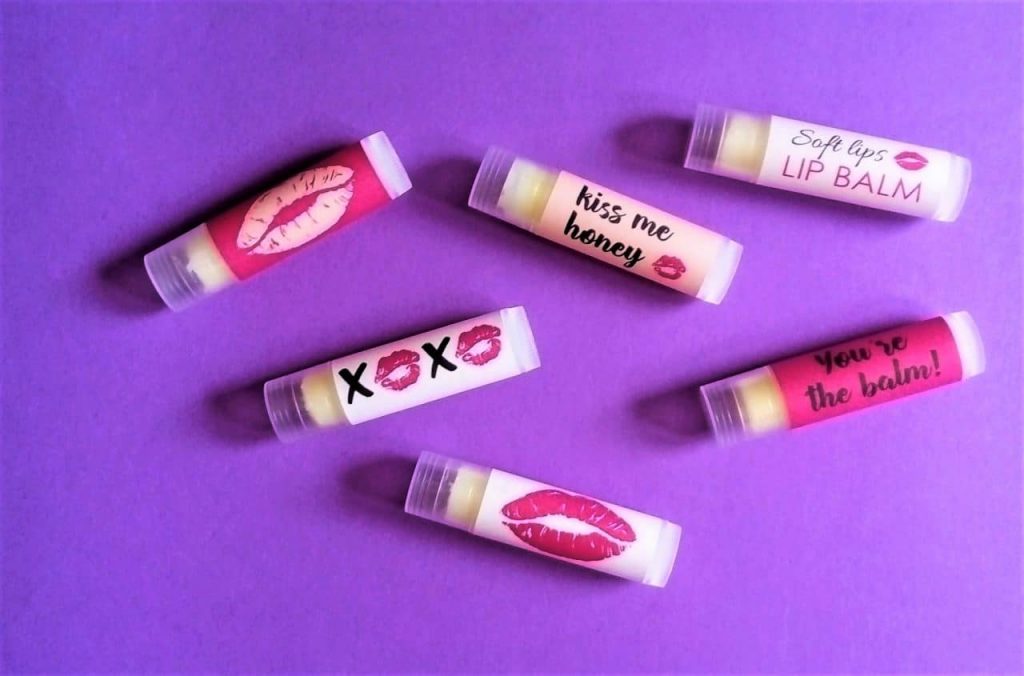 Today, I will share with you my DIY Argan oil and Shea butter lip balm recipe that you can make at home. This homemade lip balm is super easy to make, so it is a perfect beauty DIY project for the beginners. And with an autumn-winter season coming it is a super useful project too!
I have a couple lip balm recipes under my sleeve but the DIY Shea butter lip balm that I'll show you today is the one I use the most. I like the way it feels on my lips. It moisturizes and protects without feeling greasy or too creamy. Some lip balms feel like they just 'sit' on your lips. They make lips look really shiny, greasy and they taste like vaseline. Yuck.
This shea butter lip balm recipe is the opposite of this. It does not look nor feel oily on the lips. Argan oil and Shea butter absorb quickly and moisturize the skin, while beeswax creates a thin layer of protection to guard your lips against cold and wind.
This lip balm feels very light and has no taste. Because it does not leave a greasy film on the lips, I like to use it underneath my lipstick too. This way my lips are protected and look gorgeous.
Ingredients you need for this Shea butter lip balm recipe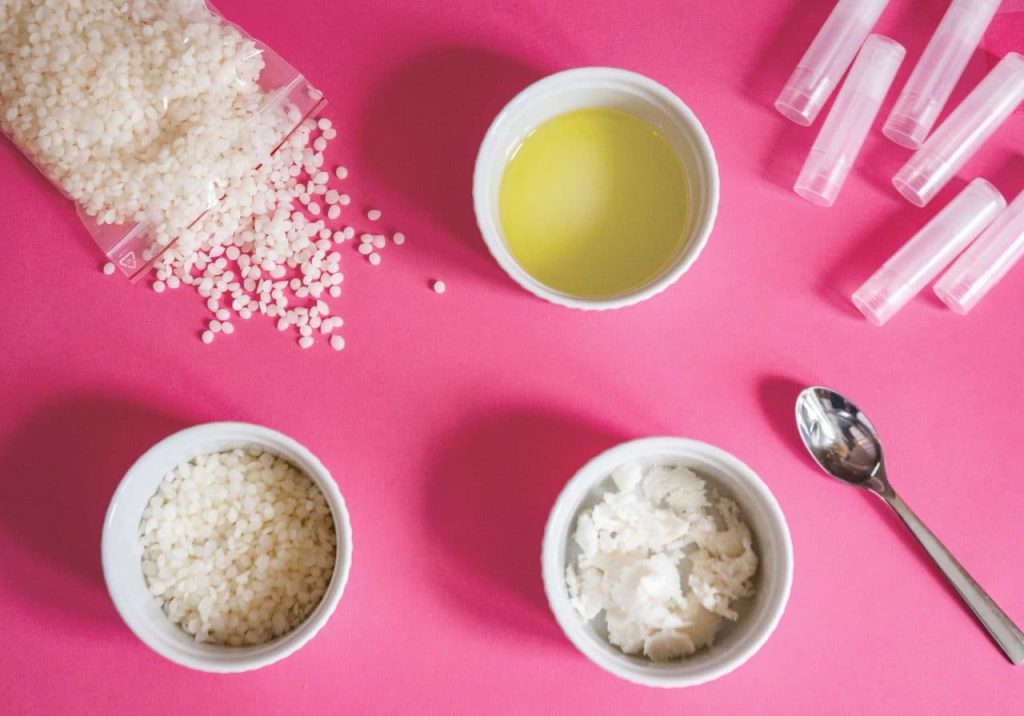 Another reason why I like this particular shea butter lip balm recipe is that it does not require many ingredients. The 3 main ingredients are Shea butter, Argan oil and Beeswax. I always have these ingredients around because they do wonders for my skin and hair. I love using Shea butter in my homemade body lotions and I use Argan oil as a hair mask. Essential oils and vitamin E are optional additives.
The quantities of each ingredient:
» 2 tbsp of Shea butter
» 2 tbsp of Argan oil
» 1 tbsp of Beeswax
» 8-12 drops of Roman Chamomile essential oil
» 1 drop of Vitamin E
You will also need:
» A heat-resistant cup or a bowl
» A pot
» A syringe (optional)
» Adhesive full sheet labels for printing labels
This Shea butter and Argan oil lip balm recipe is for approx. 8 lip balms. This recipe is quite luxurious because it uses Argan oil. Argan oil is a more expensive ingredient but is totally worth it. It costs about $0.80 to make one tube of this lip balm + $0.20 for the tube itself. So, for $1 you get a lip balm with the best natural and nourishing ingredients. Plus you will have most of these ingredients left for other DIY beauty projects.
Now before start learning how to make your own lip balm let's have a look at why we need the ingredients listed.
Shea butter benefits for lips
Raw Shea butter is known for its moisturizing and healing properties and this is exactly what we need for a lip balm. We want to heal the cracks and moisturize the lips.
Shea butter also provides anti-aging properties and works as a mild sunscreen. These properties have been proven scientifically, so it does work. If you're interested you can read more in this great research paper called "Effects of topical and dietary use of shea butter on animals". According to this study Shea butter:
♥ Moisturizes the skin;
♥ Diminishes various signs of aging,
♥ Boosts collagen production;
♥ Softens the skin;
♥ Provides skin with toughness and plumpness;
♥ Reduces reaction to skin irritants (anti-inflammatory)
♥ Provides mild sun protection.
Amazing, right? I always liked Shea butter due to its moisturizing properties and texture. Anti-aging benefits cannot be seen that easily. But now when I know how good it is for the skin I will be using Shea butter even more. You might see lots of DIY recipes with Shea butter coming in soon haha.
But don't forget that all these benefits come from the raw Shea butter. Processed Shea butter will still be super moisturizing but may not have as much of other good properties.
Argan oil for lips
Though Argan oil is more known as the magical oil for the hair, it is also very effective for lips. It moisturizes and heals dry, chapped lips. You can read more about skin benefits of Argan oil here.
The best part is that it does it without being greasy. This is the secret ingredient to my non-greasy lip balm formula. Argan oil absorbs quickly leaving skin soft and plump. It does not leave a glossy, shiny look on your lips. Think soft & matte. This makes it perfect to use before applying your usual lipstick or a lip gloss. It helps my lipstick last longer. Try it.
Using Beeswax for lip balm making
I don't know if you noticed but beeswax is the most common ingredient in lip balms. This is due to 2 important properties that it adds to the lip balms.
First one is that beeswax is able to lock in moisture and protect from the environmental damage. It creates a thin protective film on your lips to guard them against the cold wind. That is way beeswax lip balms are recommended for cold autumn and winter days.
Second, beeswax pallets are what makes the lip balm hard. It is the most firm ingredient (in the room temperature) in this recipe and when mixed with other oils and butter it helps them to stay hard as well. Without it, Argan oil and Shea butter would just melt in your pocket. This is way beeswax is my go-to ingredient for making lip balms in the tube. On top of this, beeswax also contains vitamin A and has some antibacterial properties.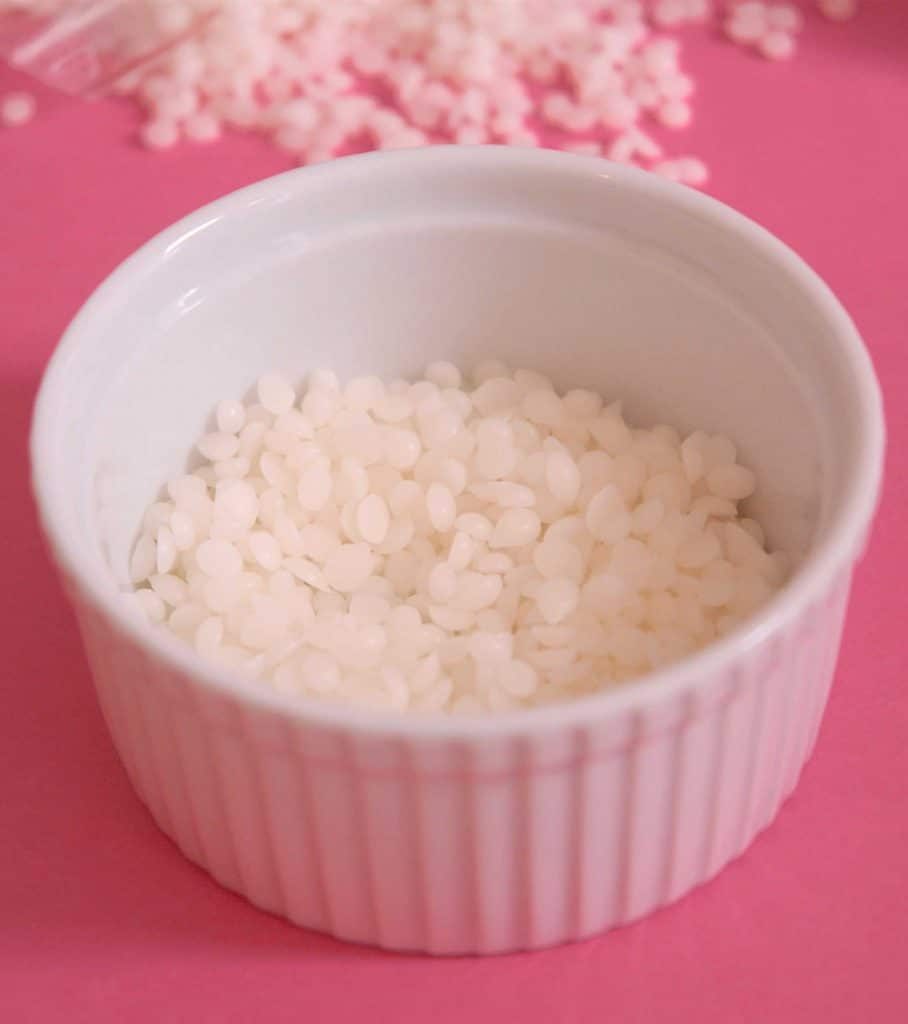 Roman Chamomile oil for lips
I love adding essential oils to my DIY beauty products. It's an easy and natural way to add some extra skin nourishing properties to the product and they also make your product smell good.
For this DIY lip balm recipe, I chose to use Roman Chamomile oil. It has strong anti-inflammatory properties and it works well to soothe chapped lips. Exactly what we need for our DIY lip balm.
Roman Chamomile oil is one of the gentlest essential oils, often recommended for baby products, so even very sensitive lips should like it.
Oh, I almost forgot to mention this. It smells great too. It has a sweet smell that is similar to the smell of fresh apples. I like this smell on its own but if you want your lip balm to smell a bit fancier, then I recommend mixing chamomile oil with some citrus oils like Lemon or Bergamot oil.
Vitamin E oil
Vitamin E oil is a powerful fat-soluble antioxidant. It has anti-aging properties and can protect the skin's cells from free radical damage. The study (I love science!) on vitamins E effect on the skin has also shown that vitamin E is capable of moisturizing the skin and preventing transepidermal water loss. This study paper is not long and has some good before and after pictures. If you're interested you can find it here.
There is also another, a more technical reason to add vitamin E to your DIY lip balms. Vitamin E prevents the oils (and butter) from going rancid too quickly, therefore, extends the shelf life of your homemade lip balm.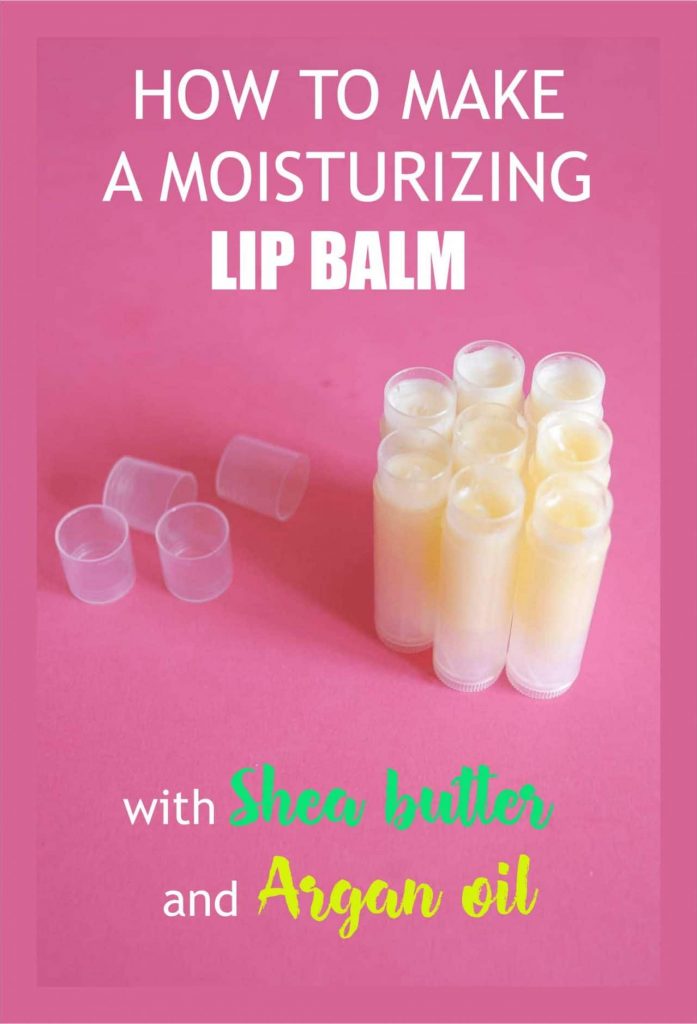 How to make lip balm at home
1. Pour some water into a pot and heat it up. We will be melting our ingredients in this pot.
2. Place the Beeswax, Shea butter, Argan oil and Vitamin E in a heat-resistant bowl/cup. Then place this bowl into the pot with hot water. Water should be barely simmering.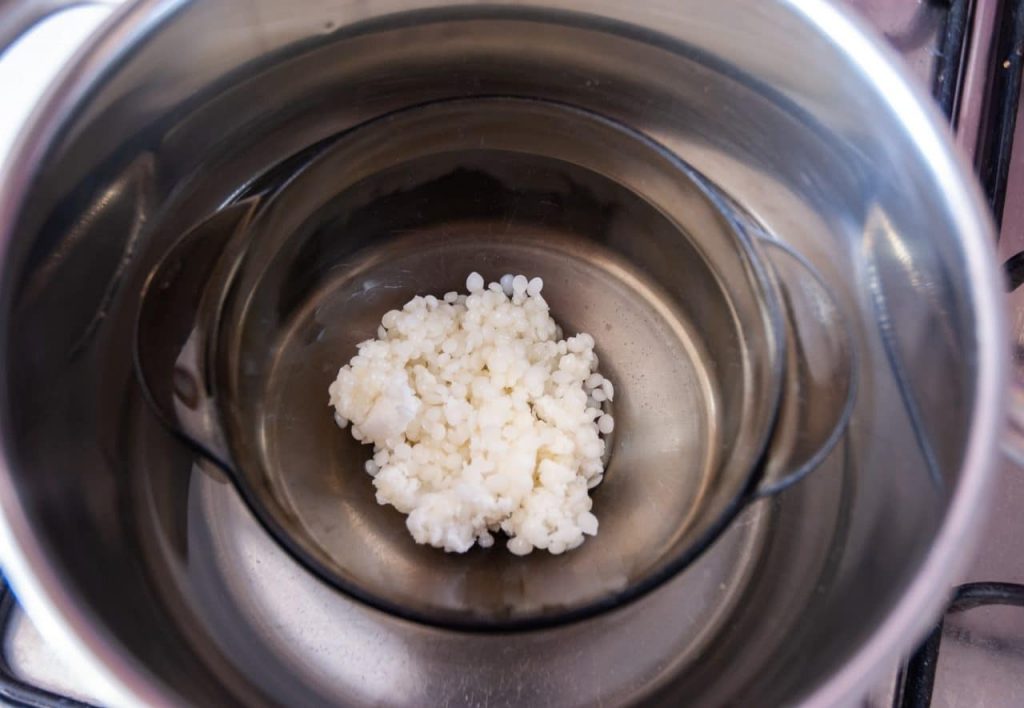 3. Let all the ingredients melt completely (beeswax will be the slowest one to melt) and mix very well.
4. Dip a spoon into the mix, take it out and let it solidify. You can place it in a fridge to cool it down faster. This is your chance to test if you like the feel of your DIY lip balm. Rub your finger across the spoon to feel the texture. Based on that decide if you are happy with your lip balm recipe. You can add more wax to make it firmer or you can add more Argan oil to make it silkier.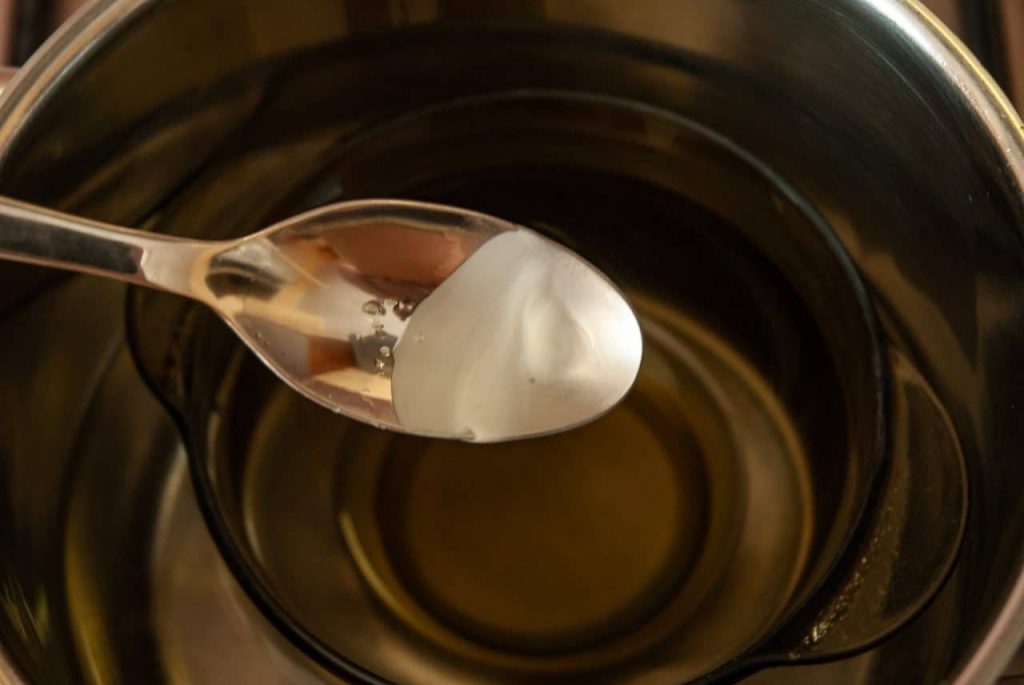 5. Once you are happy with your homemade lip balm recipe, take the bowl out of the water. Add the Chamomile essential oil and mix well. It is important to add essential oils last. Heat can make essential oils less effective. We don't want that, so it's better to add them last.
6. Pour your mixture into the lip balm tubes. You can use a syringe to make this task easier. Make sure you work fast as lip balm solidifies quickly.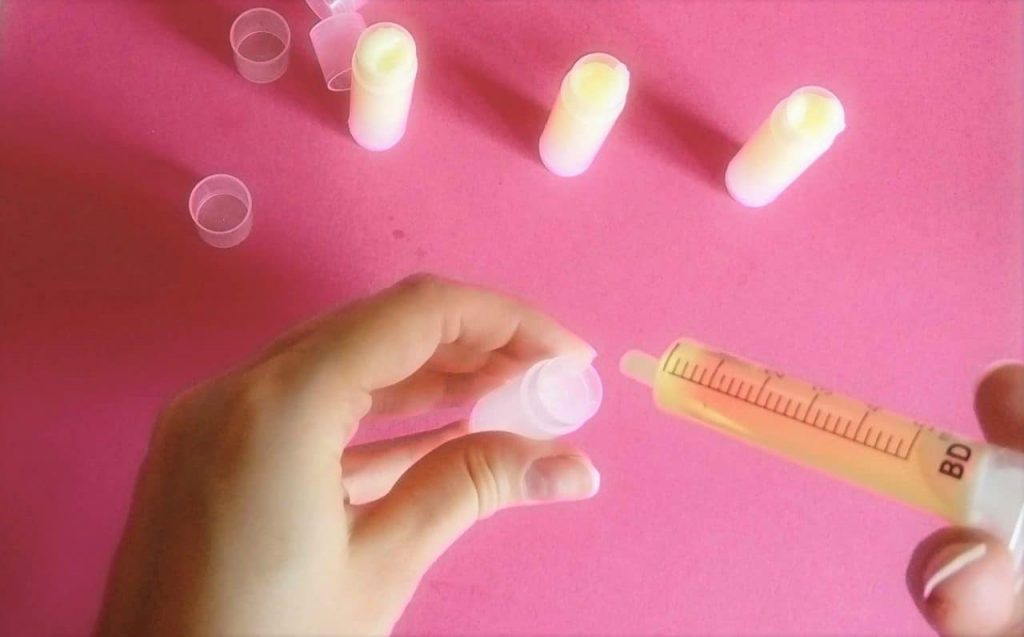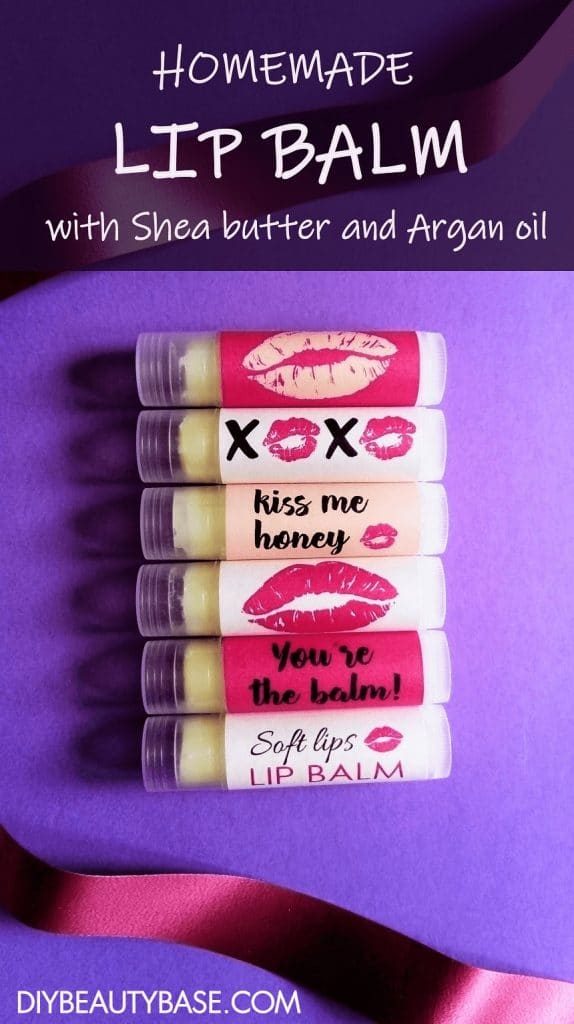 Printable lip balm labels
Once you made your DIY Shea butter lip balm there is one more step to complete - decorate your lip balm tubes. I'm sure you'll agree that blank lip balm tubes on their own do not look too appealing. It is easy to fix that. Print out these free lip balm labels and add them to your homemade shea butter lip balms. It will look cute in your handbag and it makes a great gift.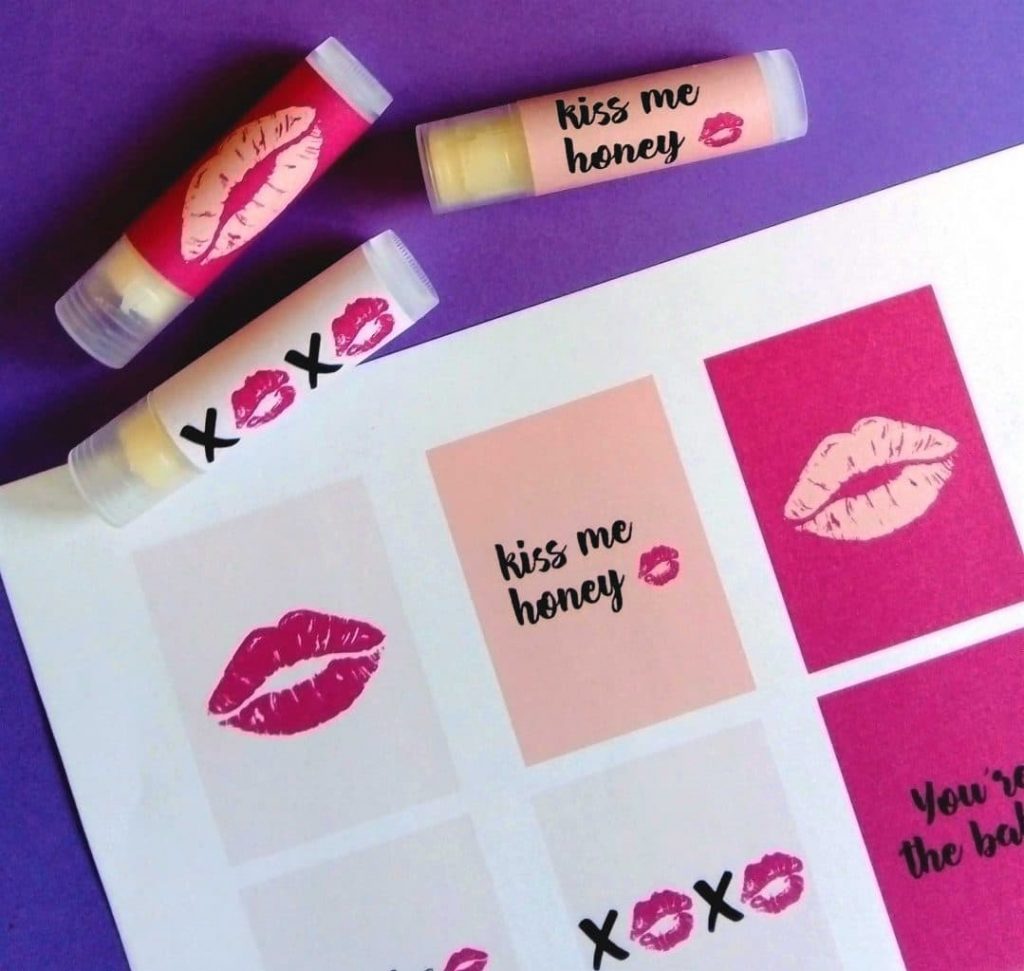 How to print these labels?
I print mine on adhesive paper sheets like these. They come in standard paper size and are printer friendly. Just stick it in your printer instead of standard paper, print and cut out. I use these sheets for most of my DIY beauty product labels.
Aaaand we are done!
I hope you enjoyed this recipe. Let me know if you had a chance to make it. I would love to hear how it went. Don't forget to save it on Pinterest if you want to make it later.