16 Best DIY Beauty Kits To Make Handmade Cosmetics
This post contains affiliate links. If you click and make a purchase, I may receive a commission. Thanks.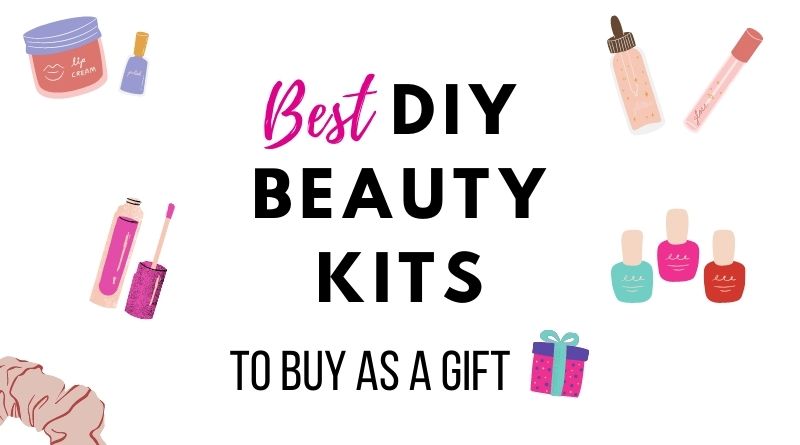 DIY beauty kits are a perfect gift for the kid/adult in your life that has EVERYTHING! Not only you are NOT giving them "more stuff", you are giving them the unique experience of crafting their own beauty product that they can use after!
I have browsed the internet for the best DIY beauty kits, so that you wouldn't have to. DIY beauty kits are becoming pretty popular, so there are many choices, but in today's post I will show you only the ones that make awesome gifts.
My criteria for the kits were:
– Beautiful packaging;
– Good selection of supplies and ingredients (as an experienced DIY beauty maker, I only selected the kits that, in my opinion, will allow the gift receiver to gain knowledge about making a particular product. I excluded all the kits that didn't package their ingredients separately. Part of the learning experience is to educate yourself on the different ingredients and combine them yourself instead of receiving a pre-made mix.
– Ease of use. All the kits on the list are easy to make.
I tried to cover a wide selection of beauty products and chose couple favorites for each. In this post you will find:
Body Butter making kits (#1- #2)
Lotion making kit (#3)
Lip balm making kits (#4- #8)
Bath bomb making kits (#9- #10)
Nail polish making kits (#11- #12)
Lip gloss making kits (#13- #15)
Soap making kit (#16)
Pin for later: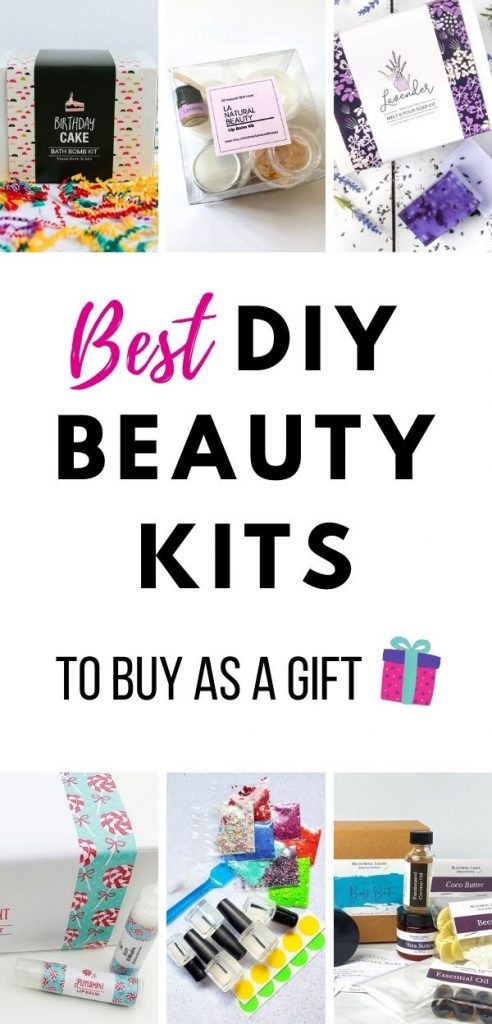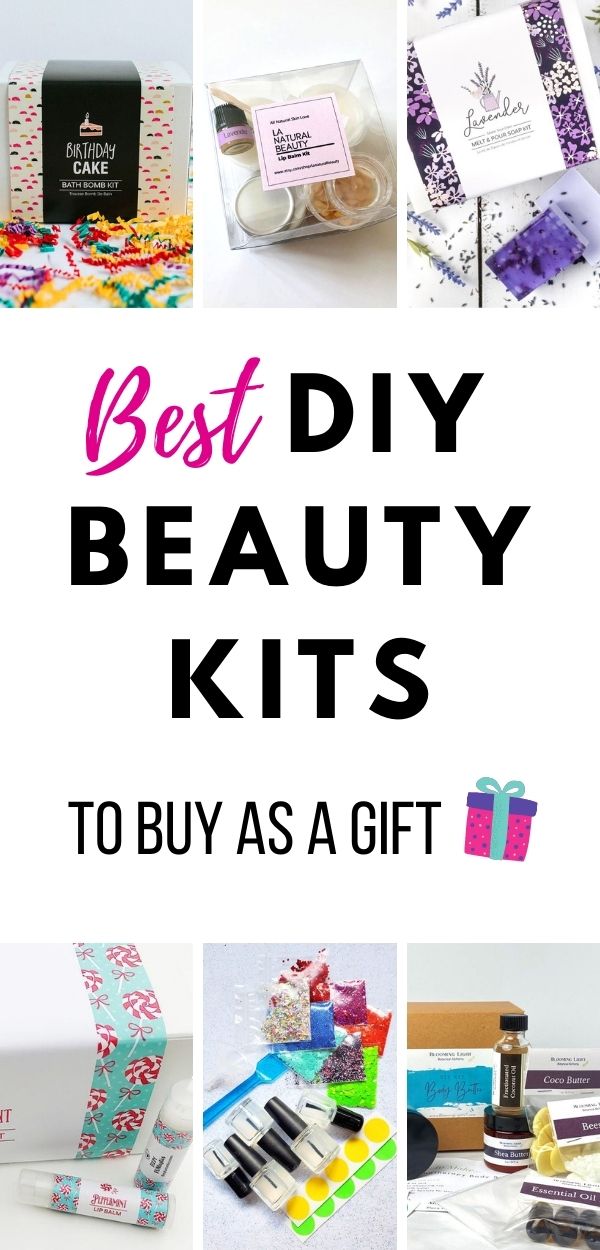 1. DIY Body Butter Kit by Blooming Light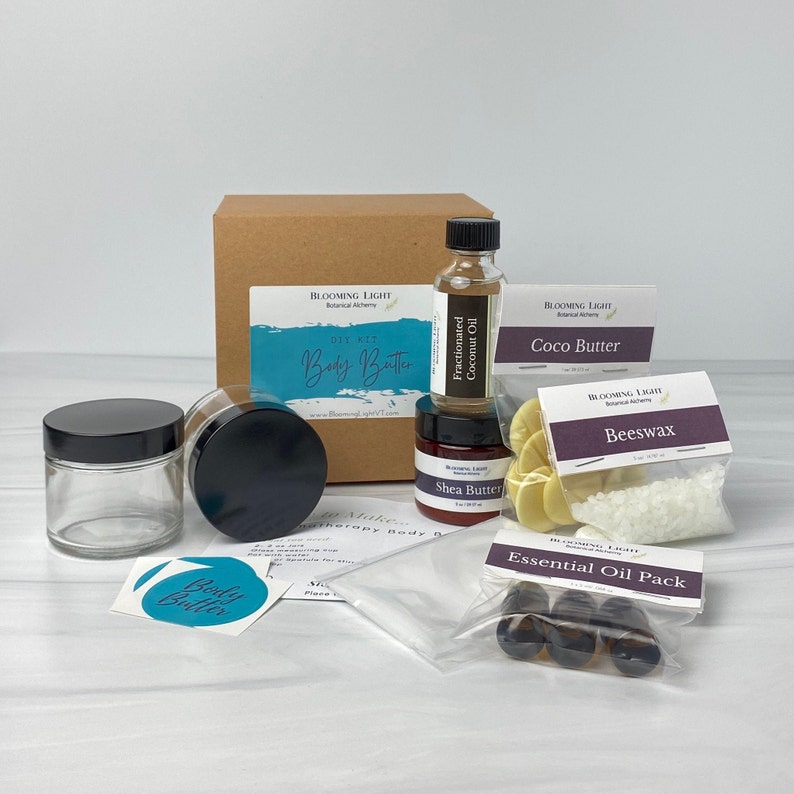 The first thing I want to show you is this awesome DIY body butter making kit. Body butter is the most popular DIY beauty product to make. And there are plenty of reasons why. First of all, body butters are very simple to make. Second, they are made from all natural ingredients such as butters, oils, beeswax and essential oils. And last, they are awesome for our skin, especially in dry winter months.
This kit is a great option for someone who wants to learn to make a natural body butter but doesn't want to go through the trouble of gathering all the necessary ingredients. The kit has enough supplies to make 2 jars of natural body butter (jars are included).
This kit will make a fantastic gift to someone who enjoys using body butters. The box looks professional and neat. All ingredients are packed separately with beautiful labels, all packaging is glass, which makes this box look more expensive. It includes 2 jars and body butter labels.
As an experienced body butter maker, I can say that I really like the choice of ingredients. The kit includes two of the most popular butters – shea and cocoa.  I also love that the seller is providing fractionated coconut oil as a liquid oil option instead of other oils. Fractionated coconut oil is very light and will make your butter feel less greasy. You will also get 3 mini bottles of essential oils.
I highly recommend this DIY body butter making kit. It is well-priced for everything that you get, ingredient selection is great and the packaging is cute, making it perfect for gifts.
You can purchase it here.
2. Body Butter Making Kit from Make-It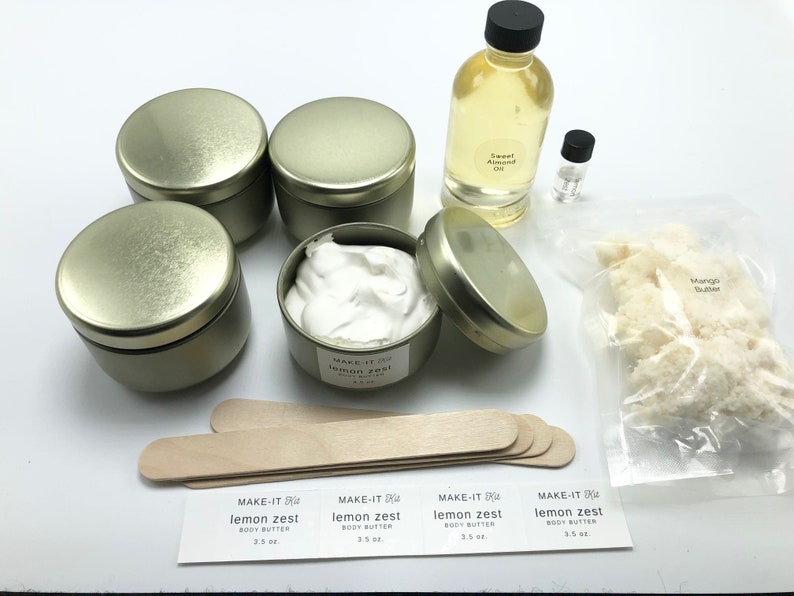 Here is another great body butter making kit. This kit has two options: organic (with essential oils) and standard (with fragrance).  
Unless you know that a person likes essential oils and only wants a fully natural skincare, go for the fragrance option. Especially if you are buying a gift for a young person. Essential oils are great, but nothing can beat a good fragrance oil. And this seller has an awesome selection of scents: sugar cookie, wild fig, raspberry vanilla, eucalyptus/tealeaf.
The kit comes packaged in a nice box. It includes mango butter and sweet almond oil, which is a great combo. Mango butter is less greasy than other butters and sweet almond oil will make body butter more spreadable. 
The kit includes 4 cute jars, instructions and waterproof labels to match your selected scent. 
Comparison: To compare this kit with the first kit, both are very easy to use and both contain carefully selected ingredients and good packaging. The first kit might be a bit more fun to use because it has more ingredients. The 2nd kit is a great choice for those who love well scented skin care. Younger generation usually gets very excited about the scents. You can opt for one or two scents in this kit. 
Check out this body butter making kit here. 
3. DIY Lotion Making Kit – Lemon Sugar 
This beautifully packaged lotion making kit has all the ingredients you need to make your own lotion. The difference between a body butter and a lotion is that the lotion is made with water and oils and feels thinner and not greasy. While body butter is made from butters and oils only.
What I like about this kit is that each ingredient is packed separately which is more fun and educational. Many other DIY lotion making kits that I've seen pack multiple ingredients into one bag, ruining all the fun.
As an experienced lotion maker, I really like the ingredient selection in this kit. It gives a very good picture of what is needed to make a lotion at home. 
Difficulty: medium (a little more difficult than making body butters)
You can check this kit here. The seller has a step-by-step video showing the whole making process (at the moment of me writing this post). 
4. DIY Gift Kit – Lip Balm Making Kit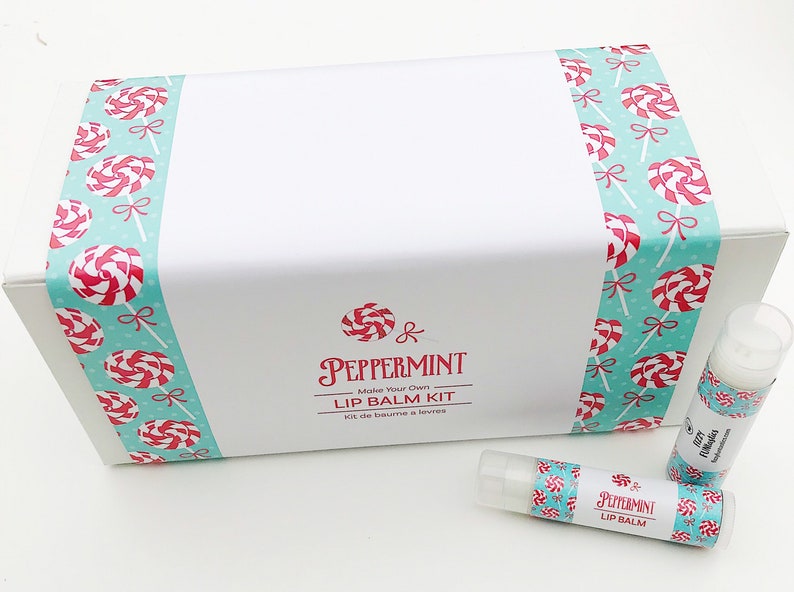 This lip balm making kit is probably the most prettily packaged kit on the entire list. The seller has two options: peppermint and cherry. Here is a link for peppermint lip balm kit and here for the cherry one. You can view other DIY kits the seller has to offer here.
The kit includes all you need to make 6 lip balms, including lip balm tubes and the most beautiful lip balm labels I've seen for a while. The kit also includes a peppermint flavor oil (or cherry), which will not only smell great, but will give lip balm a flavor too.
5. Natural Lip Balm Kit With Essential oils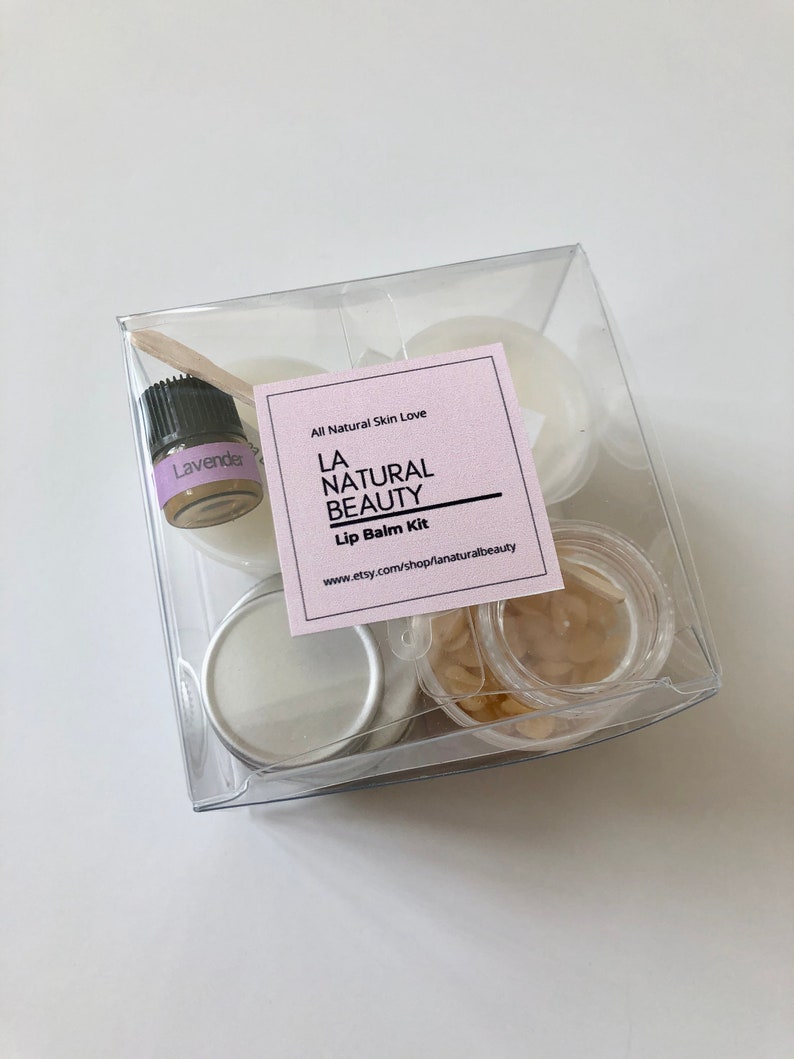 Here is another nicely packaged lip balm making kit.
The price of this kit is very affordable which makes it a fantastic choice not only for gifts but also a great option to buy for yourself. Instead of researching and gathering all the ingredients you can get them all delivered to you in a nice packaging and with instructions.
This brand includes all organic, quality ingredients. 
Check the product here.
6. Premium Lip Balm Making Kit From LorAnn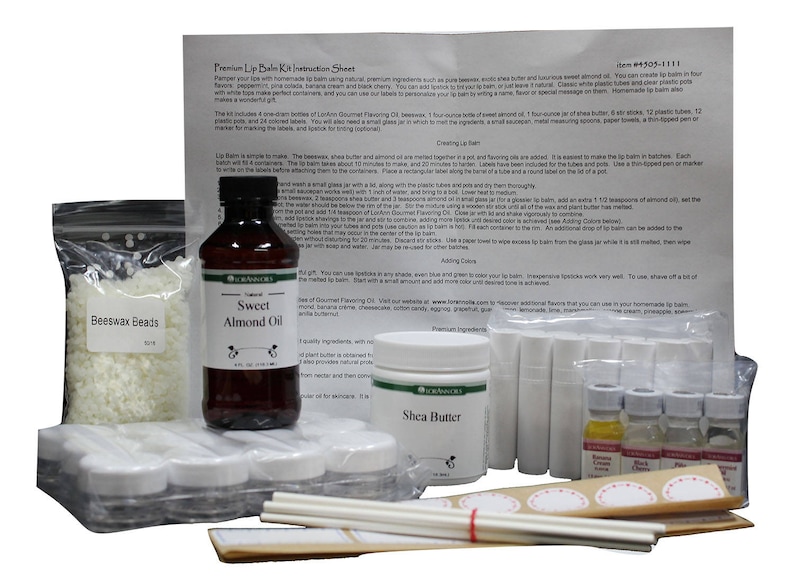 This lip balm kit is from LorAnn, a brand famous for its flavour oils. No surprise that this kit includes 4 of their flavour oils: peppermint pil, pina colada flavor, banana cream flavor, black cherry flavor. The flavor oil will give the lip balms a scent and a flavor.
This DIY lip balm kit doesn't come in a beautiful gift box. If packaging is important to you, you may want to repackage the content yourself.
However, this is the biggest lip balm kit on the list, allowing to make up to 24 lip balms (12 in chapstick tubes and 12 in little jars). The kit can be used many times, selecting different scent each time or even playing with the ingredient ratios.
Purchase yours here. 
7. Make Your Own Lip Balm Kit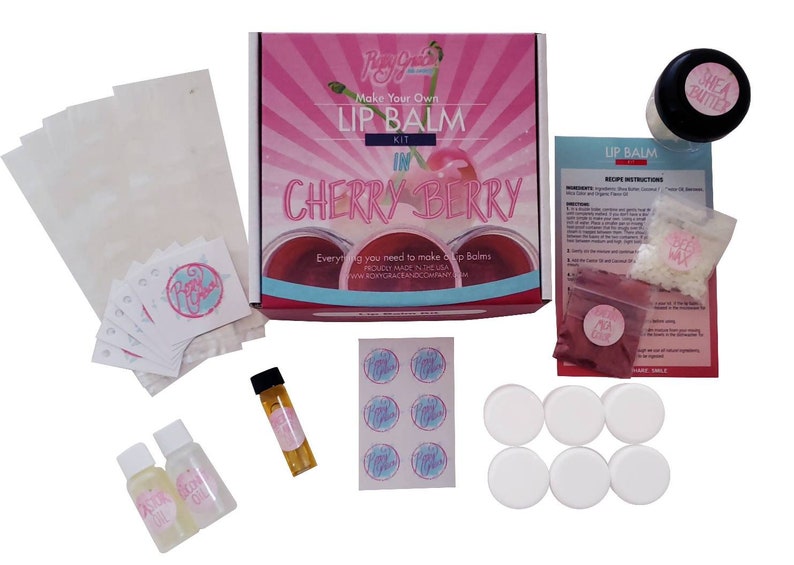 This is a very nice lip balm making kit. You get everything you need to make a homemade lip balm and more. The kit includes beeswax, shea butter, coconut oil, castor oil (makes lip balm shinier), organic lip flavor (cherry or bubblegum) and natural mica powder (for color).
I would like to point out that this kit and kit #8 are the only kits on the list that allow you to make colored lip balms. 
The seller states that this kit is designed to be a goof-proof DIY project, making it perfect for parties, gifts, or even just yourself!
Get your kit here.
8. Deluxe Lip Balm Kit with Filling Tray
This is the biggest lip balm kit on the list that can be used many times. It comes not with 1 but 3 different lip balm recipes, which adds a lot to the learning experience. On top of having everything you need to make a homemade lip balm, the kit comes with a variety of lip balm containers (23 total) and fun labels. It also includes a handy cardboard filling tray to make the entire process easy and clean.
I like that this kit comes with 4 essential oil scents because it allows you to mix and create unique scents. I would also like to point out that this is the only kit on the list that allows you to make colored lip balms because it includes mica powder for coloring. 
The seller offers two options:
73 piece set (1 color and 4 essential oils)
77-piece set (3 colors and 6 essential oils)
9. Bath Bomb Kit – Birthday Cake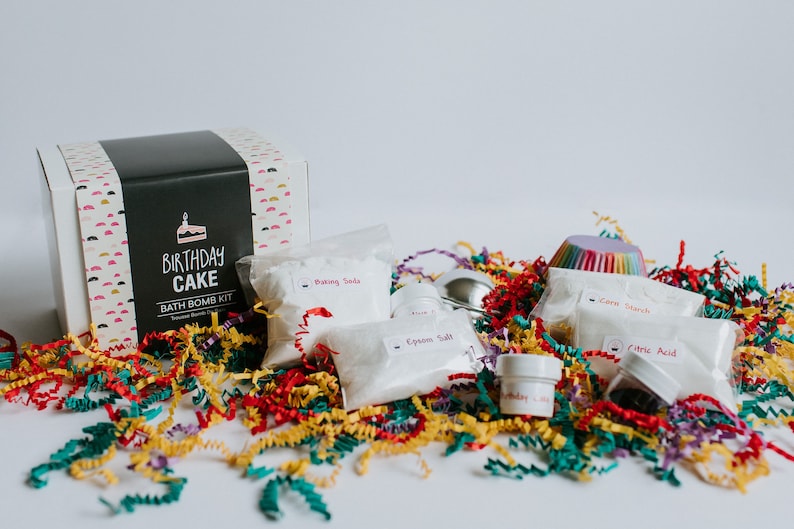 This kit is a perfect gift for someone who loves taking baths and using bath bombs. With this bath bomb making kit, they can experience making (and then using) their very own bath bombs.
The kit not only has every single thing you may need to make a bath bomb, but also comes beautifully packaged (as you can see in the photo). The most popular option is the birthday cake bath bombs kit, but seller also offers other options.
10. Bath Bomb Making Kits By Roxy Grace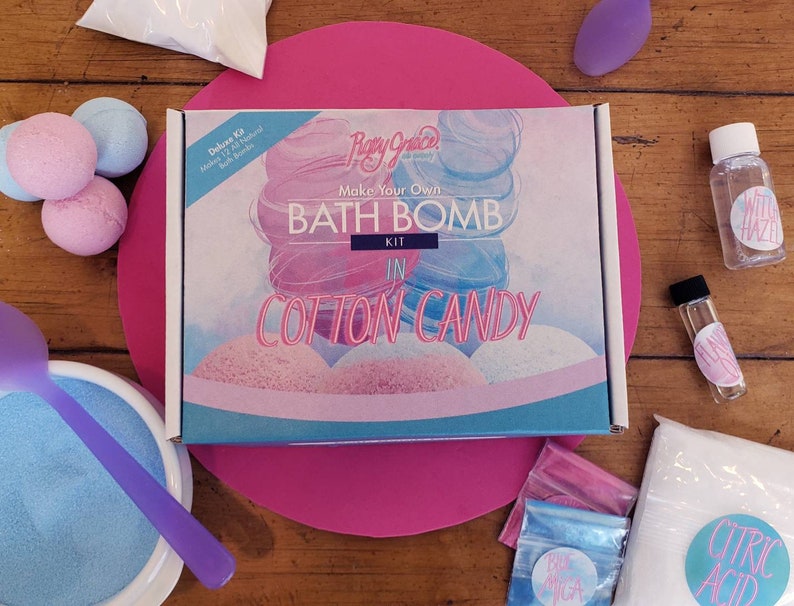 A very well presented DIY bath bomb kit. It comes in a pretty box and all ingredients and supplies are provided and labeled.
There are 3 bath bomb kit options available. Each kit comes with 2 colors and 1 fragrance oil. Here are the options:
– Cotton Candy-Pink and Blue
– Tropical Island-Green and Blue
– Juicy Grape-Pink and Purple
Each kit will make 12 bath bombs.
I really like that the bath bomb molds included are made from plastic instead of metal. They are a lot easier to work with for beginners because they make removing bath bombs from the mold very easy.
You can get this kit here. 
11. DIY Glitter Nail Polish Kit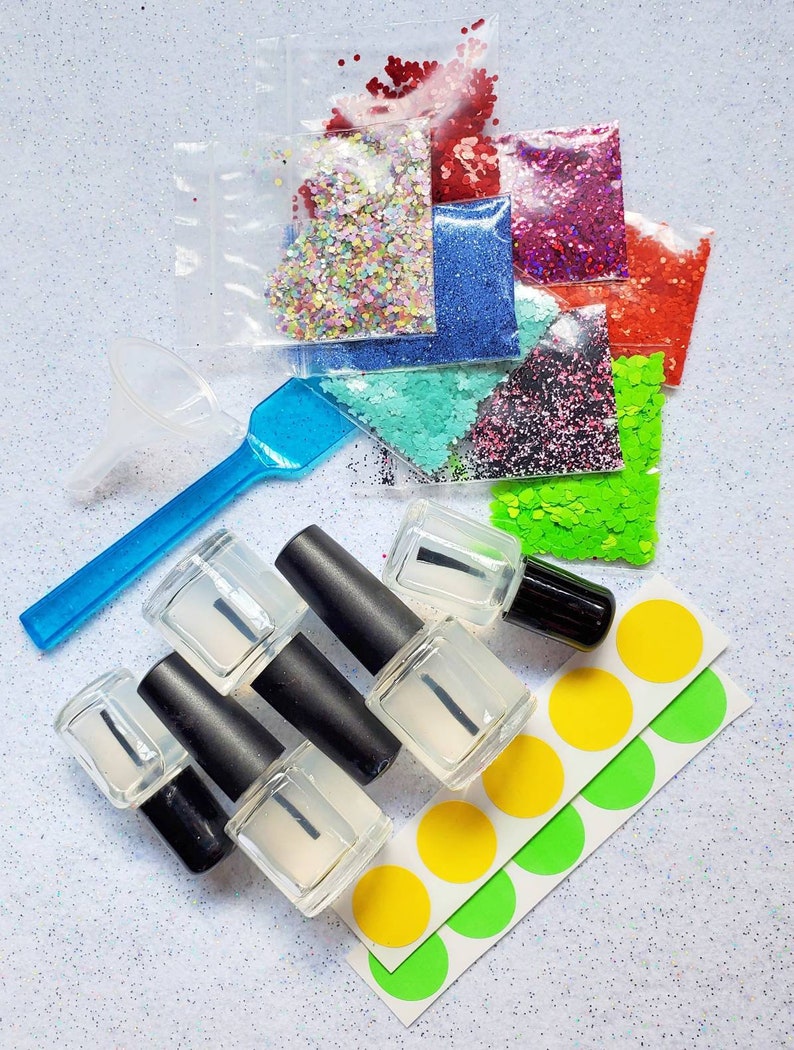 Colorful and fun glitter nail polish making kit. The kit includes 6 nail polish bottles filled with suspension base (this is the liquid part that suspends glitter in nail polish and doesn't allow it to sink) and 8 bags of gorgeous glitter. You also get mixing balls, a funnel, labels and stirring sticks.
The seller explains that the 8 bags of glitter are chosen randomly. If you want any specific color or type of glitter, message the seller.
Get this DIY glitter nail polish kit here.
12. Create Your Own Nail Polish Kit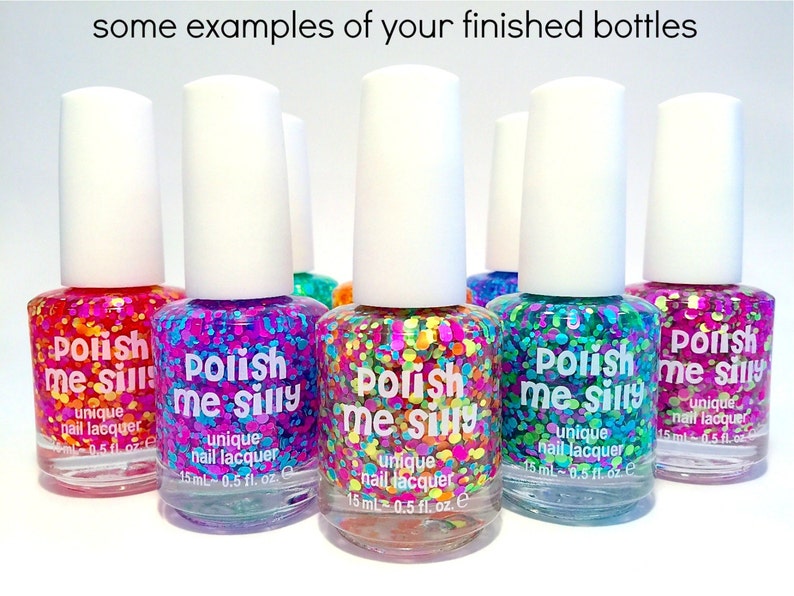 This colorful and fun DIY Nail Polish kit only costs $10. It allows you to make 1 nail polish with a selected glitter. The finished nail polish looks amazing, as you can see from the photo.  Follow this link to make a purchase. You can also check how the finished nail polish looks applied to nails.
13. Deluxe DIY Lip Gloss Making Kit
This is a beautiful, good quality lip gloss making kit that I can recommend. The kit comes with a Versagel base, which is hands down the best lip gloss making base out there. You will get five different specialty mica pigment powders plus ultra fine glitter. You can mix and match the colors to create different shades.  
The kit comes in a beautiful box and all the supplies are packaged with care. This makes a great product and an epic gift.
Have a look at this awesome kit here. 
14. Premium Lip Gloss Starter Kit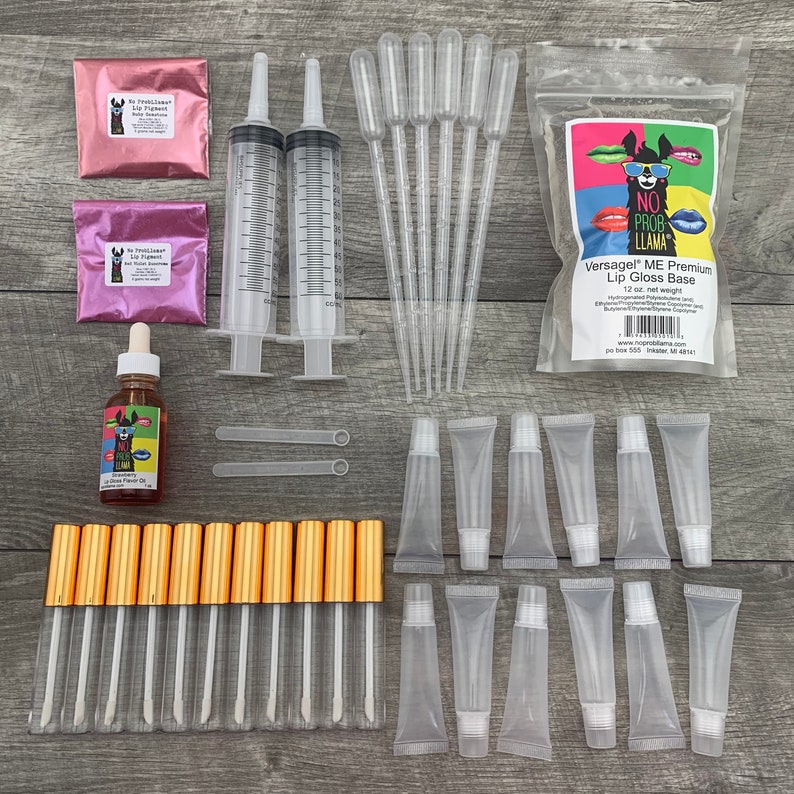 Lip gloss making kits are the most popular DIY beauty kits at the moment. This is a good quality lip gloss making kit with well-selected supplies. This kit is not only a great option for a gift, but is a good starter kit for those who want to see what it is like to make simple lip glosses.
It comes with a Versagel lip gloss base which, as I already mentioned, is hands down the best lip gloss making base out there. But seriously, unless a lip gloss base says "Versagel" don't buy it.
The kit comes with 2 colors that can be used on their own or mixed together. The seller sells lip pigments separately too, so you can purchase more colors at around $3-$4 per color, and ask the seller to add it to the box.
The kit also includes watermelon flavor oil, which will provide the scent and taste. Not every lip gloss making kit includes flavor oils, so if you want some scent and flavor, this might be your deciding factor.
Check out this kit here. 
15. Lip Gloss Making Starter Kit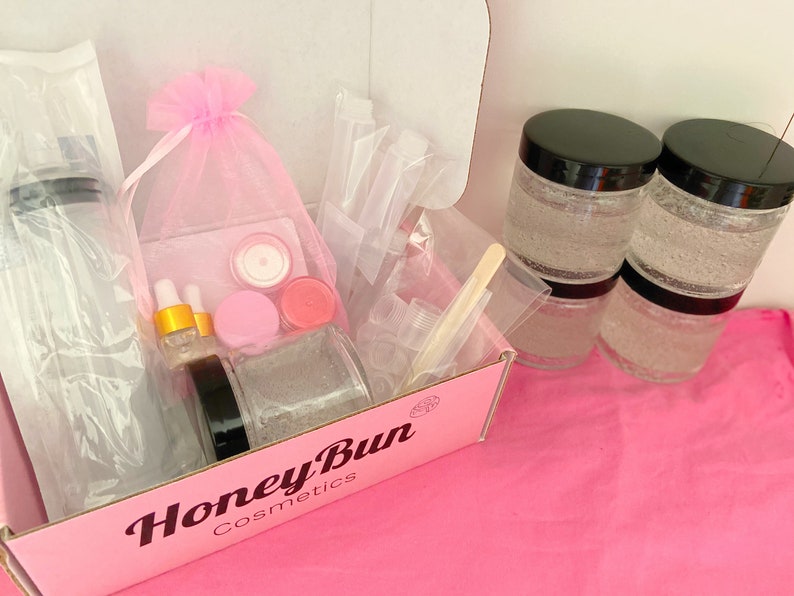 Another great lip gloss making kit. This kit also comes with a Versagel base, which is the best thing ever. You get 2 colors of your choice and a flavor oil (strawberry or peppermint). Flavor oils give scent and flavor. Not every kit includes it, so it is nice to see it.
The packaging is beautiful and feminine. Perfect to buy as a gift!
You can check out this kit here.
16. Soap Making DIY Kit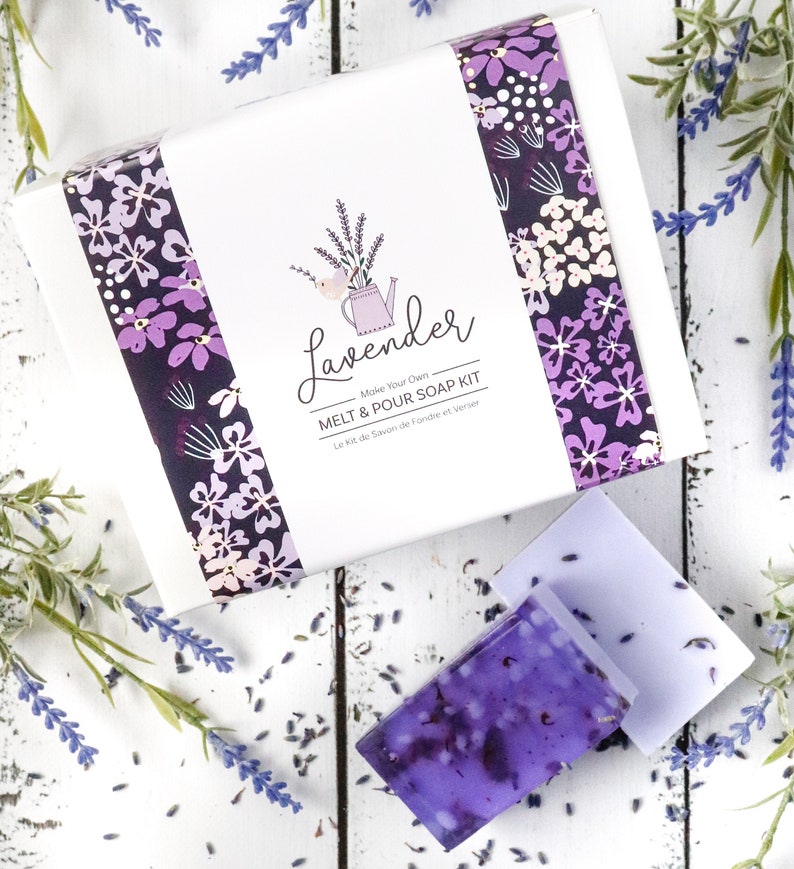 Another DIY kit from FizzyFuntastics. This time it is a soap making kit. This is a melt & pour soap kit, meaning that it comes with a soap base and is very easy to use. Perfect for beginners.
This kit is designed to be a gift, so it is packaged really nice.
I am very impressed with the supplies that you get with this kit. The kit comes with silicone rectangular soap molds. These are good quality reusable molds.
I love that the kit includes 2 soap bases: white and clear. You will get to experiment with both and the kit also teaches you to make layered soap which looks amazing. You also get a colorant, fragrance, and flower petals to decorate your soap – all you need for a beautiful handmade soap.
There are 3 options available: Lavender Soap Kit, Watermelon Soap Kit and Oatmeal Soap Kit.