Cruelty free label – free printable sticker
This post contains affiliate links. If you click and make a purchase, I may receive a commission. Thanks.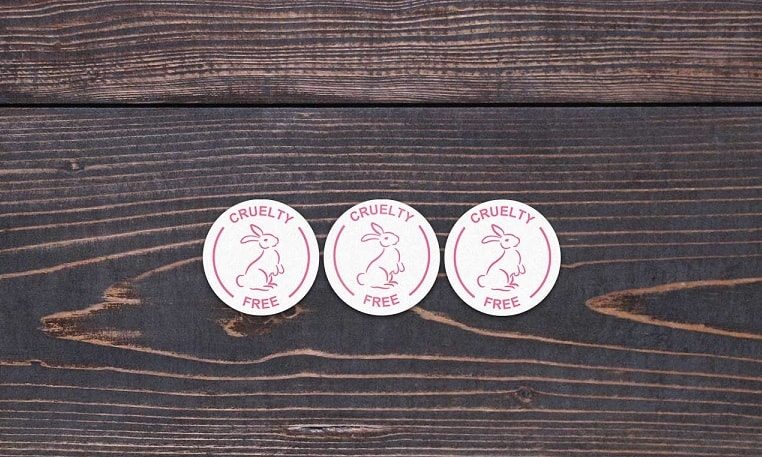 These beautiful cruelty-free labels are designed to show customers that your products are not tested on animals. Most handmade beauty products are not tested on animals but shoppers don't think about it when they shop. This sticker will raise awareness and will provide one more good reason to buy from you.
If you like this cruelty-free product label design you can download it at the bottom of this page. I have created this design in two different sizes: 1-inch size and bigger ones - 1-2/3 inch size. The smaller version is perfect to stick directly on your product, for example, shampoo bottle. Since it is small it will not distract from the main label of the product. The bigger one will look great when used on packaging, for example, paper bags or boxes.
Both designs come in a pdf format so it is easy to print. You can always print and cut these stickers out yourself. However, I have designed them to match Avery labels sizes. This allows you to get a really professional look using pre-cut sticky Avery sheets. Avery produces high-quality pre-cut sheets for people who want to be able to print their labels and stickers at home. These sheets are pre-cut which means that your finished sticker will look professional. All you need to do is to get some pre-cut sticky Avery sheets of the correct sizing to match the design you want to print. These cruelty-free stickers are designed to be printed on:
1-inch diameter  -  Avery 6450 sheets (945 labels per pack)
1-2/3 inch diameter - Avery 5293 sheets (600 labels per pack)
Instructions: before printing on your Avery sheets print a test page on a simple paper. This is to make sure that your printer is aligned correctly. Make adjustments if needed. Print this design on your Avery sheet and its done. No cutting. Just remove the sticker from the sheet and place it on your product.
Cruelty free label small . PDF