Thank you for your purchase note – free template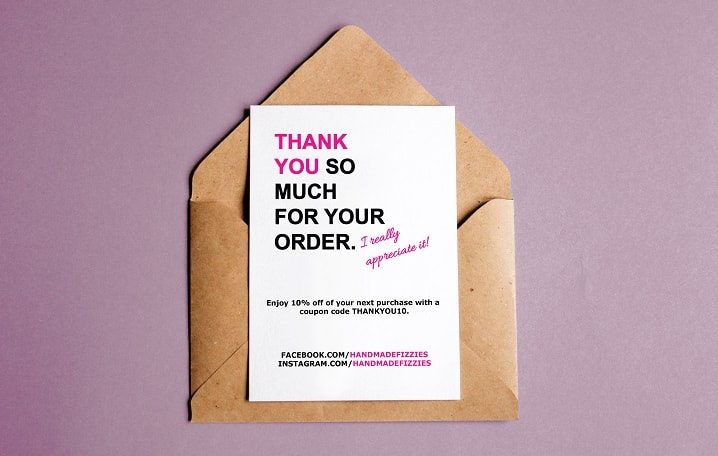 There is a lot of thought that goes into making a product, packaging and advertising it. But what many sellers forget about is the "after-sales" process. It is not enough to sell to the customer. You need to build a relationship with the customer and make him want to come back. There are quite a few steps that can be taken to help achieve that. One of the easiest ones is to add a beautiful thank you card when shipping your order. It is simple, not expensive and adjustable to everyone's business needs.
Thank you for your order cards can benefit your business in many ways:
 1. Saying thank you makes a purchase more personal. You get a chance to say something nice to your customer which helps to build a relationship and makes customers feel more connected to your brand.
 2. It may help you with your social media exposure. Including your social media contacts on the "thank you for your order" card will encourage customers to check them out and subscribe.
 3. You get a chance to include any information you want on this card. A popular choice is to provide a discount code for their next purchase. This encourages customers to come back.
 4. Beautifully designed thank you for your order note will add more value and style to the package. People love beautiful packaging and reading little notes. Thank you note will make them smile before they even open your product.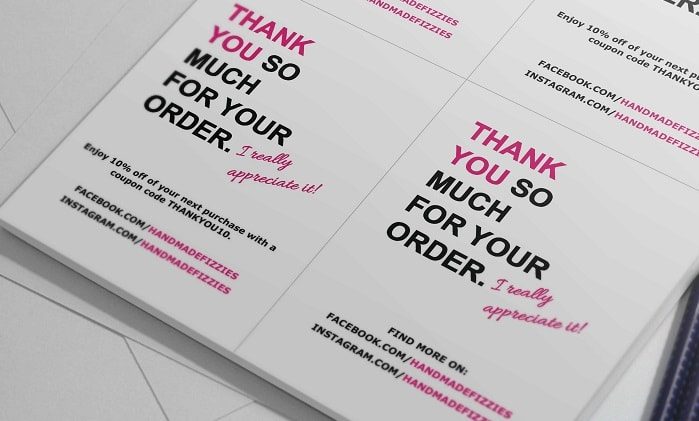 How to customize and print thank you cards:
This thank you for your purchase card comes in a word format. This makes it very easy to customize. The first part of the note with the text "THANK YOU SO MUCH FOR YOUR ORDER" is not customizable. But everything below that is. You can choose what you want to write and how it will look.
If you want to match the pink color used: mark your text, press color -->More colors... --> Custom --> type Red: 228, Green:21, Blue:121.
The size of this card is 1/4 of a page (4-1/4" x 5-1/2). You can easily print it on a thicker standard size paper and cut into 4 pieces with scissors or a paper cutter. This design will work best when printed on a white paper. But light-colored paper might work too.
I hope you like this template and it works for you. Enjoy!
You can find more free thank you for your purchase notes and other printables available in our business printables section.