Geisha's Hair Elixir: DIY Hair Oil Recipe for Soft and Shiny Hair
This post contains affiliate links. If you click and make a purchase, I may receive a commission. Thanks.
Jump to recipe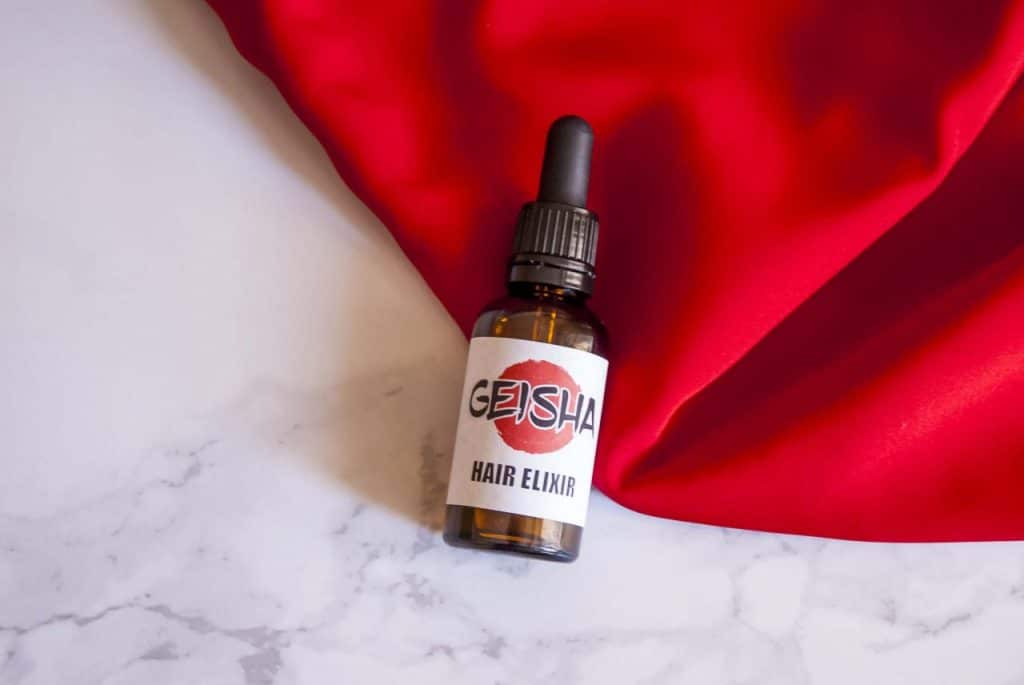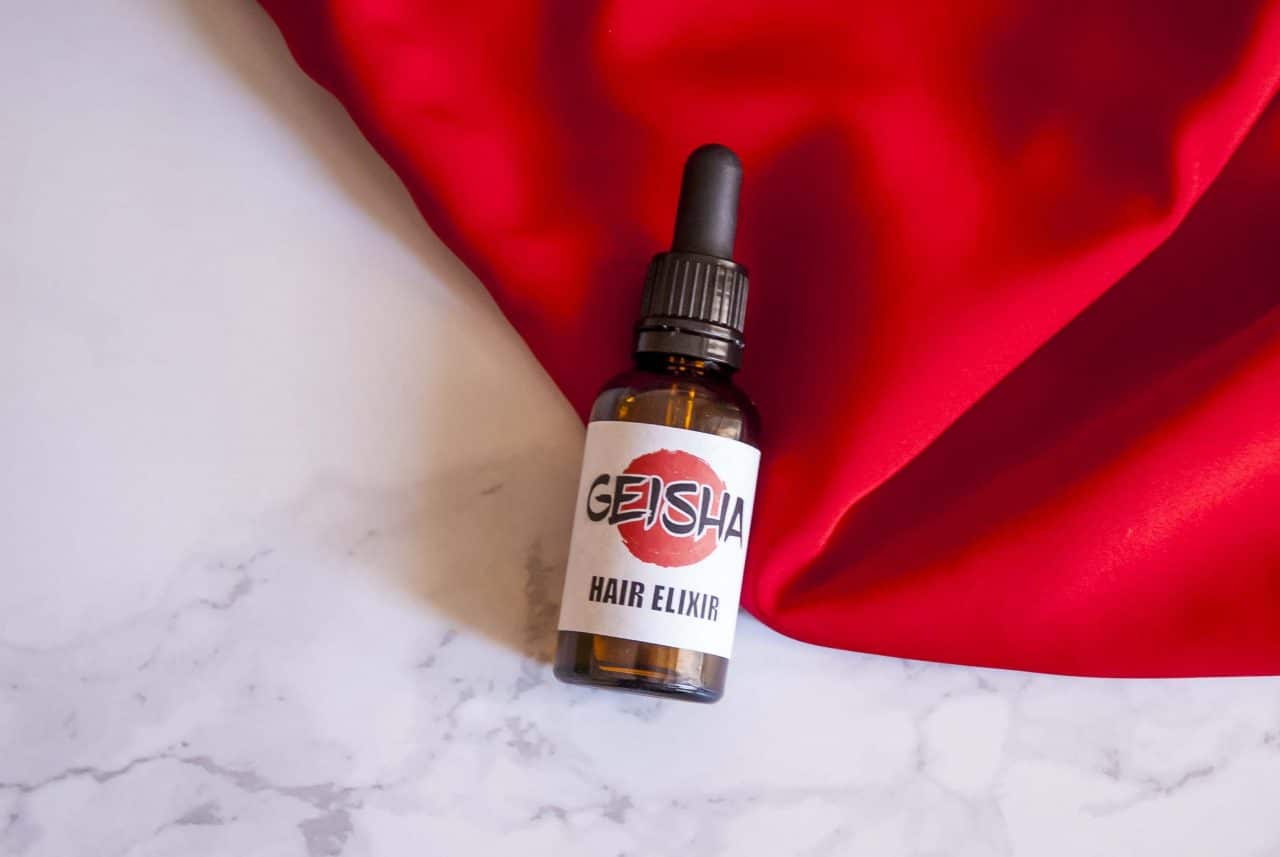 This DIY hair oil recipe combines 3 best and most powerful organic oils known to hair care into a single blend. Natural oils chosen for this DIY hair oil blend can penetrate the hair well and therefore nourish and protect the hair from the inside.
This homemade hair elixir is a real savior for dry, damaged and frizzy hair. It deeply nourishes, protects, detangles, controls the frizz and leaves hair feeling soft and shiny.
I called this DIY hair oil "Geisha Elixir" because it includes a favorite hair oil of geishas – Camellia oil. Camellia Japonica oil has been used by geishas for centuries as a beauty treatment for hair and face. It is a very popular oil in Japan and is even used by such brands like Shiseido.
Wondering what the other two miracle oils are?
Its Argan oil and Brocolli seed oil. If you ever used Broccoli oil for your hair then you'll understand why its included in this blend. If you never heard of it, then prepare for a hair changing discovery. You will love it!
In this post I will talk about:
♥ Why your hair will love this DIY hair oil
♥ How to use this DIY hair oil for best results
♥ How to make this hair oil yourself
♥ How to decorate the bottle with Geisha hair elixir labels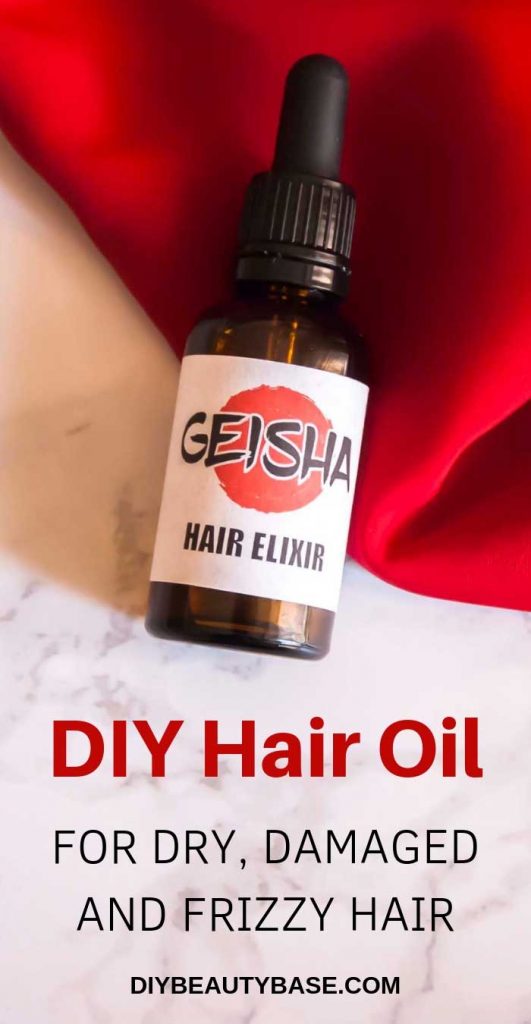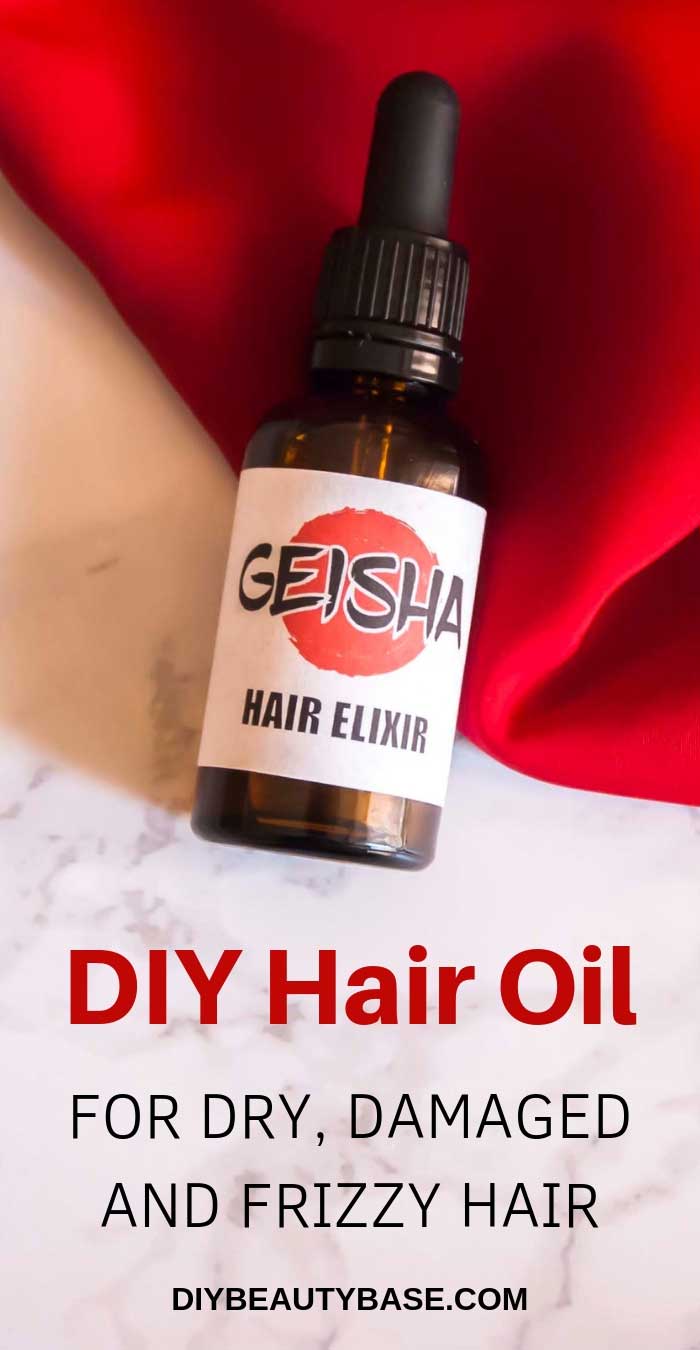 Why your hair will love this DIY hair oil
I will start by saying that I am a big fan of hair oils and serums. My hair is dry and damaged from bleaching and heat styling and I rely heavily on hair oils and serums to make my hair manageable.
The problem with store bought hair oils, though, is that they have all these synthetic ingredients and silicons that don't do anything good for your hair. I used to use these hair oils because they allowed me to have a more manageable (I can't even brush my hair without it) and shinier hair. Synthetic hair oils provide a temporary illusion that your hair is healthy. After you wash off the chemicals you see that your hair is as bad or even worse than it was. I wanted a natural hair product that will give me the immediate results: soft, shiny and manageable hair but that would nourish my hair in the long run too.
I started experimenting with using natural oils for my hair but I found that many of them are too greasy to be used as a leave-in hair treatment. So I researched and experimented with various oil blends and I finally created a DIY hair oil recipe that I am very happy with. I found that these 3 oils are a perfect combo for dry, damaged and frizzy hair: Camellia Japonica oil, Broccoli seed oil, and Argan oil. A combo that even geishas would love.
Camellia oil – hair oil of geishas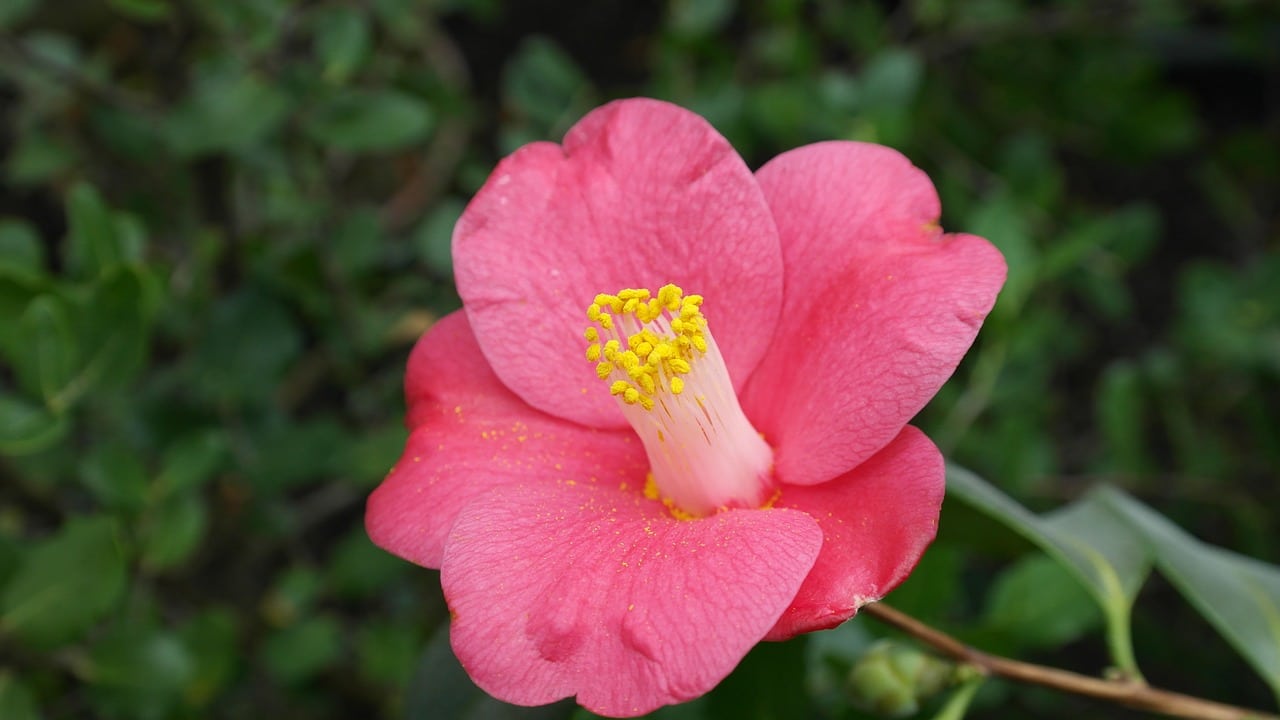 Camellia Japonica oil (also known as Tsubaki oil) has been traditionally used by geishas as a beauty treatment for hair and skin. Camellia oil is a very lightweight, dry oil. Its molecular design resembles the oils that humans naturally secrete which allows camellia oil to be absorbed rapidly, deep into hairs cortex instead of sitting on top. This allows Camellia oil to nourish and soften the hair without leaving it looking greasy.
Camellia oil helps hair to retain moisture, repairs damage and improves elasticity. The oil is also said to be an effective dry scalp treatment. It dissolves sebum and unclogs pores in our scalp, moisturizes the skin. Due to high levels of vitamins that this oil contains, it also promotes hair growth.
Broccoli seed oil for hair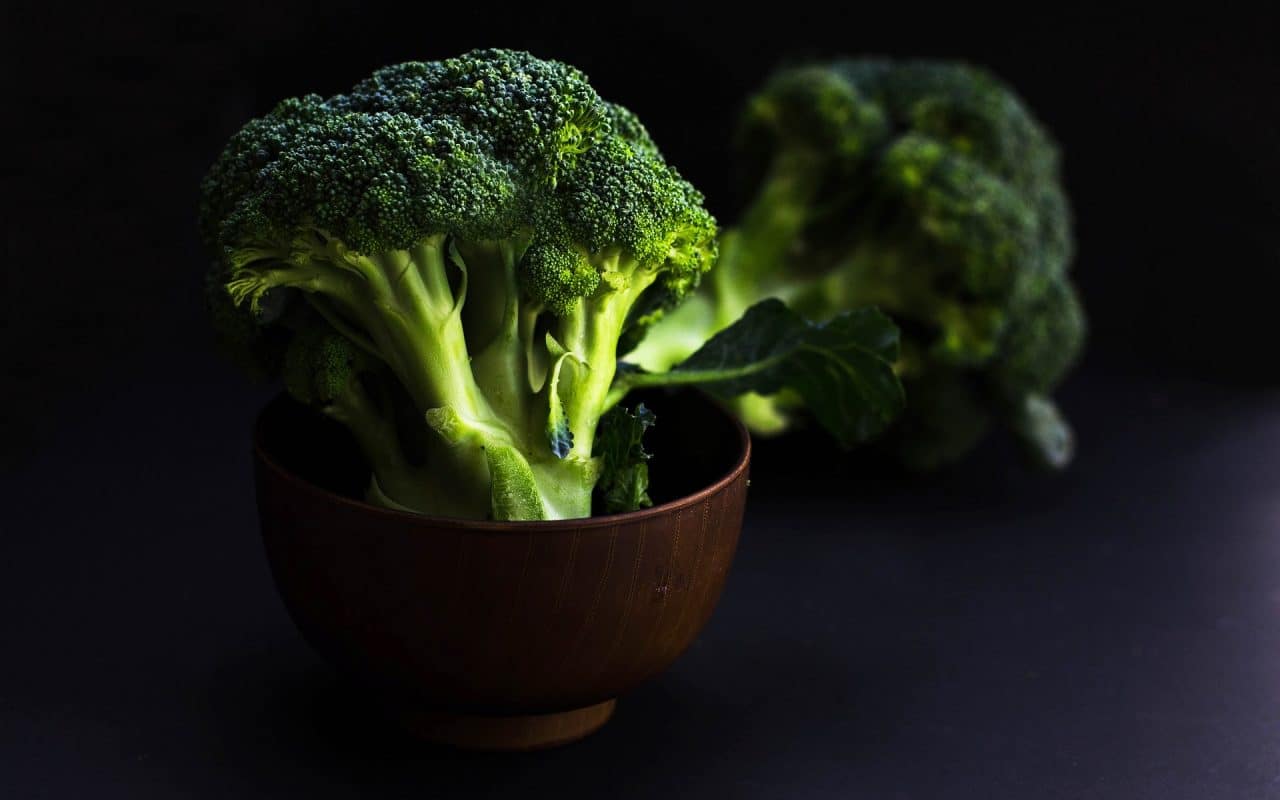 Broccoli seed oil is very unique when compared to other natural oils. 80-85 % of Broccoli seed oil are polyunsaturated acids such as erucic acid (omega-9), oleic acid and linoleic acid. On top of that, Broccoli oil contains vitamin A, C, K and B vitamins which help to combat hair graying and hair loss. The interesting part of Broccoli oils composition is that 50% of it is erucic acid. Erucic acid is an omega-fatty acid that imparts silicone-like feel and sheen to the hair. For this reason, Broccoli seed oil is called a natural silicone. Finally, there is a way to get silicone-like results in a natural hair product!
Broccoli oil works amazing for hair. It is very moisturizing but at the same time absorbs quickly and does not leave the hair looking greasy. It helps to control the frizz, makes hair soft, smooth and shiny.
Argan oil for hair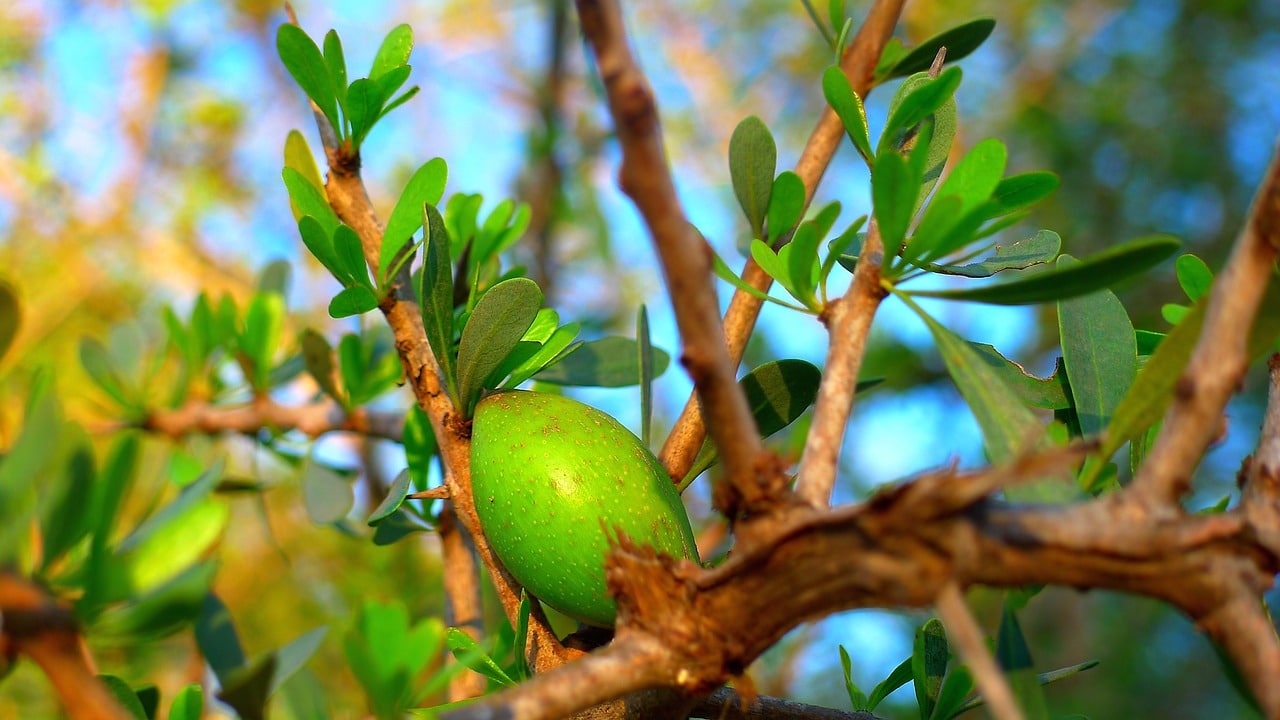 Well, I probably don't need to introduce Argan oil. Its one of the most famous natural oils for hair. Argan oil nourishes the hair, makes them feel softer and shinier and protects from the environmental factors such as the sun, wind, and cold.
Using pure Argan oil on the hair might feel too greasy, especially if you have very fine hair. That is why we will be mixing it with a Camellia oil, which is drier.
How to use this DIY hair oil for best results
This DIY hair oil can be used in many ways. There are no restrictions. It is a fully natural product so you can use it both as a wash-off hair mask or a leave-in treatment.
My favorite way: using hair oil on damp hair
Take couple drops of Geisha DIY hair oil and rub between your palms. Apply the oil on a washed, damp hair. Distribute the oil on your hair concentrating more on the dry ends. This is my favorite method. I find that natural oils work best for hair when applied on a slightly damp hair. This way oils can seal in the moisture. It also feels less greasy this way so I can apply more drops.
This method leaves me with a manageable, soft and shiny hair. I created this homemade hair oil formula for this specific purpose.
Also, if you have dry, bleached hair like me, you might like this moisturizing hair conditioner recipe.
Using hair oil on dry hair
You can also use this DIY hair oil on a dry hair. You just need to use less. If you have fine hair, start with one drop, rub it between your palms and distribute evenly across the ends.
Using hair oil as a hair mask
Another great method is to use this DIY hair oil as a hair mask. Apply oil all over the hair and massage into the scalp. As I mentioned earlier, the oils used for this hair oil recipe are great not only for dry hair and split ends but for the scalp too. Such hair oil mask will be especially beneficial to you if you have dry scalp or dandruff.
If you tried overnight hair oil masks before you might be worried that this will be difficult to wash off in the morning. But this oil blend is quite dry and absorbs quickly, so one wash with a shampoo should be enough to wash it off.
Adding hair oil to a conditioner
Add couple drops of this homemade hair oil to your conditioner before applying it to the hair. It will add additional vitamins and fatty acids to nourish your hair.
If you know more ways how this DIY hair oil could be used, let me know!
Geisha's Hair Elixir

Instructions
To make things clean and easy we will be pouring oils straight into our dropper bottle using a small funnel.
Place your bottle with the funnel on the scales and then turn the scales on. This way scales will account for the weight of the bottle and still show 0 grams. When you pour your oils it will show only the weight of the oils.
Slowly pour Camellia oil until you reach 15 grams.
Pour 5 grams of Broccoli seed oil (scales will show 20 g) and then 7 g of Argan oil (until the scales show 27 g).
Add 0.5 g of vitamin E and approx. 10-15 drops of essential oil. This should make approx. 28 g of hair elixir oil. No need to fill in full bottle.
Shake the bottle so that oils would mix well.
Apply to your hair and look gorgeous!
© 2023 DIY Beauty Base
Geisha hair elixir labels
You can download labels for your DIY hair oil here.
The sheet includes 4 labels, 2 for a 30 ml bottle and 2 for a 50 ml bottle. Print these labels on adhesive sheets, cut them out and stick them on.
Like the recipe but not ready to make it just yet? Save it for later on Pinterest.