Moisture Boosting DIY Hair Conditioner for Dry Hair
This post contains affiliate links. If you click and make a purchase, I may receive a commission. Thanks.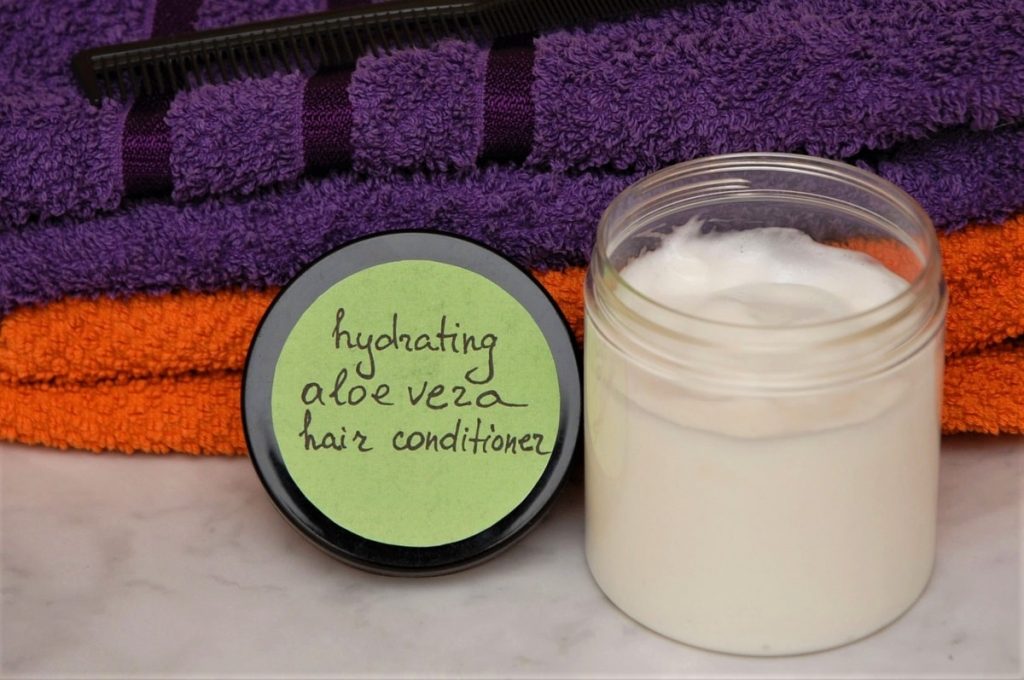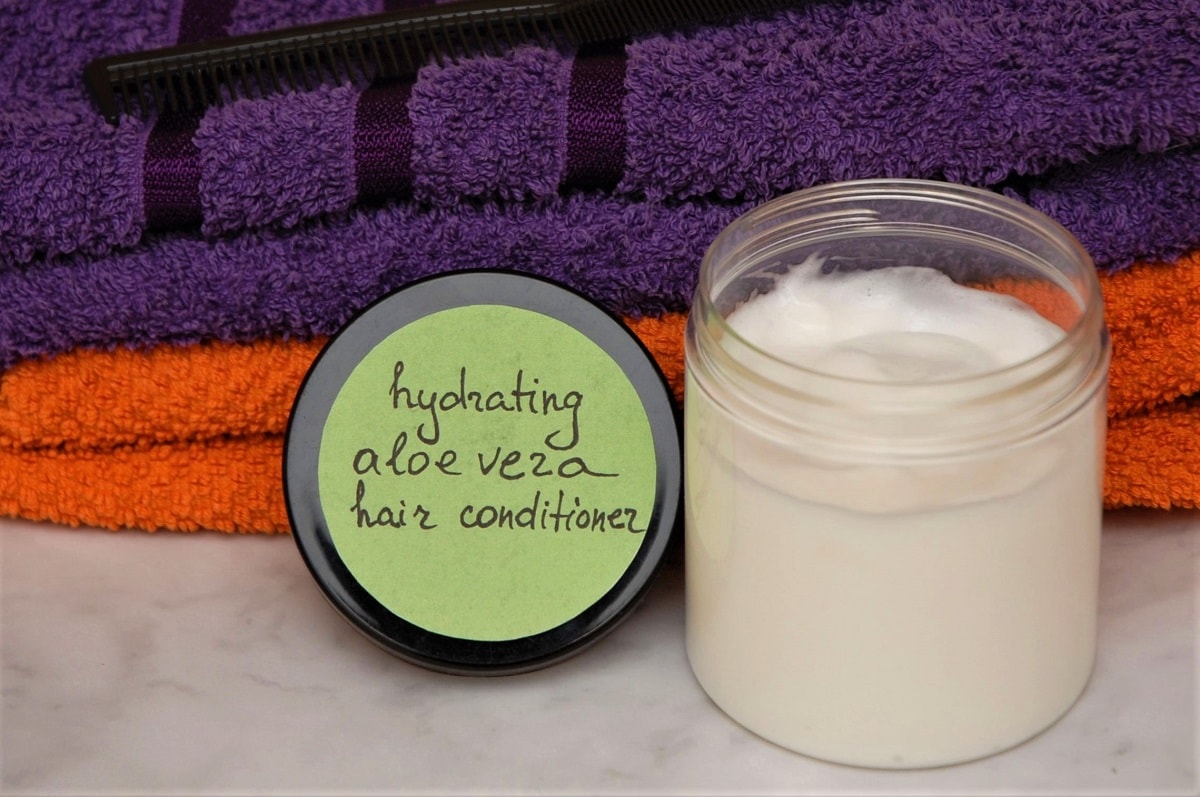 I am excited to share with you this moisturizing hair conditioner recipe. It is formulated to provide moisture and softness to dry, brittle hair.
I've been researching DIY hair conditioner recipes for quite a while now, trying to figure out the best ingredients for dry hair. Most recipes are oil-based, so they provide hair with protein. But what my dry, over-processed hair needs is moisture. So I gathered some really good hydrating ingredients and created a DIY hair conditioner for dry hair that is effective but still fairly simple and inexpensive to make.
This moisturizing DIY conditioner includes everything that dry hair needs: aloe vera and panthenol for hydration, macadamia oil for deep nourishment and protection, lightweight broccoli oil (natural silicone) for shine and frizz control, and of course, BMTS-50 for deep conditioning and silky feel. The formula is very lightweight, so it won't weigh down even fine hair.
I use this DIY conditioner for hair with every wash. I also apply my Geisha DIY hair oil on damp hair before drying to lock in the moisture and for extra frizz control and shine.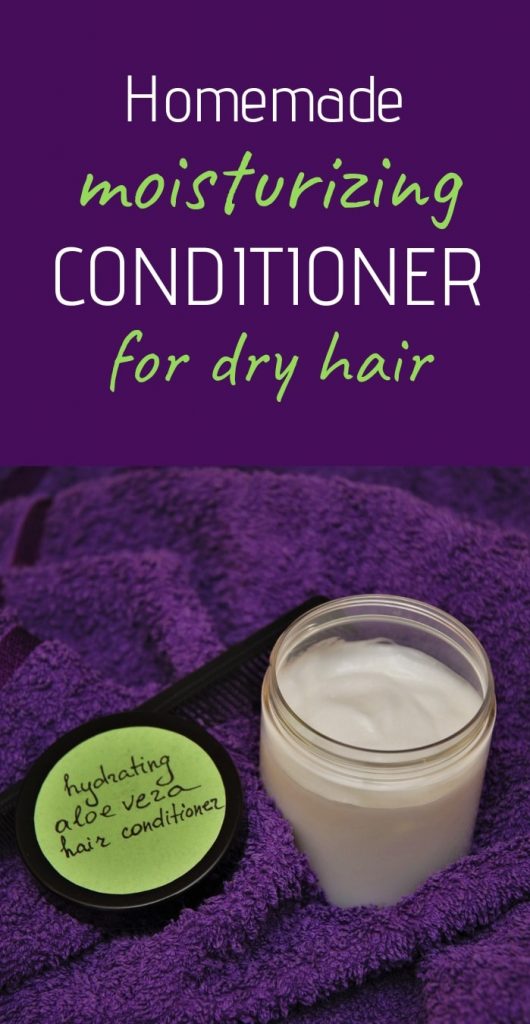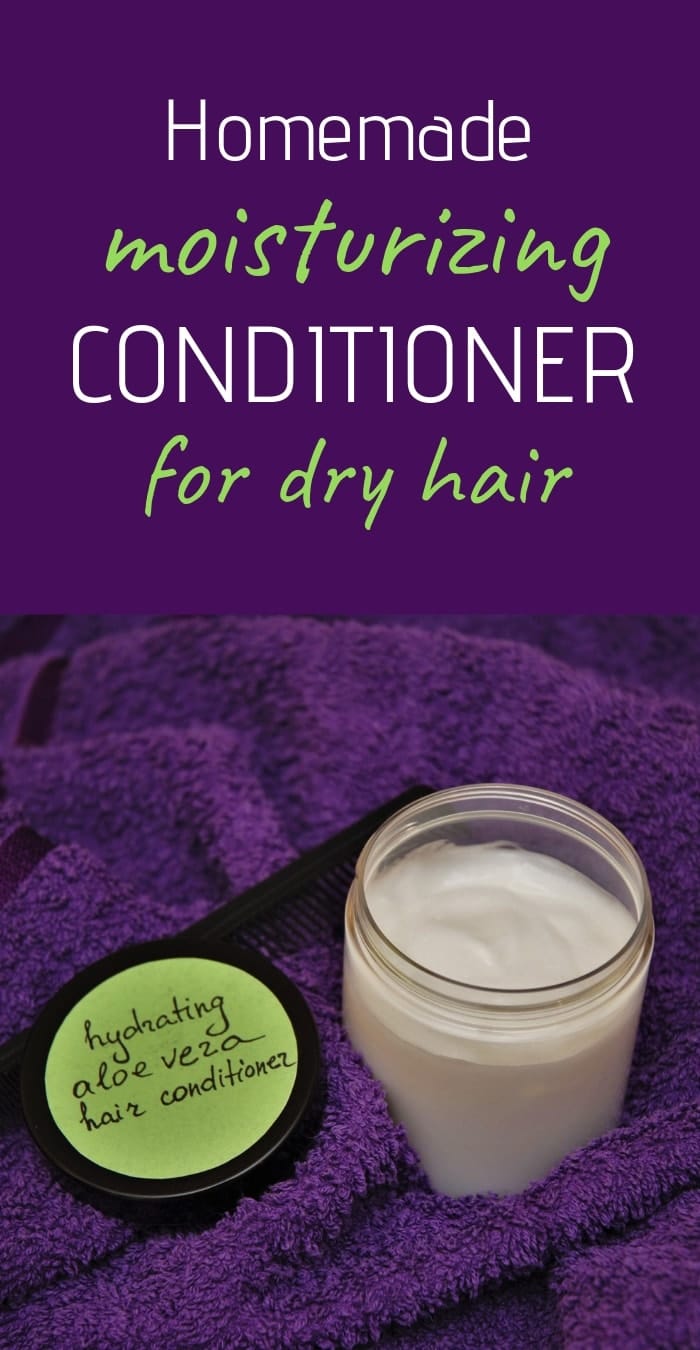 Now that you are familiar with the list of ingredients, let me explain each of them and show you why they are perfect for reviving dry hair.
Aloe vera
Aloe vera is a natural humectant. It has the ability to attract moisture and lock it in the hair. This helps the hair maintain elasticity, so it breaks less - exactly what dry, brittle hair needs. Aloe vera also adds a healthy shine to the hair.
BMTS-50
BMTS-50 is a vegetable-based conditioning emulsifier (derived from Rapeseed oil). It can be used to emulsify body lotions and scrubs, but it is more commonly used to make hair conditioners. This is because apart from emulsifying water and oil, it also conditions the hair, leaving it tangle-free and feeling silky. I definitely feel that my hair is a lot easier to wet comb after using this homemade hair conditioner with BMTS.
BMTS-50 is my go-to ingredient for DIY hair conditioners. It is versatile, so I am planning on experimenting with it in my body lotion recipes too. Also, BMTS-50 is a very mild ingredient, so it is suitable even for leave-in conditioners.
Broccoli seed oil
Broccoli seed oil is my discovery of the year. It is very unique when compared to other natural oils, and there are no good natural substitutes for it. Broccoli seed oil is packed with vitamin A, C, K and B vitamins which help combat hair graying and hair loss. But the most interesting thing about Broccoli oil is that it consists of 50% erucic acid. Erucic acid is an omega-fatty acid that imparts silicone-like feel and shine to the hair. Due to this, Broccoli seed oil is called a natural silicone.
I love using this oil in my hair serums and DIY conditioners for hair. It is a deeply moisturizing oil that absorbs quickly, therefore, does not leave the hair looking greasy. It aids in controlling the frizz and makes the hair soft, smooth and shiny.
Macadamia oil
I chose Macadamia oil for this hair conditioner recipe because it is able to quickly penetrate into the hair shaft instead of just sitting on the hair strand. This means that a lot of the oil will be able to sink into your hair while you keep your conditioner on, making your hair very soft. The rest will easily rinse off without leaving the hair greasy.
Macadamia oil also works great for taming the frizz and adding shine to the hair. Just like most oils it helps lock moisture inside the hair and protects the hair from drying out further.
Feel free to substitute macadamia oil with other oil/oils. Coconut oil is a good substitute because just like macadamia oil, it is quickly absorbed by the hair for optimal nourishment.
D-Panthenol
D-Panthenol, also called Provitamin B5, is an excellent moisturizer and hair thickener. Panthenol has similar characteristics to humectants. It restores moisture in the hair which in turn makes the hair thicker. This is different from other ingredients that simply coat the hair to make it appear thicker. So if you suffer from thin, dry, brittle hair, panthenol may be able to help.
Another great characteristic of panthenol is its ability to spread evenly on the surface of the hair. Panthenol forms a smooth film over the hair cuticles that enhances light reflection, so the hair looks glossier. This smooth film also provides the hair with a bit of "slip" that helps prevent nasty knots and tangles.
Vitamin E, Essential oils and preservative
Vitamin E is an optional ingredient. It is an antioxidant that extends shelf-life of the carrier oils used in the recipe.
Essential oils. I used Lavender essential oil. Feel free to use any essential oil or combination of oils that you like. The essential oils in this recipe are for the scent only. Since you are not going to be massaging this DIY conditioner into the scalp, essential oils will not deliver any benefits, apart from the lovely smell.
Preservative. This DIY hair conditioner recipe contains water and aloe vera, which means a preservative is a must. Without it, your homemade conditioner will only last a couple of days. Liquid Germall Plus is a good choice for DIY beauty recipes. It is a broad-spectrum and easy-to-use preservative that's effective in small amounts. It has a recommended usage of 0.1–0.5%, but since our homes are not very sterile, I would recommend using 0.5%.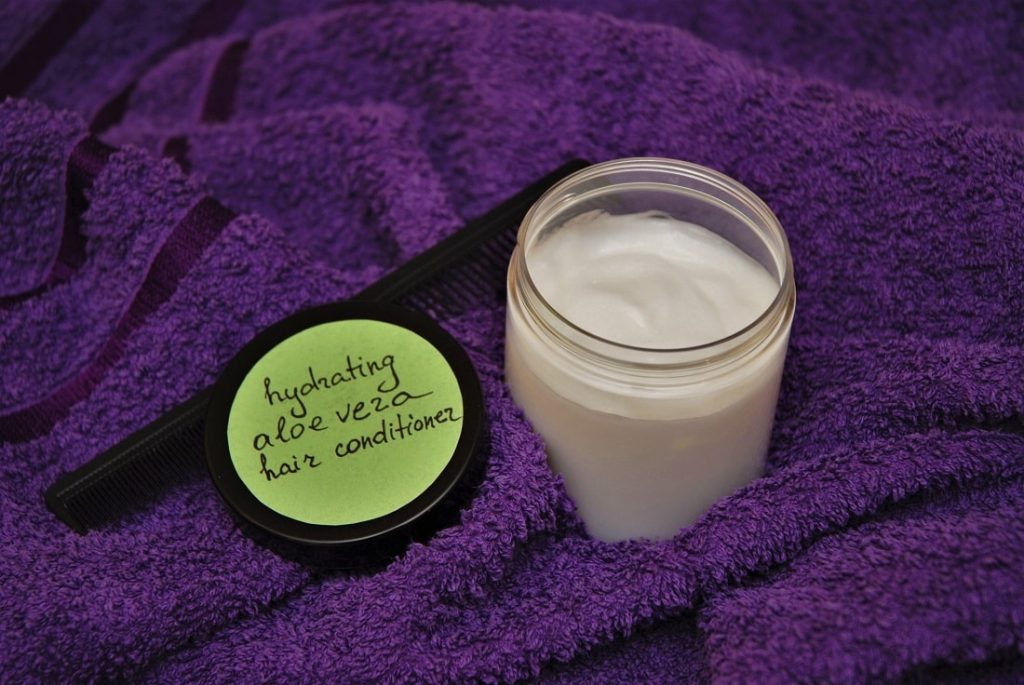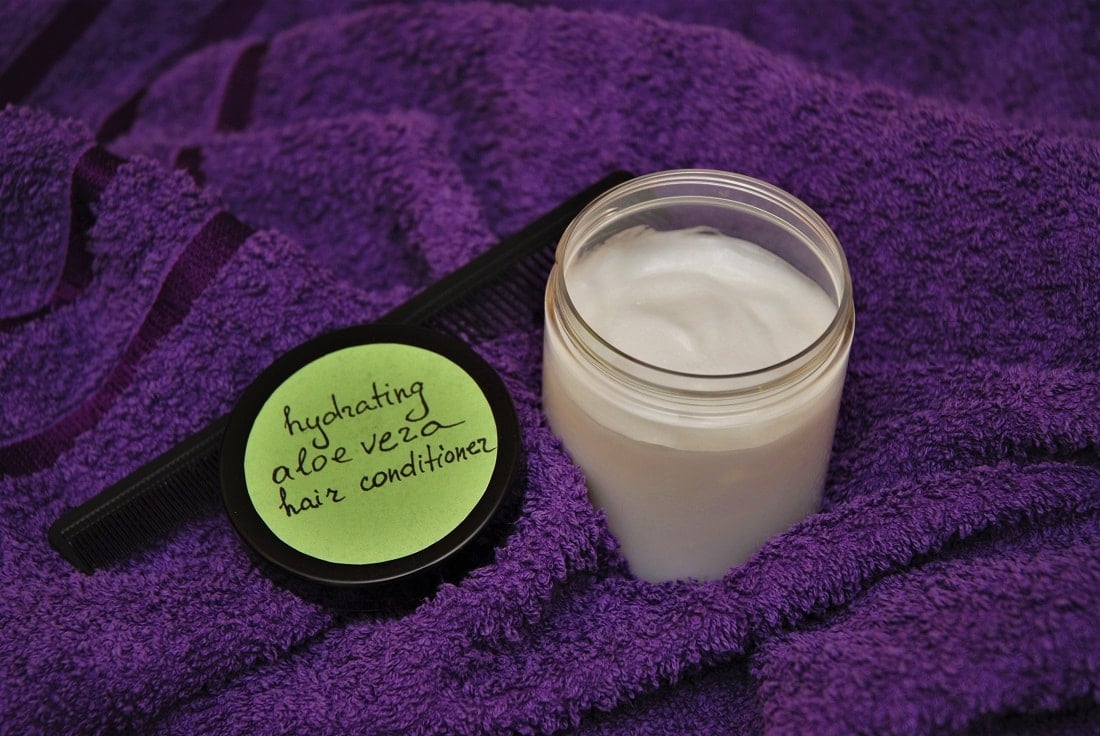 How to make a hair conditioner for dry hair
If you had a chance to make a face cream or a body lotion before, you will find this process almost the same. If not, don't worry, it's quite simple. The main thing you need to know is that there are 3 stages to this recipe: 1. Heating up water-soluble and oil-soluble ingredients separately. 2. Combining water- and oil-soluble ingredients together. 3. Letting the emulsion cool down and adding heat sensitive ingredients. Now let's go through the process step by step:
1. Prepare a water bath. Take a sauté pan or a pot, pour in some water (about 3cm/1″) and bring it to simmer over low heat.
2. Weigh the water and aloe vera and pour into a small heat-resistant cup. Weigh the BMTS-50, Broccoli seed oil, and Macadamia oil and add to a second heat-resistant cup. Place both cups in the water bath to melt everything through.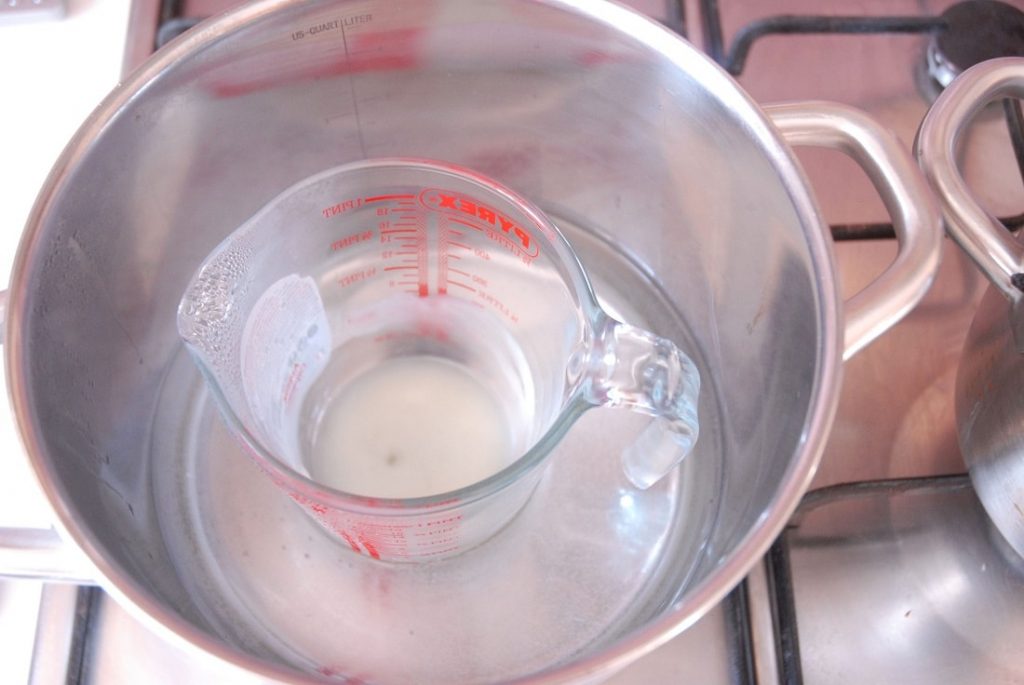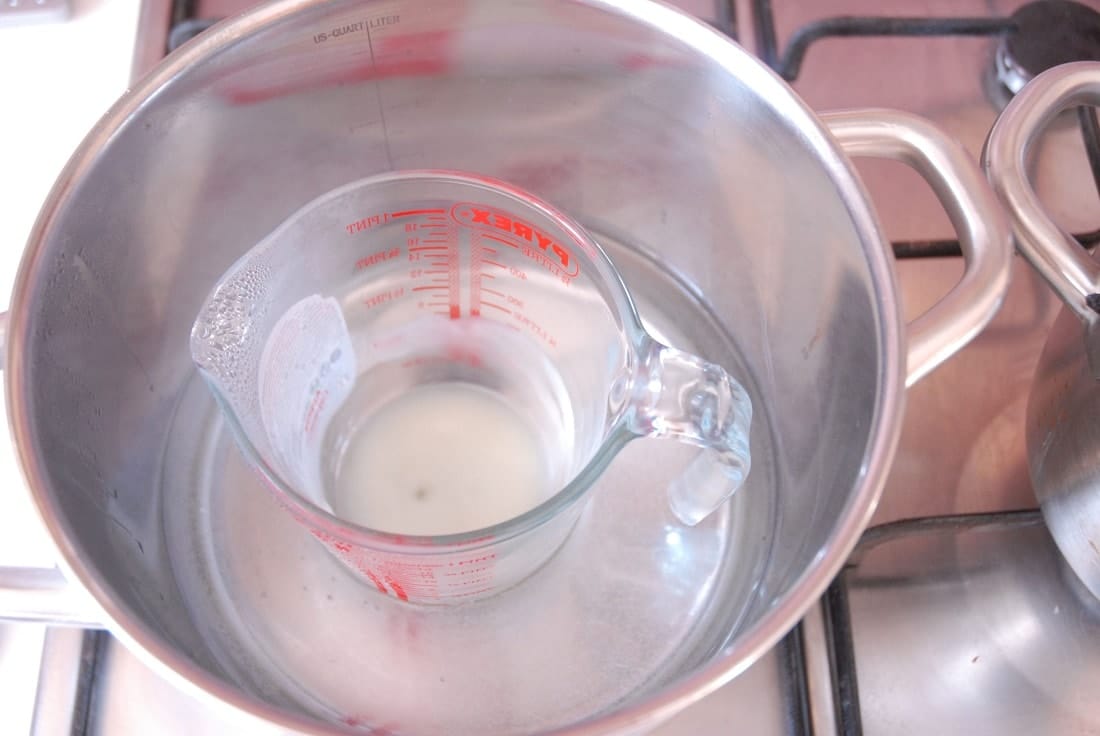 3. Once BMTS-50 has melted, keep both cups at 70C/160F for about 20 min. Make sure the ingredients in both cups are more or less the same temperature and combine them together.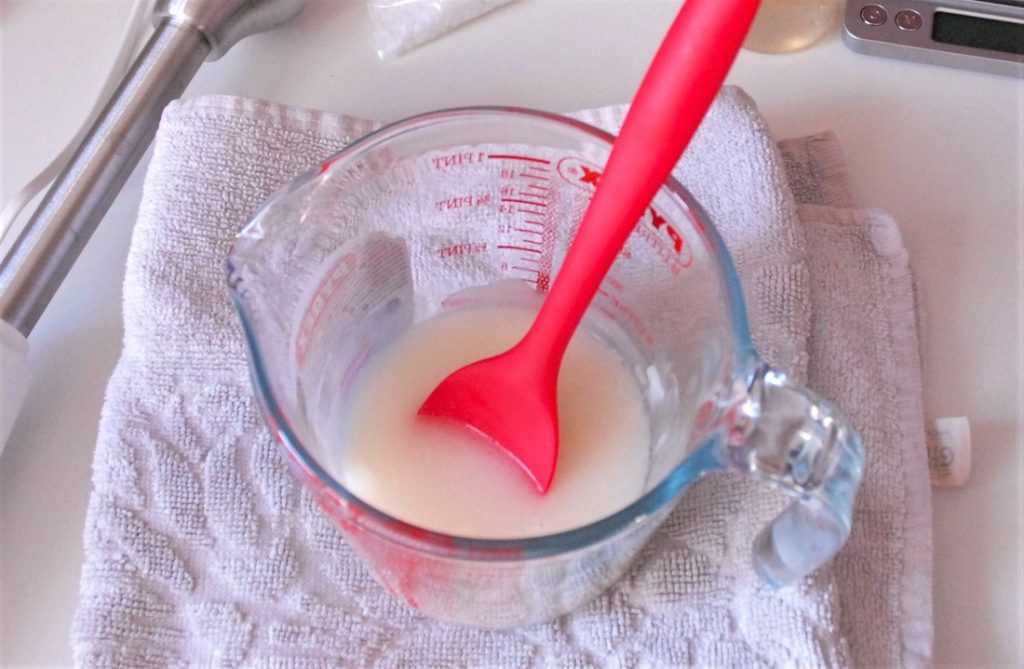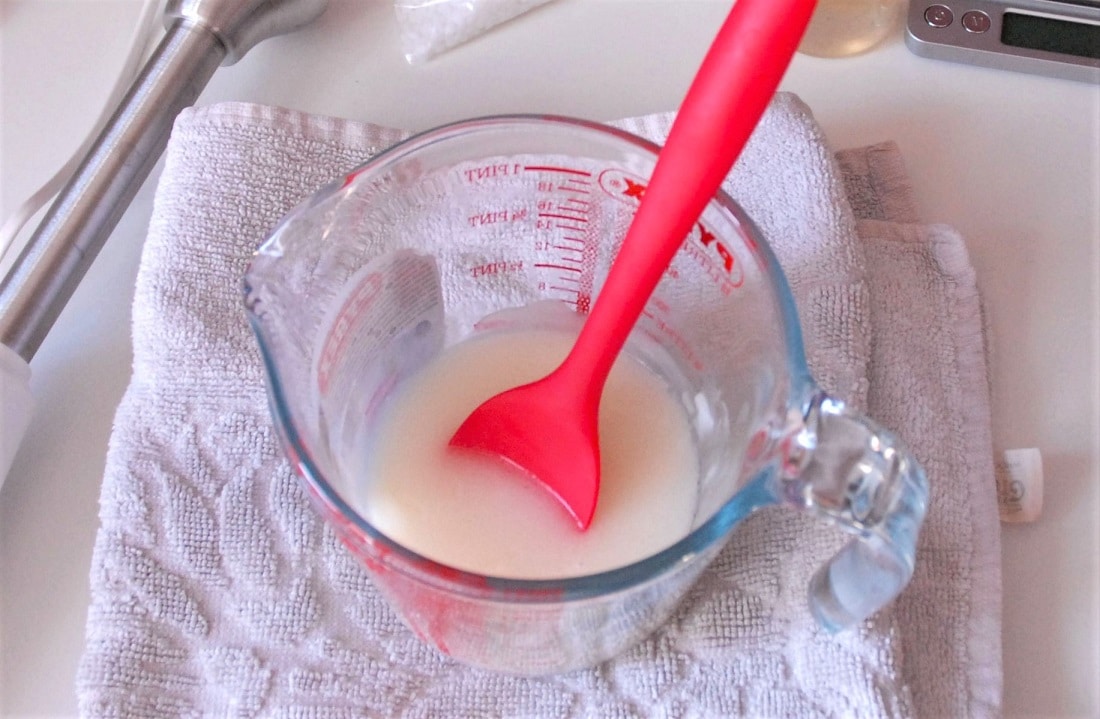 4. Whisk the mixture while it cools. I recommend using an immersion blender for this as it will mix your hair conditioner evenly. Mix for a minute, then let it cool for a bit, then mix again until the conditioner cools down and thickens.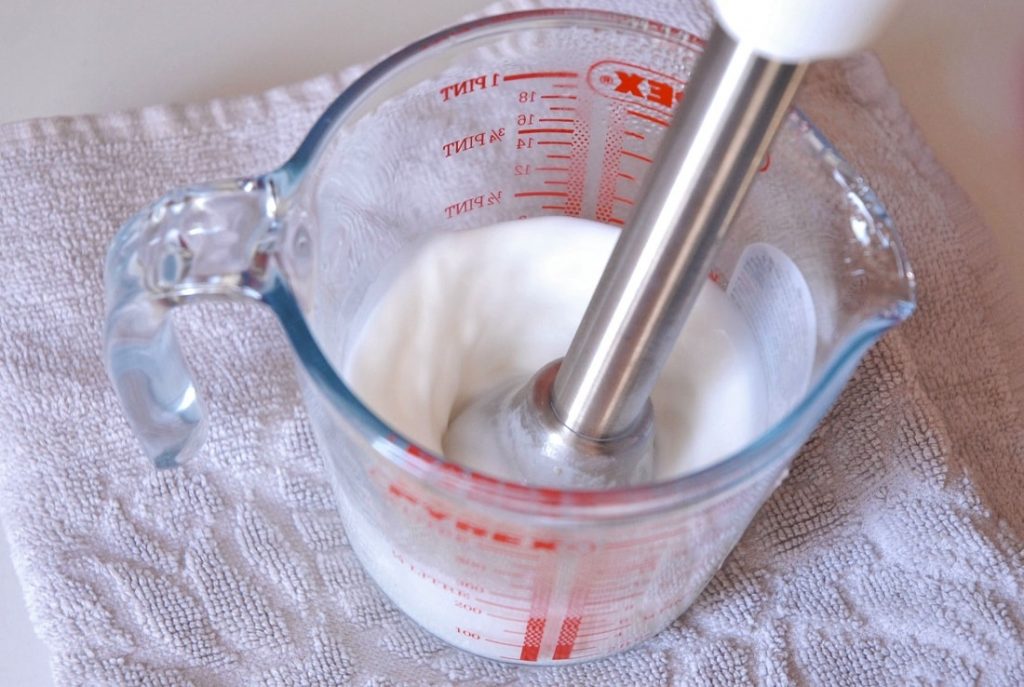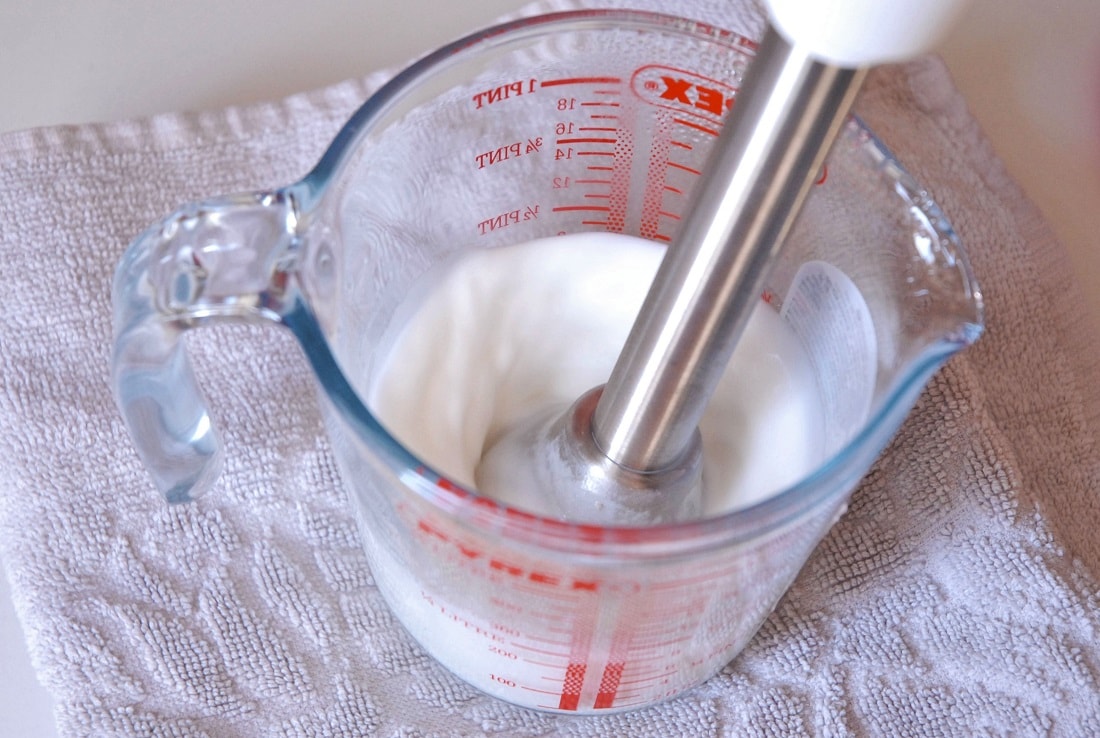 5. Wait till your DIY hair conditioner has cooled down to below 45C/110F (or when the glass container is barely warm to the touch) and add Panthenol, vitamin E, essential oils and preservative. Mix well and leave to completely cool down.
6. Transfer to the jar or a bottle with a pump and enjoy. Use as a regular conditioner with every wash. Leave on the hair for 5 minutes or longer and rinse off.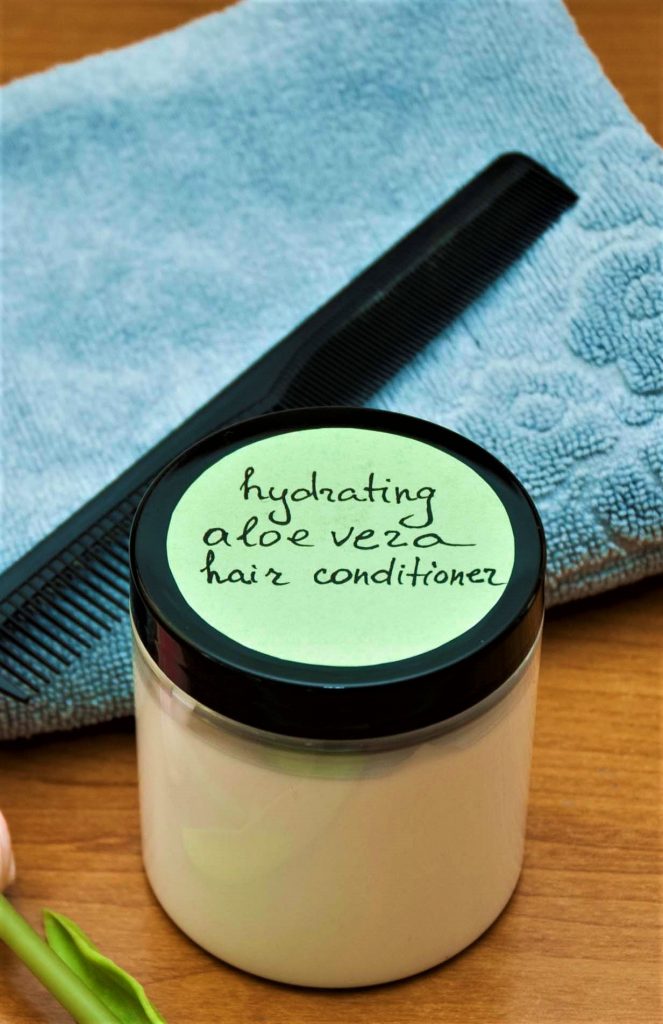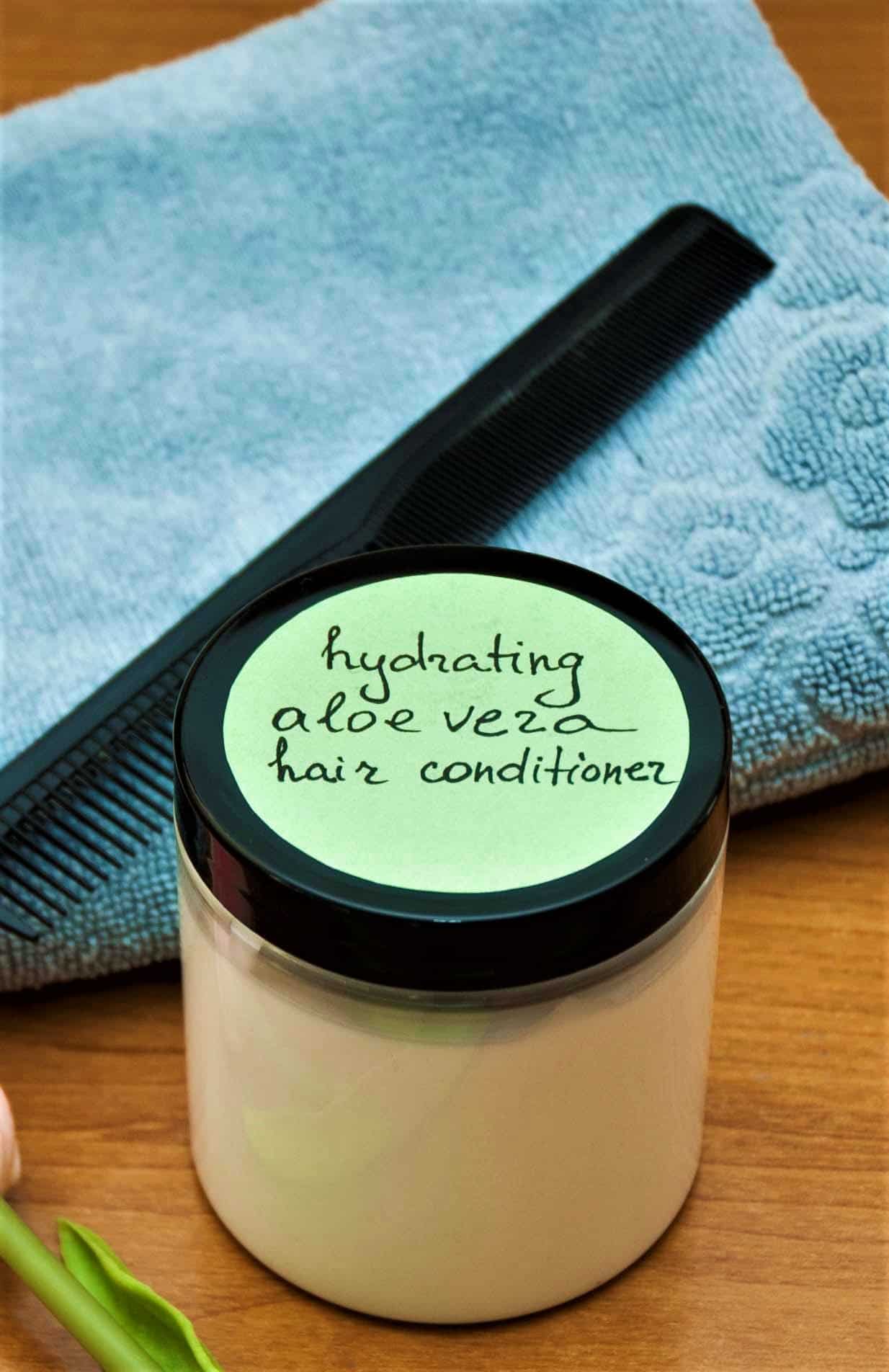 Let me know what you think in the comments below. Also, what is your biggest hair concern? I am looking for ideas for my next hair care recipe.