How to make eyeshadows – ultimate guide
This post contains affiliate links. If you click and make a purchase, I may receive a commission. Thanks.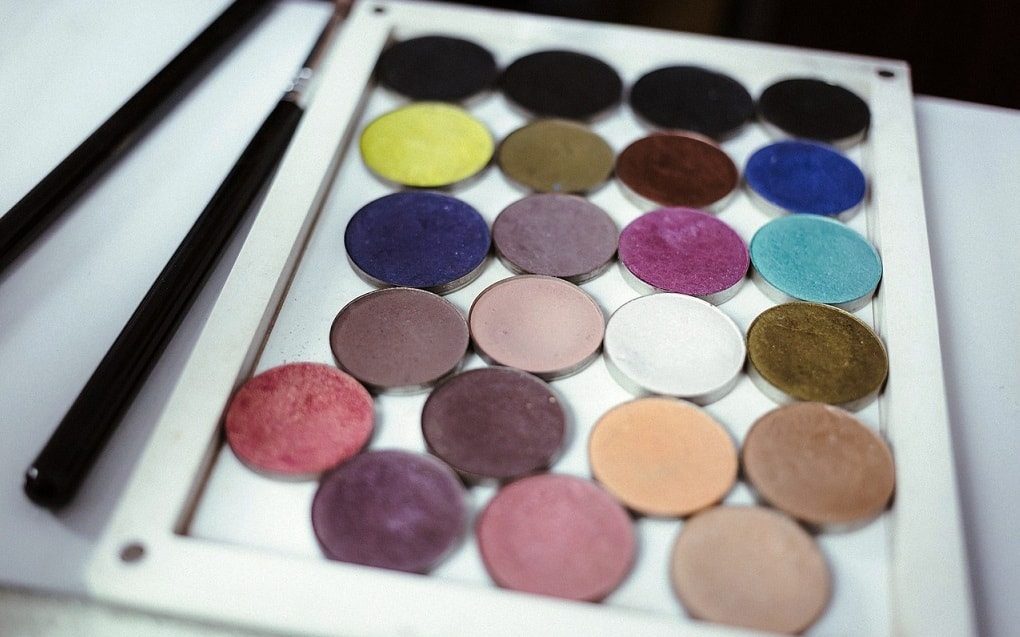 DIY cosmetics are getting more and more popular and by now you probably already heard that you can make DIY eyeshadows at home. The truth is that at the moment many DIY eyeshadow recipes online are no good. They tell you to use crayons, food coloring, baby powder and other ingredients that you should not use near your eyes. Eyeshadow recipe with these ingredients is not a good recipe. It's more like a fun DIY project for teens but will not create a safe and long-lasting eyeshadow.
So forget everything you read so far and let me teach you how to make homemade eyeshadows that are safe, beautiful and long-lasting.
I know that MAC makes eyeshadows look like a magical unicorn powder. And, unfortunately, they do charge like it is one. But in reality, professional eyeshadows are very easy and inexpensive to make.
In this post I will cover:
- How to make eyeshadow pigment (color ingredients)
- Other ingredients and supplies required to make DIY eyeshadows
- How to make eyeshadows from scratch
- How to create shimmery or matte eyeshadows
- How to make pressed eyeshadow
How to make eyeshadow pigment (color ingredients)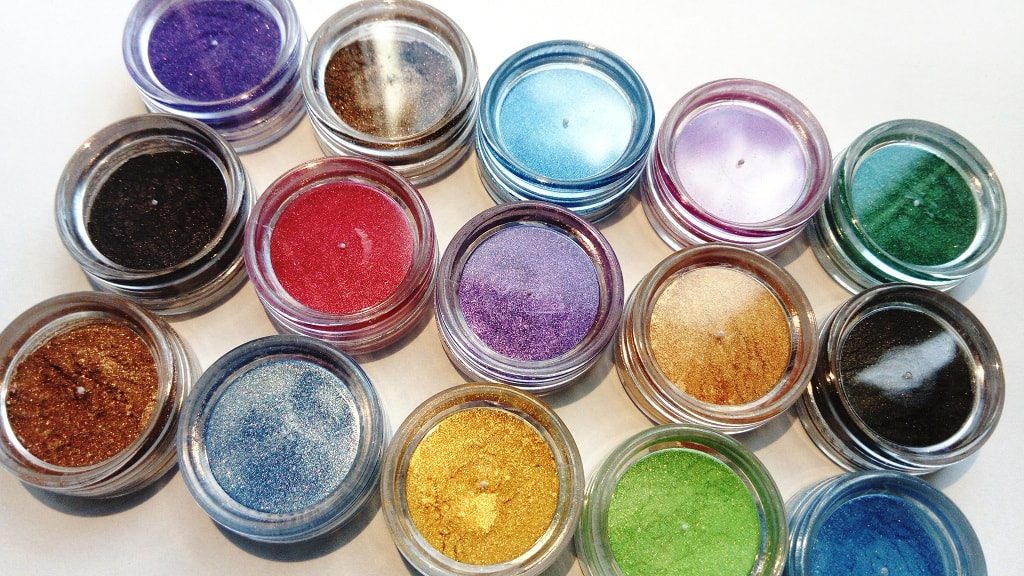 Mica powder is a fine cosmetic powder that is available in a huge variety of colors. Mica powder usually has at least a little bit of shimmer and, therefore, should be used minimally if you are making matte eyeshadows. Depending on the color you want to achieve, you can use one mica shade or for more unique colors mix a couple.
When choosing mica powder make sure you only buy cosmetic grade one that is suitable to use near your eyes. You can buy it at beauty supply stores or online, for example: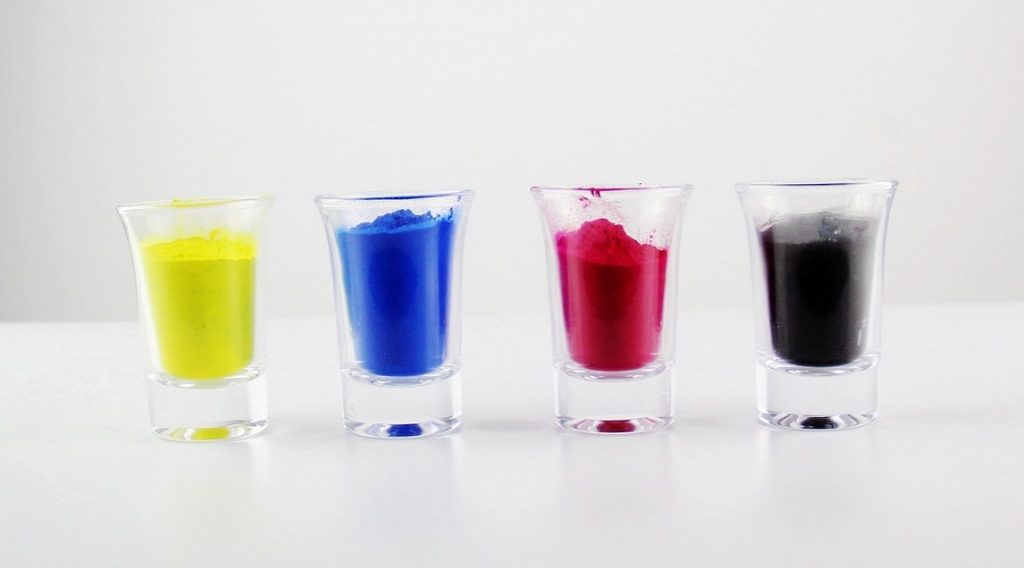 Color pigments (include iron oxide, clays, etc.). Just like mica powders, these are available in a variety of colors. You can mix and match to create even more variations. Color pigments have no shimmer and work great if you want to make a matte eyeshadow. You can also mix it with mica powders to create just the right amount of shimmer.
Tip! Color pigments are more potent than mica powders so you need less to achieve the color.
Tip! Oxide pigments can be difficult to mix. If you want to mix let's say yellow and blue you will have to mix the two colors and then grind them in pestle and mortar. Only this grinding will reveal the green color.
When buying only choose the cosmetic grade that is suitable for the eye area. If it does not state that it is suitable for eyes - do not buy it.
A very good place so far to buy inexpensive and suitable for the eyes colors is TKB. Their selection and prices are great and they make it very easy to see which colorants are suitable for the eyes. It also shows if the product is vegan or not.
You can find more information on FDA approved color additives for cosmetics here.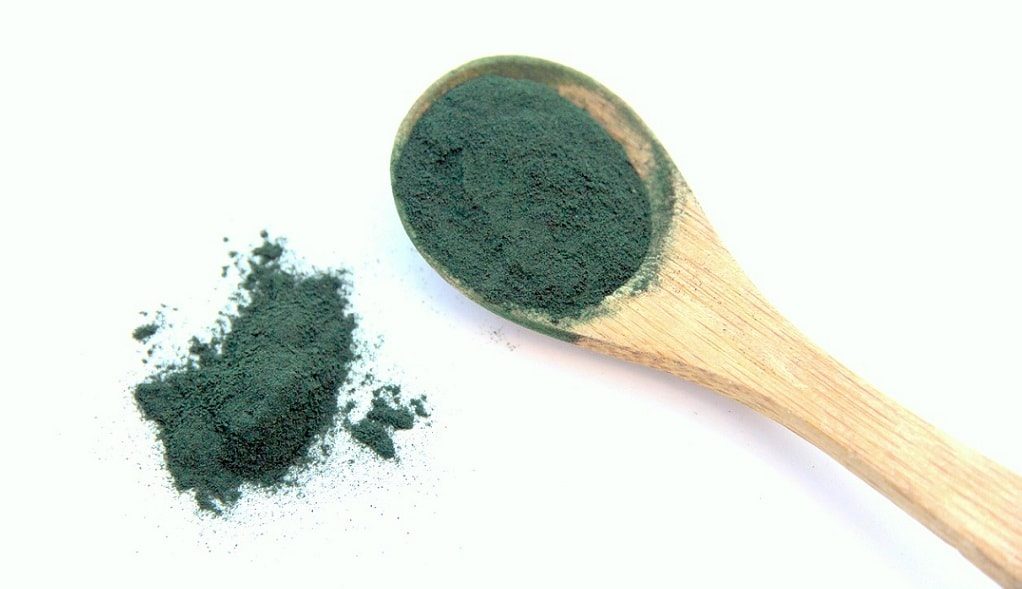 Natural spices. This is the only truly natural option and you can find it in your cupboard. However, the colors and staying power is not as great. And spices tend to be more difficult to work with. Also, if you want to achieve a shiny, sparkly finish you will still need to add some mica dust.
Eyeshadow colors from spices:
Brown color: Cacao powder, nutmeg
Golden: Turmeric
Red: Red clay
Pink: Beet powder
Orange: saffron + beet powder
Green: Spirulina, green clay
Black/Grey: Activated charcoal
White: white clay (can lighten other shades)
DIY eyeshadow ingredients
Eyeshadow base
To make a good quality, long lasting homemade eyeshadows you will first need an eyeshadow base. Eyeshadow base is just a simple mix of colorless ingredients that provide necessarily properties to your eyeshadows, such as:
adhesion,
oil absorbency,
smooth texture,
coverage
and more.
We can of course just take a color pigment and apply that to our eyelids. But that will neither look good nor stay put for too long.
If you are just beginning your journey to a DIY makeup world, I would advise starting with the premade eyeshadow bases. These bases already have all the necessary base ingredients mixed together. This way you can jump straight into the fun part - adding colors!
Premade bases are not expensive and a little bit goes a long way so you can make loads of eyeshadows from it. These mixtures provide really good results and it is the easiest way to do it.
Later if you see that you really enjoy making eyeshadows you may want to start mixing your own bases to experiment with different finishes.
There are quite a few offers on the market but I would like to mention a popular quality option:
- Mineral base. You need to add approximately 1/2 part of a filler base to 3 parts of color. It is great for DIY eyeshadows that have mica powders in it.
If you want to make matte eyeshadows you will need to add approx. 3 parts filler base to 1 part color. For even better results, you can make special filler base that helps to produce the best matte eyeshadows.
You can read more about making your own eyeshadow filler base.
Other supplies for making eyeshadows:
- Rubbing alcohol. You will need this to disinfect your working area and all the supplies.
- Something to mix and grind your powders. If you will only be using mica powders then a small ziplock baggie or a plastic container with a lid is enough. Mica powders do not need and should not be ground. They will mix well just from shaking and mixing. If you want to use color pigments or make your own base filler (instead of buying pre-made one) then you will need something to grind your powders with. Little coffee grinders work great for this purpose. You can also use mortar and pestle and grind manually.
- Small measuring spoons. This is not mandatory but something that helps when working with small quantities.
- Tin pans or loose eyeshadow containers (1 oz containers for example). This depends on what type of eyeshadows you want to make: pressed or loose. Any size of tin pans will do but if you are wondering 26cm is standard.
To make pressed eyeshadows you will also need:
- Binder (to hold your eyeshadow pressed together). There are many options but I recommend one of these: MyMix Clear Pressing Binder Medium (Vegan) or Naturderm IL.
Note: if you want to make more natural eyeshadows you can use glycerin or jojoba oil (or some other oil) as a binder. However, If you use glycerin be aware that the eyeshadows will not last as long. They may start molding within a couple months. To prevent this you would need to add couple drops of a preservative.
- Presser tiles or something to press your eyeshadows. It could be a coin (a quarter) or anything flat that matches the size of your tin pan.
- Something small to mix your powders with liquids (a toothpick, bobby pin, etc.)
- A small bowl or container to mix your dry and wet ingredients.
- Napkin or a paper towel.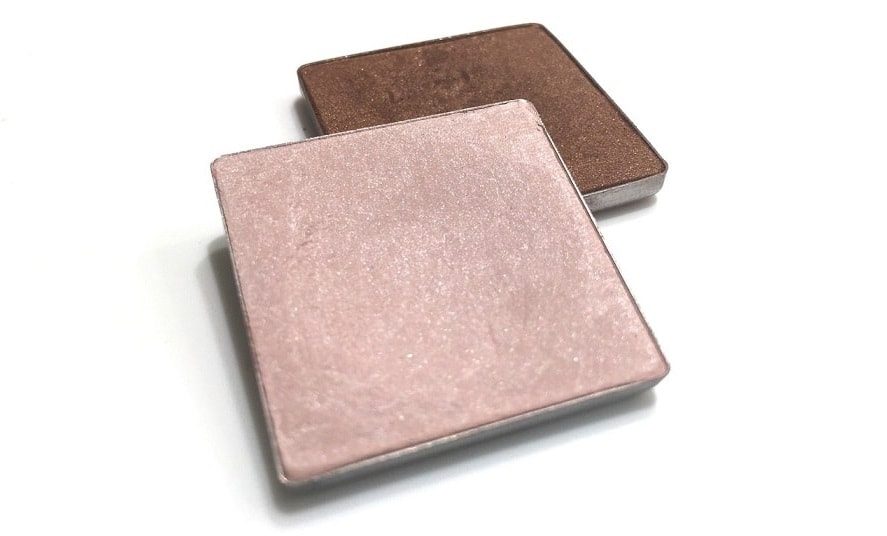 DIY eyeshadows: recipes and proportions
Filler base to colorants ratio in your mix will heavily depend on the color you want to achieve. Filler base ingredients usually have white color and will lighten whatever colors you add. So naturally, to achieve darker colors, you will need to add more color pigments.
Also, matte eyeshadows will require more filler base in the mix than eyeshadows with mica powders. To give you a rough idea where to start here are some proportions:
For shimmery eyeshadows: 1/2 tbs base filler + 3tbs color
For matte eyeshadows: 3 tbs base filler + 1 tbs color
Midnight Blue
¾ tbsp Ultramarine Blue + ½ tsp Black Oxide.
Mix the 1 ¼ tsp of Midnight Blue pigment with 2 tsp of base filler.
Maroon blend
5 parts brick red oxide + 2 parts ultramarine blue
Luxury olive
Gold mica powder + black mica powder
Mermaid blue
Pearl mica powder + blue mica powder
How to make eyeshadows from scratch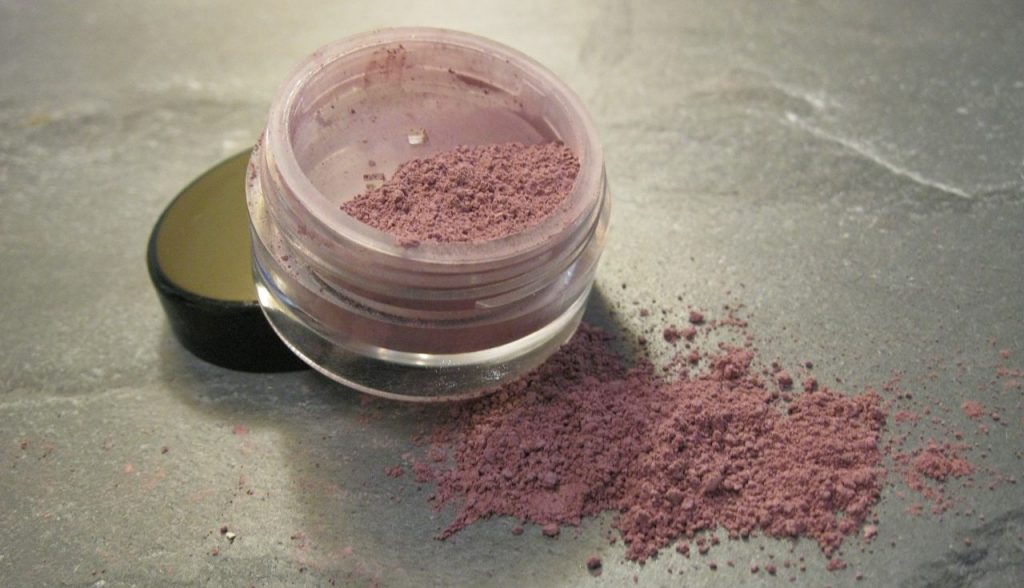 1. First, you need to clean all your pots and equipment with alcohol. You will be putting end product on your face so you want everything to be sterile.
2. Take a container/bowl and place your base filler mix. As mentioned before, you can buy a pre-made mix or make one yourself with instructions provided. Do not forget that that for a matte eyeshadow you need to add more base filler and less colorant.
3. Decide on your colors. You can use just mica powders, just iron oxides or a mix of both.
4. If you are using iron oxides, add them to the base filler first. Mix it a little bit and then grind it in a coffee grinder or mortar and pestle. Iron oxides must be ground/crushed into a base filler to show color. If you will not grind it properly your eyeshadow will be streaky.
5. Add your mica powders (if you are adding any). Mix well. You can shake it in a container with a lid for example. You can use a coffee grinder to mix it well but only for a short duration. If you grind mica particles too much it will lose its shimmer.
6. Once its mixed well you are done. You can now fill in your container.
How to make pressed eyeshadow
The process is exactly the same but we add additional steps:
7. Take your container with prepared loose eyeshadows, add few drops of binder and mix well with a toothpick, bobby pin or similar. The mixture needs to resemble wet sand. If your mixture is too dry add more binder.
8. Once the mixture reaches the right consistency and is mixed well, place it into a tin pan.
9. Place a paper napkin on top of your tin pan and press with a presser or other flat object. If you pressed and you want to add more product to it, just spray some alcohol on top of the pressed eyeshadow. This way your new layer will stick better. And press again.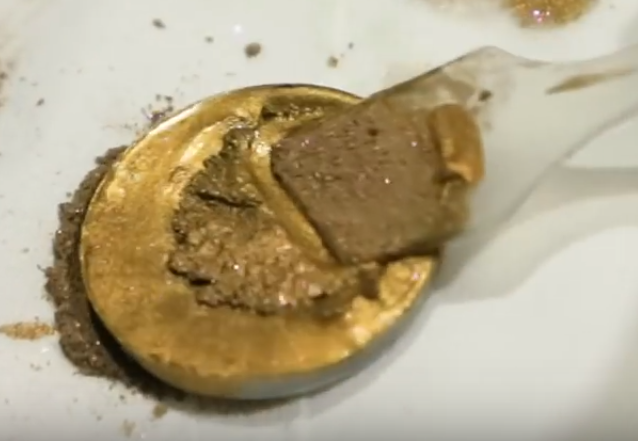 Eyeshadow should look like wet sand before pressing
10. Leave eyeshadow to dry and settle for 24 hours and it will be ready to use.
As you see eyeshadows are quite simple to make. Let me know if you tried making some and how it worked out.