How To Make Fizzy Bath Salts [Easy Recipe]
This post contains affiliate links. If you click and make a purchase, I may receive a commission. Thanks.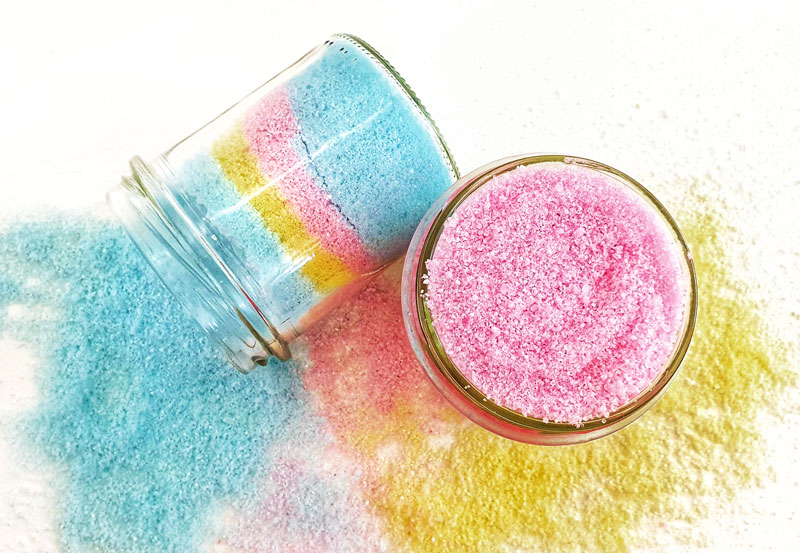 This recipe is for you, if you like using bath salts for their benefits but also want some fizzy action and colors.
My fizzy bath salts recipe is a mix between bath salts and a bath bomb. Once in a bathtub, it fizzes and releases beautiful colors just like a bath bomb would. But it is so much easier to make!
Before we dive into the recipe, it is important to cover a couple of commonly asked questions:
HOW DO YOU MAKE BATH SALTS FIZZY?
To make bath salts fizzy, you need to add citric acid and baking soda to your bath salts. The reaction between citric acid, baking soda and water creates the fizzing and foaming that we are looking for.
CAN YOU MAKE FIZZY BATH SALTS RECIPE WITHOUT CITRIC ACID?
No. The reaction between citric acid, baking soda and water is what creates the fizzing. If you don't add citric acid, you will still have amazing bath salts, but they won't fizz. If you don't want to use citric acid in your bath salts, consider using some foaming alternatives, such as buttermilk powder, cream of tartar or SLSA.
This leads to me another question:
ARE FIZZING SALTS THE SAME AS FOAMING BATH SALTS?
No, fizzy salts and foaming bath salts are two different bath products. Fizzy bath salts include citric acid and create fizzing in the bathtub in a similar way that a bath bomb would. Foaming bath salts include a foaming ingredient that gives bath salts the ability to foam up as a bubble bath would.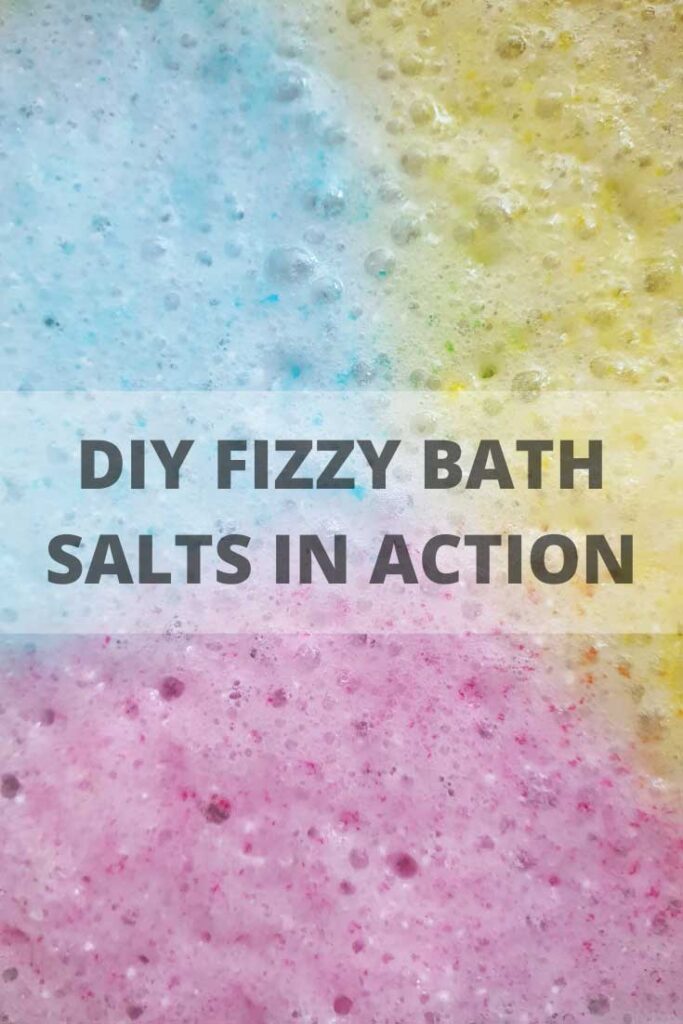 ARE FIZZY BATH SALTS SAFE FOR KIDS?
Yes, fizzy bath salts are considered safe for kids of age three and older. However, parents should rinse children under clear water after the bath to get rid of any residue. If using bath salts with essential oils, consider adding less essential oil to the recipe or use half serving per bath.
FIZZY BATH SALTS RECIPE
Now that we have these questions out of the way let's get to fizzy bath salts making.
TO MAKE FIZZY BATH SALTS YOU WILL NEED: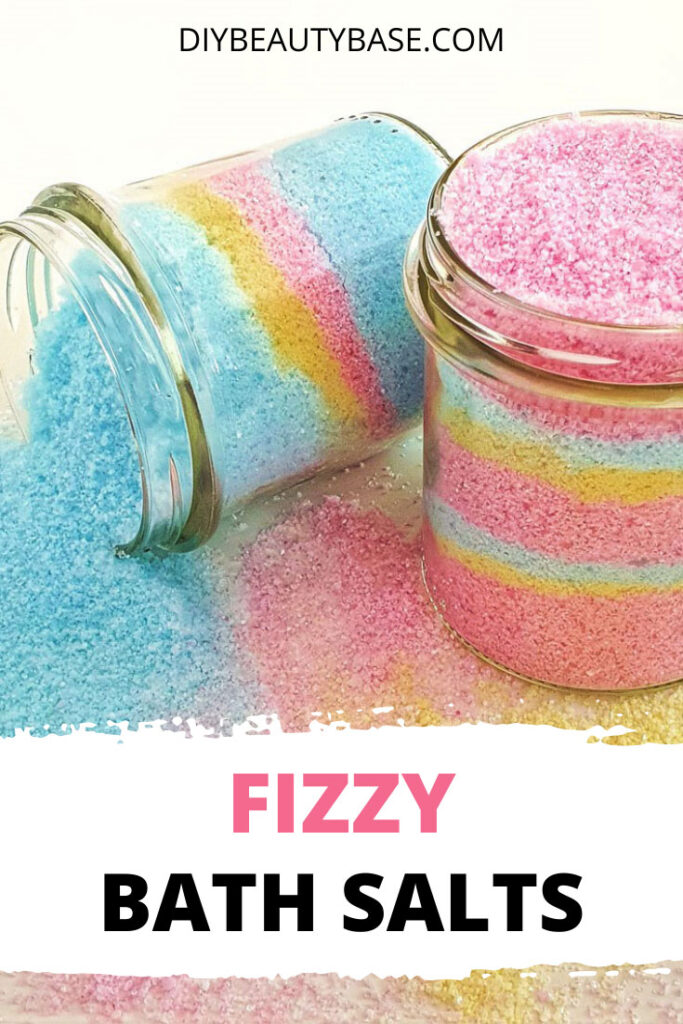 MODIFYING THE RECIPE
Epsom salts – can be substituted with different salts such as Dead Sea salts, Himalayan salts, etc.
Carrier oil – The role of an oil in this recipe is to dilute essential oils, so they would be safe to use in a bath. You can use any oil, but dark oils can stain your bath salts. I highly recommend using Fractionated Coconut oil for this, because it is colorless and odorless.

Color – can be substituted with mica powder. Bath salts colored with mica powder look amazing, but they do not color bath water as much as soap or food coloring does.
Polysorbate 80 – is a solubiliser. It emulsifies your essential oils, fragrance, and carrier oils with water. This means that you won't see bubbles of oil floating on top of your bath water. It's an optional ingredient that I like using for professional results.
Fizzy Bath Salts Recipe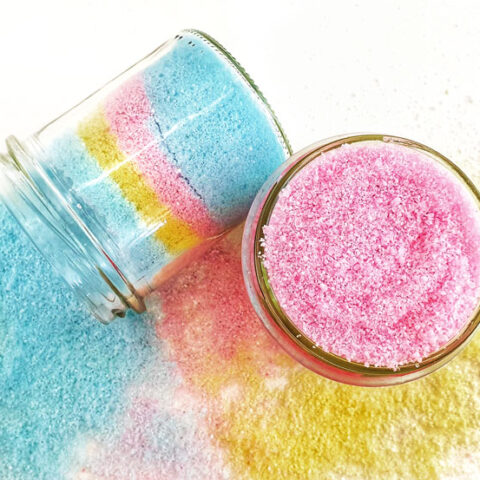 This fizzy bath salts recipe is a mix between bath salts and a bath bomb. Once in a bathtub, it fizzes and releases beautiful colors just like a bath bomb would. But it is so much easier to make!
Tools
Bowls, one for each color
gloves
Instructions
In a large bowl combine your dry ingredients (Epsom salt, baking soda and citric acid).
In a small container, combine carrier oil, essential oils or fragrance and Polysorbate 80 (optional). Pour the oils into your dry bath salts mix and combine well. For best results mix with your hands.
After mixing in oils, your bath salts will become slightly damp. Let them sit and dry for 10 minutes.
Take 3 smaller bowls and split your bath salts mix between them. Whether you split the mix equally or not will depend on the colors and the look you want for your bath salts. I chose to make more of blue and pink and less of the yellow color bath salts. To color your bath salts, add one drop of liquid dye and mix with hands. Liquid dye may activate fizzing, so you need to work fast. Always add only 1-2 drops, mix and check if you like the color. Add more if needed until you get the desired shade.
Pour your homemade fizzy bath salts into a jar with a spoon. If you want to achieve the angled layers like I did, keep your jar angled like in the photo when pouring.
Notes
If during color mixing process you notice that your bath salts feel too wet. For example, if you squeeze them in your palm and they remain squeezed rather than crumble. Simply add a little bit more of Epsom salt. This will make the mix drier.
HOW TO STORE FIZZING BATH SALTS
Always store your fizzing salts in an airtight container to ensure that no moisture gets in. Even moisture from the air can cause fizzing salts to fizz and harden into clumps, so pick a dry place to store them.
I would also suggest keeping your salts out of direct sunlight, as it can degrade the colors and scents of your bath salts.
HOW TO USE FIZZING BATH SALTS
Use your fizzing bath salts in the same way you would use your usual bath salts. Add 1/4 -1/2 cup of the bath salts to a very warm bath and enjoy the fizzing and color explosions in your tub.
Love a good bath soak? You might be interested in checking out these BATH RECIPES.

What are your favorite bath salts recipes?
Let me know in the comments below!