Super Easy Castile Soap Sugar Scrub Recipe
This post contains affiliate links. If you click and make a purchase, I may receive a commission. Thanks.
Not so long ago, I shared with you a simple liquid hand soap recipe using Castile soap. Today, I would like to show you how to use Castile soap to make a cleansing sugar scrub.
I am a huge fan of Castile soap because it is versatile, suitable for sensitive skin, vegan and environmentally friendly.
If you like cleansing body scrubs, you will absolutely love this Castile soap sugar scrub recipe!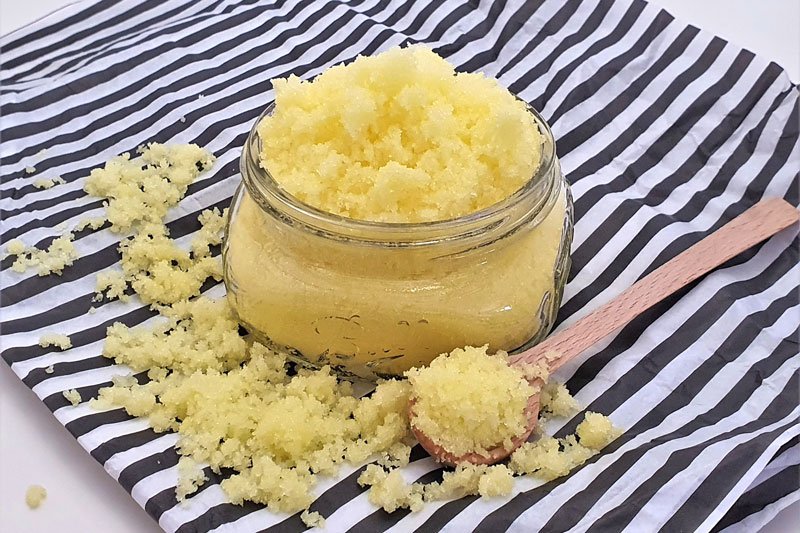 This DIY body scrub recipe is a soap based recipe, meaning that it will be more cleansing than moisturizing. It exfoliates and gently cleans the skin without leaving it dry. Like a shower gel and body scrub in one.
I like using soap-based scrubs when I'm in a rush and want to exfoliate and shave in one go. This wouldn't work with 100% oil-based scrubs because they clog the razor.
Since you are reading this post, I assume you enjoy using body scrubs. Let me recommend you more DIY body scrubs to try.
Here is a link to my foaming sugar scrub recipe for a luxurious looking and feeling scrub. And here is my favorite oil-based coffee scrub that doesn't feel greasy at all, despite being 100% oil-based.
Pin it for later: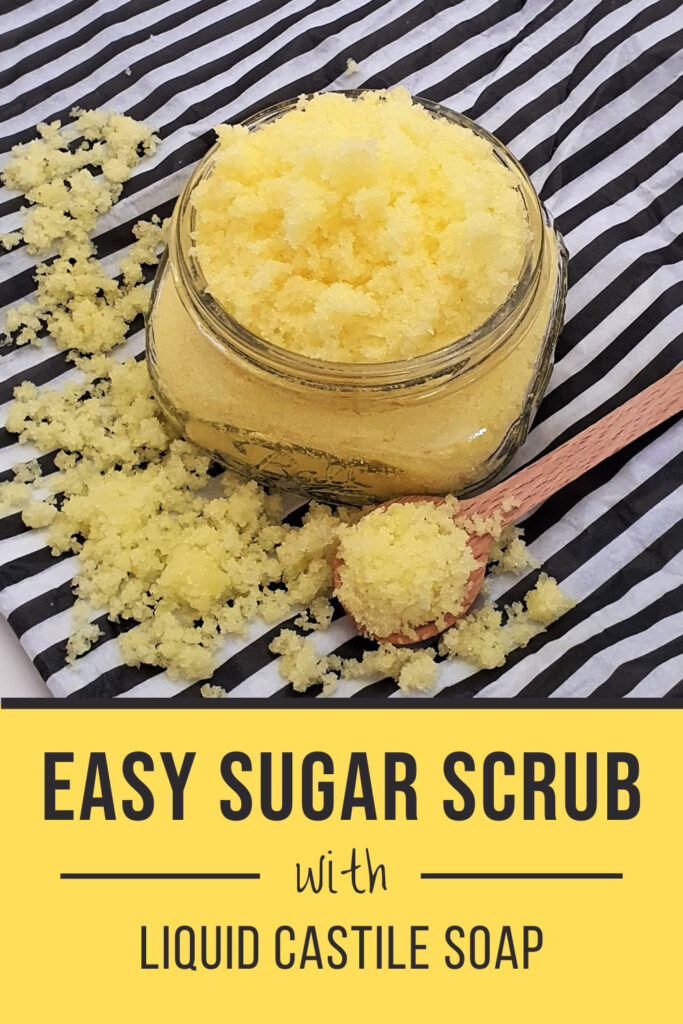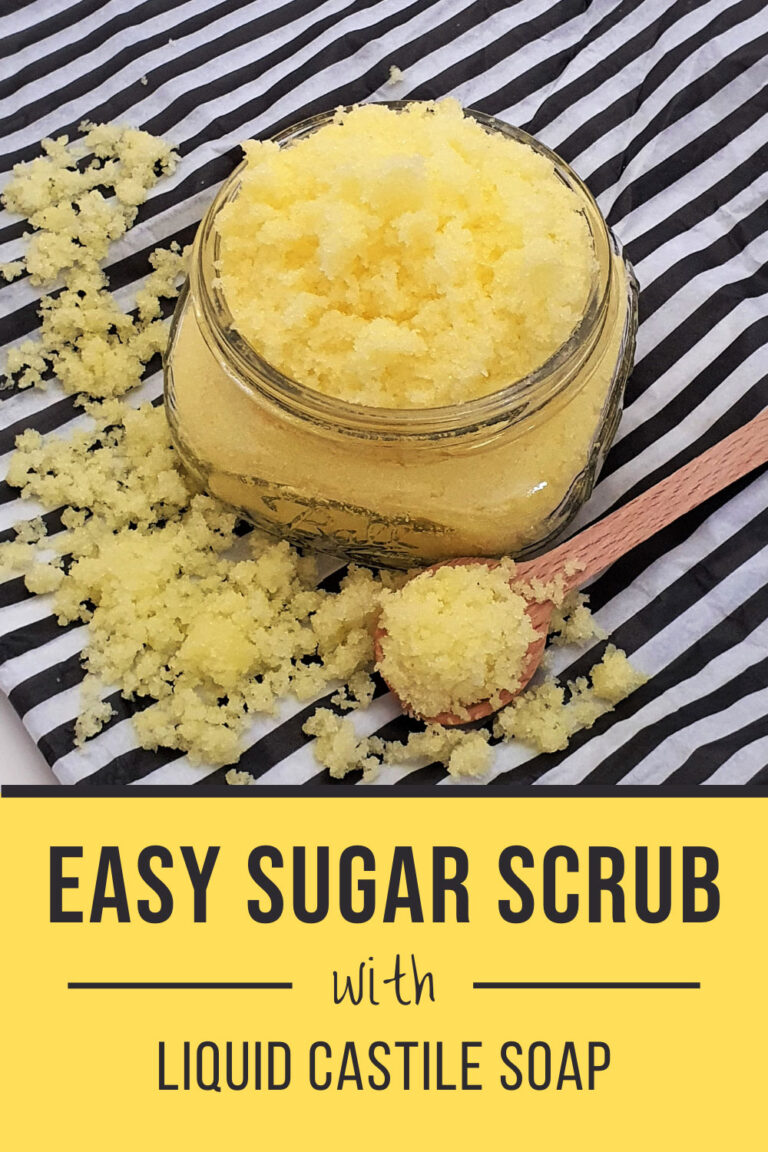 What to expect from Castile sugar scrub and how to use it
As you can see from my photos, the finished sugar scrub can look pretty dry. Because of that, you may be tempted to add more liquid ingredients. But don't adjust the recipe until you test the scrub. Once the scrub touches your damp skin, it foams up and spreads nicely.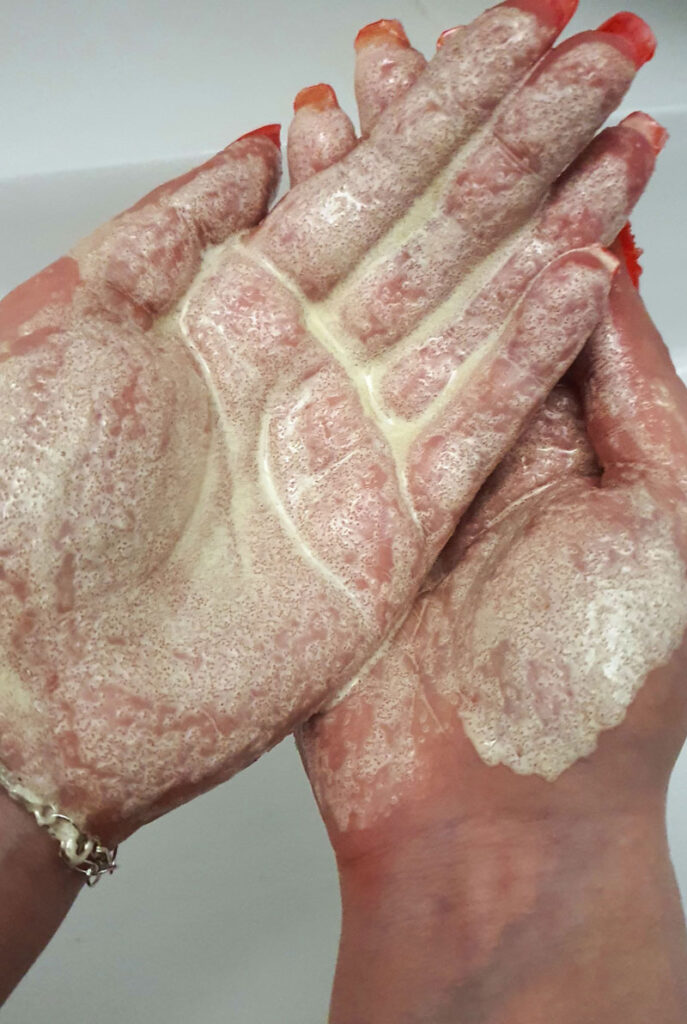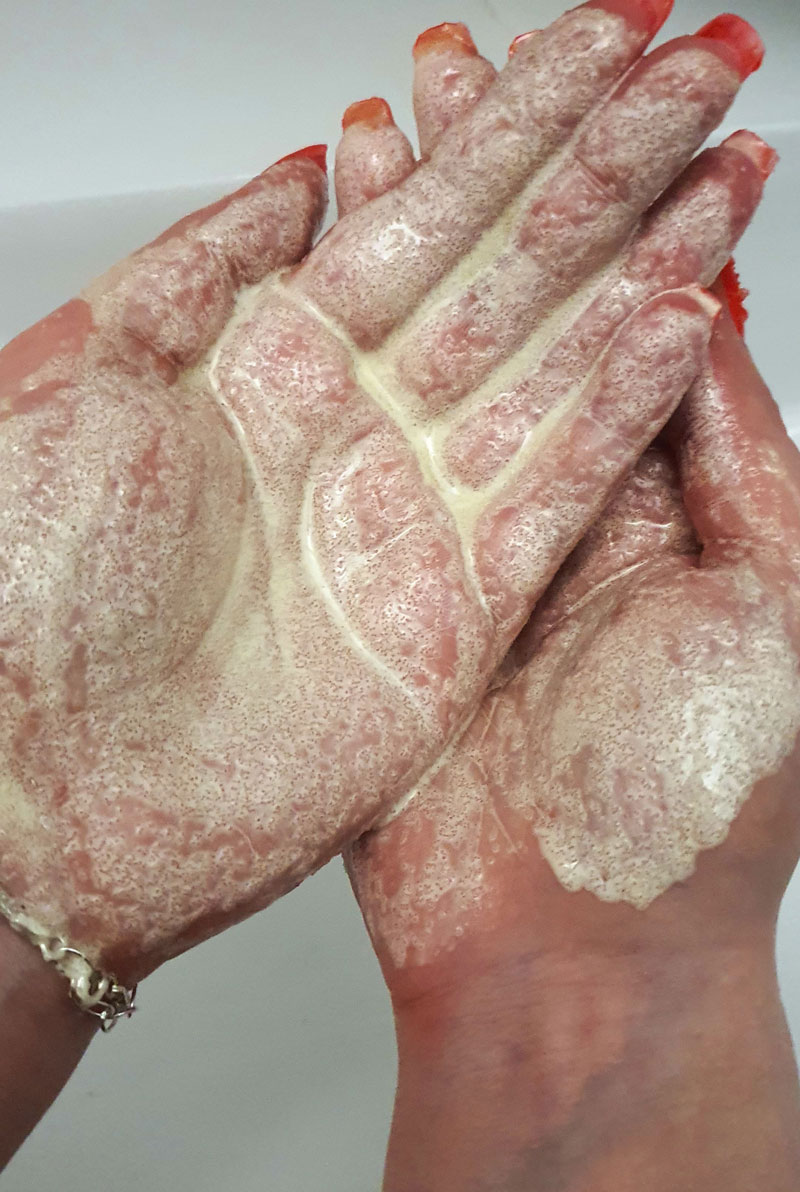 Castile soap sugar scrub recipe
♥ 240 g / 8.5 oz of sugar (Tip: fine grain sugar makes better scrubs)
♥ 25 g / 0.9 oz of liquid Castile soap (you could also get a citrus scented Dr. Bronner's Castile soap and skip adding the essential oils)
♥ 12 g / 0.4 oz of Sweet almond oil (feel free to substitute with another carrier oil)
♥ 1 g / 0.03-0.04 oz of Lemon essential oil
♥ 2 drops of food or soap colorant (optional) 
♥ 1 g / 0.03 oz of preservative (optional)
NOTE ABOUT PRESERVATIVES:
This Castile soap body scrub does not require a preservative because it does not contain water, but because it is a product we use in a shower, there is a risk of introducing some water which may then cause bacteria to grow. To be extra careful, you may want to add a preservative.
If you choose not to, make sure that your hands are dry when you take your scrub to avoid introducing any water. My recommendation is to use up unpreserved scrubs within a month of opening. Unopened Castile soap sugar scrubs can be stored anywhere between 6 to 18 months, depending on the expiration of your carrier oil.
STORAGE:
Castile soap tends to dry out if not stored in an airtight container. For best results, use a container with a tight seal to prevent it from drying out. 
Castile Soap Sugar Scrub Recipe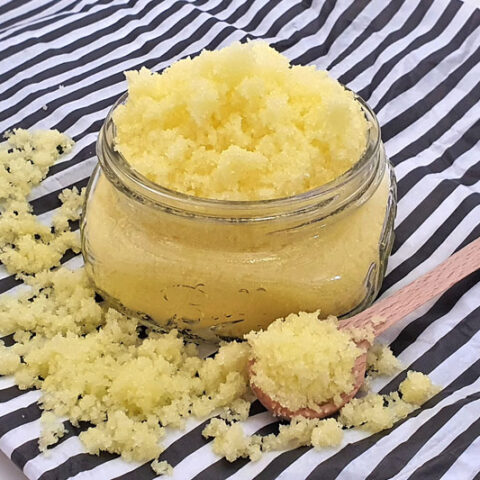 Materials
Instructions
In a bowl, combine sugar, liquid Castile soap, carrier oil and your essential oil (or fragrance).
Add a couple of drops of coloring (optional) and mix until all the ingredients are fully incorporated.
Take a little bit of your homemade sugar scrub and test it. Add more sugar if you want more exfoliating power. Add a tiny bit more of castile soap and/or carrier oil if you want a more gentle scrub. Once happy with the result, transfer to the container of your choice.