Easy DIY Liquid Hand Soap [3 Recipes + Labels]
This post contains affiliate links. If you click and make a purchase, I may receive a commission. Thanks.
Making natural liquid hand soap at home is easier than you think. You don't need to buy a ton of ingredients or handle lye. I will show you an easy way to make your own DIY liquid hand soap by mixing natural liquid soap base and distilled water. I will also show you how to customize your soap with color and scent, and how to adjust the thickness of your soap.
The making process is very simple and takes about 15 minutes. No heating, no lye, no weird ingredients. Only the good stuff and a bit of creativity.
I have prepared 3 DIY liquid hand soap recipes to show you: wild roses, lime & mint, pumpkin spice.
All 3 recipes are made with Castile soap but have different scents and thickness.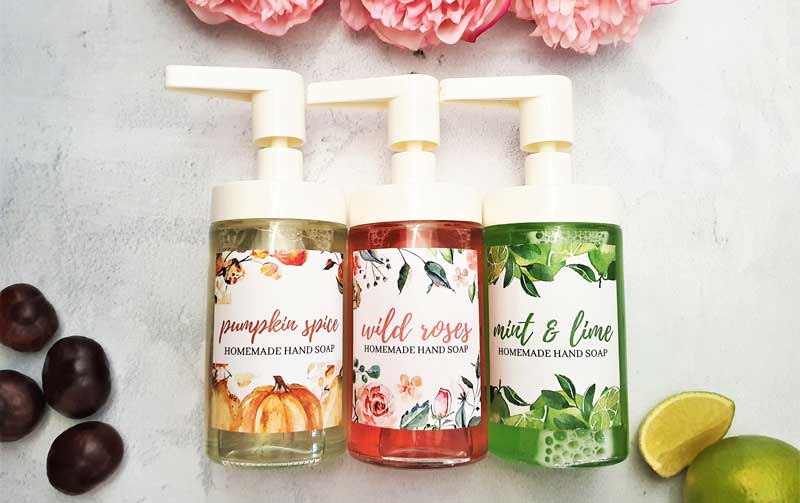 Why Castile soap?
Castile soap is a versatile vegetable-based soap. It is free of animal fats or synthetic ingredients and is fully natural, nontoxic and environmentally friendly.
Castile soap is great because:
* It is versatile. You can use it to make liquid hand soap, shower gel, dish soap and much more.
* It is suitable for sensitive skin. Castile soap is made from simple natural ingredients, so it is less likely that someone will experience sensitivity or an allergic reaction. *confirmed by my boyfriend who suffers from eczema on his hands*
* It is suitable for vegans. Many other soaps contain animal products, such as milk, lard, other animal fats, whereas Castile soap contains only vegetable alternatives.
* Environmentally friendly. Due to its simple and natural composition, Castile soap is biodegradable and has a reduced impact on the environment compared with other soaps. It has no surfactants, preservatives, PH adjusters or other synthetic ingredients that could negatively affect the environment.
Disadvantages: Castile soap foams less than commercial soaps. You will get the lather, but it will not be as big and fluffy as what you might be used to. If you like foam, use the foam pump bottles for soap rather than the traditional soap dispensers.
Pin for later: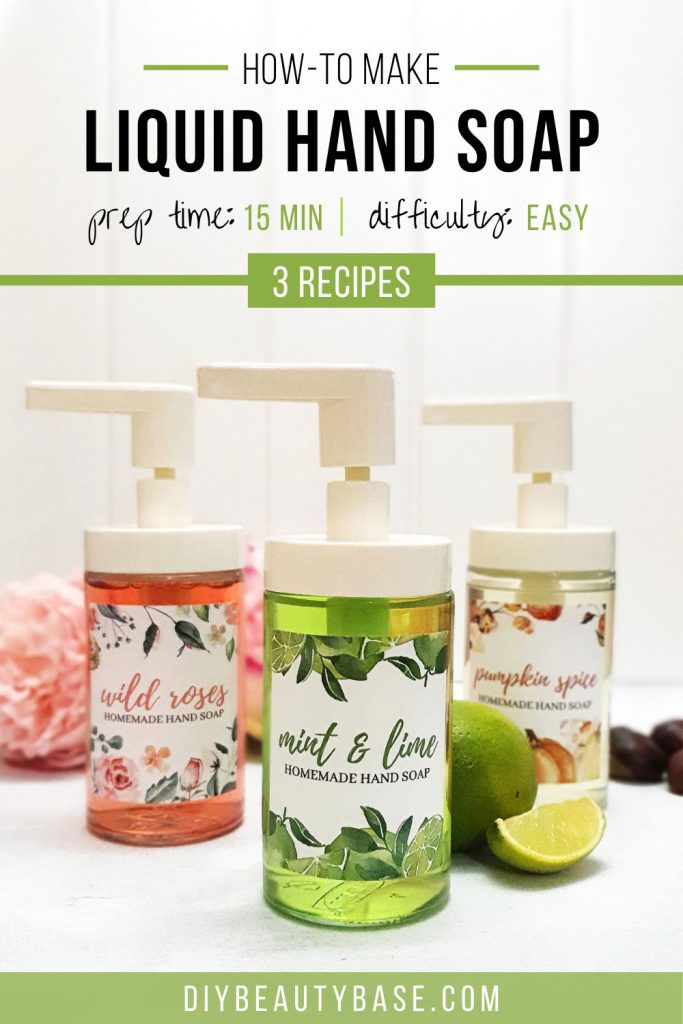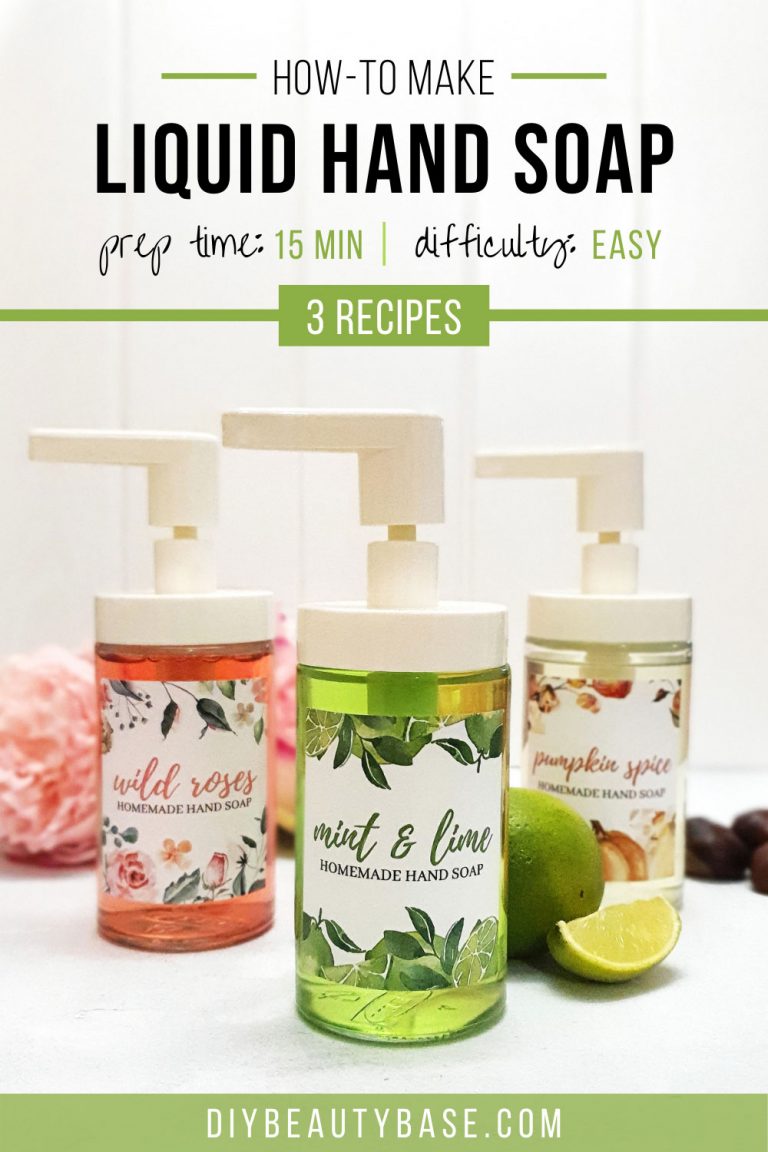 Ingredients for DIY liquid hand soap
– 1 cup of liquid Castile soap
– 1 cup of distilled water
– 25-30 drops of essential oils (or fragrance)
– 1-2 drops of soap dye (optional)
– 1 tbsp of carrier oil (optional)
– soap dispensers or foam soap dispenser
Here are the 3 liquid hand soap recipes:
---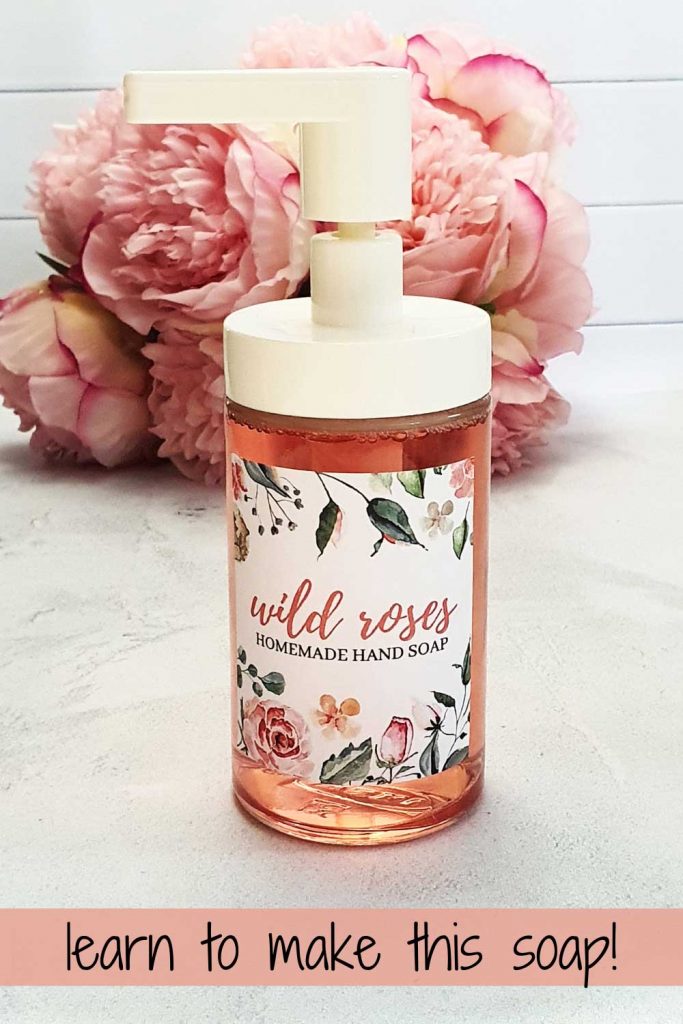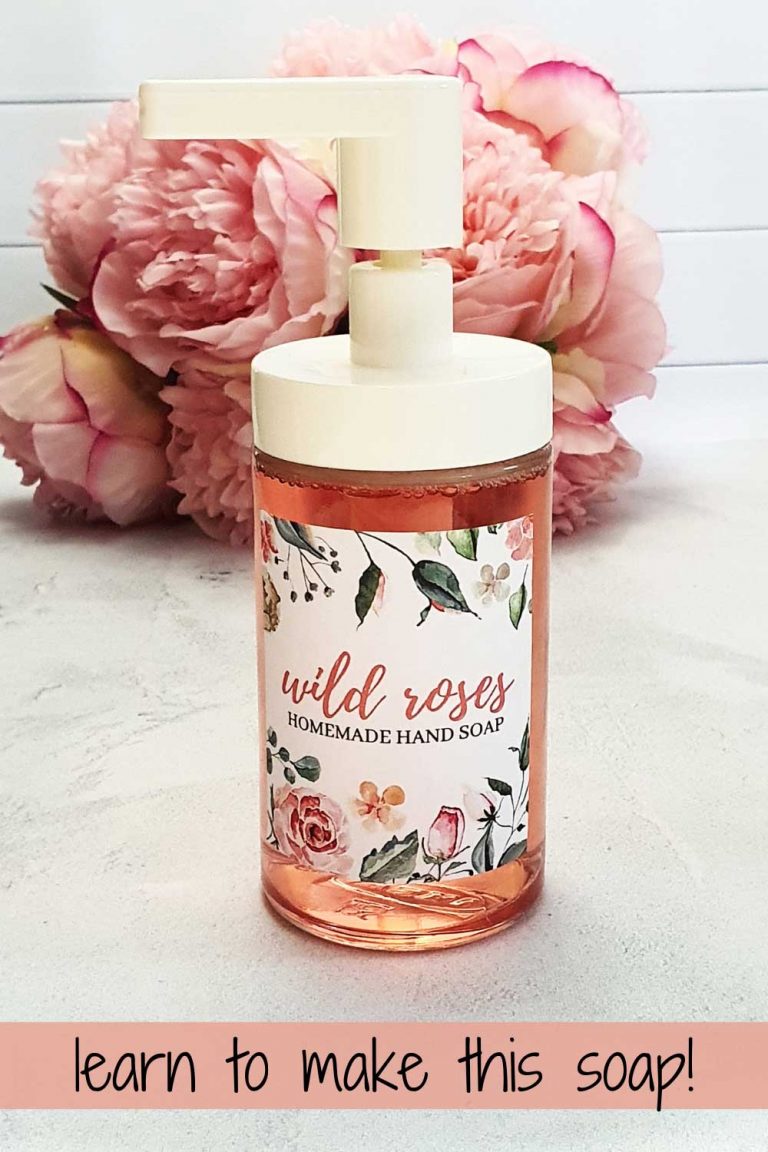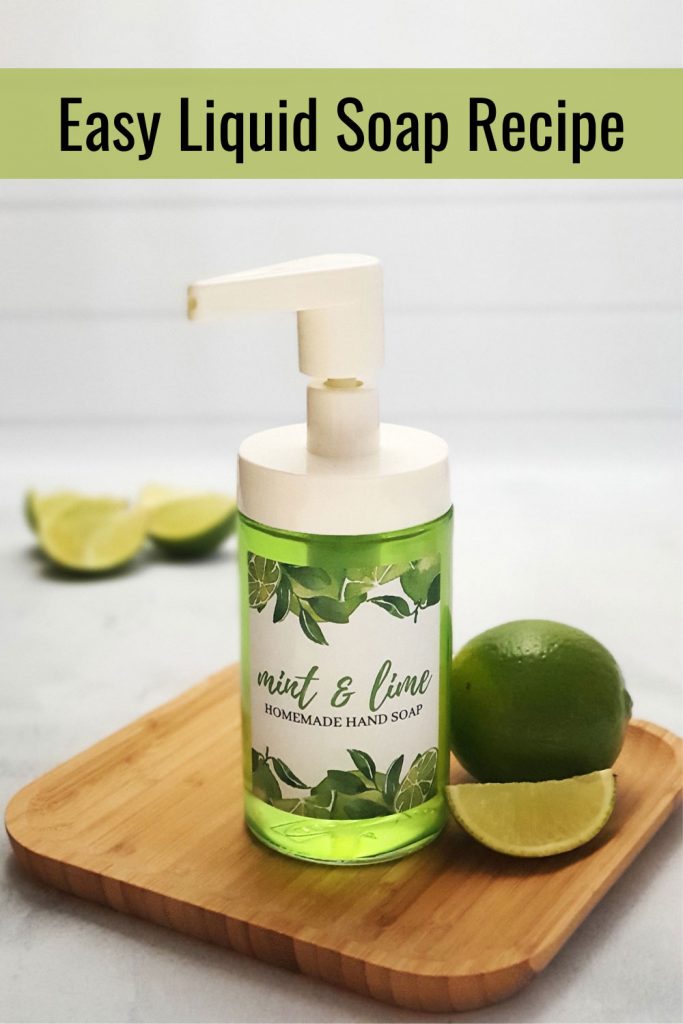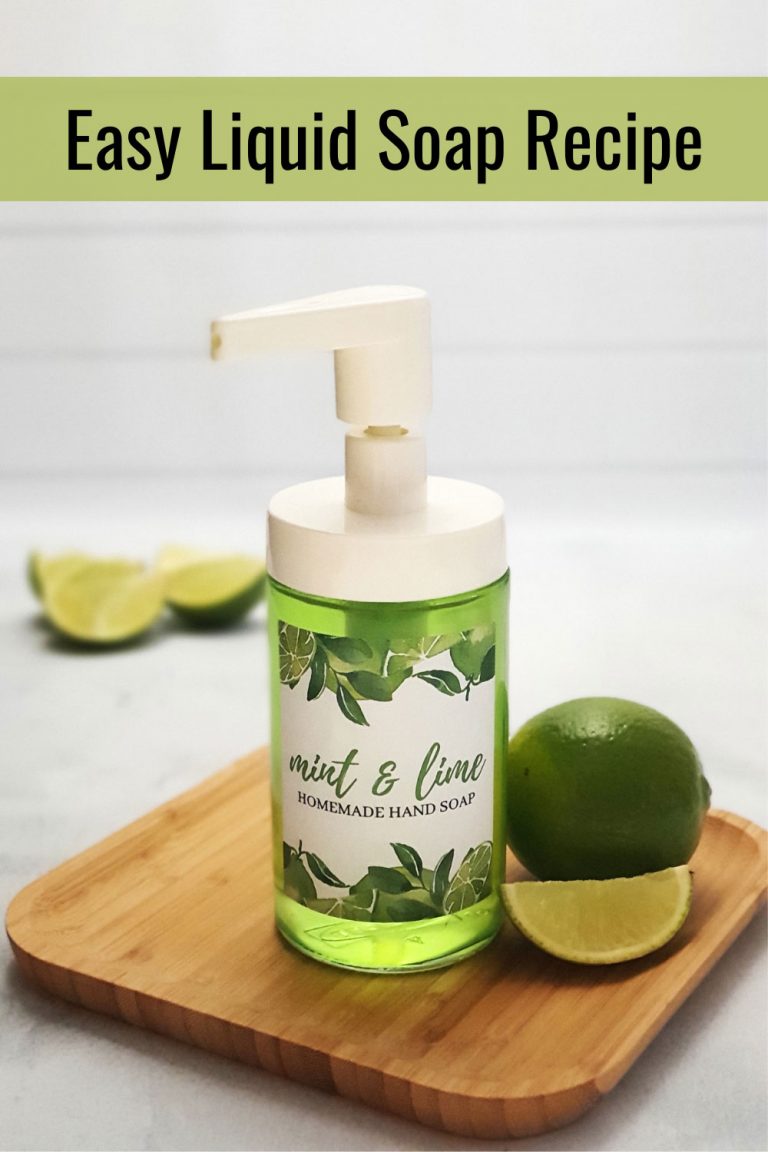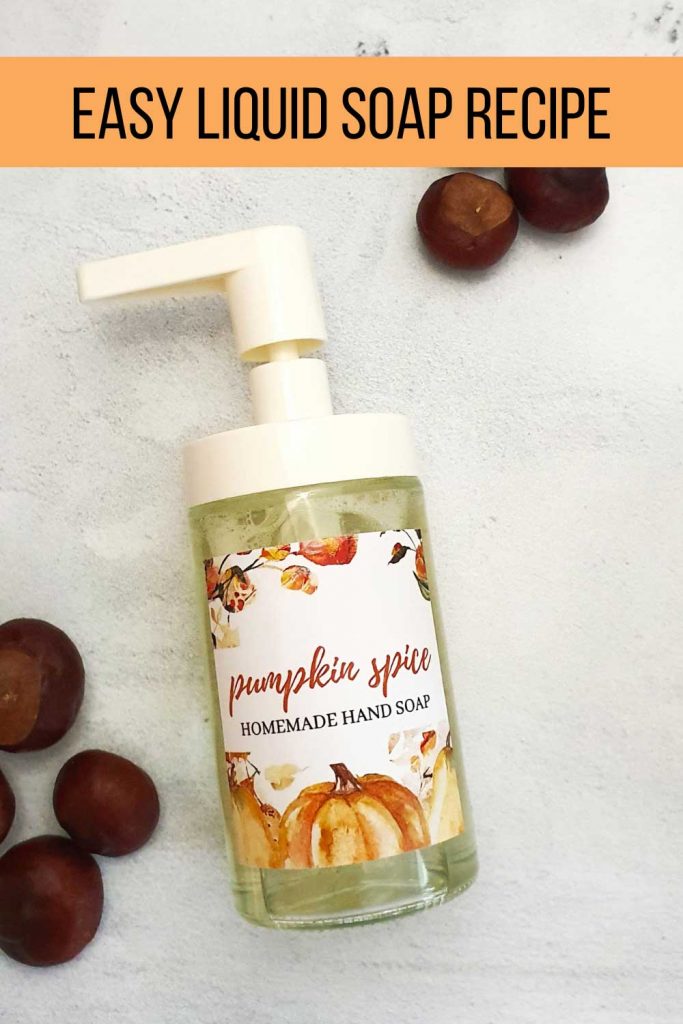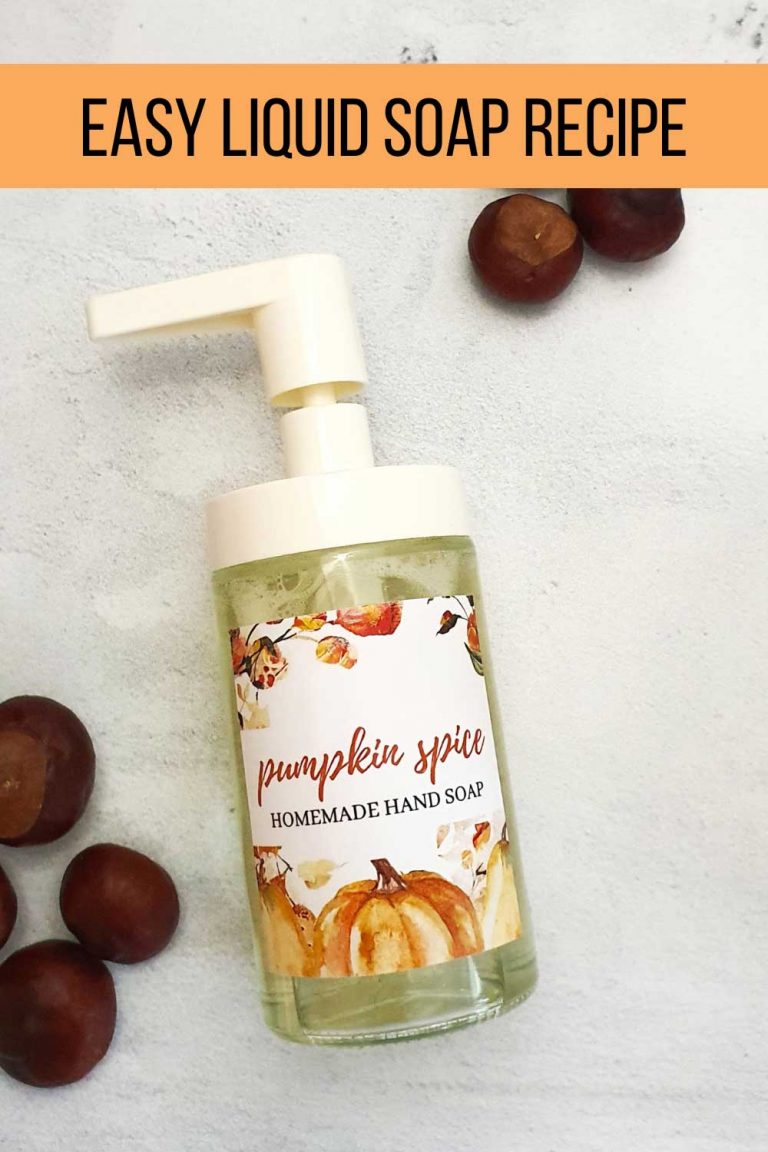 Free printable soap labels
I wanted my soap to look great next to the sink, so I made 3 printable label designs to match each of the soaps. You can download the soap labels here:
Because you will touch your soap bottle with wet hands, you need to waterproof your labels.
Option 1: Download the labels, take them to your local office supply store and ask to print on a waterproof adhesive paper.
Option 2: Print it on a regular adhesive paper sheet (I used them for almost all my labels), cover the labels with transparent adhesive tape and then cut them out. Stick them onto your soap bottles as usually.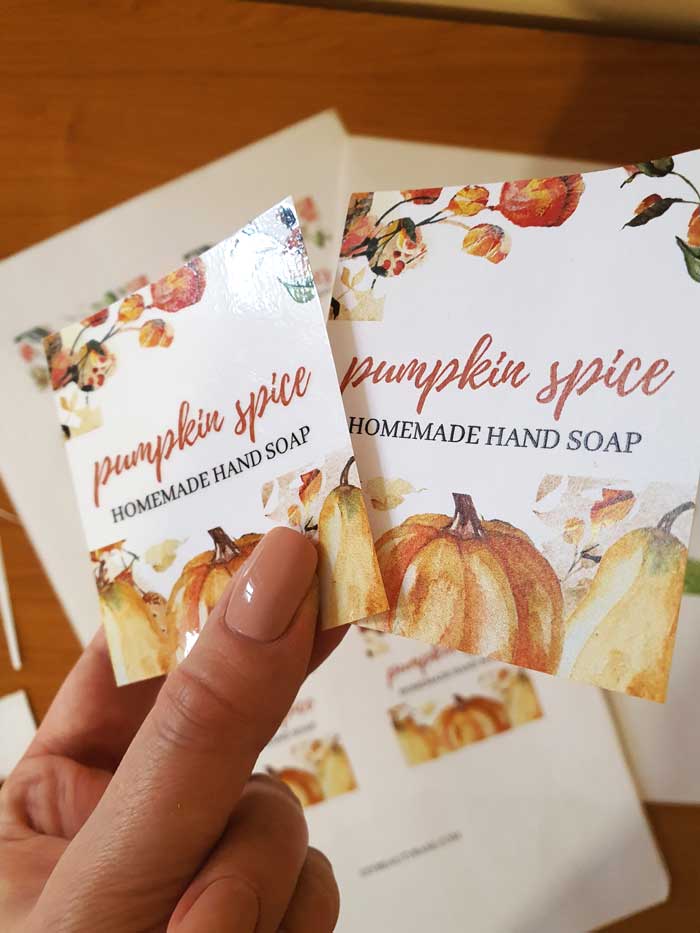 Adding a carrier oil
If you want to make your DIY liquid hand soap more moisturizing, you can add 1 tbsp of carrier oil per 1 cup of Castile soap. You can use any oil (olive oil, coconut oil, sweet almond oil, etc). The oil won't blend with the water, so you'll need to gently shake the soap before use. I skipped the oil in my recipes.
How to make liquid hand soap
You can make your liquid soap straight in the dispe
nser or in a separate measuring glass.
1. Fill out half of your dispenser (or measuring glass) with distilled water and then fill the rest with Castile soap. Shake or mix with a spoon.
2. Add your essential oils and mix well.
3. Optional: Add a drop (one drop only) of a liquid soap dye and mix. One drop is usually enough to get a beautiful color. You can add more if you want a more vibrant color.
4. Once you mix the color evenly, your DIY liquid hand soap is ready. Test it to see if you like the consistency and scent. You can add more essential oils to have a stronger scent if needed. You can also thicken the soap with the salt solution.
How to thicken your homemade liquid Castile soap with table salt:
Prepare a salt solution by dissolving 10 g of salt in 30 g of distilled water. Plain table salt works best. Then slowly add small amounts of salt solution into your liquid soap and mix thoroughly each time. Start with small amounts. I use a 2 ml pipette for this task and add 2 ml at a time. I check the consistency after each addition and see if I like it.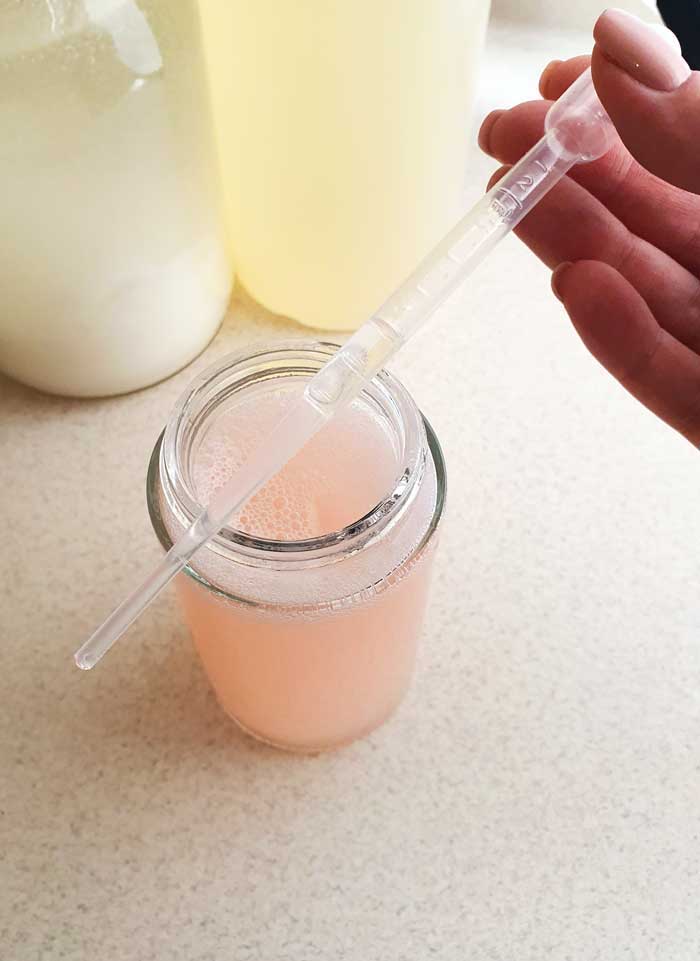 When you add salt solution to your soap, you may see little white chunks of solidified soap floating around. This is a natural process. Continue mixing (or shaking) your soap and the soap will disperse evenly.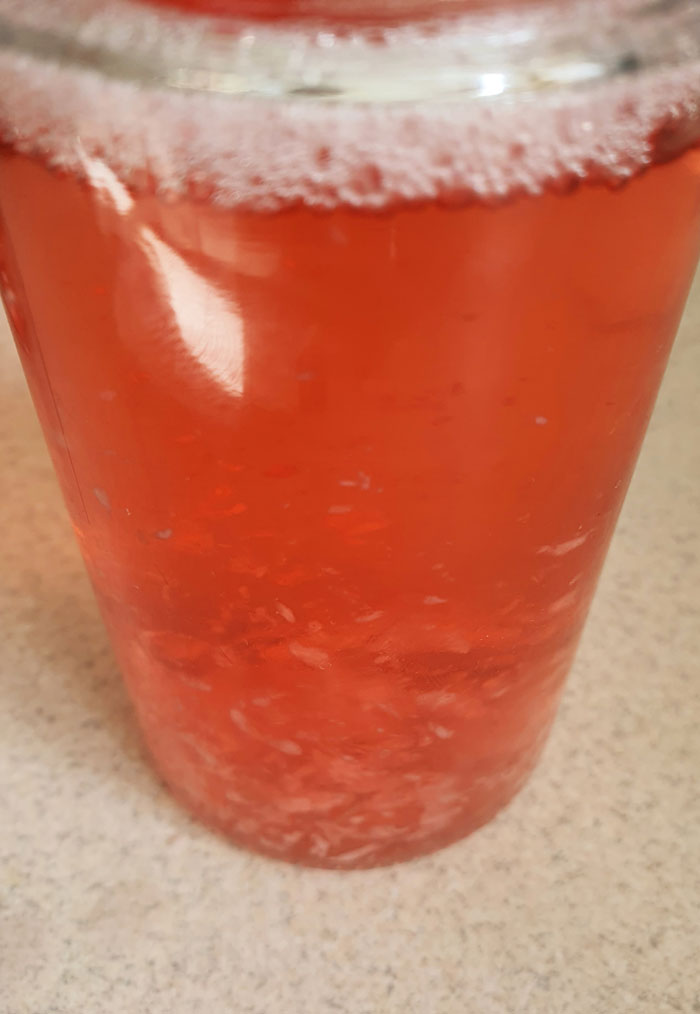 Since diluted Castile soap is naturally runny, you will most likely want to add some salt, which works surprisingly well. I made each of the 3 liquid hand soap recipes with a different thickness. Floral soap has 4 ml of salt solution, green has 8 ml and pumpkin spice soap has 14 ml.
It is difficult to see the thickness in a photo, but below is a photo of pumpkin spice soap. I added 14 ml of salt solution and it gave me the thickness of a commercial soap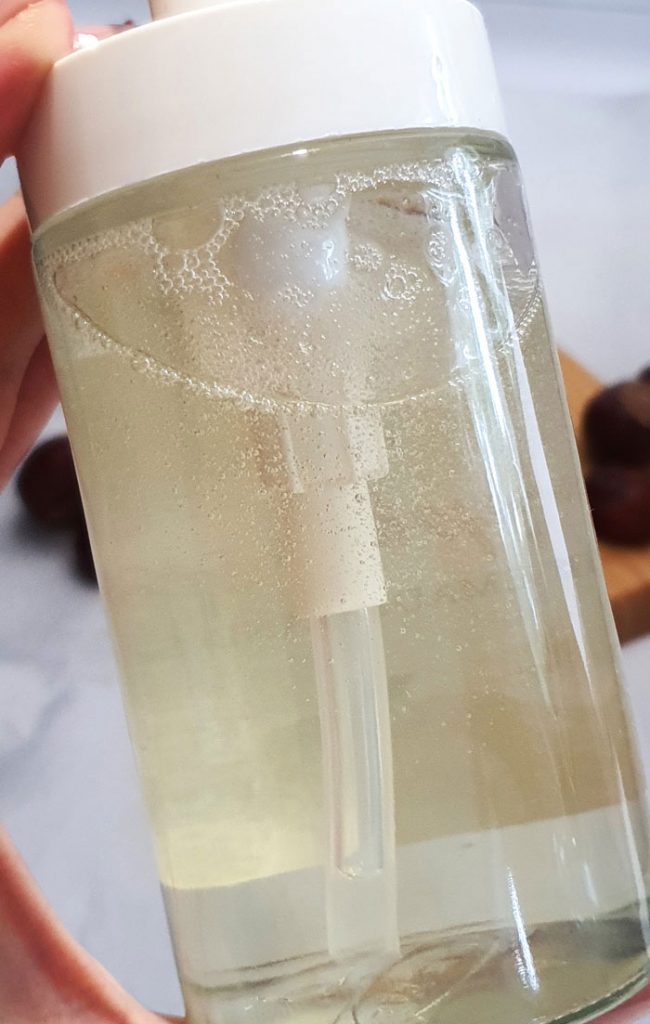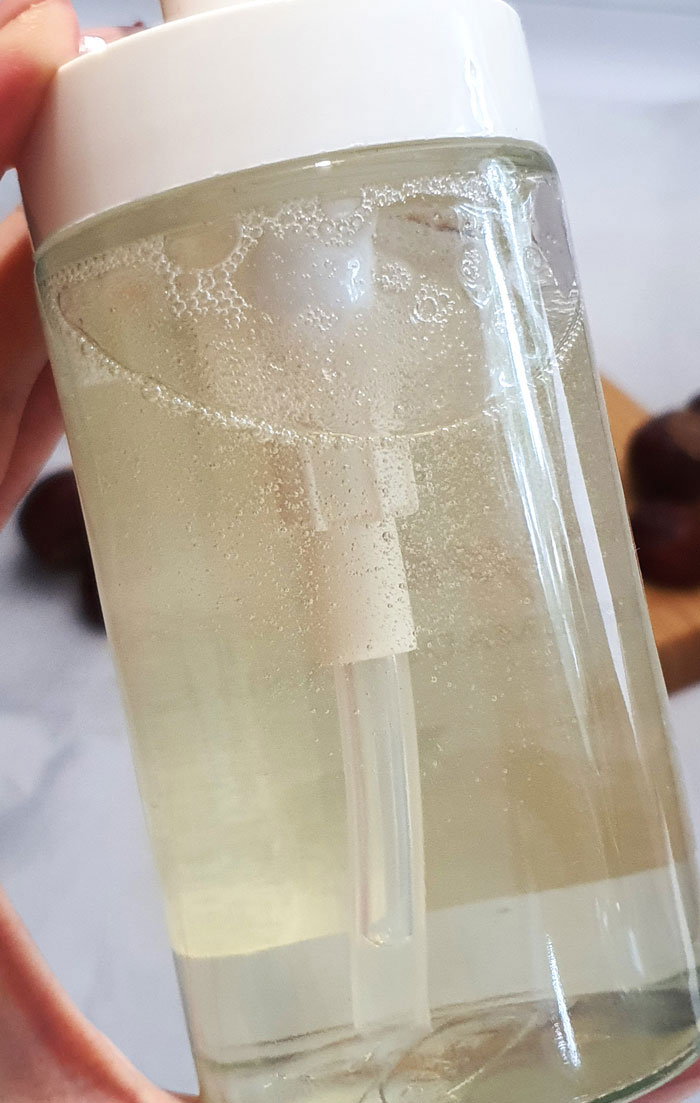 Tip: too much salt can ruin the soap. This is why I advise adding little at a time and test. I would not go over 20 ml of salt solution.
Tip: Essential oils can slightly thin out or thicken your soap
. So add your essential oils first and adjust thickness later.