Horse Chestnut Lotion Recipe For Spider Veins
This post contains affiliate links. If you click and make a purchase, I may receive a commission. Thanks.
It is time to step up our lotion making game.
The primary function of a body lotion is to moisturize the skin. But the lotion can be much more. 
In today's post, I will share with you a simple-to-make but powerful body lotion recipe that will help keep your legs healthy and fight spider veins.
The superpower of this DIY lotion comes from the horse chestnut extract. This extract was recommended by my doctor a while ago. I take supplements and apply this DIY horse chestnut lotion nightly. 
You know what I love the most about this DIY lotion with horse chestnut extract?
It is effortless.
I simply use the lotion nightly, like I would for moisturizing purposes, but on top of hydration it also makes my legs healthier.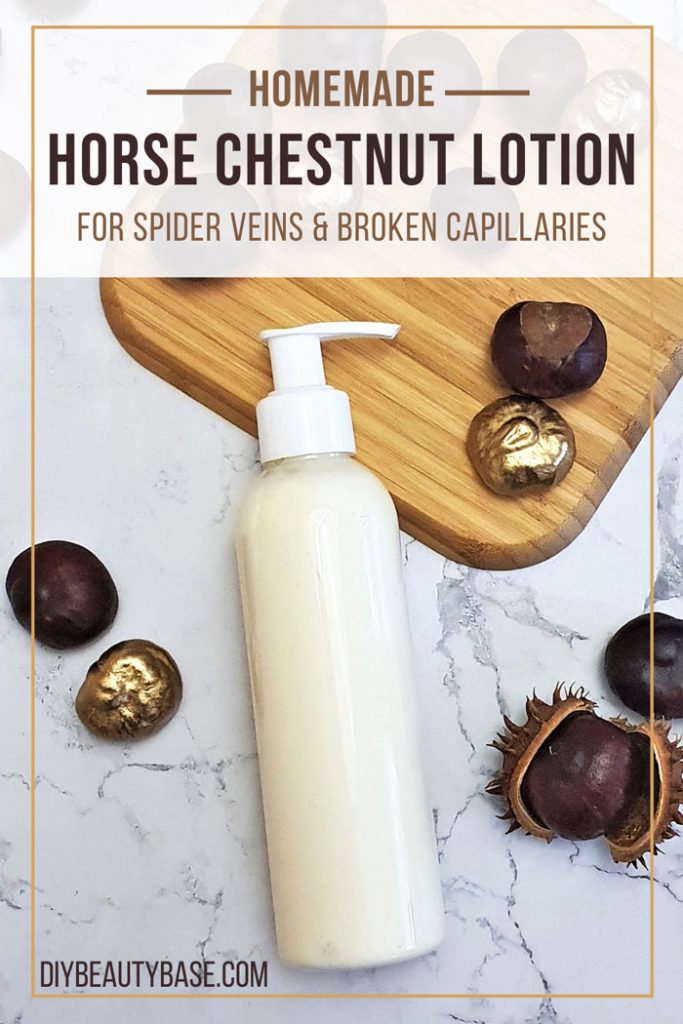 ---
What to expect from this lotion
The recipe calls for some basic lotion making ingredients and our star ingredient – horse chestnut extract, which strengthens veins, capillaries and prevents future damage. It may also minimize the appearance of existing broken capillaries. Keep in mind that no lotion can make them disappear completely – only improve appearance and prevent from getting worse.
If you are prone to broken capillaries and spider veins, you may also want to look into horse chestnut supplements.
---
Horse chestnut lotion ingredients
65.5% + 6% (to account for evaporation) | 143 g of Distilled Water
8% | 16 g of Shea Butter
6% | 12 g of Red Raspberry Oil 
6% | 12 g of Grape Seed Oil
5% | 10 g of Emulsifying Wax NF
8% | 16 g Horse Chestnut Extract
0.9% | 1.8 g Fragrance or Essential Oils (I used Lavender essential oil)
0.5% | 1 g of Paraben-Free Preservative
0.1% | couple drops of Vitamin E
Ingredients explained
Horse Chestnut Extract
Horse chestnut extract is the main active ingredient in this lotion for spider veins and broken capillaries.
Horse chestnut is a very well known and commonly used herbal medicine. There are many studies written about horse chestnut extract and they show that consuming and/or applying horse chestnut extract topically can lower the risk of blood vessel rupture, restore blood vessel elasticity and prevent the creation of spider veins. It also improves blood vessel flow, reducing susceptibility to oedema formation.  
Here is some proof:
Treatment of patients with venous insufficiency with fresh plant horse chestnut seed extract: a review of 5 clinical studies
Horse chestnut – efficacy and safety in chronic venous insufficiency: an overview
Venotonic activity of escin on the human saphenous vein
How horse chestnut extract works
Horse Chestnut helps maintain strong venous walls. Strong walls are able to keep the pressure within the veins and keep the blood flowing steadily. While weak walls can be pushed outwards and cause varicose veins.
Applying a lotion with horse chestnut extract regularly will ensure that your veins and capillaries are as strong as they can be.
Here is a picture from one of the studies showing the effect of horse chestnut extract on the venous walls.

---
There are many products, supplements and lotions, sold in pharmacies. The main active ingredient of horse chestnut extract is Escin (or Aescin). So when buying supplements, aim for those that have at 20% or more of Escin for best results.
Other ingredients
Shea butter is an important base ingredient in this recipe. Shea butter is not only an amazing moisturizer, but also contains a high ratio of stearic acid meaning that it will help to thicken and stabilize our lotion without needing to add stearic acid or cetyl alcohol separately.
Liquid oils. Feel free to choose any carrier oils that you like or currently have. I used red raspberry oil and grape seed oil because of their high omega-3 and omega-6 content. If you want to learn more about why Omega 3 and 6 are good for our skin, read my post Understanding Oils: Best Oils For Skin. 
Emulsifying wax NF – will emulsify water and oils. 
Essential oils and/or fragrance – I apply this lotion before going to sleep, therefore, I scented it with lavender essential oil to help me relax before bedtime. 
Preservative. This DIY body lotion recipe contains water, which makes it hydrating and non-greasy. That also means that a preservative is necessary. Without it, your homemade hand lotion will only last a couple of days. Liquid Germall Plus is a good choice for DIY beauty recipes. It is a broad-spectrum and easy-to-use preservative that's effective in small amounts. It has a recommended usage of 0.1–0.5%, but since our kitchens are not very sterile, I would recommend using 0.5%.
Vitamin E helps extend the shelf life of oils and adds anti-aging properties.
Note: I have not added humectants to this formula because the horse chestnut extract from Making Cosmetics already has it. Adding too much would make the lotion too sticky. If you purchased a different horse chestnut extract, for example in a powder form, then you may want to consider adding 2% of glycerin or other humectant. 
Pin for later: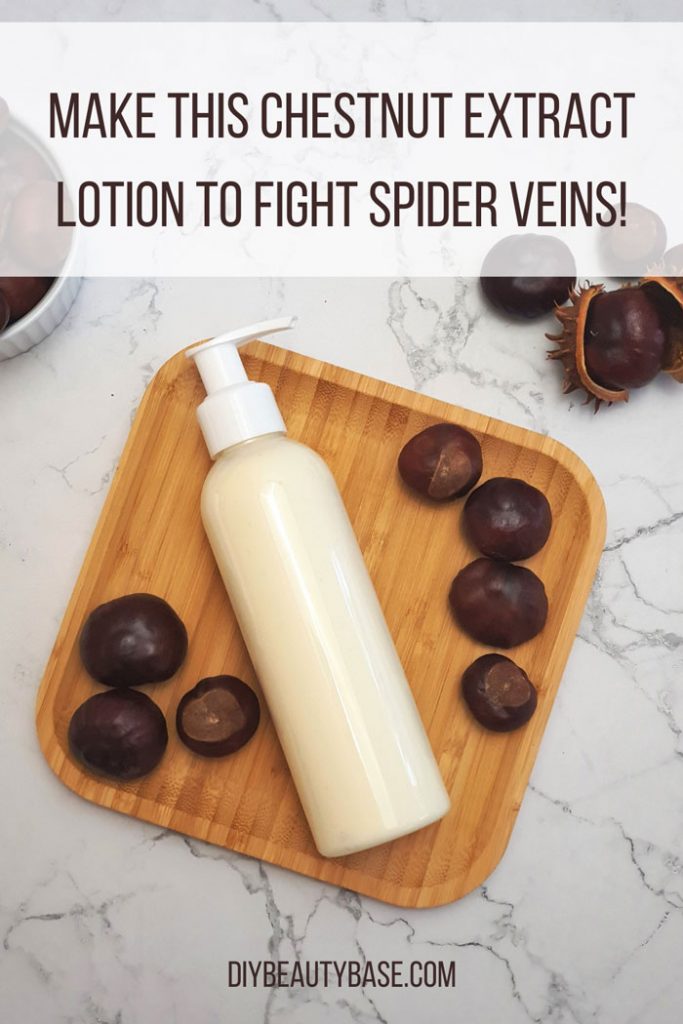 Yield: 200 g | 7 oz
Horse Chestnut Lotion Recipe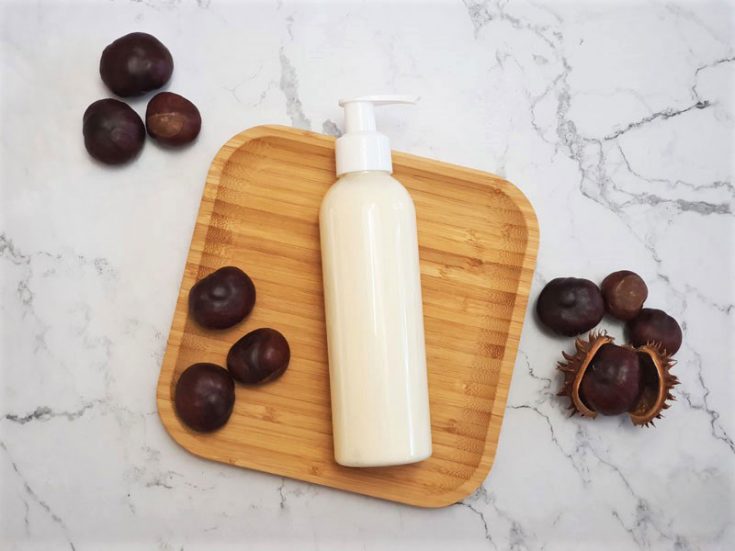 This horse chestnut lotion recipe is formulated to help strenghten veins and capiliaries. The formula is light and fast absorbing.
Materials
65.5% + 6% (to account for evaporation) | 143 g of Distilled Water 
0.1% | couple drops of Vitamin E
Instructions
Prepare a water bath by filling a large pan with water and bringing it to simmer over low heat. Weigh your distilled water in a small heat-resistant glass measuring cup. Weigh your shea butter, oils and emulsifier (Emulsifying wax NF or other) in a second heat resistant cup. Place both cups in the water bath and leave to melt for about 20 minutes.
Once ingredients in both cups are fully melted, pour the water part into the oil part and mix with a silicone spatula.
Blend your lotion with an immersion blender to fully incorporate ingredients. Blend for 2 minutes, then let it cool down for 10. Repeat the process until your lotion has thickened and the cup is barely warm to the touch.
Measure your essential oils, vitamin E and preservative and mix into the lotion. Mix with the blender for a couple more minutes.
Once the lotion has fully cooled down, transfer it to a bottle with a pump or a jar. Use a piping bag to transfer your homemade lotion to the bottle.
Notes
This lotion can be stored in a pump bottle or a jar.
Shelf life - shelf life of your lotion will be equal to the shortest shelf life of your ingredients. If all your ingredients have a shelf life of 2 years, but one of your oils is expiring in 4 months. Then the shelf life of your lotion will be 4 months.
DIY lotions protected with a broad spectrum preservative can easily last 2 years. However, as a general rule I would aim to use up your DIY products within 1 year.