DIY Coffee Scrub for Smooth & Cellulite-Free Skin
This post contains affiliate links. If you click and make a purchase, I may receive a commission. Thanks.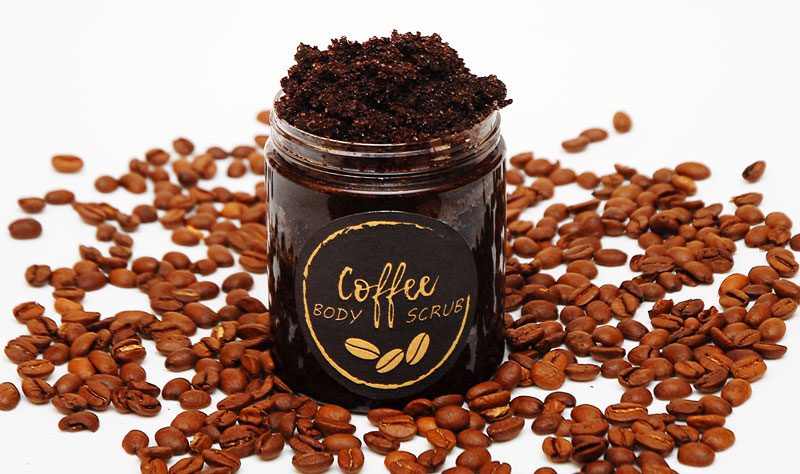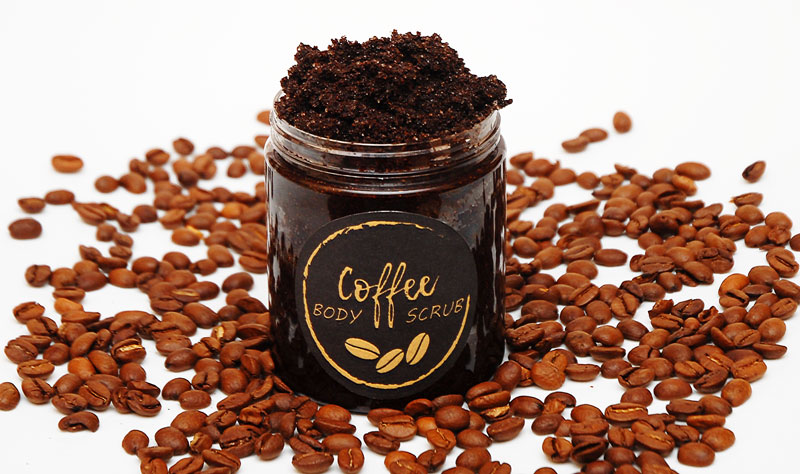 Body scrubs are an inseparable part of my body care routine. I exfoliate every couple of days, so I go through my scrubs pretty quickly. But, it's OK because I love making new ones. Recently, I shared with you a simple 3–ingredient coconut sugar scrub. Check it out if you want something easy and effective. Today, I am sharing with you another body scrub recipe - a DIY coffee scrub for body. It is also easy to make and provides more skin benefits than a simple body scrub.
This DIY coffee scrub is one of my favorites. As a DIY beauty maker, I like experimenting and making different scrubs, but I keep coming back to this one. This is all thanks to coffee's secret weapon for our skin: caffeine.
Caffeine has quite a few skin benefits, but what I personally appreciate the most is that it improves blood circulation and tightens the skin, which in turn makes cellulite less visible. So this DIY coffee scrub not only exfoliates and moisturizes but helps me maintain healthy, beautiful legs in general.
How to use a coffee scrub?
Once in the shower, apply your homemade coffee scrub all over your body - especially to the legs and areas with cellulite. Massage the scrub into the skin in a circular motion, then rinse.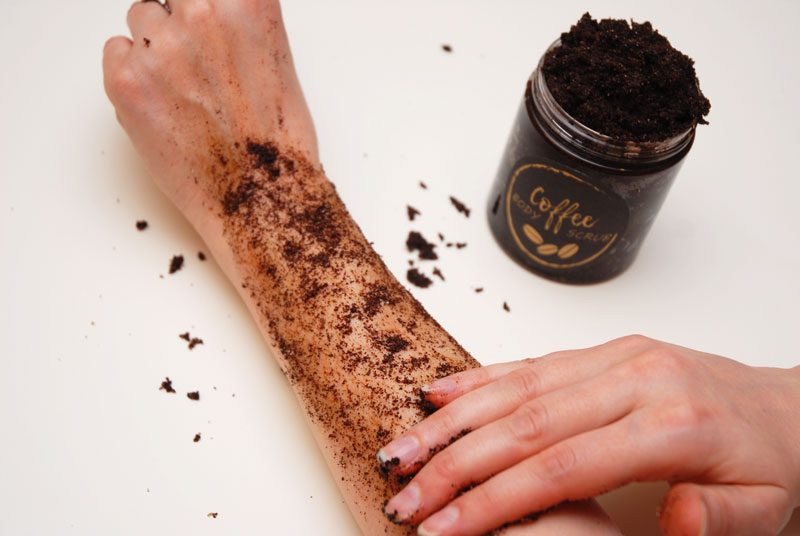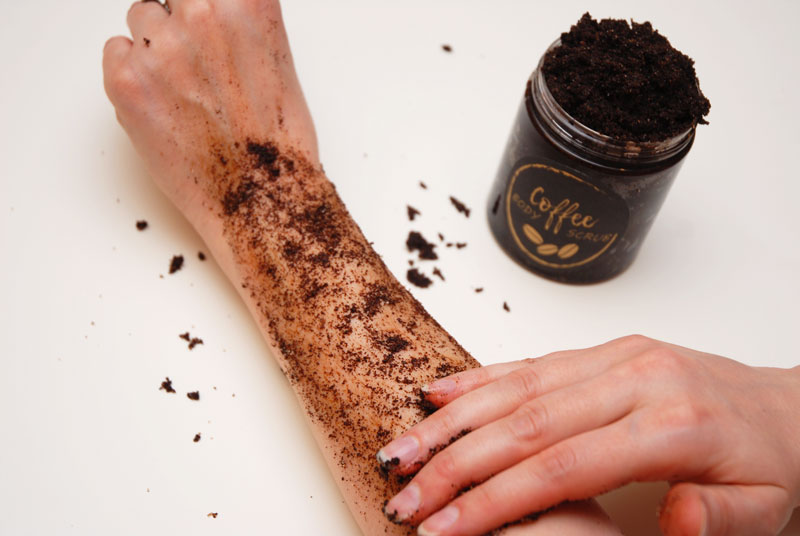 For best results, start exfoliating from your feet and move upwards. This, together with caffeine in the coffee scrub, will improve your blood circulation.
This DIY coffee scrub can be used just for legs or for the entire body. Depending on your needs, you can adjust the sugar ratio in the recipe. The less sugar you add, the more gentle your scrub will be.
How to make DIY coffee scrub for body more effective
The active ingredient in the coffee scrub is caffeine. Therefore, it is important to consider the caffeine content of your scrub. The more caffeine, the more effective the scrub will be.
You might have read that many people use brewed coffee grounds to make their scrubs but I don't think that this is the best way to do it. First of all, brewed coffee loses a lot of the caffeine, so your body scrub will not be as effective. Second, brewed coffee cannot be stored for later use because of the risk of bacteria and mold growth.
So, what you should do instead is use ground coffee without brewing it. This way your skin will receive more caffeine for a stronger effect, and you will be able to store the scrub in a jar for months.
If you have cellulite, and you want your DIY coffee scrub for body to be more powerful, consider using Robusta coffee instead of the usual Arabica. Robusta coffee has twice more caffeine than Arabica, so you will get the best coffee scrub possible.
Ingredients for a coffee scrub
- 1 cup of coffee grounds
- 1/4 cup of sugar. Add more if you want a stronger exfoliating effect and less if you want your scrub to be more gentle.
- 1/2 cup of fractionated coconut oil. I used fractionated coconut oil because it stays liquid in low temperatures, does not clog pores, is easily absorbed by the skin and does not leave skin feeling greasy. It is a perfect oil if you want soft, moisturized skin but don't want your body to feel oily afterward. You can also use virgin coconut oil or any other liquid oil, such as grape seed oil or sweet almond oil.
- 1.5 tbsp of cinnamon
- 1 tsp of vanilla extract or essential oils of your choice
How to make coffee scrub for body
Making this nourishing body scrub is very easy and will take you only 5 minutes.
First, measure out the dry ingredients (coffee grounds, sugar and cinnamon) and combine them in a large bowl. Then, add the oil and vanilla extract. Mix it well and transfer to a jar or some other container.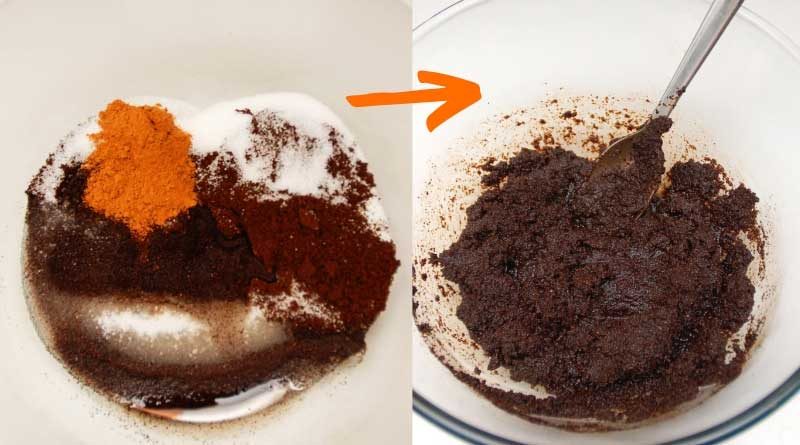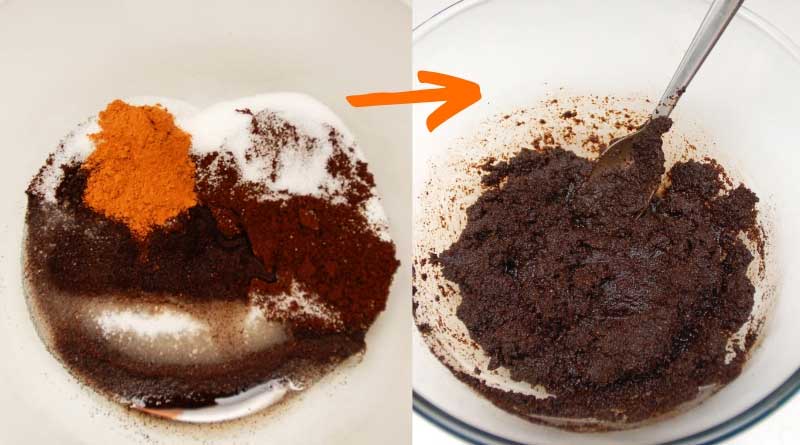 Labels for your coffee scrub
You can decorate the jar with the coffee scrub labels that I prepared for you! Simply print out the label on an adhesive paper sheet, cut out, and stick it on the jar.
This DIY coffee scrub for body is easy and inexpensive to make but is as effective as the store-bought ones. Make a couple of jars for yourself, your friends and enjoy a beautiful healthy body.
FAQ
Can I use this DIY coffee scrub for the face?
Body scrubs and face scrubs have different purposes, therefore, you will need to modify this recipe if you want to use it for face. Don't add any sugar, since sugar is too abrasive for face. Also replace coconut oil with a carrier oil that will be less likely to clog pores such as grape seed oil, hemp seed oil, sunflower oil, etc.
Can I use essential oils with this recipe?
Absolutely! I used vanilla extract in this recipe because it goes well with the smell of coffee. You can use any essential oil you like but consider how it is going to smell when combined with coffee. I personally like adding a bit of grapefruit essential oil because, just like coffee, it helps diminish cellulite by improving micro-circulation of the epidermis. It also goes well with the coffee scent.
Can I replace sugar with salt?
Of course, but have in mind that salt may sting a little bit, especially if you're exfoliating after shaving.
Save for later: