Natural DIY Cuticle Cream With Lemon Essential Oil
This post contains affiliate links. If you click and make a purchase, I may receive a commission. Thanks.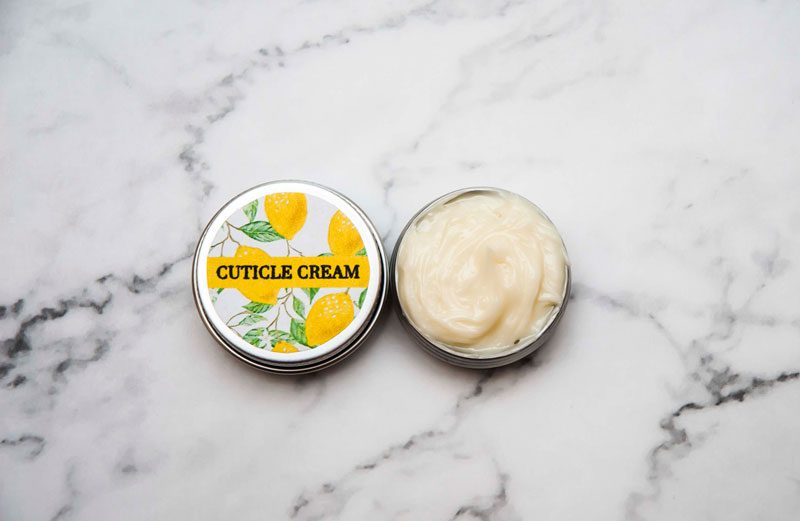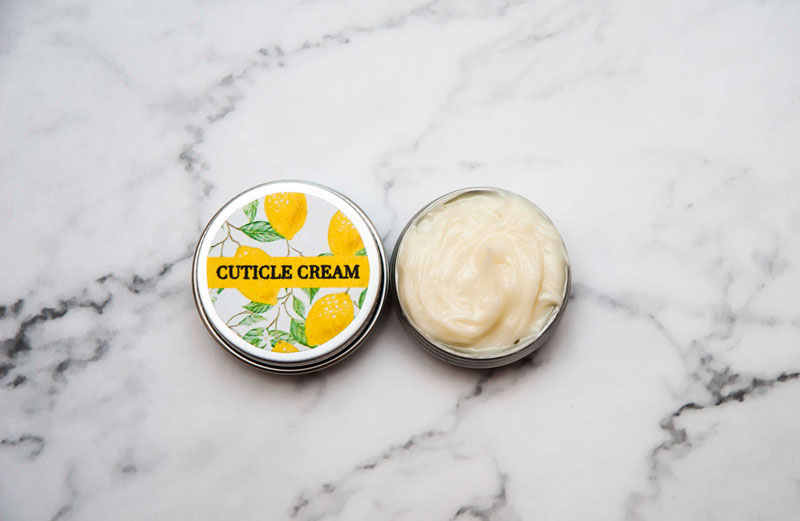 Nothing ruins manicure like dry cuticles do. And they also can be painful when they crack. It's been a constant struggle of mine, and applying hand lotions doesn't seem to help much. After reading about ingredients that benefit cuticles and nails, I created a nourishing DIY cuticle cream recipe.
This homemade cuticle cream does an amazing job in moisturizing cuticles and nails. This is due to the nourishing ingredients such as protective shea butter, moisturizing lanolin, jojoba oil and brightening lemon essential oil.
What to expect from this cuticle cream recipe and how to use it
The end product has a creamy consistency but melts immediately when in contact with the skin. It distributes well, which means that you only need a little bit to moisturize all the cuticles. The cream feels greasy at first but absorbs pretty well, leaving cuticles moisturized and soft.
The best time to use this DIY cuticle cream is before bedtime. Apply a little bit of the cream to your cuticles and nails, then massage until the oils have absorbed. This cream can also be used for any dry spots on your body, such as elbows, knees and feet.
Pin for later: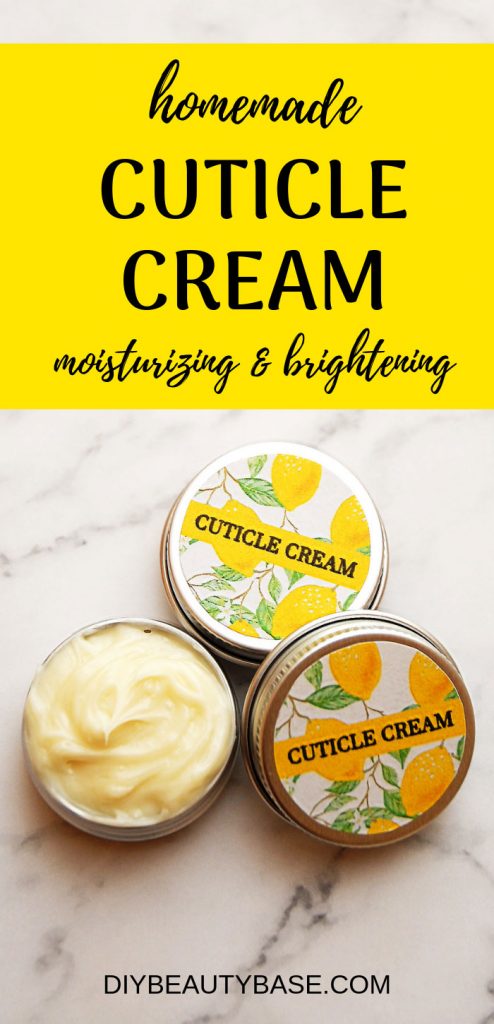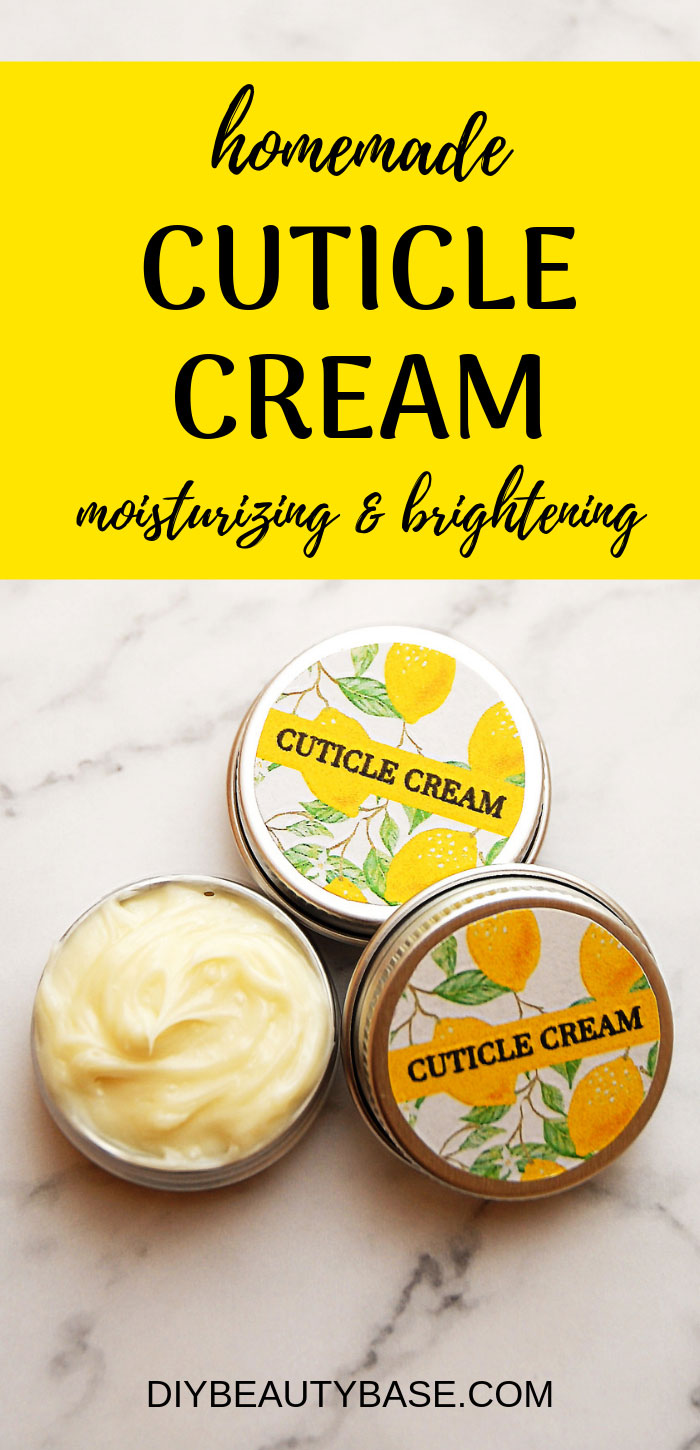 DIY cuticle cream ingredients and why I chose them
Lanolin
Lanolin is a greasy yellow substance that is extracted from sheep's wool grease. It is a natural, animal-derived product harvested from shorn wool before the wool is processed to make clothing and other products. Essentially, lanolin is a byproduct that would go to waste if it wasn't so useful.
Lanolin is loved for its strong moisturizing and water repelling properties. It is able to penetrate deeper into dry skin, and it doesn't just moisturize, but also creates an occlusive barrier on the skin that prevents moisture from escaping. This way, lanolin keeps skin supple for longer and you don't have to apply it often. This means that your cuticles and nails will stay moisturized all night. It also means that this DIY cuticle cream should survive at least one hand wash. Here is a great article if you want to read more about lanolin – lanolin cream.
Don't use this product if you are allergic to wool products. Lanolin can be substituted with Vaseline.
Shea butter
Shea butter is great for moisturizing the skin and healing damaged nail beds and cuticles. It is a semi-hard butter that gives thickness to the cream. Shea butter is one of the most popular moisturizing butter that is used in many DIY beauty recipes. I figured you will most likely have some shea butter at home. If not, I highly suggest getting some as you can make so many awesome things with it.
Jojoba oil
Jojoba oil is one of the best oils for nails and skin. It deeply nourishes the nails and promotes growth. This is because jojoba oil is actually not an oil. It is a wax ester, which is liquid in room temperature, so it looks like oil. Its molecular structure is very similar to the sebum on our bodies, therefore, it gets absorbed by our skin faster and better than most oils.
Vitamin E
Vitamin E is a super-antioxidant valued for its ability to heal and protect the skin. It is also anti-aging and can help protect your nails from yellowing due to aging.
Lemon essential oil
The reason I chose lemon essential oil for my DIY cuticle softener is its ability to brighten yellow nails and make them shinier. On top of that, lemon essential oil smells nice on its own, so you don't need to add anything else to make the cream smell nice.
How to make the nail and cuticle cream
To make 30 g of product:
20.1 g | 67% shea butter
6 g | 20% lanolin
3 g | 10% jojoba oil
0.3 g | 1% vitamin E
0.6 g | 2% lemon essential oil
You will also need a little container to store your product. I used these little metal containers.
1. Prepare a "water bath" by filling a small pan with water and bringing it to simmer over the low heat.
2. Weigh your shea butter, lanolin and jojoba oil, and place them in a small heat resistant cup. Place the cup in the pan with simmering water and leave to melt. Once all ingredients have melted, remove from the heat.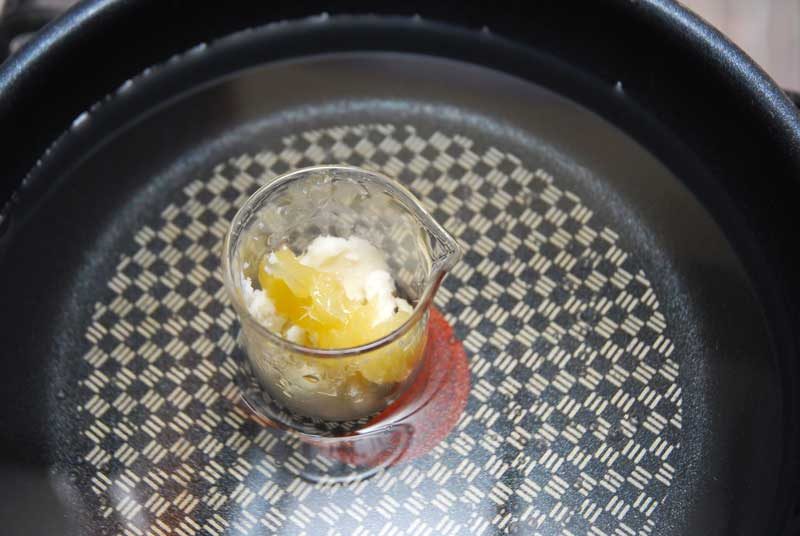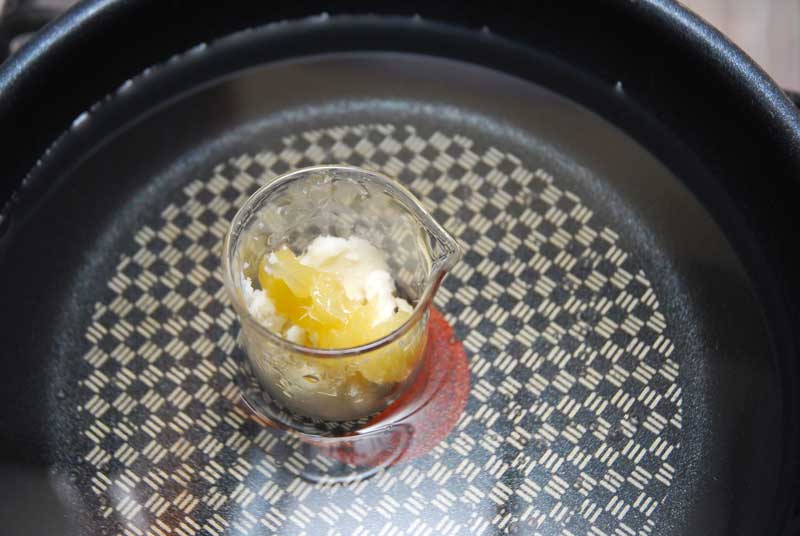 3. Let the oils cool down for a little bit, mix in vitamin E and lemon essential oil.
4. Place your oils in the fridge to cool down. Once hardened, whip with the kitchen mixer. Then transfer to a container.
Don't have a mixer? Then just pour your oil mix (while still fully liquid) into the container or a little jar and let it cool. It will create a balmy looking product that will work just as well.
Lemon cuticle cream labels
As a final touch, decorate your containers with the lemon cuticle cream labels. You can download them here:
LEMON CUTICLE CREAM LABELS PDF
Simply print out the label on an adhesive paper sheet, cut out, and stick it on the container.
Enjoy and don't forget to share this recipe with your friends 🙂