Summertime DIY Body Oil – Fast Absorbing & Tanning
This post contains affiliate links. If you click and make a purchase, I may receive a commission. Thanks.
This DIY body oil is a perfect choice for summer. It is fast-absorbing and will give your skin a natural glow.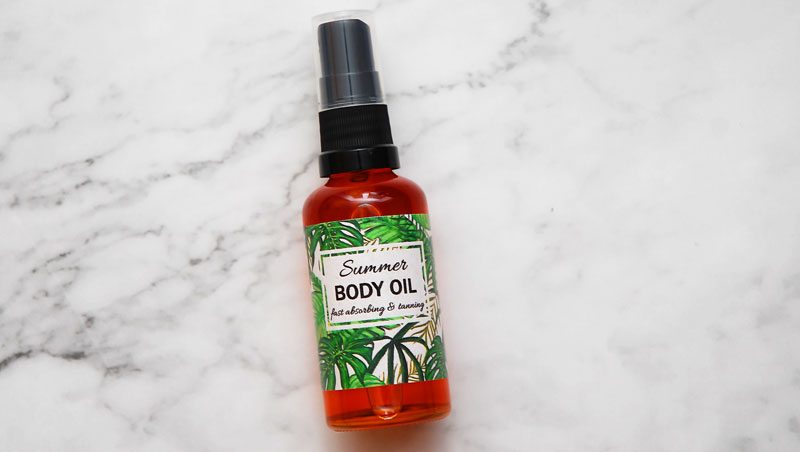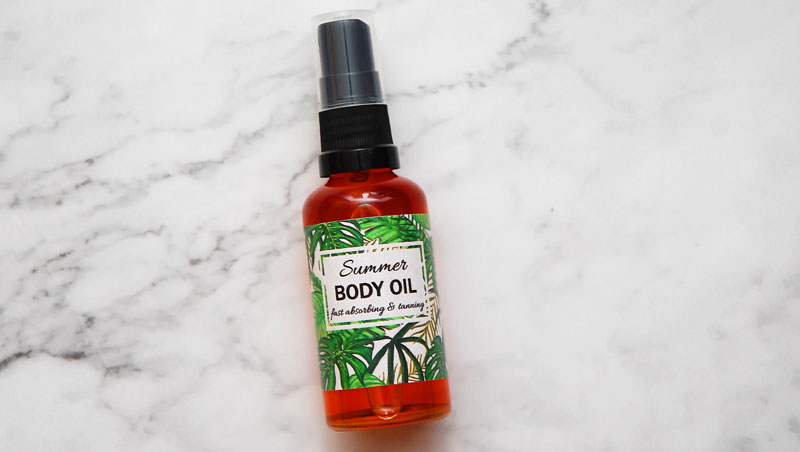 I came up with this tropico scented body oil recipe because I wanted something that would not only be moisturizing and easy to use but that would also improve the appearance of my skin. I like bronzing oils, but this time I wanted something simpler and more natural looking. This tropico body oil does just that!
I use it on my legs, just before I leave the house. It absorbs quickly and leaves my skin soft and moisturized.
This oil gives a very gentle tan to the skin. The tan is very mild, so you don't have to worry about uneven application, but it does make legs look healthier. On top of that, this DIY body oil will give your skin a natural glow - the kind of radiant glow that comes from beautiful skin rather than tan-colored shimmer.
If this sounds like something that you would like, then continue reading. I have formulated this homemade body oil recipe to be very simple to make and awesome to use.
Pin for later: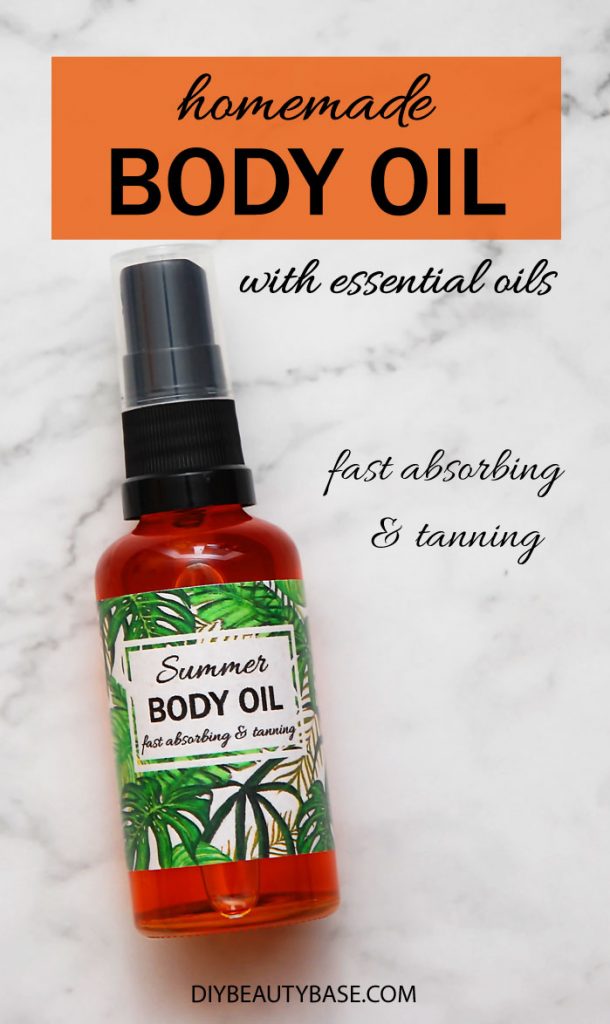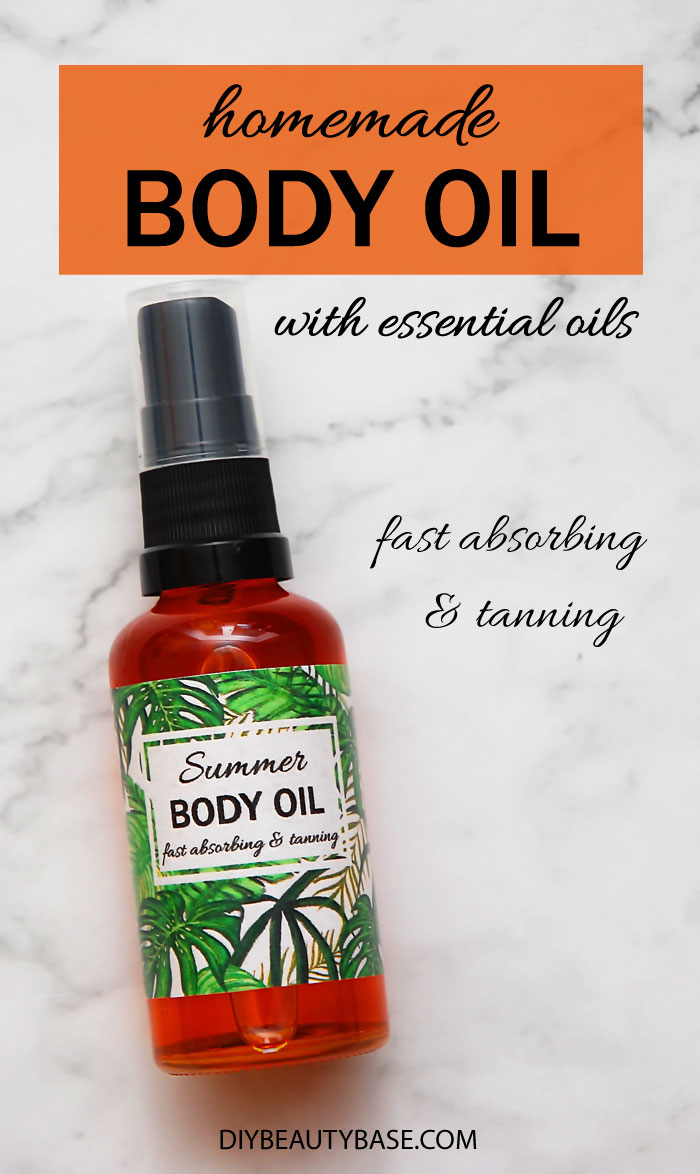 DIY body oil ingredients
Carrot oil (macerated/infused)
Carrot oil is obtained by macerating carrots in a carrier oil, such as sunflower oil or sweet almond oil. At the end, macerate is filtered to preserve all the valuable ingredients.
Carrot oil is rich in carotenoids that effectively protect the skin against free radicals and cell damage. Vitamin A contained in carrot oil relieves irritation, improves the appearance of scars and reduces visible signs of skin aging.
Carrot oil comes in a slightly orange color as a result of its high β-carotene content. β-carotene gives skin a very gentle tan and makes tanning easier. Plus, you get the benefits of the carrier oil that the carrot was macerated in. For example, if carrots are macerated in sweet almond oil, you will get all the moisturizing benefits of the sweet almond oil.
Do not confuse with a carrot seed oil.
Fractionated coconut oil
Just like the name suggests, fractionated coconut oil is made by fractionating the coconut oil. This process removes long-chain fatty acids and retains only medium-chain saturated fatty acids.
Fractionated coconut oil still has the same moisturizing and emollient abilities as virgin coconut oil along with vitamins A, C, and E, which all help maintain collagen production. In fact, it has superior qualities to virgin coconut oil. Fractionated coconut oil is highly stable, always liquid and has no color or odor. It is also very light and absorbs quickly into the skin. It blends well with other carrier oils and helps make them feel less greasy, similar to how dimethicone does.
Fractionated coconut oil is a must-have if you want to make a product that calls for a carrier oil but you don't want the greasy feeling that comes with it. This is exactly why I chose this oil for this DIY body oil recipe. It makes the body oil feel lighter and less greasy.
I used fractionated coconut oil in my DIY coffee scrub recipe to avoid greasiness and its a game changer!
Vitamin E
Vitamin E is optional. I always add it to my recipes because it helps extend the shelf life of oils and adds anti-aging properties.
Essential oils
Since I made this DIY body oil having summer in mind, I wanted it to smell tropical. I chose to use floral Neroli essential oil because of its sweet-floral scent. Neroli essential oil blends very well with citrus oils, so I blended it with sweet orange oil. Both, Neroli and sweet orange are good mood boosting oils.
Sweet orange essential oil is not photosensitizing, so you don't have to worry about going out in the sun. After all, that is the purpose of the body oil.
I will be making more summer products soon and would like to use some nice essential oils. Let me know in the comments what summer essential oil blends you like.
How to make this body oil
30% | 30 g  - Carrot oil
68.5% | 68.5 g  - Fractionated coconut oil
0.5% | 0.5 g - Vitamin E 
0.5% | 0.5 g - Neroli essential oil
0.5% | 0.5 g - Sweet orange essential oil
The process of making this body oil is very simple. Measure all your ingredients and pour them into a spray bottle using a small funnel. Then close the bottle and shake well to mix. That's it. Your fast absorbing and tanning body oil is ready.
As a final touch, decorate your bottles with the tropico-themed body oil labels. You can download them here:
Print out the labels on an adhesive paper sheet, cut out and stick on the container. If you want to protect your labels from grease and water, place a wide transparent sticky tape on the labels. Simply print out the labels, cover them with the sticky tape, cut out and then stick on the bottles.
Enjoy!