DIY Lotion With Shea Butter & Aloe Vera
This post contains affiliate links. If you click and make a purchase, I may receive a commission. Thanks.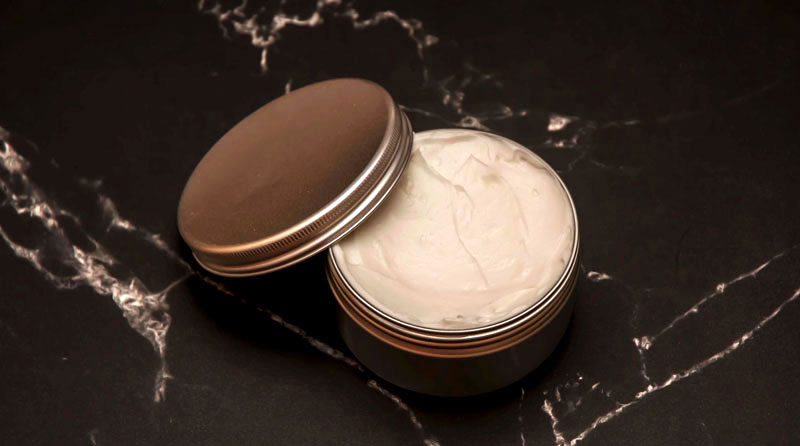 Today, I would like to share with you a simple shea butter body lotion recipe. This recipe has 2 ingredients that everyone loves, the moisturizing shea butter and the soothing aloe vera. These are some of the most commonly used and praised ingredients in the DIY beauty community, so I wanted to make a lotion that combines both of them.
The recipe for this DIY lotion with shea butter is pretty simple. I wanted to make something basic, so that everyone could make it without purchasing too many ingredients. The chosen ingredients, although simple, deliver a real kick of moisture and protection. I am sure you will love this lotion recipe.
This DIY shea butter body lotion is thick but non-greasy and absorbs well. Works great for any time of the year. It is lighter than body butter but heavier than the citrus lotion.
Pin for later: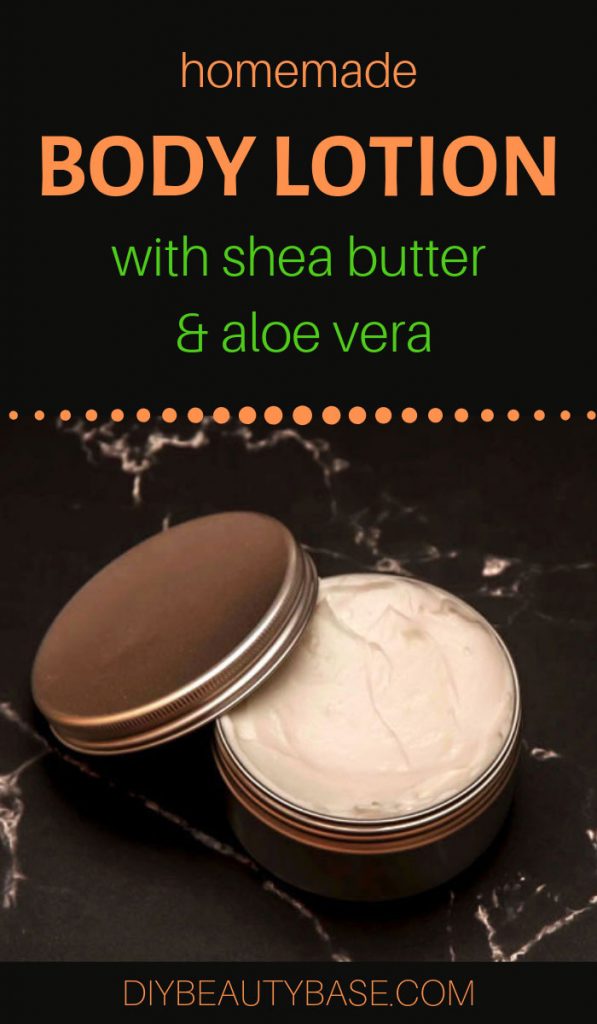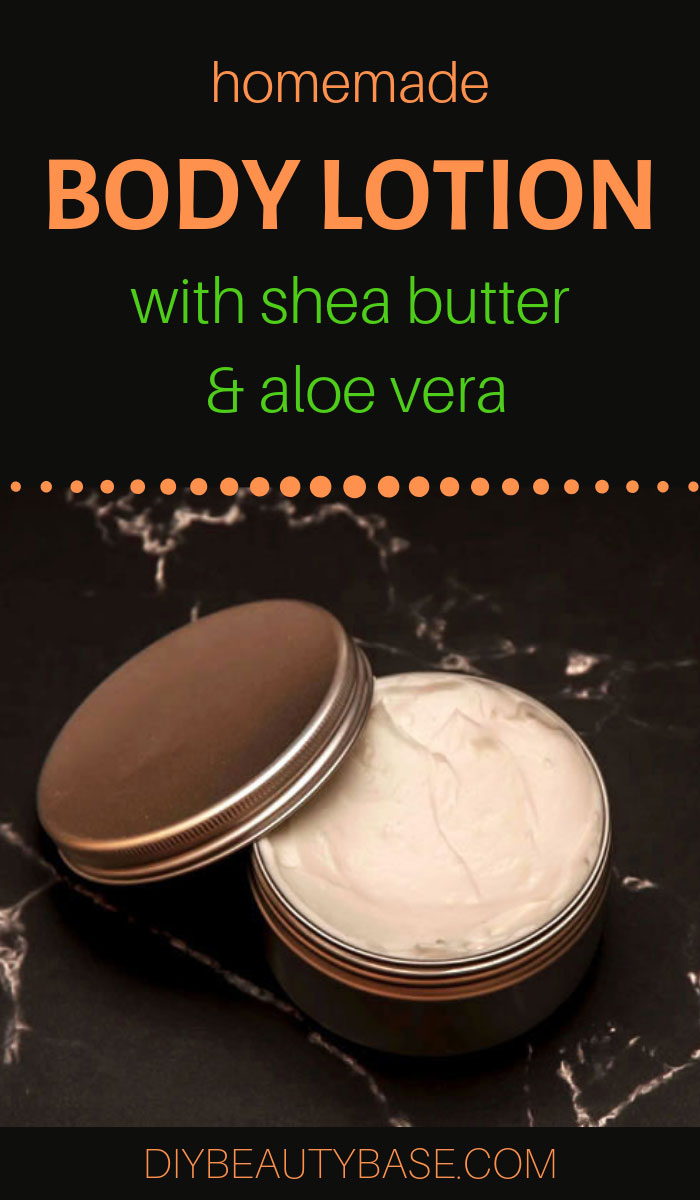 Ingredients for DIY lotion with shea butter
Aloe vera
Aloe vera is probably one of the most widely used herbal remedies for topical skin conditions. And to no surprise, aloe vera is a fantastic natural skin hydrator. It provides moisture to dry and irritated skin, which helps reduce wrinkles and premature aging.
On top of that, aloe vera is known for its soothing, healing and anti-inflammatory properties. It is an effective natural remedy for treating burns, sunburns and little cuts. This has been proven in a study that concluded that aloe vera, in fact, is effective in treating wounds.
BUT
There is something you should know. Despite its native goodness, it is not a very effective moisturizer when used on its own. You see, aloe vera is 98-99% water and the remaining 1-2% are (200+) nutrients that help soothe, nourish and moisturize the skin. Because it is mostly water, it doesn't do a very good job at helping skin retain the moisture inside the skin. This is especially true if you have dry skin or live in a dry climate.
The perfect moisturizer should be able to hydrate the skin AND lock that moisture in. This is why I recommend using aloe vera together with an emollient that will keep the moisture locked in the skin. As you might have guessed already, we will use shea butter as a main emollient for this DIY shea butter body lotion recipe.
Shea butter
Shea butter is a great moisturizer. It locks the moisture in the skin and prevents it from evaporating, meaning that your skin will stay hydrated for longer. Shea butter is also known for its anti-inflammatory and antioxidant properties (study). These can help with inflammatory skin conditions such as eczema and reduce skin damage from free radicals.
It can be substituted with other hard butter. Mango butter is a good alternative.
Emulsifying Wax NF
Emulsifying Wax NF is a vegetable-derived emulsifying wax used in hair and skin care. It allows water based ingredients and oil based ingredients to bind together.
Emulsifying Wax NF is a complete emulsifying wax, meaning that you don't need an additional emulsifier to make a stable product. It is very simple to use and will work for the large majority of DIY beauty recipes.
An emulsifier is necessary for any skin care product that has both water and oil. It is also required for oil-based products that need to react with water, for example, cleansing balms. So if you want to start making such products, I highly recommend purchasing Emulsifying Wax NF. Later on, you can experiment with some "fancier" alternatives such as Oliviem 1000 or BMTS-50 that can bring additional qualities to the formula. But if you are just starting out with water and oil recipes – Emulsifying Wax NF is all you need.
If you are thinking about using beeswax, you should know that it is not an emulsifier and will not combine water and oil effectively. Your finished lotion may look fine at first but later the water and oils will separate ruining your product.
Sweet almond oil
Sweet almond oil is a great moisturizer packed with vitamins A, D and E. I chose sweet almond oil because it is a very popular carrier oil, so you might have it in your arsenal. Sweet almond oil works great in skin care products. Although it doesn't absorb exceptionally fast, it does absorb fully and does not leave a greasy film on the skin. It contains a high amount of vitamin E, which does not only make your skin very happy but also means that the oil is stable and will not go rancid too quickly. Sweet almond oil is also suited for people with sensitive skin.
You can use any other carrier oil instead. Your carrier oil choice may slightly affect how the end product feels but will not break the recipe.
Essential oils
Essential oils will make your DIY shea butter lotion smell great. Also, depending on what essential oils you decide to use, they can bring additional skin benefits to the recipe. For this recipe, I used peppermint essential oil because I like the gentle cooling effect it creates. You can use whichever you prefer or currently have at home.
Preservative
A preservative is necessary for this homemade shea butter lotion because the recipe contains water. Without the preservative, your DIY lotion will only last a couple of days. Liquid Germall Plus is a good choice for DIY beauty recipes. It is a broad-spectrum, paraben-free and easy-to-use preservative that's effective in small amounts. It has a recommended usage rate of 0.1–0.5%, but since our kitchens are not very sterile, I would recommend using 0.5%.
If you don't want to use preservatives, then you may like my simple body butter recipe.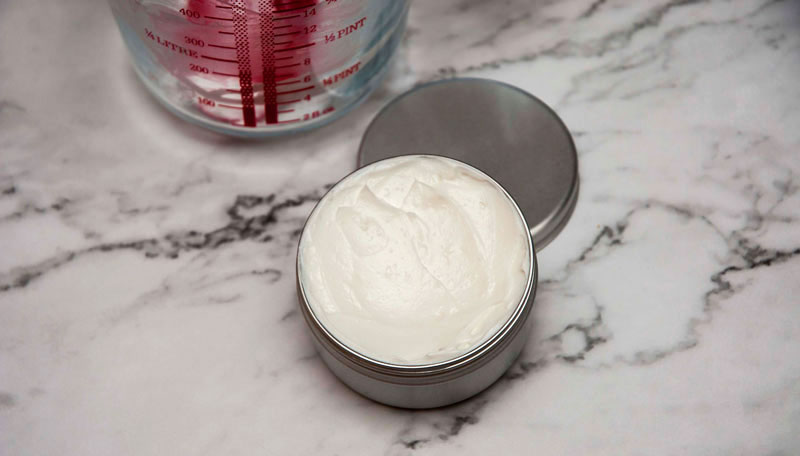 Aloe vera & Shea butter lotion recipe
26% | 26 g – distilled water + 10% | 10 g to account for evaporation
40% | 40 g – aloe vera juice
15% | 15 g – shea butter
8% | 8 g – sweet almond oil
10% | 10 g – Emulsifying Wax NF
0.5% | 0.5 g – essential oils
0.5% | 0.5 g – paraben-free preservative
1. Prepare a water bath by filling the pan with water and bringing it to simmer over low heat.
2. Weigh your shea butter, oil and emulsifying wax in a small heat-resistant glass measuring cup. Weigh your aloe vera juice and water in a second heat resistant cup. Place both cups in the water bath and leave until all the ingredients are fully melted.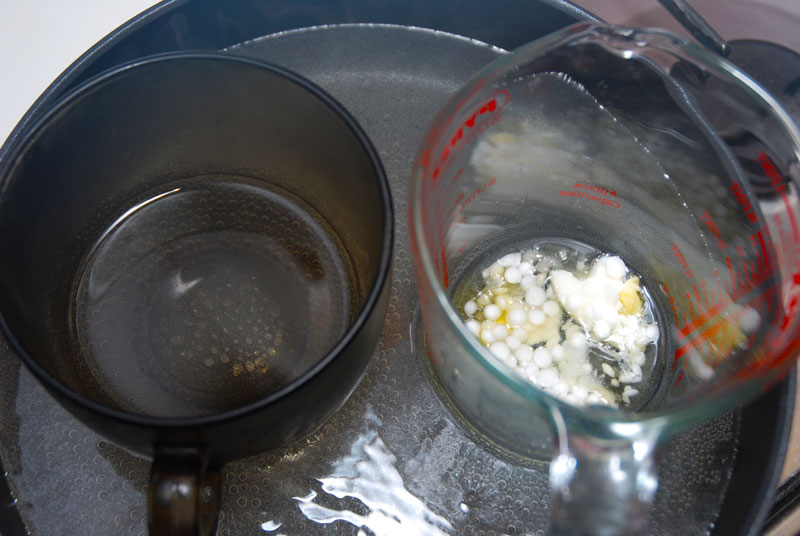 3. Pour water part into the oil part and mix with a silicone spatula.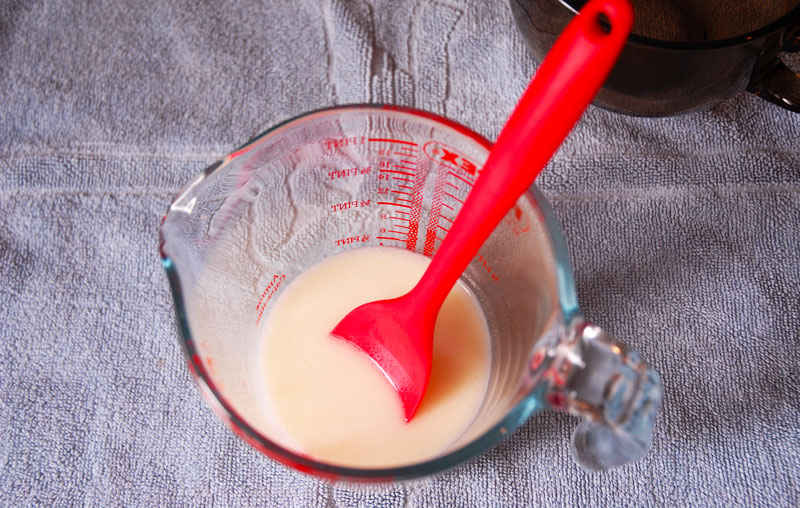 4. Blend your lotion with an immersion blender to fully incorporate the ingredients. Blend for a minute, then let it cool down for 5 minutes. Repeat the process until your lotion has thickened and the cup is barely warm to the touch.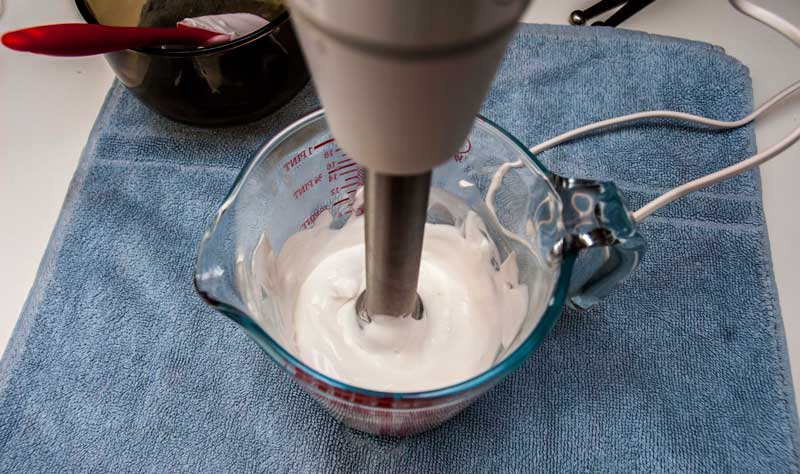 5. Measure your essential oils and preservative, then mix them into the lotion. Mix with the blender for a couple more minutes.
6. Once the lotion has fully cooled down, transfer it to the jar.
Enjoy!