Homemade Citrus Body Lotion (Light & Non-Greasy)
This post contains affiliate links. If you click and make a purchase, I may receive a commission. Thanks.
If you find body butters too heavy or too greasy then you will love this homemade lotion recipe with citrus essential oils.
This is a true lotion, meaning it has both water and oils mixed together, rather than just oils like in body butter. Lotions work a lot better for very dry skin because dry skin doesn't need more oils, it needs moisture. Which may explain why some people find body butters not moisturizing enough. However, if you have normal or oily skin then body butter is a great choice for you.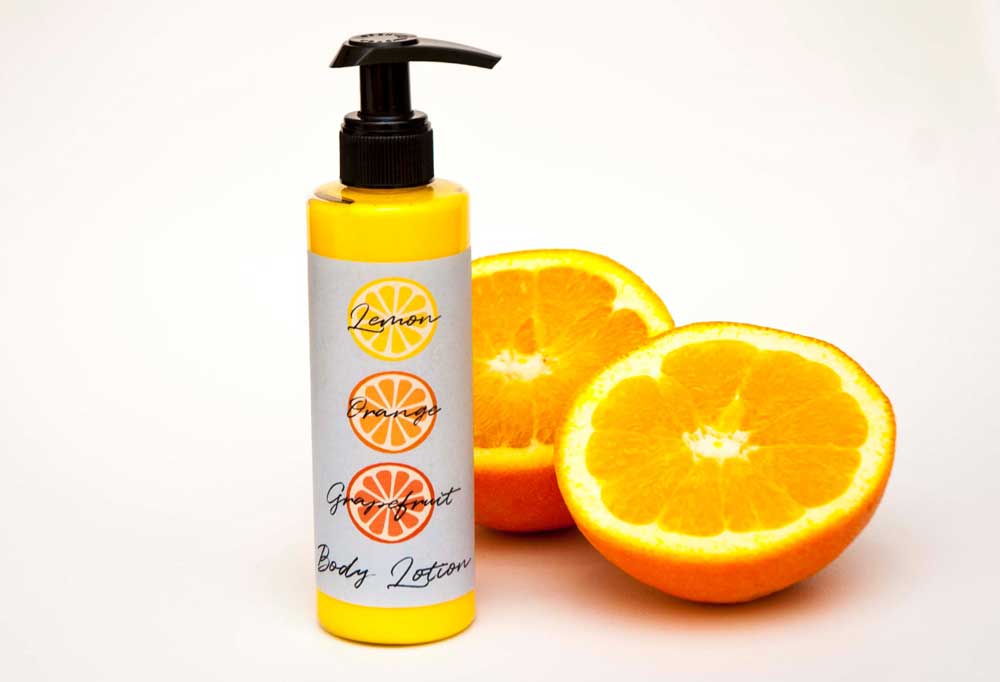 This citrus lotion recipe is awesome because it is:
– simple to make (simple steps and pretty basic ingredients that you will be able to use for many other beauty DIY's)
– very moisturizing (thank you glycerin!)
– lightweight & non-greasy (perfect to use any time: bedtime, morning, summer, etc.)
– improves skins elasticity and blood circulation.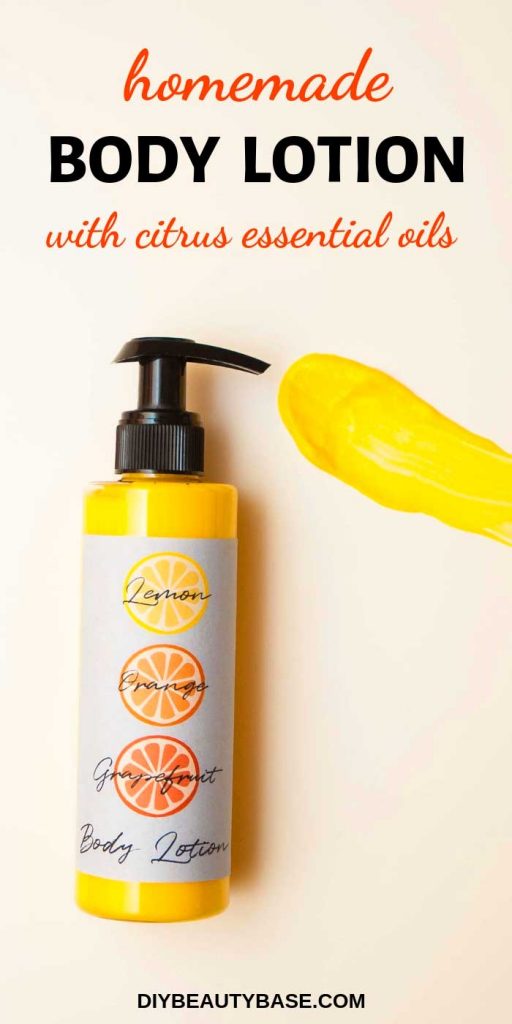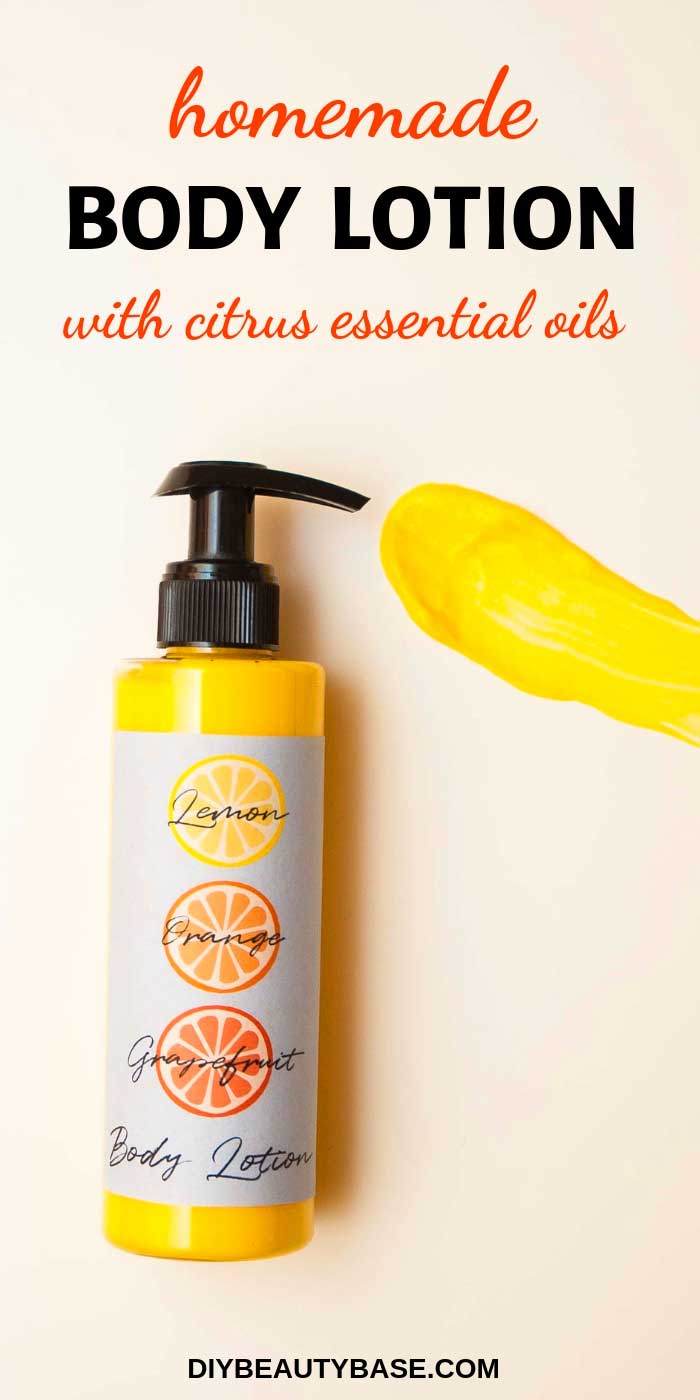 Ingredients for homemade lotion recipe:
Let me introduce you to the ingredients and why I chose them.
You will also find full ingredient list with quantities at the bottom of this post.
Vegetable glycerin
Vegetable glycerin is a powerful humectant that attracts water to the skin from the environment and the lotion itself. If you skip glycerin, the lotion will still work out lovely. But if you do have dry skin, I would advise to add it as it does work very well.
You can read more about glycerin in skincare here. The post explains why it's amazing for dry skin and explains some common myths.
Shea butter
Shea butter is a great moisturizer that shields skin from losing water. It is also a hard butter, so it will help thicken up the lotion to the perfect texture. It can be substituted with other hard butter. Mango butter is a great choice as it is less greasy than shea and does not have a strong odor.
Sweet almond oil
I like using sweet almond oil in body products because it absorbs fully and does not leave a greasy film on the skin. Can be easily substituted with another light oil of your choice.
Sea buckthorn oil
Sea buckthorn oil is a "Super Oil", which means it is packed with vitamins and nutrients. You only need a little bit of it to get the benefits. Its benefits for the skin have been well researched and proven. This research paper even goes to say that:
"Sea-buckthorn and its oil may be considered to be one of the most valuable natural products in the world."
As it is explained in the study, sea buckthorn oil is a strong antioxidant that provides regenerative and anti-aging effects, improves skins elasticity, supports wound healing, reduces scars and discolorations, helps with skin conditions such as eczema and atopic dermatitis.
Sea buckthorn oil is pricier than the more common oils but it is worth every penny. Since it is very potent you only need to add a little bit of it to your lotion to get its benefits. The small 1 oz / 30 ml bottle will last you quite a bit. Get yours here. P.S. this oil is extracted using supercritical CO2 oil extraction method which is even better than cold pressed.
I also made a face moisturizer with sea buckthorn oil and it is fantastic. If you get sea buckthorn oil, I recommend trying the face moisturizer recipe too.
Emulsifying Wax NF
Emulsifying wax NF is a popular emulsifier used in many DIY beauty recipes. The emulsifier is what keeps water and oils mixed together in lotions. Emulsifying wax is recommended to be used at 25% of the weight of the oils in your recipe.
If you tried my hair conditioner recipe and purchased BTMS-50 then you can use it instead of the Emulsifying Wax. BTMS-50 is a vegetable-based conditioning emulsifier. It will not only emulsify your lotion but make it feel silkier than emulsifying wax too.
Essential oils
This combo of citrus essential oils smells absolutely amazing. If you like sweet and citrus-based smells you will love this too. To be honest, these essential oils smell great on their own too. So, you can use just one based on scent preferences and properties. I used all three together, because the combo smells fantastic and provides properties that help maintain healthier legs.
Lemon essential oil is known to improve blood circulation, strengthen capillaries and make them more elastic. So if you have poor blood circulation, tired legs, spider veins or a job that requires standing all day, this should be an essential oil of choice.
Sweet orange essential oil is best known as one of the most potent antidepressants in aromatherapy. So if you want a body lotion that makes you happy, add some sweet orange essential oil. It also provides anti-aging benefits.
Pink grapefruit essential oil – helps diminish cellulite by improving microcirculation of the epidermis and helping burn the fat.
You can also get all 3 in this set of 6 citrus essential oils from Plant Therapy.
You probably have heard that citrus oils can be photosensitizing when used at high amounts, meaning you should not expose your skin to the sun for 12-18 hours. But there is no risk of phototoxicity if citrus essential oils are used below their phototoxicity levels.
For lemon oil, it is 2% of the recipe and for grapefruit oil it is 4%. Sweet orange essential oil is not photosensitizing. This recipe calls for 0.4% each of lemon and grapefruit essential oils (0.8% combined), so we are way below the level that would cause any sun sensitivity. So, enjoy the properties and scent of citrus essential oils without worries.
Vitamin E
Vitamin E is optional. I always add it to my recipes because it extends the shelf life of oils and adds anti-aging properties. You can also add a little bit to your newly purchased carrier oils to extend their shelf life.
Preservative
This homemade lotion recipe contains water, which means a preservative is necessary. Without it, your DIY lotion will only last a couple of days. Liquid Germall Plus is a good choice for DIY beauty recipes. It is a broad-spectrum and easy-to-use preservative that's effective in small amounts. It has a recommended usage of 0.1–0.5%, but since our kitchens are not very sterile, I would recommend using 0.5%.
Yield: 250 g of body lotion
Homemade Lotion Recipe With Citrus Essential Oils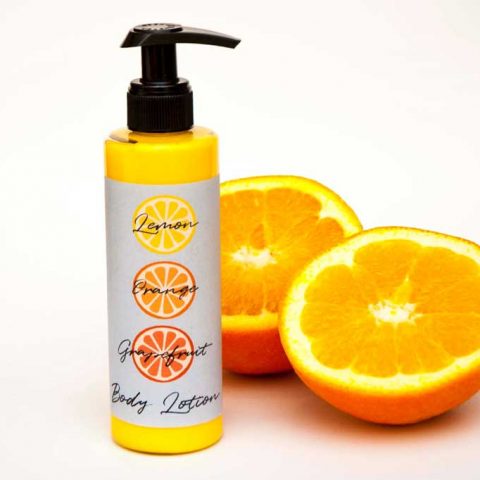 Materials
200g | 70% +10% (to account for evaporation) - Distilled water
Instructions
Prepare a water bath by filling the pan with water and bringing it to simmer over low heat. Weigh your water and glycerin in a small heat-resistant glass measuring cup . Weigh your shea butter, almond oil, sea buckthorn oil and emulsifier (Emulsifying wax, BTMS-50 or other) in a second heat resistant cup. Place both cups in the water bath and leave to melt for about 20 minutes.
Once ingredients in both cups are fully melted, pour water part into the oil part and mix with a silicone spatula.
Blend your lotion with an immersion blender to fully incorporate ingredients. Blend for 2 minutes, then let it cool down for 10. Repeat the process until your lotion has thickened and the cup is barely warm to the touch. Measure your essential oils, vitamin E and preservative and mix into the lotion. Mix with the blender for couple more minutes.
Once the lotion has fully cooled down, transfer it to the plastic bottle with a pump or a jar. Use a piping bag to transfer your homemade lotion to the bottle.

Notes
This recipe is for 250 g of body lotion. Read the full post to find out why I chose these particular ingredients, where to buy them and possible substitutions.
Labels for the homemade lotion
Now, you have a great homemade lotion! You also need a cute label for your bottle or jar. The main label is for a bottle with a pump but I also created round labels that can be used on a lid of a jar. You can download them here:
I use this DIY body lotion daily and I love how it makes my skin feel. I would love to hear from you if you tried this recipe!