DIY Coconut Oil Sugar Scrub That Looks Like a Coconut!
This post contains affiliate links. If you click and make a purchase, I may receive a commission. Thanks.
Jump to recipe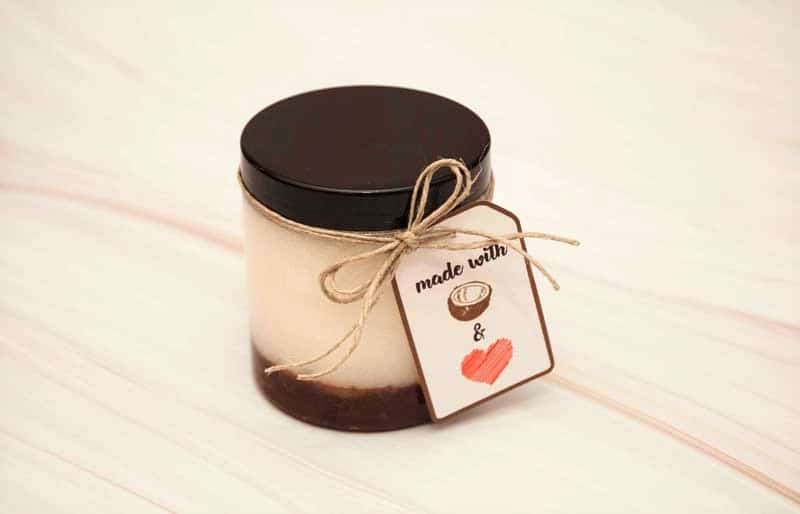 If you like coconut oil and how it smells, then you will love this DIY coconut oil sugar scrub. It is very easy and inexpensive to make, but most importantly, it looks lovely in a jar and makes for a wonderful DIY gift.
Homemade coconut oil sugar scrubs are quite popular at the moment due to their simplicity and their skin benefits. Sugar exfoliates the skin well and coconut oil is great at moisturizing the skin. This is a combo made in heaven.
I wanted to make this DIY scrub a bit more fun looking, so I took a simple coconut oil sugar scrub recipe and tweaked it to get it to look like a coconut in a jar. I think it came out amazing.
I also created a simple gift label for this scrub that you can download at the end of this post.
Save for later: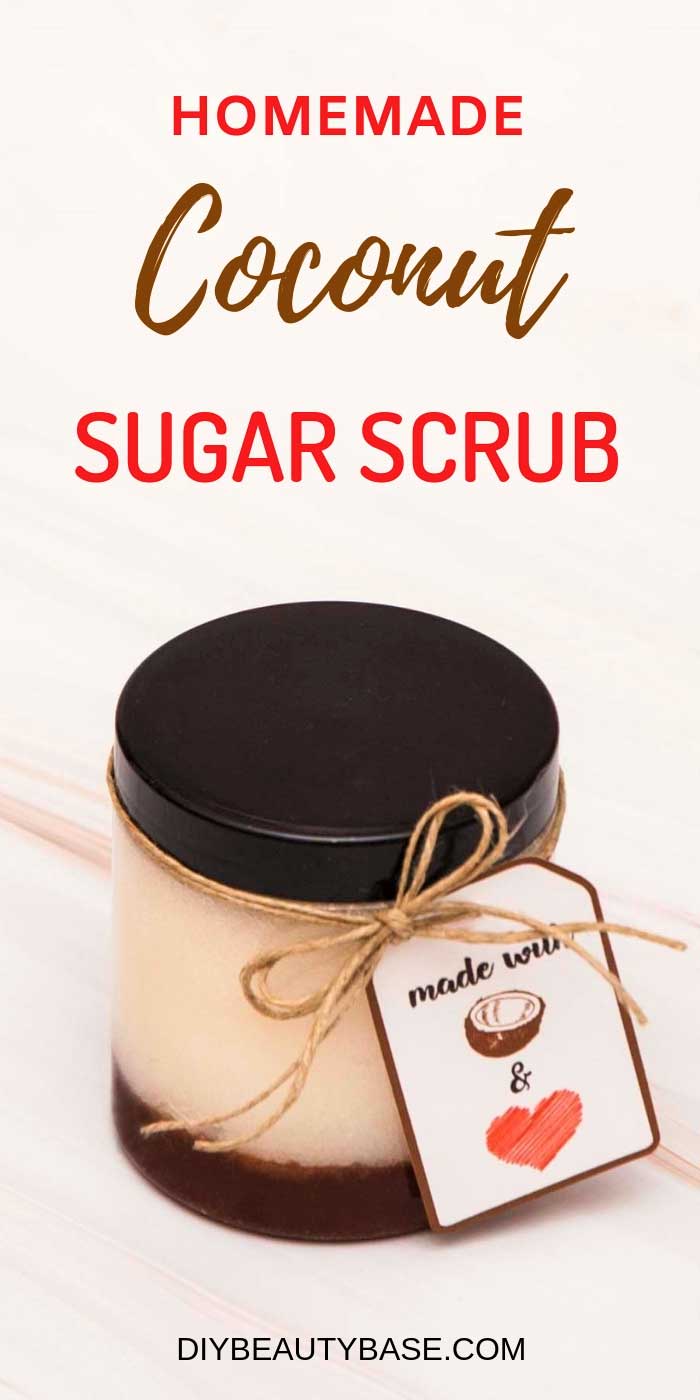 Ingredients
As I already mentioned, the recipe is very simple, so you will need only a few ingredients:
♥ 1/2 cup of virgin coconut oil
♥ 1 cup of white sugar
♥ 1 teaspoon of cocoa powder
♥ A jar
This DIY coconut oil sugar scrub smells amazing on its own thanks to coconut oil, but if you want more scent, you can add essential oils or fragrance. For example, you can add pineapple fragrance to get a tropical vibe. Vanilla essential oil also goes well with the coconut.
Coconut oil sugar scrub recipe
This coconut oil body scrub is very easy to make. It will probably take you only 10 min.
Feel free to adjust the sugar to coconut oil ratio to get the consistency you like. The beauty of DIY's is that you can make this recipe perfect for you.
1. Take two bowls. Combine coconut oil and sugar in the first bowl, then place approximately 1/5 of the scrub in a second, smaller
2. Add cocoa powder to the smaller bowl and mix until you reach an even brown color. This brown scrub mix will be our coconut shell.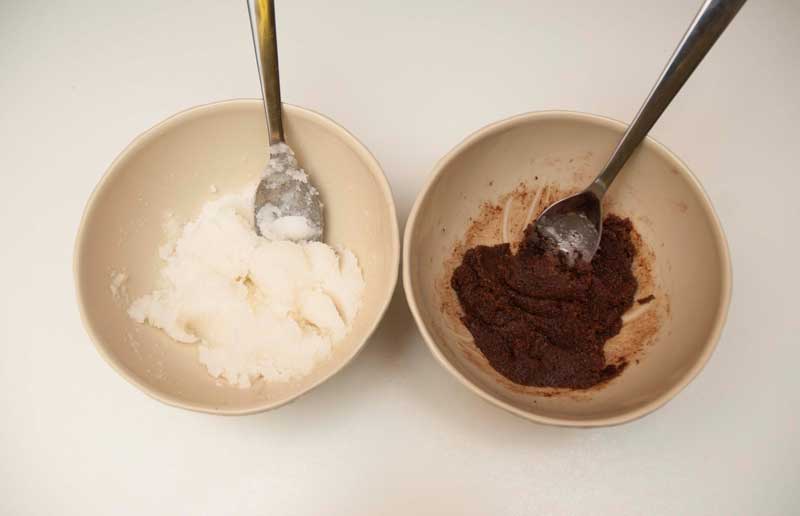 3. Add essential oils or fragrance to both bowls (optional).
4. Test your scrub on your arm to see if you like it. Add more sugar if you want more exfoliation or more coconut oil to make it gentler.
5. Layer your coconut oil sugar scrub in a jar by filling in 1/5 of the jar with the cocoa mix and the rest with the white mix.
That's it. Simple isn't it?
Your scrub is ready to be used immediately, so go and enjoy the coconut scent and smooth skin. If you want to additionally moisturize your skin, check out this easy 3-ingredient only DIY body butter or this light citrus body lotion.
Gift tags
This DIY coconut oil sugar scrub can be a very nice gift that's inexpensive to make. I have created a simple gift tag for it that you can download here:
DIY Coconut Oil Sugar Scrub Recipe

Ingredients
1/2 cup of coconut oil
1 cup of white sugar
1 tsp of cocoa powder
Instructions
Combine coconut oil with white sugar.
Separate 1/5 of the scrub to another, smaller bowl.
Add cocoa powder to the smaller bowl and mix well.
Put a thin layer of the cocoa mix in a jar and fill in the rest of the jar with white coconut oil sugar scrub.
Enjoy!
© 2023 DIY Beauty Base