Foaming Cupcake Bath Bomb Frosting Recipe – Only 3 Ingredients
This post contains affiliate links. If you click and make a purchase, I may receive a commission. Thanks.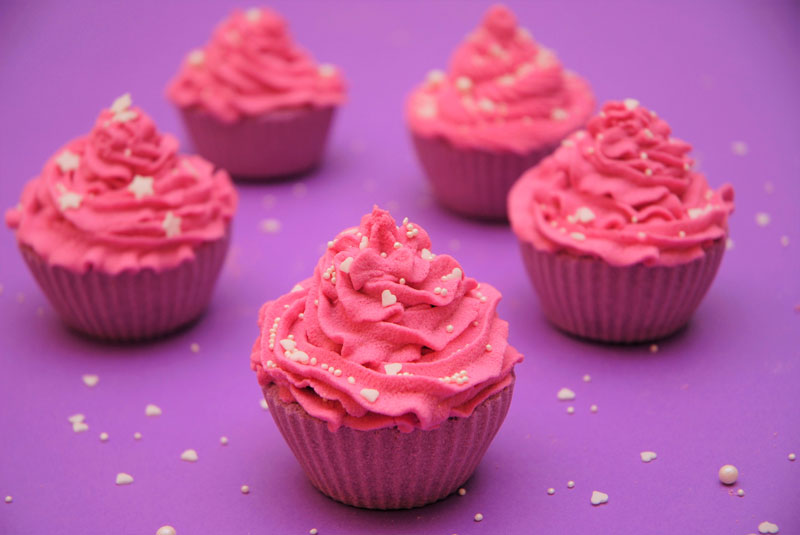 I would like to share with you a very easy DIY cupcake bath bomb recipe. Making DIY cupcake bath bombs is all about the frosting, and I have finally discovered a bath bomb cupcake frosting recipe that not only looks beautiful but is practical too.
DIY cupcake bath bombs are adorable and I have tried to make a few myself before but was never fully happy with them. I am not a fan of meringue bath bomb frosting as it's sugar-based and does not perform well in water. I've tried butter-based DIY bath bomb frosting but I found it too greasy, too expensive to make, and too soft. There is also soap frosting, which looks great, but I don't like that you have to remove it from the bath bomb before placing it into the bathtub.
What to expect from this cupcake bath bomb frosting recipe?
After a few experiments I have found a bath bomb cupcake frosting recipe that lives up to my expectations:
1. It is easy to make and requires only 3 ingredients
2. It is inexpensive (unlike butter-based bath bomb frosting)
3. It foams, which makes it fun to use
4. It is rock hard after it dries. This is very important because most of us want to be able to package our bath bombs for gifts or for sale.
These cupcake bath bombs look cute and can be decorated with sugar sprinkles or little soap embeds.
I love that you can just place the entire bath bomb into the water and it will perform beautifully. The "cake" part of the bath bomb fizzes and foams, while the frosting part creates beautiful soft foam. The finished cupcake bath bombs are very hard, so you don't have to worry about breaking them.
Pin for later: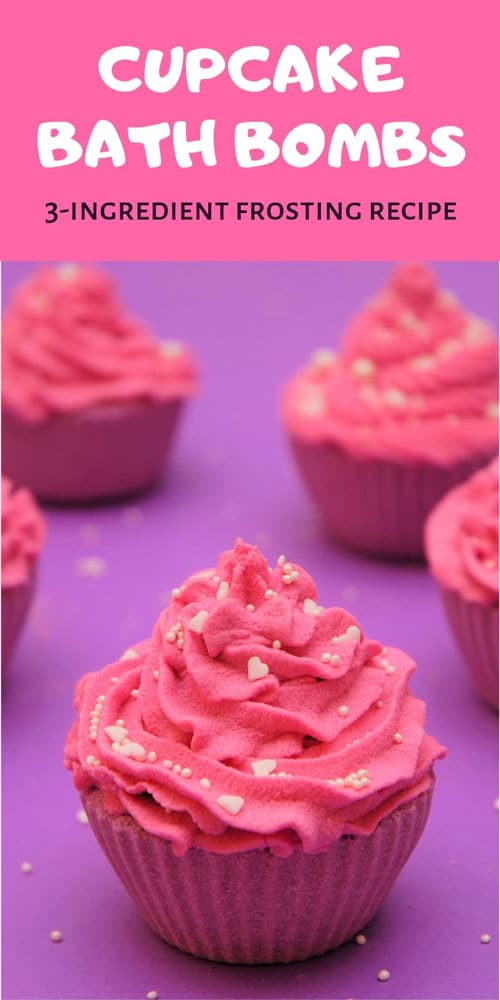 Things you'll need to make cupcake bath bombs
You will need the usual bath bomb ingredients to make cupcake bottoms:
- 1 cup of baking soda
- 1/2 cup of citric acid
- 3 tbsp of cornstarch. Cornstarch makes bath bombs harder and it also makes bath water feel very soft.
- 3 tbsp of buttermilk powder - adds foam
- 1 tbsp of light oil (cocoa butter is a great substitute)
- 1/2 tbsp of Polysorbate 80 - prevents dyes and mica from staining your bathtub and mixes oils with water. You can read about it here.
- Purple color dye (soap colorant, water-soluble dyes or food dye)
- 10 drops of Bubblegum fragrance or your favorite essential oils
To make bath bomb frosting you will need:
- 1 cup baking soda
- 1/5 cup of Cocamidopropyl Betaine. It is a very mild surfactant that is often used as a cleansing agent in gentle formulations. It also creates foam.
- 2 tbsp of white kaolin clay
- Pink mica powder or dye. I used mica powder for shimmer.
- A piping bag
You can make bath bomb frosting just with baking soda and C. Betaine but I personally achieved better results with added clay because it hardens the frosting. Clay can be substituted with cream of tartar.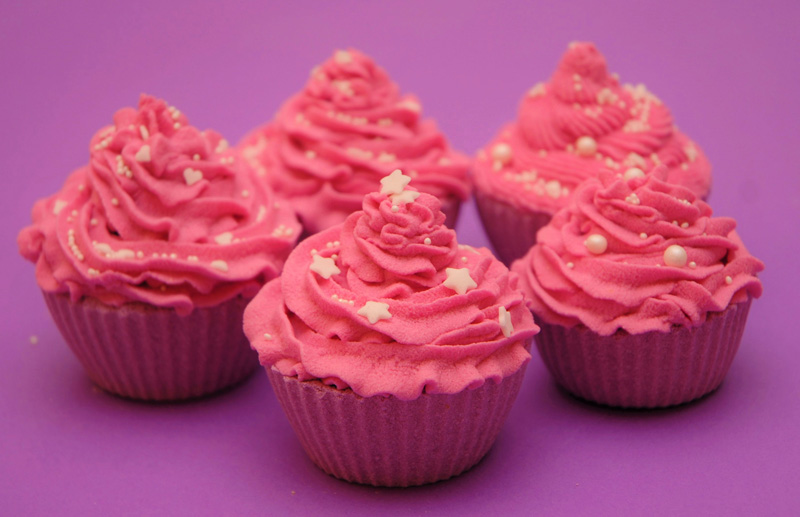 How to make cupcake bath bombs
First, let's make the cupcake bottoms.
1. Mix baking soda, cornstarch and buttermilk powder in a large bowl.
2. Add color. Start by adding a couple of drops and mixing. Add more until you reach the desired shade. You may need to spray a little bit of water to help the color mix better.
3. In a separate bowl, combine oil, Polysorbate 80 and fragrance/essential oils. Once combined, add it to the main bowl and mix.
4. Add citric acid.
5. Check the mixture by squeezing it in your palm. If the mixture stays together – it's ready. If it crumbles, spray some water, mix and check again.
Now let's make some cupcake bath bomb frosting:
6. Combine baking soda, C. Betaine and clay in a bowl. Add color of your choice and mix well.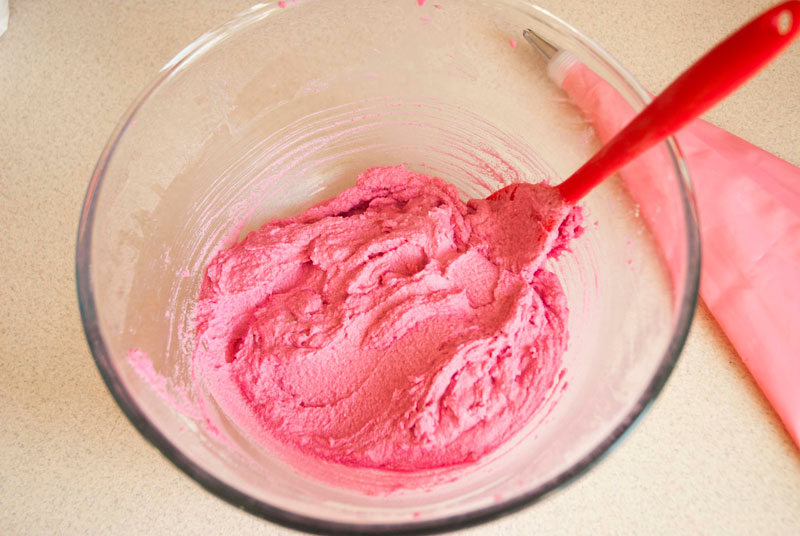 7. Fill in a piping bag with the frosting mixture and you are ready to pipe.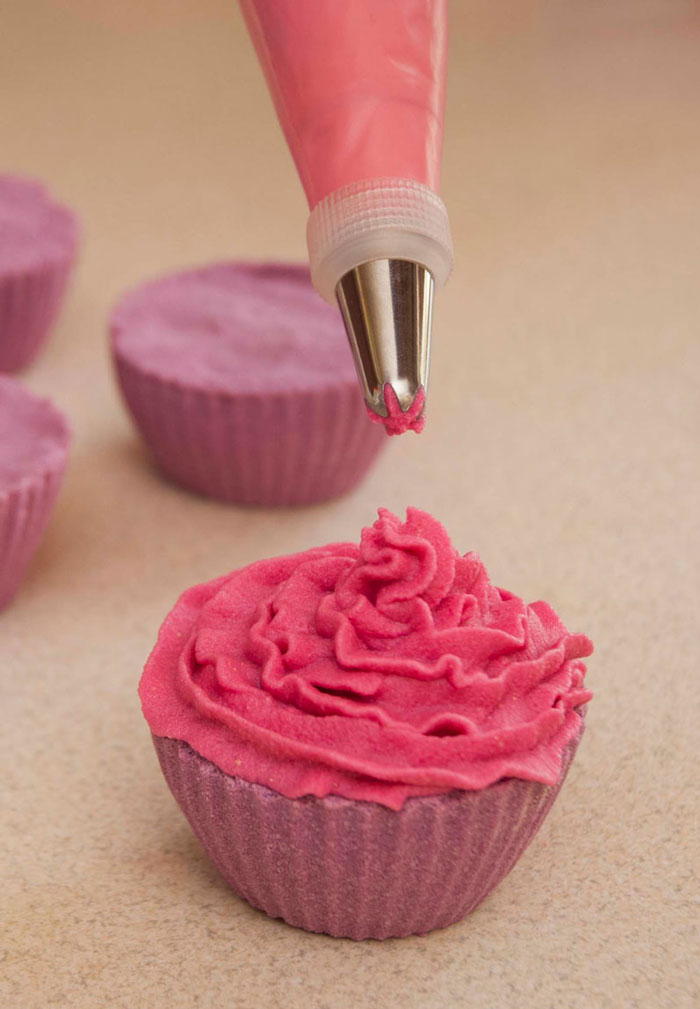 If you have never used a piping bag before, here is a video showing some good piping techniques. And don't worry if it didn't work out for the first time. You can always remove the frosting and try again. Or, you can wait till it dries out and pipe a second layer on top to create bigger cupcakes.
Let your finished DIY cupcake bath bombs dry for 12 hours.
I hope you enjoyed the recipe and made some beautiful cupcake bath bombs in the process!