DIY Bath Bomb Recipe With Surprise Colors Inside
This post contains affiliate links. If you click and make a purchase, I may receive a commission. Thanks.
If you like bath bombs that create a little show in a bathtub, then you will love this DIY bath bomb recipe with surprise colors inside. This bath bomb looks plain on the outside, but reveals bright colors once in the bathtub - similar to how LUSH likes to make their bath bombs.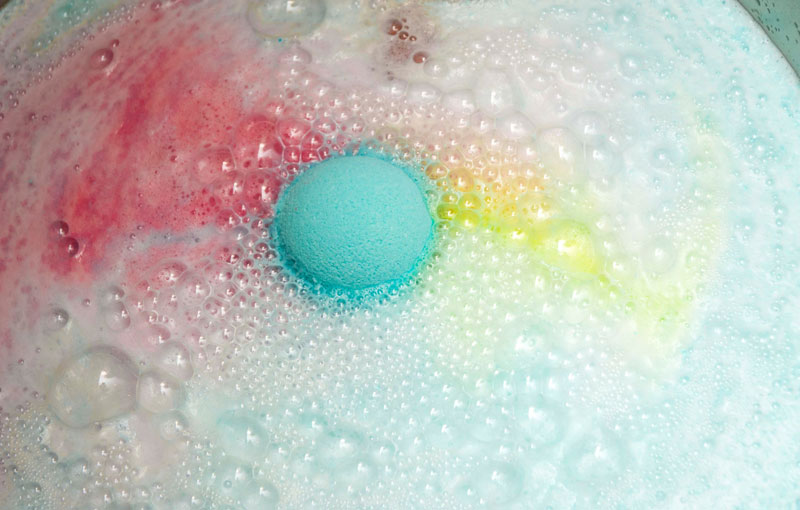 These DIY bath bombs with hidden colors are made with the help of 'embeds'. Embeds are tiny bath bombs in different colors that are hidden inside the main bath bomb. With the help of these embeds you can create many fun effects just like LUSH does.
Pin it for later: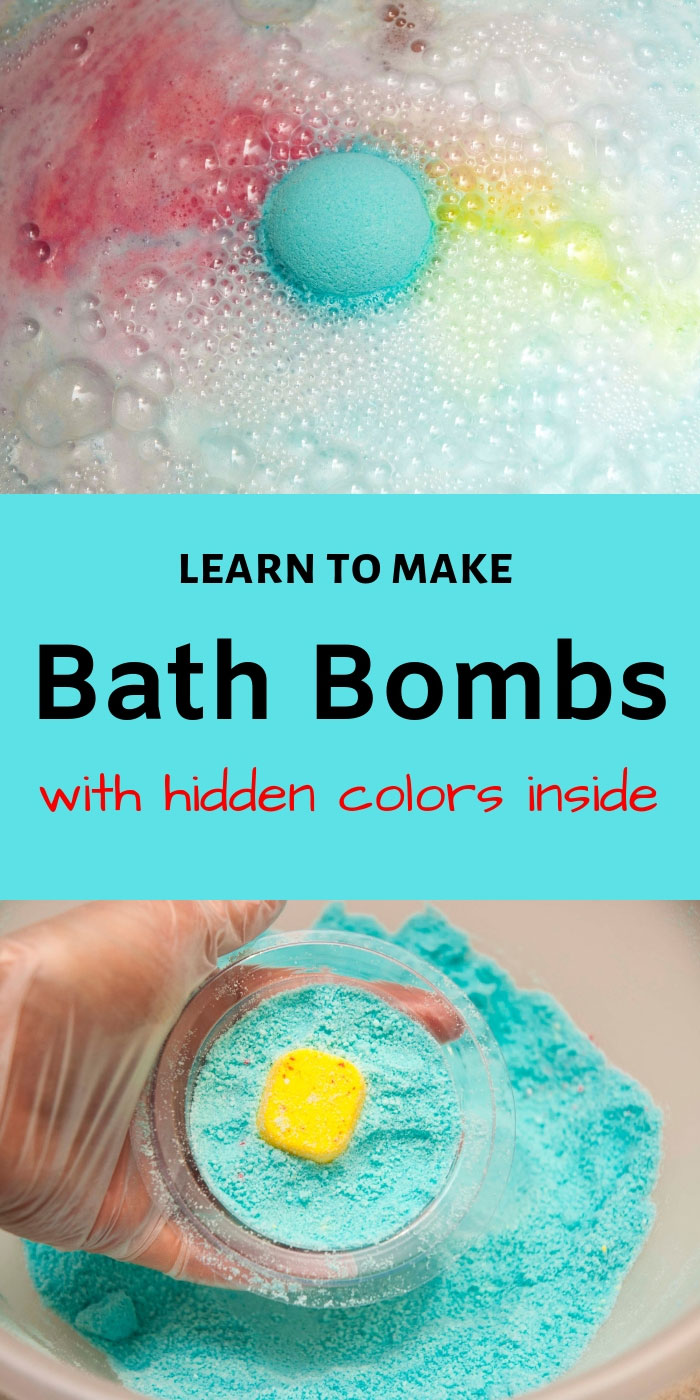 How to make bath bombs with different colors inside
The recipe I'll show you is as simple as making a standard bath bomb but requires more time to make because you'll need to make the bath bomb embeds first.
If you make bath bombs often, you can make a bigger batch of colorful embeds, store them in a dry container, and use them when you make bath bombs next time.
I made light blue bath bombs with red and yellow embeds but feel free to make any colors you want.
What you will need to make these bath bombs:
- 1 cup of baking soda
- 1/2 cup of citric acid. You will notice from the photos of my embeds (later in the post) that the yellow ones look smooth, while red ones do not. This is because I made red ones with coarser citric acid powder. Coarse citric acid does not blend well. Always choose fine citric acid to get smooth looking bath bombs.
- 3 tbsp of cornstarch (it hardens the bath bombs and makes the water silky soft)
- 3 tbsp of buttermilk powder - adds foam
- 1 tbsp of light oil (cocoa butter is a great substitute)
- 1/2 tbsp of Polysorbate 80 - prevents dyes and mica from staining your bathtub and mixes oils with water. You can read about it here.
- Blue color dye (soap colorant, water-soluble dyes or food dye)
- 10 drops of Bubblegum fragrance or your favorite essential oils
- Bath bomb mold
- A spray bottle
For embeds:
- 1 cup of baking soda
- 1 cup of citric acid
- 3 tbsp of cornstarch
- 3 tbsp of buttermilk powder
- 1 tbsp of light oil
- 1/2 tbsp of Polysorbate 80
- Red and yellow color dye (soap colorant, water-soluble dyes or food dye)
- 10 drops of fragrance or your favorite essential oils
- Silicone ice cube tray. Make sure you use a silicone one because it will allow you to easily remove embeds without breaking them. If you want to make small embeds fill in ice cube tray only half way.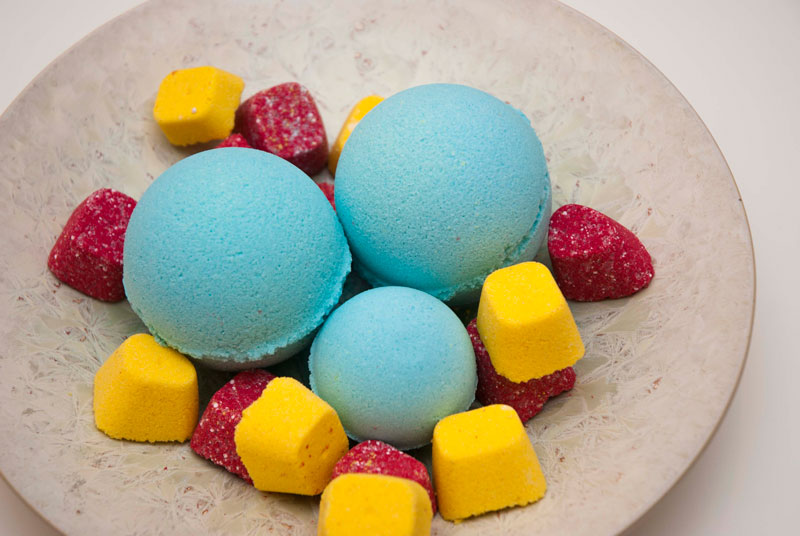 Making bath bombs with embeds
First of all, we need to make the embeds. Making bath bomb embeds is the same as making standard bath bombs, except that you need to add more citric acid.
1. Combine baking soda, cornstarch and buttermilk powder in a large bowl.
2. Add 5 drops of color of your choice and mix. Keep adding more color until you get the color you want. You may need to spray a little bit of water to help the color mix better.
I personally like my bath bomb embeds pretty vibrant, so I added quite a bit of color. Don't worry about staining – Polysorbate 80 won't let that happen.
3. In a separate bowl, combine oil, Polysorbate 80 and fragrance/essential oils. Once combined, add it to the main bowl and mix.
4. Add citric acid.
5. The final mixture should resemble damp sand. Squeeze it in your palm. If the mixture stays together – it's ready. If it crumbles, spray some water, mix and check again.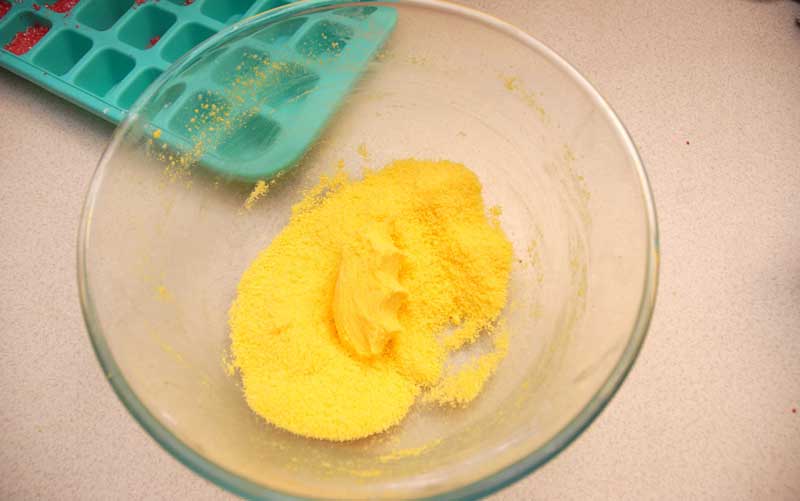 6. Take an ice cube tray and pack it tightly with the embed mixture. Let the mixture dry for a couple of hours, then remove from the mold and dry for another 12 hours.
7. Repeat this process to make embeds with another color.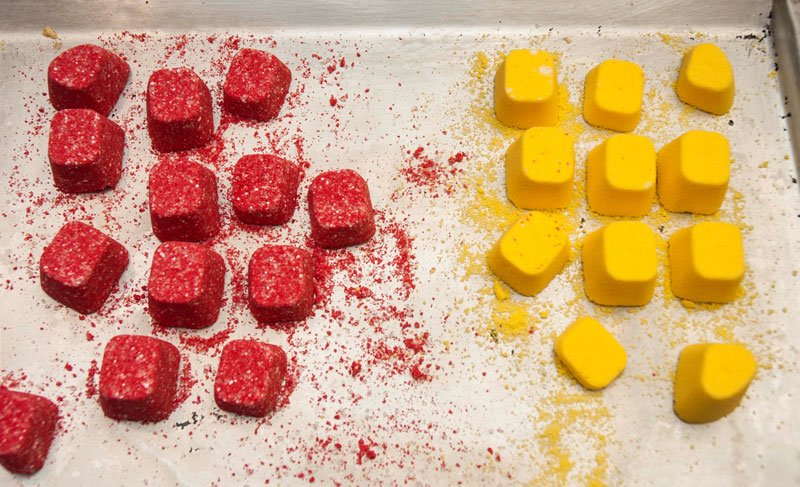 Now let's make the actual bath bombs:
8. Prepare the bath bomb mix for your main bath bomb with the color of your choice. I made mine blue. Follow the same steps (1-5) as for making bath bomb embeds but add only ½ cup of citric acid.
9. Take one half of the bath bomb mold and add some of the blue bath bomb mix. Then, add your embeds and hide them by adding more blue mix on top. Do the same with the other half, and then press both halves together. Press firmly and hold for about 30 s, and then remove from the mold to dry.
I added one yellow embed to one half of my bath bomb mold and one red embed to the other half. You can add as many colors on both sides as you want as long as you can fully cover them.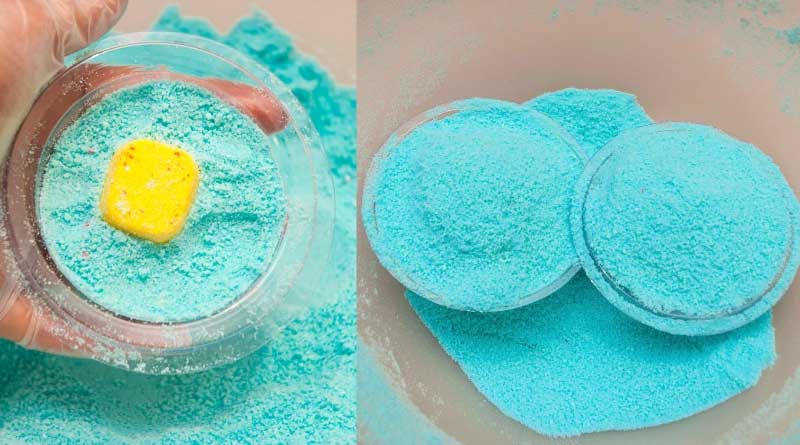 As usual, let your bath bombs dry for 24 hours before use.
You can find more interesting bath bomb recipes here.