Cardamom DIY Shimmering Body Butter
This post contains affiliate links. If you click and make a purchase, I may receive a commission. Thanks.
A luxurious homemade creamy body butter is a crunchy DIY recipe, which is easy to make and it leaves the skin ridiculously soft and fragrant (plus, it's 100% vegan!). It's suitable for any experience level, even beginners!
The butter comes with a long shelf life and with a crisp, zingy, and warm essential oil blend doesn't fade away easily; the nutty scent of shea butter enhances it even more. Additionally, it also complements the warm yellowish - bronze like the color of the butter perfectly.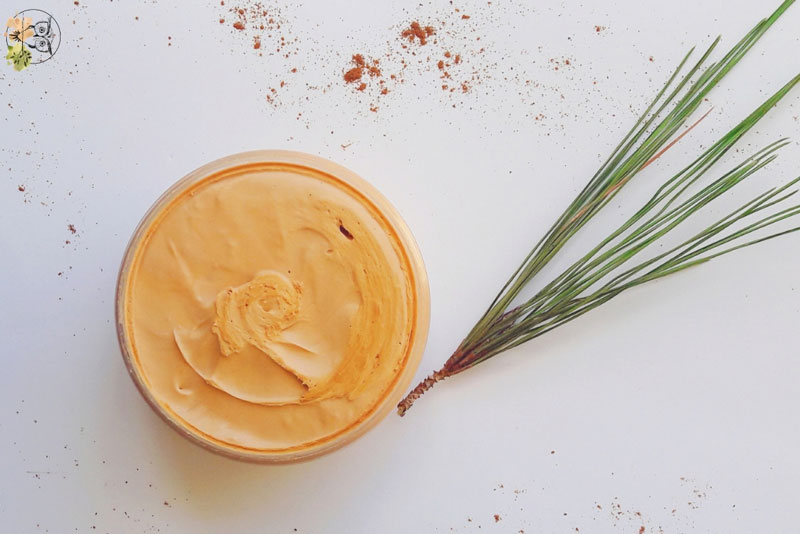 Every application leaves the skin not only nourished, very smooth and fragrant, but also glittery. This butter contains a healthy amount of mica powder that easily turns a plain old homemade butter into a product worthy of making!
Other ingredients include smooth mango butter, which isn't as greasy as shea and it soaks in quite fast; my skin loves it to bits! The two carrier oils in the recipe balance out the greasiness of shea, making the butter even softer and smoother. Grapeseed oil is a lightweight oil without any real scent, which makes it incredibly versatile (it's also quite affordable). Safflower oil is a close match to grapeseed – equally lightweight but rich in antioxidants that helps to regenerate your legs and thighs, and the entire body!
But there is one more thing that makes this butter so special: in the recipe, you can also find a tip on how to make a body butter less greasy! And that's applicable to any DIY body butter you make, not just this one! In any case, you'll be slathering it all over your body in no time.