Polysorbate 80 in bath bombs – a complete guide
This post contains affiliate links. If you click and make a purchase, I may receive a commission. Thanks.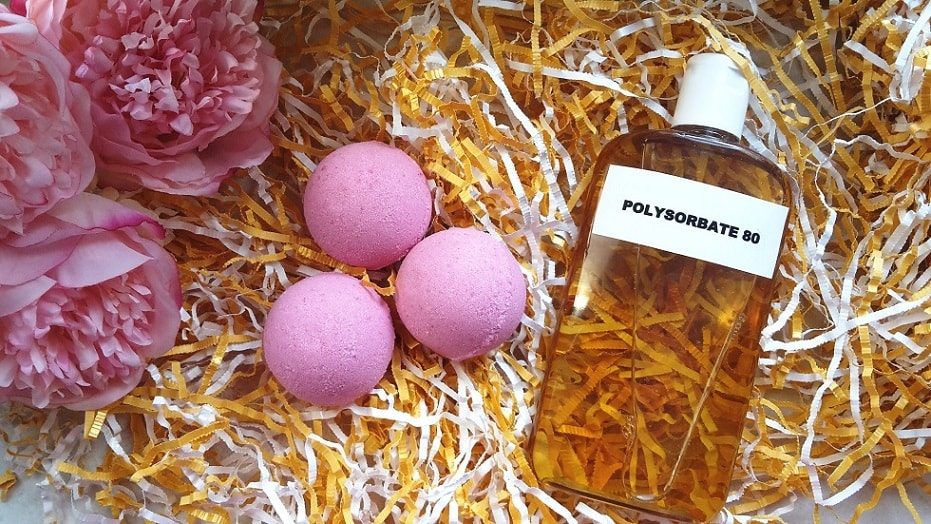 I would like to start by saying that I am completely in love with Polysorbate 80 (Poly 80). I have been making homemade bath bombs for quite a while now. My handmade fizzies were nice. I mean they looked nice, they had lovely color and they smelled good. But compared to LUSH bath bombs my bath fizzies were quite boring, especially when placed in water. All has changed when I discovered Polysorbate 80. And I'll tell you guys that POLYSORBATE 80 IN BATH BOMBS IS A GAME CHANGER.
Poly80 has been on a market for a while and most experienced bath bomb makers are using it. If you want to learn how this ingredient can improve your bath bombs continue reading. I promise you will love it.
Things I will discuss in this article:
- What is Polysorbate 80?
- Polysorbate 80 in bath bombs. Why use it?
- How much polysorbate 80 to use in bath bombs
- Polysorbate 80 vs Polysorbate 20
- Polysorbate 80 substitutes
- Where to buy polysorbate 80
- Bath bomb recipe with polysorbate
What is Polysorbate 80?
Polysorbate 80 is a synthetic compound derived from polyethoxylated sorbitan and oleic acid. It is a surfactant, emulsifier, and solubilizer often used in foods and cosmetics (skin care products, skin cleansing products, makeup bases and foundations, shampoos and bath bombs). Its main function is to help other ingredients dissolve in a solvent in which they normally would not be able to dissolve, for example, oil in water.
Appearance: viscous, amber liquid.
Solubility: Poly 80 is soluble in water and alcohol and insoluble in oils.
Safety: Polysorbate 80 is CIR and FDA approved (cosmeticsinfo.org)
Tip: Cosmetic grade Polysorbate 80 may have more impurities than the food grade one.
Polysorbate 80 in bath bombs. Why use it?
Poly80 is a very common ingredient in bath bombs. And it's no surprise because it's not expensive, easy to use and improves the quality of the bath bomb in so many ways.
- One of the main functions why bath bomb makers use polysorbate 80 in bath bombs is its ability to disperse color well. By color, I mean both liquid dyes and mica powder. Usually, you can get really pretty vibrant bath bombs using mica color but this color will not disperse well in the water. By not disperse well I mean it will not color the water well, it might clump together and it might stick to the bathtub and your skin. Not pretty and really messy. Same goes for liquid colorants. It's all nice and pretty until you drain that bathtub and see color residue all over it. No one wants to spend time scrubbing the bathtub after what was supposed to be a relaxing bath bomb experience. Poly80 can solve this problem. It will disperse your mica powder (or other colorants) into the water creating a more vibrant color and it will prevent color from sticking to your bathtub and skin.
- Helps glitter to disperse in the water better and prevents it from sticking to a bathtub and your skin.
- Helps oils to dissolve into water. Yass yass yass!! No more unaesthetic oil floating on top of your water. Did you ever try making a nourishing bath bomb with naturals oils just to find later that all this oil does not dissolve into water and just floats on top instead? Add some Polysorbate 80 and the problem is gone. This will not only solve the aesthetical problem but will improve the feel of the water (since oils will actually mix with the water) and how the skin feels after.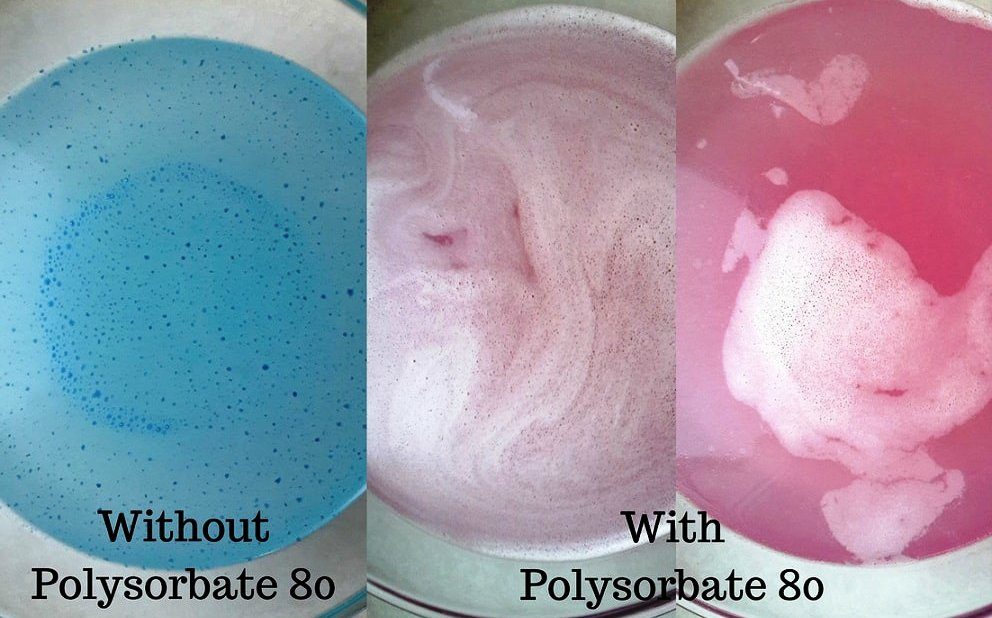 - Helps essential oils to mix with water and other oils better. Same as with carrier oils it helps essential oils to mix with water and this way the smell gets distributed better as well.
- Bath bombs with Polysorbate 80 create foam. And I mean beautiful colorful foam. Depending on how much Poly 80 you put it may interfere with fizzing a little bit. Which means you will get more foam and less fizzing. I personally prefer that. If you don't want your bath bomb to foam its ok too – I will mention some Polysorbate 80 substitutes you can use later in this post.
- Great wetting agent for bath bombs. Since it is a liquid it works well as a wetting agent. Adding more of Poly80 and less of water or witch hazel will decrease a risk of your bath bomb mix activating too early.
Want to see bath bombs with Poly 80 in action?
This video will show you a comparison of how bath bombs behave in water with added Poly and without.
How much polysorbate 80 to use in bath bombs
Anyone who tried making bath bombs knows how unstable the bath bomb mix can be. Adding a little bit too much or not enough of one or other ingredient could potentially destroy the entire mix. Same goes when introducing a new ingredient to a bath bomb mix.
So here are 3 things you need to know when adding Polysorbate 80 to your mix:
1. The first thing to have in mind is that Polysorbate 80 is a wetting ingredient. This means that if you add Poly80, you need to add less of your other wetting ingredients (water, witch hazel, alcohol). If you add Polysorbate 80 to your standard recipe without making adjustments you will get a mix that is way too wet.
2. Second, you need to know how much exactly of Polysorbate 80 to use in bath bombs. Many suppliers will tell you that you should add 1-3% of Poly 80 to your bath fizzies but I found that 2% makes them expand or they stay soft forever. The best rule that works for me is to use 1 part Polysorbate 80 to 2 parts of carrier oil or butter. So if you use 1 tablespoon of oil – add half tablespoon of Poly 80. Do not include fragrance oil or any dyes and micas in this calculation. 1:2 Poly to carrier oil ratio will work well to emulsify oil into water and will be enough to do the same for any additional fragrances, micas or glitter. Adding too much of Polysorbate may come with its own sets of problems so just keep it around 1:2 ratio.
3. And lastly, Polysorbate 80 should not be added straight to your bath bomb mix. It should first be mixed with your other wet ingredients: colors, oils, butter, fragrance oils, essential oils, etc.
Polysorbate 80 vs Polysorbate 20
Both, Polysorbates 80 and Polysorbate 20, are emulsifiers and solubilizers that are used to emulsify small amounts of oils (or butter, fragrance) into water. Both are safe and can be used in bath bombs and other skin care products.
So what is the difference?
I don't want to bore you with all the chemistry so I will just say that Polysorbate 20 is like a weaker version of Polysorbate 80. Poly 20 is often used to emulsify lighter oils, such as fragrance or essential oils, into water. While Poly 80 is used for heavier oils (carrier oils). Most bath bomb makers add carrier oils to their bath bombs, therefore, they use Polysorbate 80. If you only want to add some essential oils to your bath bomb then you are ok to go with Polysorbate 20.
Polysorbate 80 substitutes
Polysorbate 20 – as discussed earlier, Poly 20 does the same as Poly 80 but is weaker. So depending on your recipe and results you want to achieve, you could use this ingredient instead.
Red turkey oil (sulfated castor oil) – this oil is water soluble and helps to emulsify other oils into water. It is one of the most natural emulsifiers. However, it comes in a deep red color, thick texture and a strong smell.
Do you know more alternatives to Polysorbate 80? Let me know in the comments below.
Where to buy Polysorbate 80
Bath bomb recipe with Polysorbate 80
Bubblegum bath bomb recipe
1 cup of Baking soda
1/2 cup of Citric acid
3 tbsp of cornstarch
1 tbsp Almond oil (or any light oil)
1/2 tbsp Polysorbate 80
1 tsp Fragrance oil
color (water-soluble dye would be best)
wetting ingredient if needed (alcohol or Witch Hazel)