Bring Spring Back With This Easy Lilac Soap Recipe
This post contains affiliate links. If you click and make a purchase, I may receive a commission. Thanks.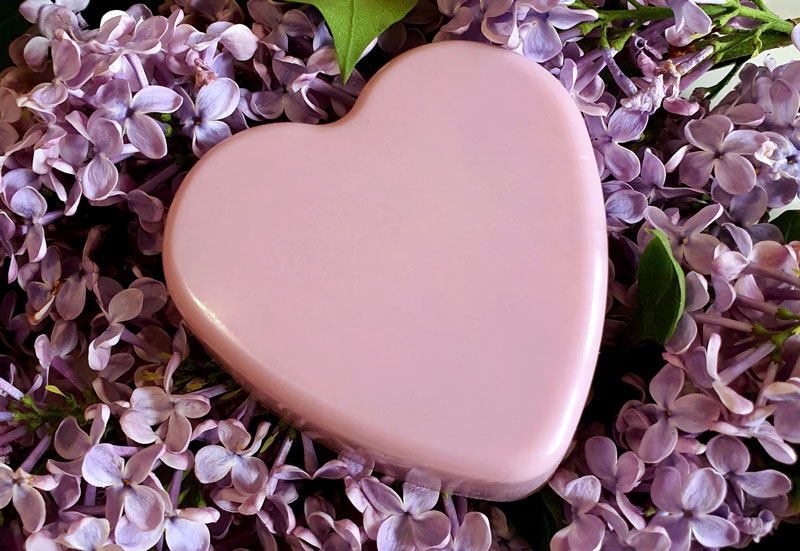 My favorite time of the year is late spring. Trees and flowers are blooming and air fills up with lovely floral aroma. My favorite scent out there is lilac. Unfortunately, lilac bush only blooms for about 2 weeks, which I'm sure you can agree, is much too short.
I decided to make some lilac scented products, so I could enjoy the delightful scent longer. The first recipe I made is a super simple melt-and-pour lilac soap. I am very pleased with it. Not only my home smelled fantastic during the making process, but I can also smell a mild scent of lilac each time I walk into my bathroom where I keep the soap. I am seriously considering replacing all towels for light purple ones to make my bathroom look and smell like lilac heaven… That is how much I love scent.
In this post, I will show you how you can make DIY lilac soap yourself. The recipe is very simple and fun to make, even for beginners.
Pin it for later: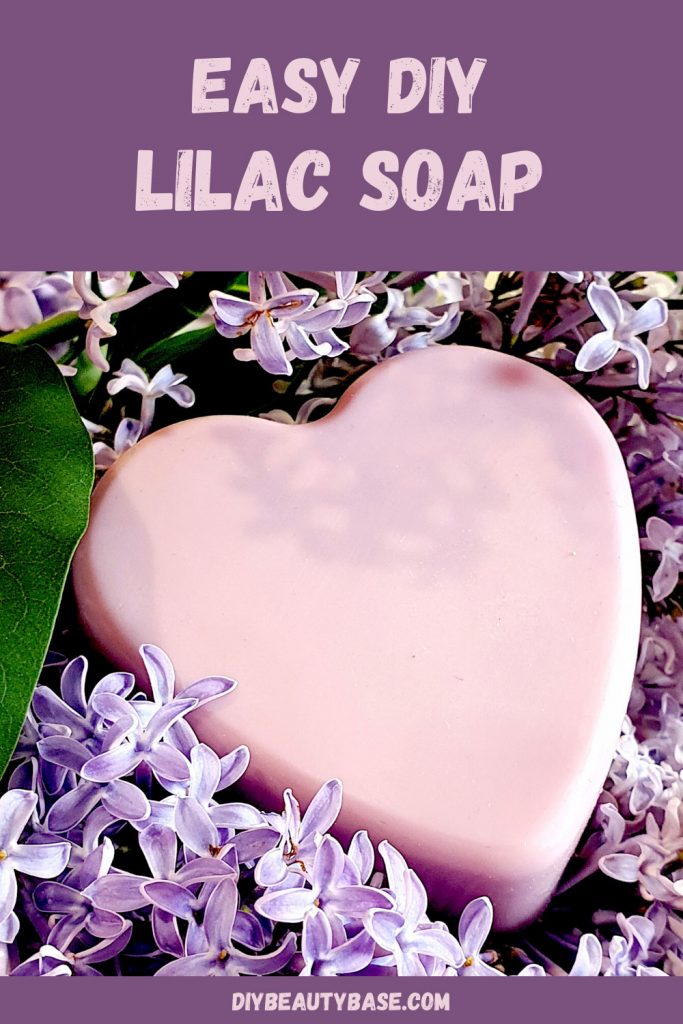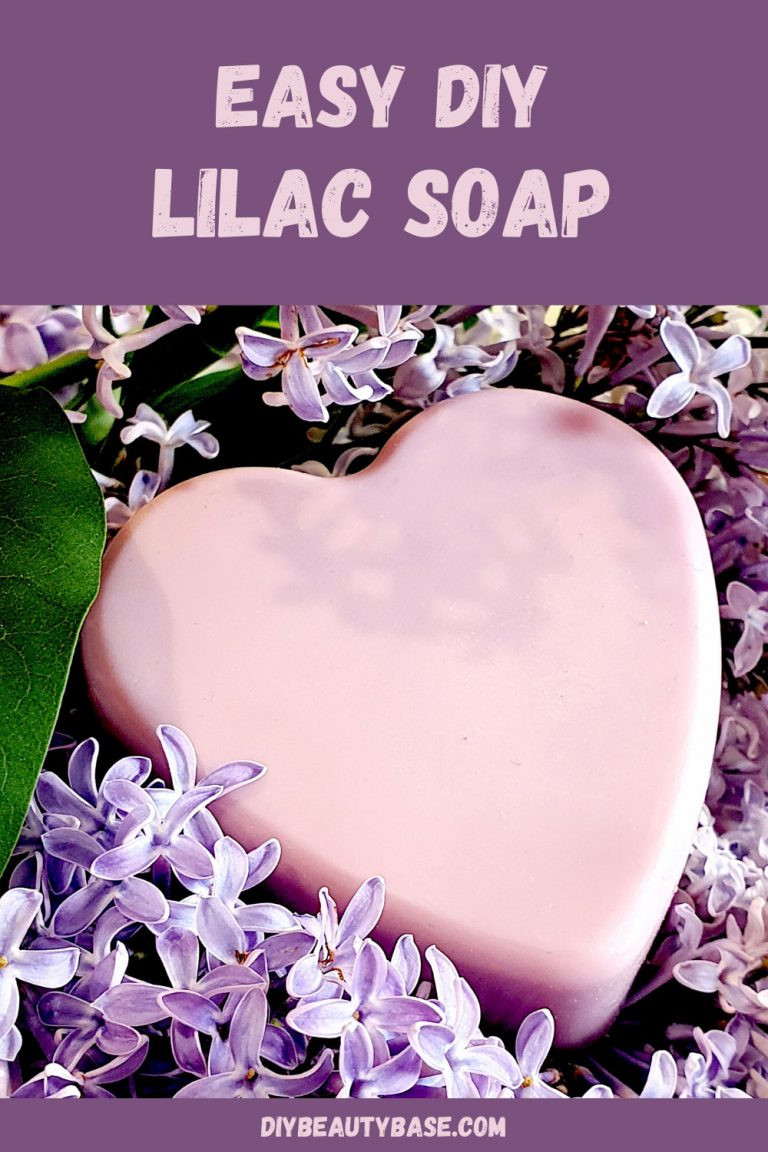 DIY lilac soap recipe
I will show you how to make a single bar of soap. This is useful if you are only making soap for yourself. You can easily increase the quantities to make more soap.
To make one bar of soap:
♥ Melt & Pour soap base – 80 g / 2.8 oz
♥ Lilac fragrance – 10 drops
♥ Soap or food coloring – couple drops. I used 2 drops of soap coloring. Alternatively, you can use mica powder to color your soap.
♥ Rubbing alcohol – optional
How to make melt & pour lilac soap
1. Measure your melt & pour soap base. I used this silicone heart mold. To fill out one heart fully, you will need about 100 g of soap. I used 80 g. If you are using a different mold and only want to make one soap, do like this: cut your soap base into small chunks and see how many you can place into the mold (like in the photo below). That plus another ½ of that is what you need to make one soap bar.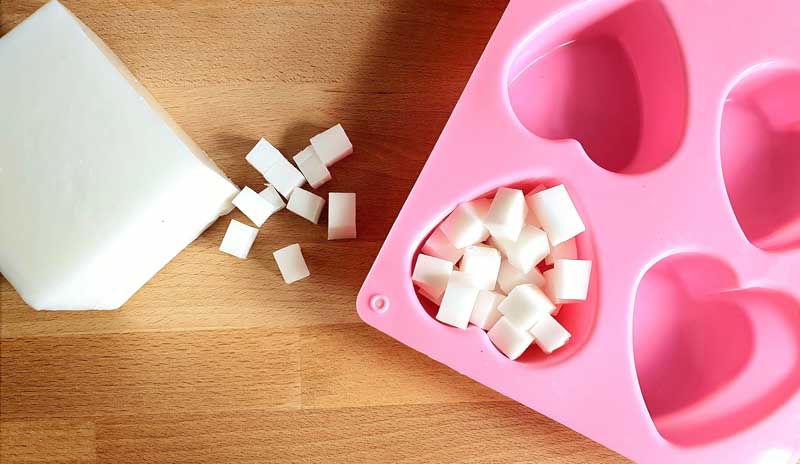 2. Melt your soap base in a water bath or in a microwave.
a) Water bath option: fill in a pot or a saute pan with boiling water and place it on the stove. Place a bowl with soap and let the water simmer until the soap melts.
b) Microwave option: microwave your soap base in short bursts.
3. Add your color. I added 3 drops of purple soap coloring, but feel free to add less or more. When adding mica powder, start with a dash, mix and see if you like the color. Add more if needed.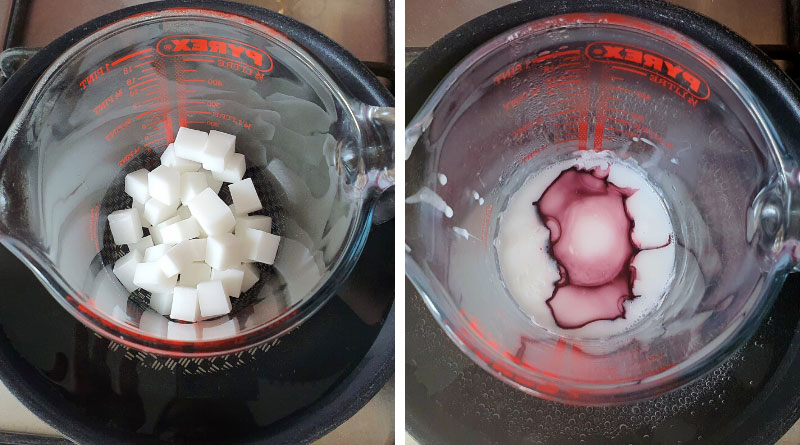 4. Once you are happy with the color, remove soap from the heat, add fragrance and mix. You need to work quickly at this stage as soap will start solidifying.
5. Pour your lilac soap mix into the mold. You may see tiny air bubbles forming on top of the soap. To get rid of them, spray a bit of rubbing alcohol.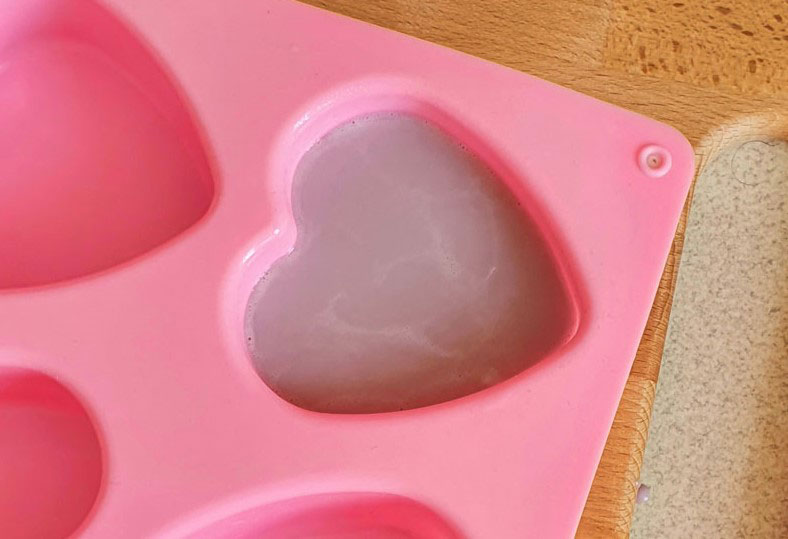 6. Let the soap cool down for a couple of hours. The melt & pour soap doesn't need to cure. It's ready to use as soon as it's cool and hard. Enjoy!
The beauty of making your own soap is that you can make whatever you want. Discover other floral soap fragrances that you can use to make heavenly scented soap.