Cleansing DIY Foot Scrub With Essential Oils (Perfect For Summer)
This post contains affiliate links. If you click and make a purchase, I may receive a commission. Thanks.
In preparation for the summer I have created a lovely foot scrub recipe. This recipe was inspired by a store bought, cleansing peppermint foot scrub that I received as a gift. I loved that exfoliating particles were tiny and hard. In my opinion, such exfoliants work better than those with bigger particles. It also had an awesome cooling effect that made me feel energized after using it. I liked it so much I decided to make my own. And I must tell you, my DIY foot scrub came out pretty damn good.
This DIY foot scrub is great for the summertime because it does all the things our feet need in summer:
– exfoliates
– cleanses the feet
– removes bad foot odor
– cools down and energizes the feet (a miracle after a long day on your feet)
The finished scrub is pretty dense. You won't need much of the product to exfoliate both feet. The scrub softens up and foams when in contact with water, making it very pleasant to use.
You can find more scrub recipes here >>>DIY Scrubs<<<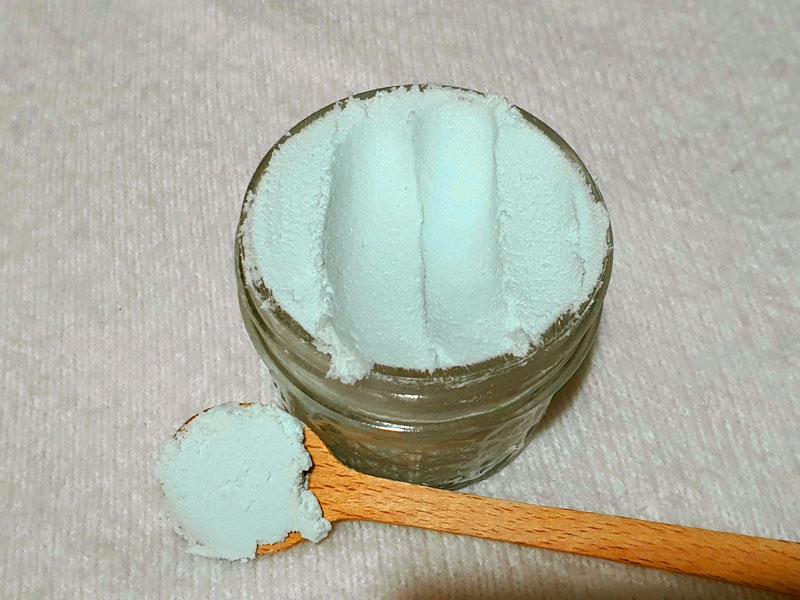 To make my cleansing foot scrub recipe you will need:
Foaming bath butter. Bath butter is a foaming, soap-like product base, designed for whipping. It can be used to make luxurious bath, shower and facial products.
The formula is mild, feels very soft and creates amazing foam. On top of that, it is rich in glycerin which makes it moisturizing.
Baking soda. I prefer using baking soda for this recipe because it is very fine yet hard. This means it can remove dead skin cells without causing too much irritation to the skin. Another great option would be to use fine pumice powder like I did when making this foot scrub bar.
Lavender essential oil.  Lavender oil is a good choice for DIY scrubs. It is suitable for all skin types and is known to have calming, anti-inflammatory properties.
Lemongrass essential oil. Lemongrass Oil is known for its fungicidal properties. It is a natural remedy for fungal infections, like athlete's foot. Adding this essential oil to the foot scrub will help keep your feet healthy all summer. On top of that, lemongrass is great for removing odor.
Peppermint essential oil. This is my favorite essential oil to use in foot scrubs. It creates a nice tingling sensation that cools down and relaxes tired feet.
Pin it for later: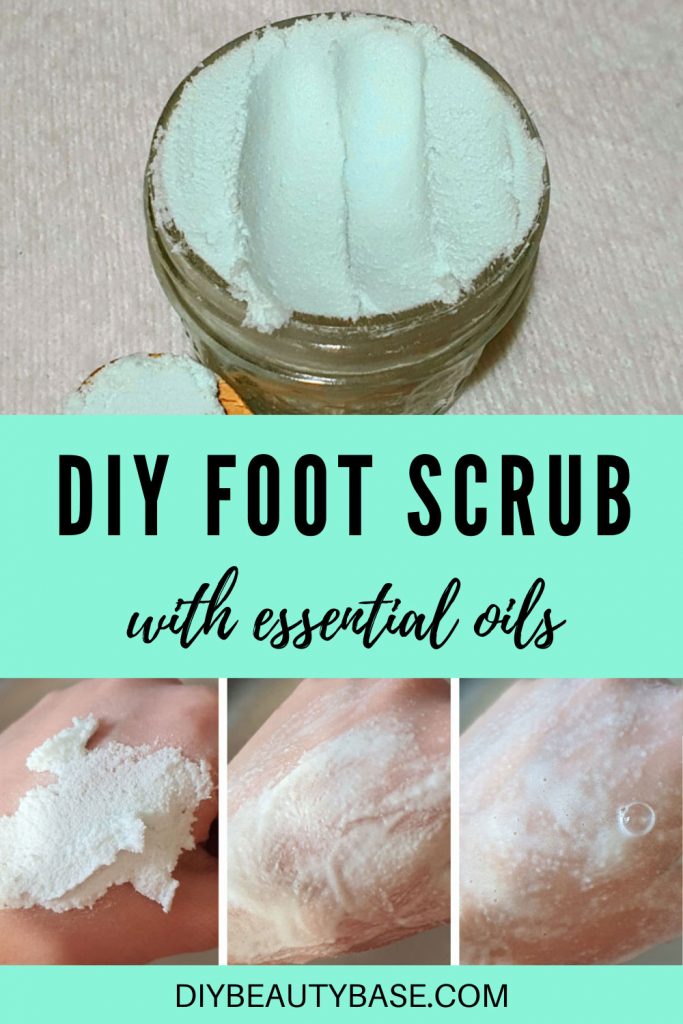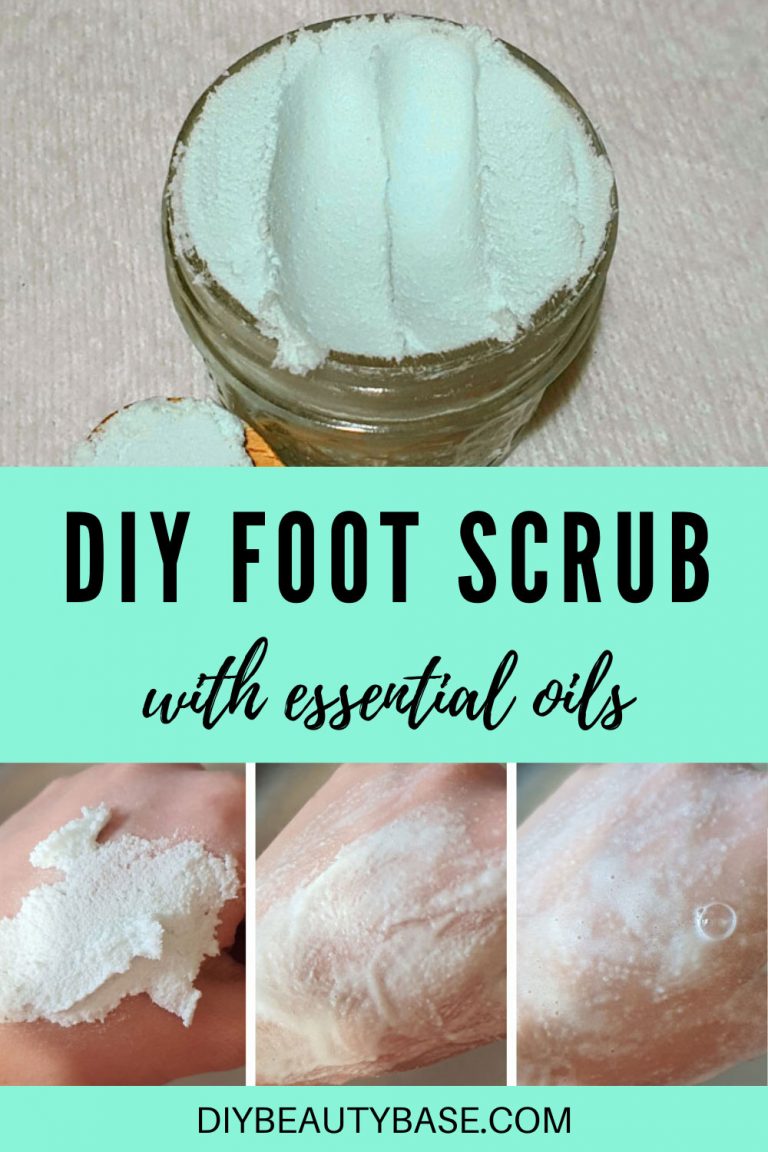 Ingredients
♥ 100 g | 3.5 oz – Foaming bath butter
♥ 200 g | 7 oz – Baking soda
♥ 1 tbsp – Carrier oil (I used sweet almond oil but any oil will work)
♥ 40 drops – Peppermint essential oil
♥ 20 drops – Lemongrass essential oil
♥ 20 drops – Lavender essential oil
♥ Green mica powder to create a pale mint color
Notice the texture of my foot scrub in the photos. It is very dense. I made it this way because dense scrub will exfoliate dry foot skin better. It also makes it easier to exfoliate just a particular spot on your feet, since the product is not runny.
If you prefer a creamier product, simply add less baking soda. For example, add only 100g. This will make a creamy, soft scrub with an exfoliation level, similar to that of a body scrub.
How to use foot scrubs
The best time to scrub your feet is immediately after the bath or shower, when feet had a chance to soak in water. That's when foot scrubs are most effective.
Apply the scrub on wet feet in circular motions. Concentrate on the parts that need the most exfoliation. Apply more water to your feet to make the product foam. Rinse and towel dry.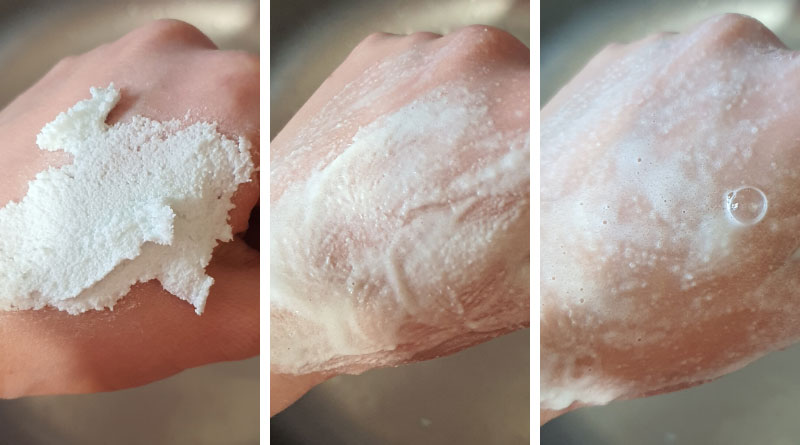 Making DIY foot scrub
1. Measure your foaming butter base and whip it with a hand mixer until fluffy.
2. Optional: add mica powder and whip a little more.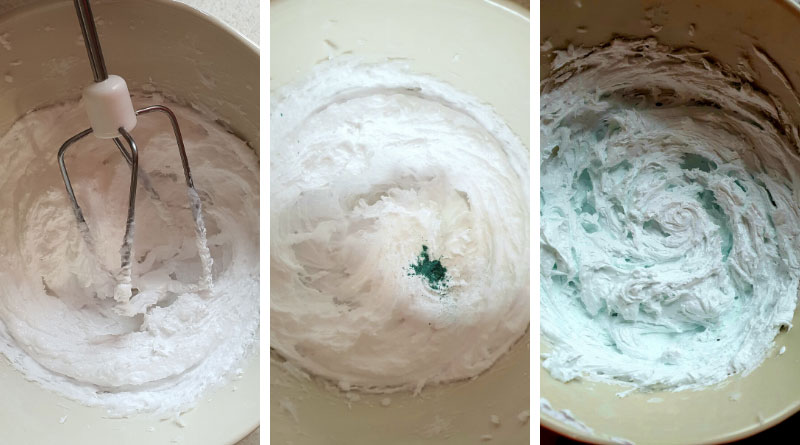 3. Add baking soda. First mix with the spoon, then whip until evenly mixed.
4. In a separate small bowl, mix your carrier oil and essential oils. Add to the scrub and whip some more.
5. Pack your foot scrub into jars.
Enjoy! 🙂