Silky Smooth Cocoa Butter Body Butter Recipe
This post contains affiliate links. If you click and make a purchase, I may receive a commission. Thanks.
Hello there a fellow DIY skincare enthusiast!
I am very excited to share this silky Cocoa Butter Body Butter Recipe with you.
And it is NOT ONLY A RECIPE.
By following the instructions and making this lovely homemade body butter you will also learn:
– What to do to make sure your cocoa butter does not crystallize;
– How to improve the feel of the body butter;
– How to make body butter less greasy.
And while learning all these valuable body butter making tips, you will make a luxurious, silky cocoa body butter. The butter provides a lovely conditioning skin feel and acts as a powerful moisturizer. I especially love this DIY body butter for winter, when my skin really appreciates the moisturizing and occlusive qualities of the cocoa butter.
Without further ado let's jump into the ingredients that you will need to make cocoa body butter.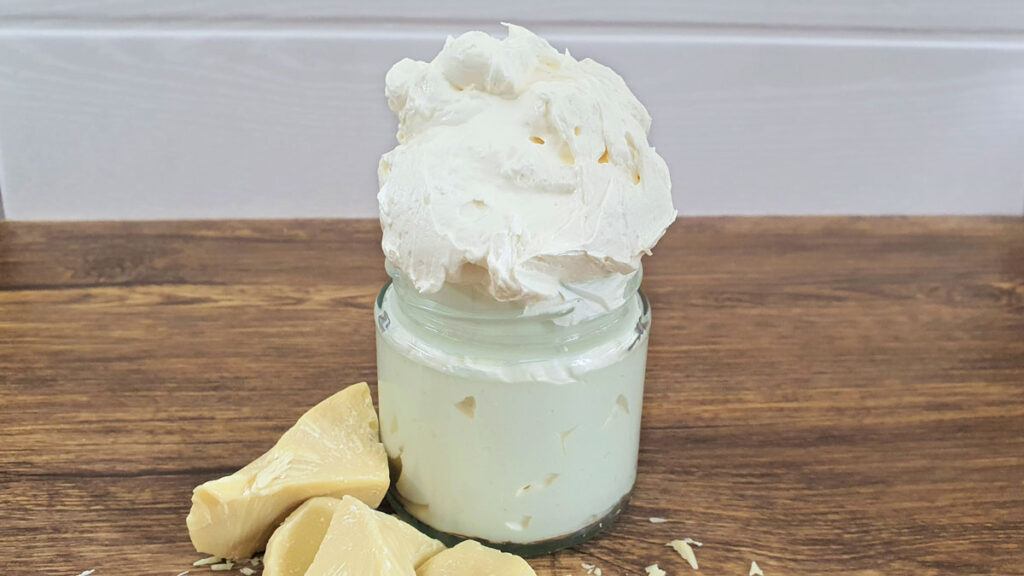 COCOA BUTTER & ITS BENEFITS FOR SKIN
The main cocoa butter benefit for the skin comes from its fat composition. Cocoa butter is very high in stearic acid and that makes it one of the hardest and the most occlusive butters.
Thanks to this cocoa butter not only moisturizes and softens the skin but also forms a thin protective layer on the skin's surface, preventing moisture from escaping, and therefore stopping the skin from drying out and loosing elasticity.
Because of this, cocoa butter is known as being effective at keeping stretch marks at bay and at providing relief for skin conditions, such as eczema and psoriasis.
Things to consider when buying cocoa butter
Cocoa butter has a strong chocolatey scent. It is not a "sweet chocolatey" scent but more of a "weird chocolatey" scent. I like it but many people don't. The scent is hard to mask with fragrance, so instead, in this recipe, I will complement it with vanilla scent. The two together smell really nice.
If you dislike cocoa butter scent or worry you might not like it, you can get deodorized cocoa butter. It has all the occlusive and moisturizing properties but only a mild scent.
BTMS-50 IN A BODY BUTTER. WHY YOU SHOULD ADD IT?
BTMS-50 is a gentle emulsifying and conditioning agent used in hair and skin products. It is a very popular and loved ingredient for hair conditioners and emulsified lotions but few know that it can do absolute wonders in an anhydrous body butter too!
When used in a body butter recipe, BTMS-50 acts as a conditioning agent and creates the most luxurious, wonderful skin feel. It really takes the product feel to a different level and I highly recommend trying it out.
Here are some of my observations of the benefits of using BTMS-50 in an anhydrous body butter recipe:
– Luxurious conditioning skin feel;
– Cuts down on the greasiness of body butter;
– Gives body butter more volume and thickness;
– Gives body butters higher melting point (works great to prevent body butters from melting in summer);
– When applying on damp skin after the shower, helps oils to emulsify on the skin like a lotion would.
You can purchase BTMS-50 here.
What are the substitutes for BTMS-50?
I don't know of any worthy replacement for BTMS-50. You may come across of its cousin BTMS-25 but it contains half the amount of the active ingredient (behentrimonium methosulfate) as BTMS-50, so it's way less conditioning than BTMS-50. Products made with BTMS-25 also tend to be thicker than BTMS-50 since it contains more fatty acids, so it is not a good substitute.
Other popular emulsifying waxes (Polawax, Emulsifying Wax NF, Olivem 1000, Ritamulse, etc.) are also not suitable substitutes for BTMS-50. All they do is emulsify. They have no conditioning properties. Since we do not actually need an emulsifier in an anhydrous body butter and the only reason we are using BTMS-50 is for its conditioning properties, I suggest skipping BTMS-50 altogether rather than trying to replace it with an emulsifier. Replace BTMS-50 with cocoa butter and continue with the recipe. The body butter won't feel as luxurious but it will still be lovely and nourishing.
RICE BRAN OIL
Rice bran oil is a light-medium oil with a unique composition.
Rice brain contains ferulic acid, and that is unique to this oil. Ferulic acid is a very effective antioxidant. Way more effective than the vitamin E for example. Studies have shown that ferulic acid can prevent skin aging and reduce age spots. Few oils can claim such properties.
The oil is also high in vitamins B and E and squalene. Squalene is a part of human sebum (the oils in our skin that keep our skin hydrated and maintain it's protective barrier), so our skin loves it.
In this body butter recipe, the rice bran oil helps balance out the stiffness of cocoa butter and make it glide on the skin easier.
JOJOBA OIL
Jojoba oil is technically a wax ester and not an oil. Its composition is similar to human sebum and because of that our skin loves it. Jojoba oil sinks in at an average speed but fully. Meaning it give you time to distribute it on the skin nicely but then is fully absorbed by the skin, leaving satiny finish.
TAPIOCA STARCH
Is a very fine, smooth powder that comes from the root of the cassava plant. It helps to cut the oily texture and helps the recipe absorb more quickly.
VANILA FRAGRANCE
For this body butter recipe I used vanilla fragrance. It pairs really well with the natural cocoa butter scent creating a warm and sweet scent.
Cocoa butter has a strong natural chocolatey scent that is difficult to mask with fragrance or essential oils. So when working with cocoa butter, it is important to have the scent in mind and work with scents that compliment it. Here is a mini post about scents that go well with cocoa butter – 7 Essential Oils That Go Well With Cocoa Butter.
Alternatively, you can always opt for deodorized cocoa butter that has only a mild scent. 
Pin for later: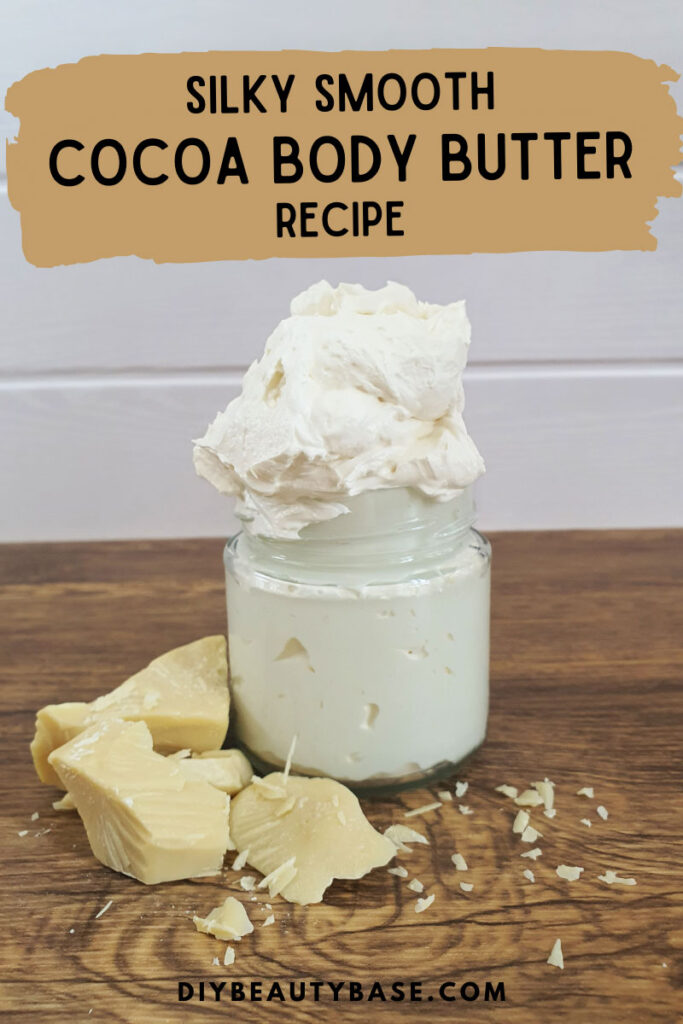 COCOA BUTTER BODY BUTTER RECIPE
The recipe is for 200 g / 7 oz of body butter but because we are whipping it, it will increase in size and will easily fill out 250 g jar.
♥ 45% / 90 g – Cocoa butter (where to buy cocoa butter) or deodorized cocoa butter (where to buy deodorized version)
♥ 27% / 54 g – Rice bran oil (where to buy Rice bran oil)
♥ 18% / 36 g – Jojoba oil (where to buy Jojoba oil)
♥ 4.5% / 9 g – BTMS-50 emulsifier (where to buy BTMS-50)
♥ 5% /10 g – Tapioca starch (where to buy Tapioca starch) or Arrowroot powder (where to buy Arrowroot powder)
♥ 0.5% / 1g – Vanilla fragrance (where to buy Vanilla fragrance)
Yield: 200 g / 7 oz
Silky Cocoa Body Butter Recipe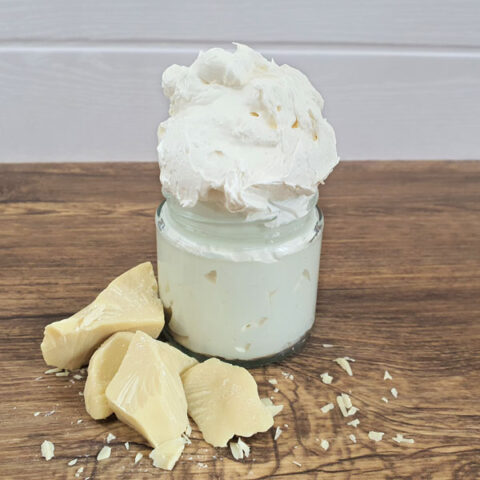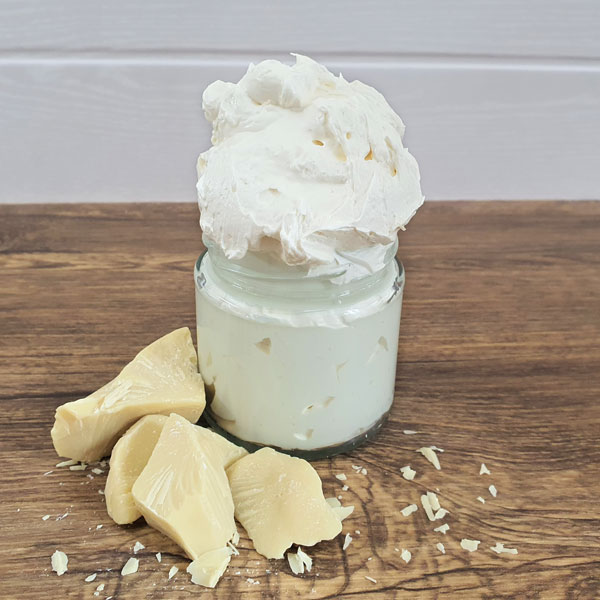 Moisturizing and conditioning cocoa body butter recipe for winter.
Total Time
1 hour
10 minutes
Instructions
Weigh your cocoa butter and BTMS-50 and melt them in a double boiler or bain-marie. I use a stainless steel double boiler pot for melting chocolate and place it in a pan with water. This way the ingredients are out of direct heat and melt slowly without burning.
Allow the cocoa butter and BTMS-50 to fully melt, stirring from time to time. Once both ingredients have melted fully, keep them in for another 15 minutes. This will make sure that all cocoa butter crystals are fully melted and mixed and will ensure that the butter doesn't crystallize later on.
Mix the melted ingredients well and remove from the stove. Pour into a heat resistant bowl and place the bowl to a freezer for a rapid cool down. This will ensure that cocoa butter does not crystalize and remain smooth later on. Keep in a freezer until the edges of the butter become solid.
Remove from the fridge and whip with a hand mixer. The secret for a fluffy and smooth body butter is whipping. You need to whip your body butter longer than you would think. So follow my instructions.
Whip the cooled down butter for about 10 minutes.
Slowly add rice bran oil and whip 10 minutes.
Add jojoba oil and whip for another 10 minutes.
Add Tapioca starch and whip another 5 minutes.
Add fragrance oil and whip for the final 5 minutes.
Your body butter is ready to go! Fill out a jar with your freshly made cocoa body butter and enjoy!
WHAT'S THE SHELF LIFE OF THIS BODY BUTTER?
The shelf life of your homemade body butter is the shortest shelf life of your ingredients. For example, if your cocoa butter expires in 1 year, rice bran oil in 2 years and jojoba oil in 9 months, then the expiry date of your body butter is 9 months. This is because once one of ingredients of your body butter goes bad, the entire body butter will go bad.
If you are unsure of the expiry dates of your ingredients, then make sure you use up your homemade body butter within 6 months from making it. Store it in an air-tight jar in a cool dark place.