Brightening Turmeric Body Butter Recipe
This post contains affiliate links. If you click and make a purchase, I may receive a commission. Thanks.
I've been wanting to make turmeric body butter for a long time but avoided it because of the potential staining.
I finally figured out how to incorporate turmeric into a body butter with maximum benefits and minimum staining. I am excited to share the recipe with you.
This body butter will help you achieve a brighter, more even skin tone. So if you have sun damage, uneven skin tone, scars from ingrown hair, body acne or just want a better looking skin, this brightening turmeric body butter recipe is for you.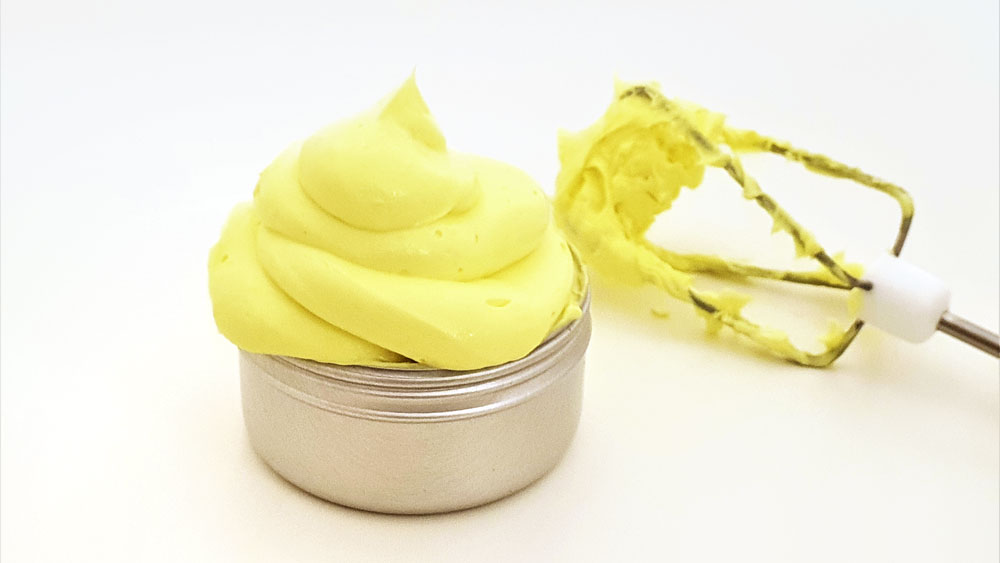 TURMERIC BODY BUTTER BENEFITS
I could talk all day about how great turmeric is for our skin, but you might get bored. So let's go straight to the point.
Why I formulated this turmeric body butter?
Turmeric has 3 major benefits for the skin:
1. It brightens the skin. It corrects our skin's pigmentation, fades brown spots from the sun, fades discolored scars.
2. It is anti-inflammatory. Because of this, it helps with body acne, eczema, psoriasis and other inflammatory skin conditions.
3. It boosts collagen production. Collagen is a vital protein that keeps our skin firm, supple and young-looking. Increased collagen production also means that our wounds and scars will heal faster.
As you can see, all 3 benefits lead to a brighter, more even skin tone. You can benefit from this no matter of your skin type.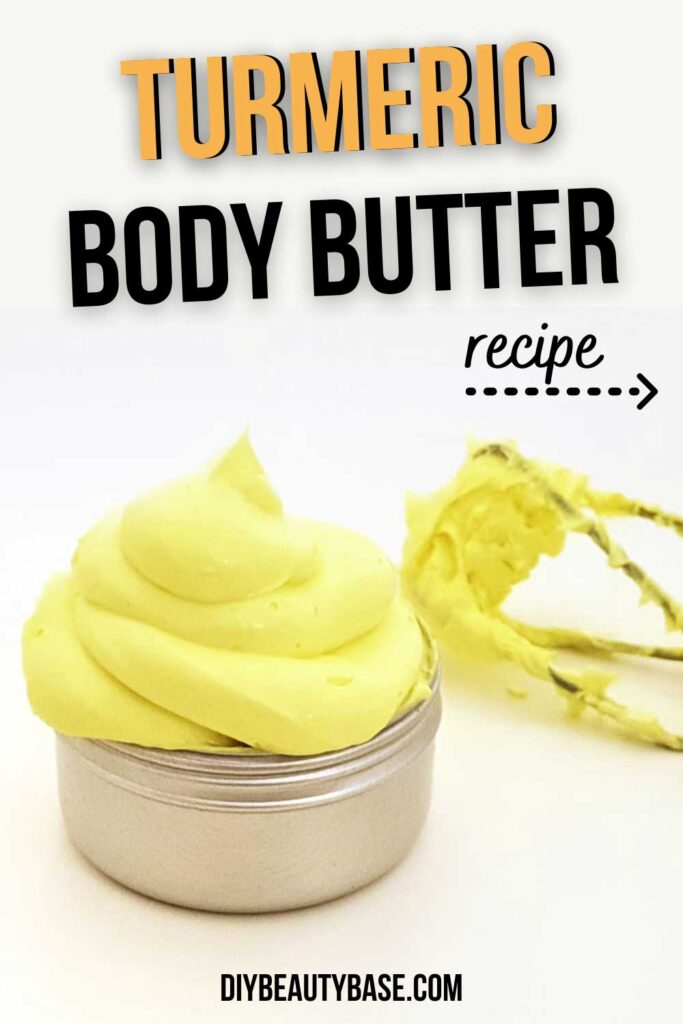 INGREDIENTS FOR TURMERIC BODY BUTTER RECIPE
Shea butter
Shea butter is an excellent moisturizer for the skin. It is a semi-soft butter making it a perfect consistency for whipped body butters. You can even whip shea butter on its own and get an amazing whipped body butter texture.
The disadvantage of shea butter is that it can get grainy if not made correctly or stored properly. Graininess doesn't mean the butter went bad. It simply means that the butter melted and then solidified unevenly, causing the graininess. In this recipe tutorial, I will show you a technique to avoid graininess.
Mango butter
Mango butter is my favorite butter to use. Mainly because it is less greasy and faster absorbing butter than shea butter allowing to make a naturally less greasy body butter. Just like shea butter, it is full of vitamins that are great for our skin.
It is a harder butter, so doesn't whip up as nicely on its own. But it being a harder butter allows to add more liquid oils.
Turmeric infused oil
Turmeric infused oil is a star ingredient of this brightening body butter recipe. Turmeric is oil soluble and, when infused in oils, it will transfer all its active compounds.
It is very easy to make this infusion. You only need a carrier oil and turmeric powder. Prepare your turmeric infused oil by following these steps.
Apricot Kernel oil
For my second liquid oil, I chose Apricot Kernel oil because it is lightweight and fast absorbing. It's pretty inexpensive too.
Using a light, fast absorbing oil will help our homemade body butter to feel less greasy. The butter will absorb faster, leaving skin moisturized but not that oily.
If you want to replace Apricot kernel oil, go for a fast absorbing oil such as Safflower oil, Grapeseed oil, Rosehip Seed oil and more.
Arrowroot powder or tapioca starch
Arrowroot powder is also known as arrowroot flour or arrowroot starch. It is a great ingredient to add to your body butter because it cuts the oily texture and helps the recipe absorb more quickly.
Alternatively, you can use tapioca starch.
Essential oils or fragrance
Your body butter will naturally have a slight smell of shea butter and turmeric. The scent is very gentle and can be masked by pretty much any fragrance. If you opt for essential oils, choose something that will complement the spicy scent of turmeric. Ginger, sweet orange and any warm, woodsy, spicy blends will go very well. For example sandalwood and vanilla or pumpkin spice essential oil blends.
I used Pumpkin Pie fragrance oil in my turmeric body butter. It is warm and spicy.
Brightening Turmeric Body Butter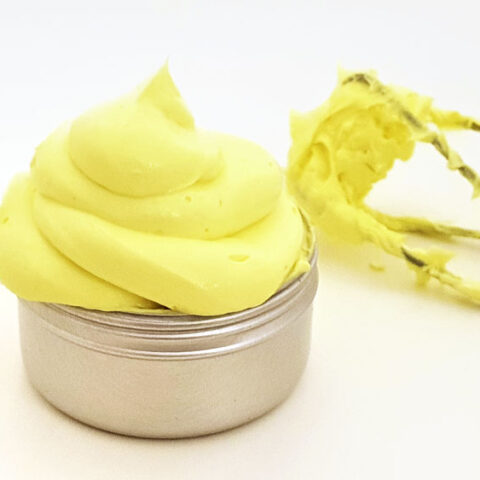 This body butter will help you achieve a brighter, more even skin tone. So if you have sun damage, uneven skin tone, scars from ingrown hair, body acne or just want a better looking skin, this brightening turmeric body butter recipe is for you.
Additional Time
30 minutes
Total Time
1 hour
30 minutes
Instructions
Weigh your butters and melt them in a water bath or bain-marie. I use a stainless steel double boiler pot for melting chocolate and place it in a pan with water. This way the butters are out of direct heat and melt slowly without burning.
Once the butters are melted, add your liquid oils. Adding liquid oils at the end will protect them from being heated for too long. Mix the oils with a spatula and allow to heat up for a couple of minutes to reach the same temperature.
Then remove from the stove. You can keep the oils in the same bowl you heated them up in or pour into a different bowl. I poured mine into a different jar where I will whip my butter. Continue to stir the butter with a spatula. This will ensure that the butters are cooling down evenly to prevent graininess.
Once the oils cooled down a little bit and you can touch the container with your hands, slowly add tapioca starch or arrowroot powder. Stir it until it is fully dissolved. * [Tapioca and arrowroot powders should always be added to a warm/heated oil because it helps them to dissolve better. If the powders don't melt completely, the finished body butter may feel gritty.]
Add essential oils or fragrance.
Continue to stir your body butter. As the butter cools down, the viscosity increases. Continue stirring until the butter thickens up enough that you can make traces with your spatula. If you want to speed up this process, you can place your bowl into a bigger bowl with ice or cold water. Butter will cool down quicker. *[This stirring stage adds some time to the body butter making process but it will ensure that your finished butter is perfect. By continuously stirring the butter until it thickens up, we ensure that butters and oils are completely mixed and there won't be any separation of ingredients in a final product. It also minimizes the chance of your body butter being grainy.]
Put it in a fridge to solidify a little bit. It needs to solidify a little bit but still be soft enough to be able to squish it with a finger. This will make it easier to whip.
Remove from the fridge and whip with a hand blender. Whipping will create a very nice consistency and your homemade body butter will double in size.
Once your happy with the whip, your body butter is ready. Scoop it into a jar and you're done. If you want, you can also pipe the butter into the jar with a piping bag.
WHAT'S THE SHELF LIFE AND DO I NEED TO ADD A PRESERVATIVE?
In general, homemade body butters like this do not need a preservative because they are fully oil-based and have no water in them. However, you have to be careful to not introduce water into them, for example by using wet fingers to scoop out the body butter. If you tend to do that, you should add a preservative.
The shelf life of a homemade body butter depends on the shelf life of its ingredients. Check the expiry date on the oils and butters you used. The shortest expiry date will indicate the expiry date of your body butter. For example, if your shea butter expires in 1 year, mango butter in 1.5 years and turmeric oil in 7 months, then the expiry date of your homemade body butter is 7 months.
Despite this, it is a good practice to use up your homemade beauty products within 6 months of making it.
HOW TO USE TURMERIC BODY BUTTER
Take a small amount of the body butter and rub into your skin. Massage the butter into the skin for a little bit. This will help your body butter to absorb and sink in faster, leaving your skin moisturized but not greasy.
After massaging the butter in, allow the oils to fully sink in for a couple of minutes. If you dress up too quickly, without allowing the oils to sink in, you may experience some staining from turmeric.
If you have dry skin, apply your body butter on a slightly damp skin after the shower. The body butter will lock in the moisture and you will get a better moisturizing effect.