DIY Vitamin C & Turmeric Face Oil Serum For Glowing Skin
This post contains affiliate links. If you click and make a purchase, I may receive a commission. Thanks.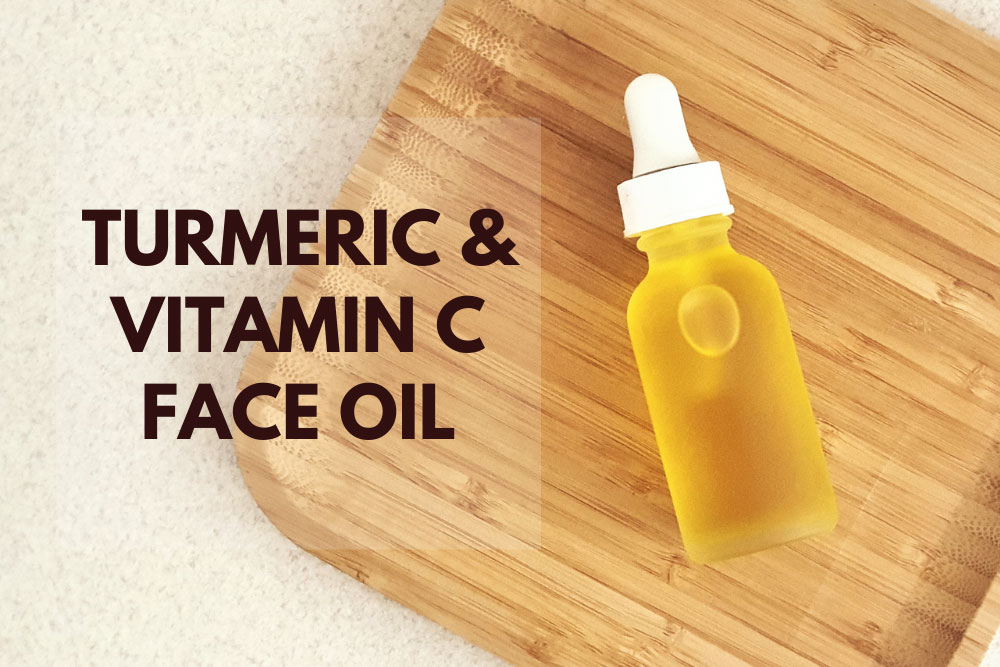 No matter how diligent I am in applying sunscreen, I still get dark spots on my face at the end of the summer. To fade these dark spots and get my skin back to glowing, I formulated a super simple to make DIY Vitamin C & Turmeric Face Oil Serum.
This homemade face oil serum consists of some of the best natural oils you can apply to your skin – turmeric that brightens the skin and calms inflammation (great for acne) and oil-soluble Vitamin C. Don't get intimidated by the Vitamin C in this recipe. You will use an oil-soluble form of vitamin C that you can add straight to your oil. It is designed to be used in oil formulations and does not require any special handling or preservatives.
INGREDIENTS & WHAT THEY DO
Oil-soluble Vitamin C
The form of Vitamin C that you need for the recipe is Tetrahexyldecyl Ascorbate (Ascorbyl Tetraisopalmitate). It is an ester derivative of ascorbic acid, that our skin transforms into a biologically active Vitamin C. Unlike L-ascorbic acid, it is very stable and, unlike other forms of vitamin C, it dissolves in oils .
Based on my research, it is superior to the classic L-ascorbic acid. It is a lot more stable, less likely to cause a negative skin reaction, easier to use in skin care recipes.
Also, because it is oil-soluble, it can penetrate the skin faster than any other form of vitamin C out there. It also stays in our skin longer than ascorbic acid and because of that has more effect on the skin.
You are probably familiar with the benefits of applying Vitamin C to your skin, since it is one of those ingredients that work without a doubt. In case you want some proof, here is a quote from a study:
"RESULTS: As one of the most powerful antioxidants in the skin, vitamin C has been shown to protect against photoaging, ultraviolet-induced immunosuppression, and photocarcinogenesis. It also has an antiaging effect by increasing collagen synthesis, stabilizing collagen fibers, and decreasing collagen degradation. It decreases melanin formation, thereby reducing pigmentation. Vitamin C is the primary replenisher of vitamin E and works synergistically with vitamin E in the protection against oxidative damage."
I also highly recommend checking out my ANTI-AGING OIL SERUM WITH VITAMIN C.
Turmeric oil
For this turmeric face oil serum recipe, I am using my homemade turmeric infused oil. The infusion is easy to make. All you need is turmeric powder and a carrier oil (I used jojoba oil). You can find step-by-step guide here.
So what are the benefits of using turmeric oil for the face?
1. It brightens the skin. It corrects our skin's pigmentation, fades brown spots from the sun, fades discolored scars.
2. It is anti-inflammatory. Because of this, it helps with body acne, eczema, psoriasis and other inflammatory skin conditions.
3. It boosts collagen production. Collagen is a vital protein that keeps our skin firm, supple and young-looking. Increased collagen production also means that our wounds and scars will heal faster.
Rosehip seed oil
As a base for this recipe, I used Rosehip seed oil. If you have your favorite face oil, feel free to use it in this recipe instead. Jojoba oil is a very good alternative as it suits all skin types.
Rosehip seed oil is my number one oil when it comes to facial oils. Not only the oil is light and fast absorbing, but its profile is very good for our skin too. It has a high vitamin A content that gives it anti-aging properties. Vitamin A consists of several nutritional compounds, including retinoids. When used regularly, retinoids help our skin to remain young, fade scars, hyperpigmentation and other visible signs of aging. And though the amount of retinoids in Vitamin A rich oils is lower than what you would get in a commercial retinoid serum, it still offers the benefits and strengthens our skin if used regularly.
On top of that, Rosehip seed oil has a wonderful fatty acid profile. It has high levels of omega 6 and omega 3 – the fatty acids that our skin craves the most. I wrote a full article about the importance of omegas for our skin.
Vitamin E oil
Vitamin E oil is a well-known antioxidant and anti-aging ingredient. I add it to almost all my oil-based formulations because it helps to extend shelf life of oils and I get to enjoy them longer.
In this serum, however, it plays a more important role. It helps Vitamin C to work better.
The Linus Pauling Institute at Oregon State University states "topically applied combinations of vitamin C and vitamin E are more effective in preventing photodamage than either vitamin alone."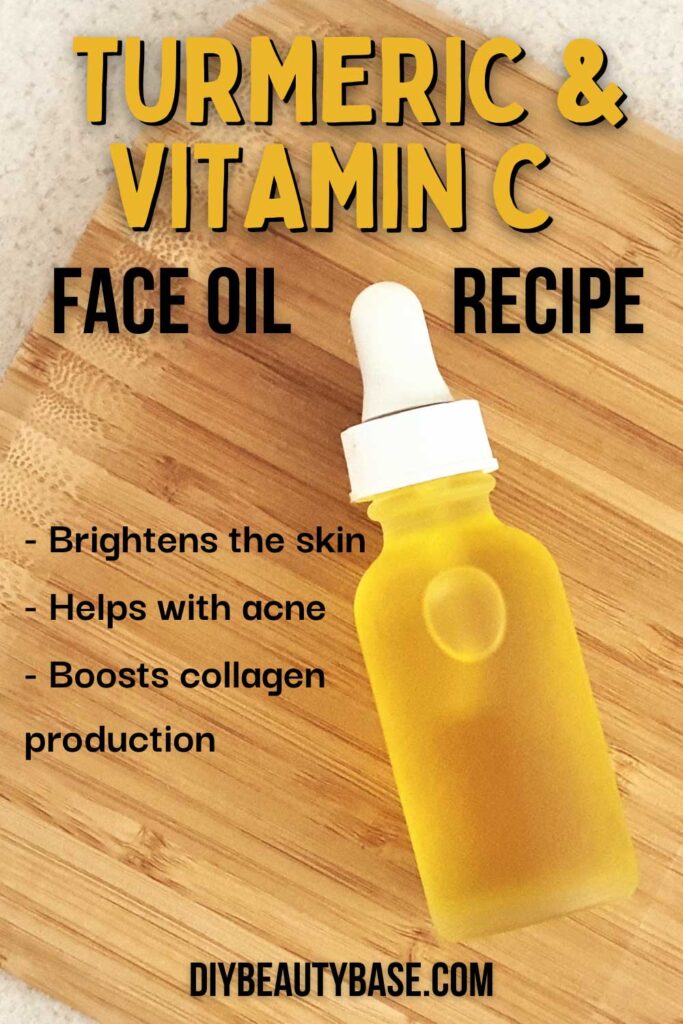 Vitamin C & Turmeric Face Oil Serum Recipe
This recipe is for 1 oz/ 30 ml of serum. If used regularly, the bottle should last you for a couple of months.
Recipe:
♥ 85.5% / 25.65 g of Rosehip seed oil
♥  4% / 1.2 g of Vitamin C (Ascorbyl Tetraisopalmitate)
♥ 10% / 3 g of Turmeric infused oil
♥  0.5% / 0.15 g of Vitamin E  
You will also need:
♥ 30 ml bottle with a dropper (comes with a mini funnel)
Yield: 50 ml
Vitamin C & Turmeric Face Oil Serum Recipe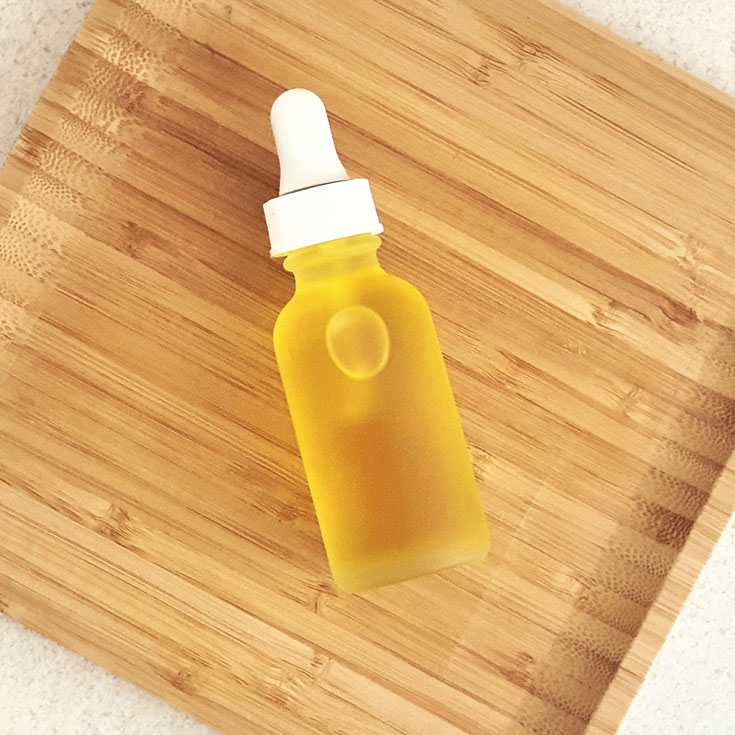 A simple to make DIY Vitamin C & Turmeric Face Oil Serum formulated to fade dark spots and get glowing skin.
Instructions
Measure all your ingredients in separate containers.
Using a mini funnel to pour the Rosehip seed oil into a bottle.
Add turmeric infused oil.
Add vitamin C and vitamin E.
Close the bottle and shake it for a minute.
Your Vitamin C & Turmeric face oil serum is ready.
HOW TO STORE & SHELF LIFE
Store your DIY vitamin C & turmeric face oil in a cool place, away from the sun. To additionally protect it from the sun, use a dark glass bottle. I used matte white bottle to display the beautiful color of the serum, but I recommend using dark glass like these.
The shelf life of a homemade serum depends on the shelf life of its ingredients. Check the expiry date of your oil and other ingredients. The shortest expiry date will indicate the expiry date of your serum. For example, if your Rosehip seed oil expires in 4 months, Vitamin C in 2 years, and turmeric oil in 6 months, then the expiry date of your serum is 4 months.
If in doubt, use up your DIY oil serum within 3 months.
HOW TO USE OIL SERUM
You can apply this DIY oil serum both in the morning and at night. If you want to use Vitamin C in the morning, always combine it with a sunscreen of SPF 30 or higher to prevent photosensitivity.
Add a couple of drops of the oil to your palms, rub it between fingers and apply to the face. For best results, apply on a slightly damp skin to lock in the moisture for added hydration.