Easy DIY Vanilla Bath Salt Recipe
This post contains affiliate links. If you click and make a purchase, I may receive a commission. Thanks.
Jump to recipe
Very simple vanilla scented bath salt recipe that promotes relaxation and happiness!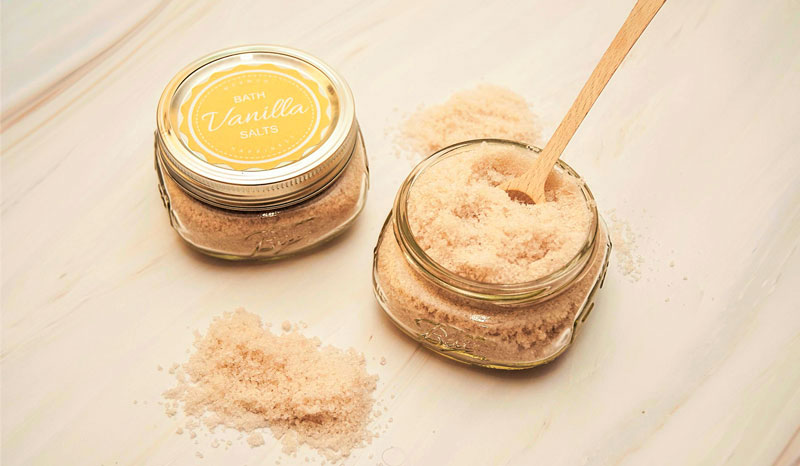 Today I would like to share with you my vanilla bath salt recipe. I found that vanilla scent works wonders for promoting relaxation and positive emotions. Its sweet and comforting scent evokes feelings of warmth and happiness that I don't seem to get with other aromatherapy scents. I decided to match it with my favorite relaxation form – soaking in a bathtub with Epsom salts. And guess what. Vanilla essential oil and Epsom salts is a match made in heaven.
Also, if you like soaking in a bathtub, you will find more recipes in DIY Bath Products and Bath Bomb Recipes 😉
Let me tell you a little bit about the ingredients:
Epsom salt
Epsom salt is a natural mineral compound of magnesium and sulfate. Both magnesium and sulfate have been shown by studies to be readily absorbed through the skin, making Epsom salt baths a great way to enjoy the associated health benefits.
Magnesium is known for relaxing aching muscles and reducing stress, while sulfates help improve the absorption of nutrients, flush toxins, and help ease migraine headaches.
Vanilla essential oil
The vanilla scent is known for its relaxing and calming effects on the brain and nerves. Its warm, sweet scent is very comforting and provides relief from anxiety, anger, and restlessness. I can personally confirm this as vanilla bath salt soak always relaxes me and makes me feel more positive.
Fun fact: The Sloan-Kettering Cancer Center in New York has used vanilla aromatherapy during patient MRI scans for nearly 30 years based on their study that showed that vanilla scent calms feelings of anxiety and claustrophobia.
Baking Soda
I also like to add some baking soda to my homemade bath salts. Baking soda makes bath water alkaline which soothes irritated skin, relieves itching, and leaves the skin feeling silky.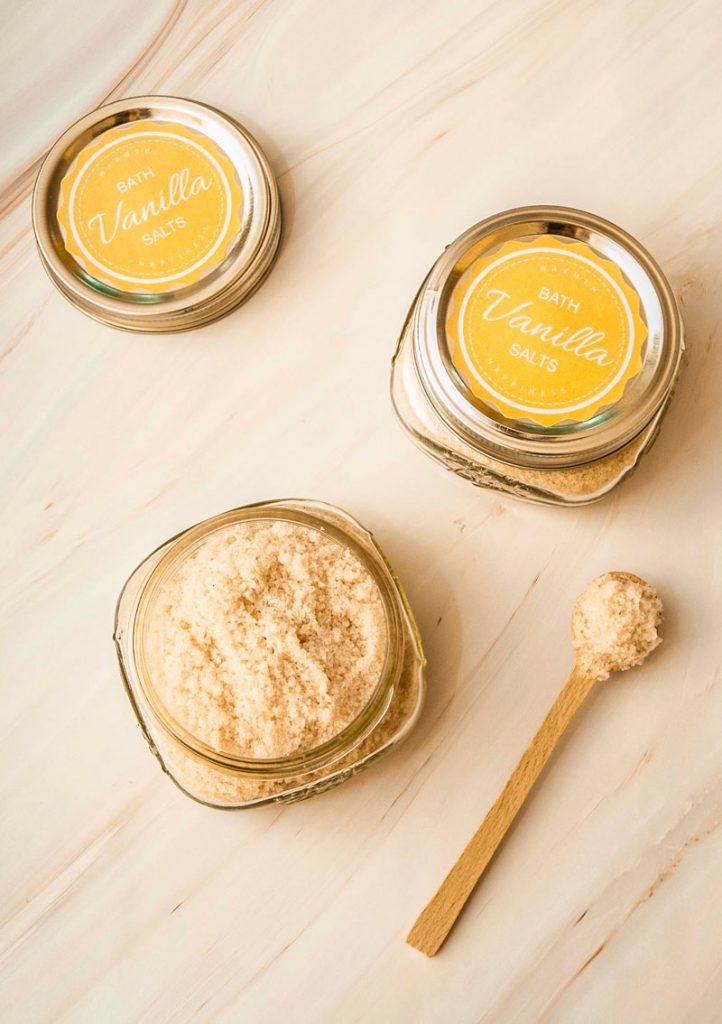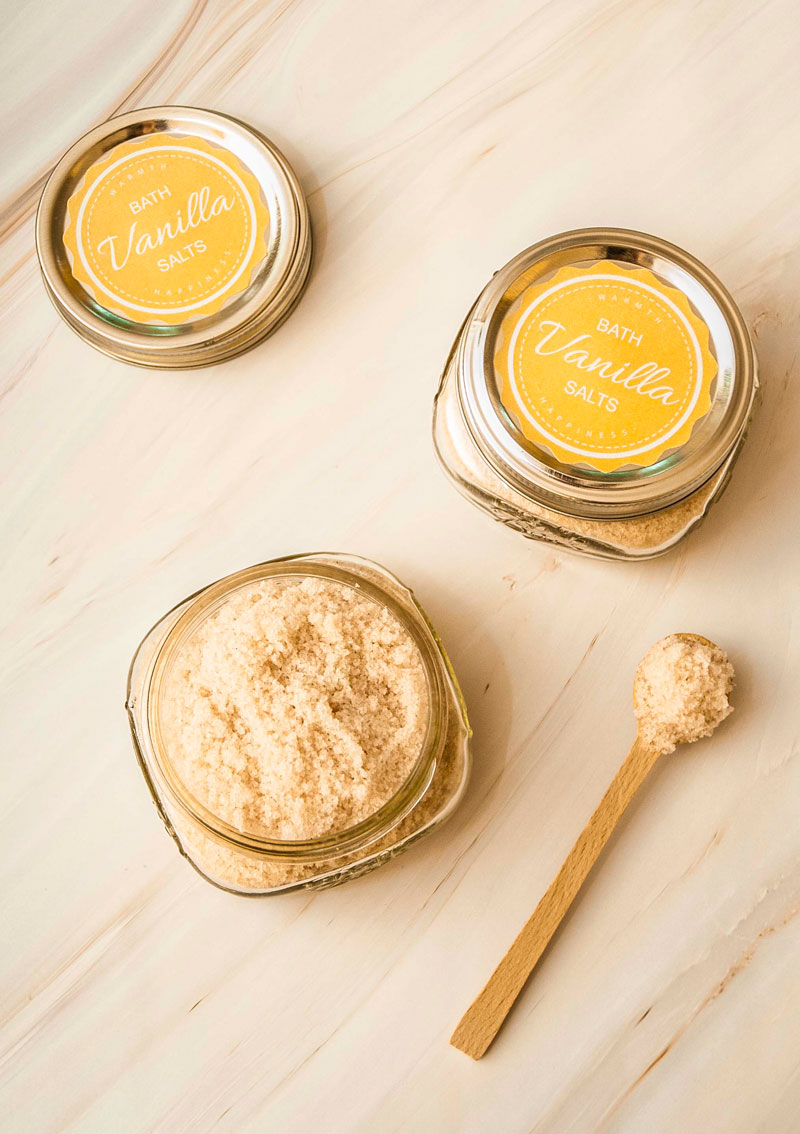 Labels for DIY vanilla bath salts
If you like the Vanilla bath salt labels I used on my jars, you can download them here:
Simply print them out on an adhesive paper like this one and stick on your jars. You can also print them out on a thicker paper, poke a hole and tie the labels with a ribbon.
Pin for later: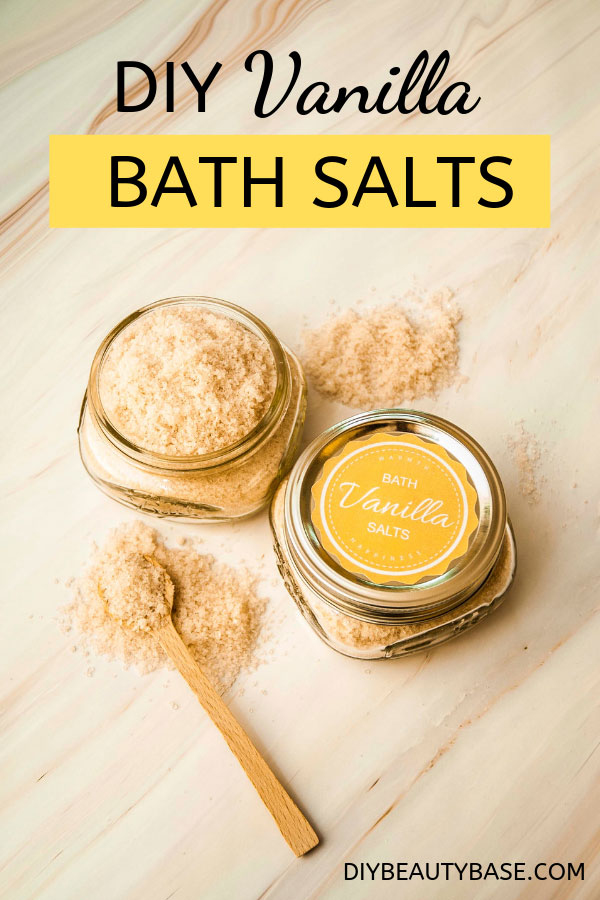 Vanilla bath salt recipe
– 2 cups of Epsom salt
– 2 tbsp of Baking soda
– 2 tbsp of Vanilla oil
Note: Pure vanilla CO2 extract/essential oil is very expensive, so I use a diluted version. The product in the link is vanilla essential oil (CO2 extract) diluted in jojoba oil. Since it is already diluted, there is no need to further dilute it with carrier oils. Also, we can skip adding moisturizing carrier oils as jojoba oil will do the job.
– A dash of brown food coloring, mica powder or cocoa powder to tint the salts (optional)
If you use 8oz/250ml jars, you will be able to fill out two jars with this recipe. So it is aproximatelly 1 cup of Epsom salt per jar. 
Easy Vanilla Bath Salt Recipe

Ingredients
- 2 cups of Epsom salt
- 2 tbsp of Baking soda
- 2 tbsp of Vanilla oil extract diluted in a carrier oil
- A dash of brown food coloring, mica powder or cocoa powder to tint salts (optional)
Instructions
Take a big bowl and combine your Epsom salts and baking soda.
Add a little bit of color and mix. You only want to add a tiny bit to get the desired shade.
Once your salts are mixed well and you have the color you like, add vanilla essential oil. Mix everything well. Your vanilla bath salts will look slightly damp (like in my photos) which means that the oil is covering every salt particle.
Pack your bath salts into the jars soon after you prepare them. If you leave them out uncovered, salts may attract the moisture and clump together. This will not happen in a closed jar.
Decorate your jars with the labels. A nice label makes all the difference. The link to download labels is above the recipe.d
© 2023 DIY Beauty Base