Anti-Aging Body Butter With Rosehip Oil
This post contains affiliate links. If you click and make a purchase, I may receive a commission. Thanks.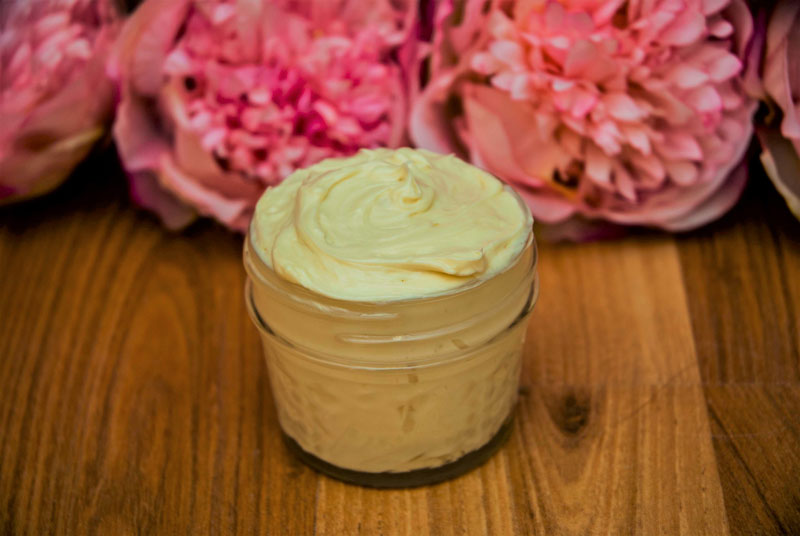 I am excited to share with you my Rosehip body butter recipe. This recipe is special because it not only moisturizes and protects, but also has anti-aging properties.
With age, I realize that If I want to have beautiful skin all over the body, I need to look after it as much as I do after my face. That is why when I discovered the magic of Sea Buckthorn oil, I used it not only in my face moisturizer but also in a body lotion. Today, I still swear by Sea Buckthorn oil.
Once I used up my supplies of this oil, I decided to try another oil also famous for anti-aging properties – Rosehip Seed Oil. In my opinion, Sea Buckthorn oil is more potent but then again, you cannot use it at a higher than 5% concentration because of its vibrant color, which may be visible on your skin. Rosehip seed oil, on the other hand, can be used on its own. In fact, many beauty brands sell pure cold-pressed Rosehip oil as a natural anti-aging product.
I used Rosehip seed oil on my face at night and I really like it, so I decided to treat the rest of my body to a DIY body butter with Rosehip oil. Cold-pressed Rosehip seed oil is not cheap, but it is worth it. Still, making anti-aging body butter with Rosehip oil is so much cheaper than buying one. On top of that, we can add a lot more of it than you would find in any commercial product. So you know your skin will get the benefits.
What to expect from this rose body butter?
The star ingredient of this DIY body butter is Rosehip seed oil. It is one of few carrier oils that can offer effective anti-aging benefits. This is thanks to its high vitamin A content. You see, Vitamin A is made up of several nutritional compounds, including retinoids. Retinoids are known for their ability to fade scars, reduce hyperpigmentation and other visible signs of aging when used regularly. Rosehip seed oil helped fade hyperpigmentation on my face, so I incorporated it into a body butter to help with sun damage and scars from ingrown hair.
The base of the body butter is shea butter. Shea butter is a great moisturizer that helps lock moisture in your skin. Also, shea butter is incredibly soft and spreads well on the skin.
The finished product is pleasant to use. It is not too greasy as Rosehip seed oil is a "dry" oil. I also added tapioca starch, which cuts down the greasiness pretty well.
The scent – For this recipe, I chose a blend of three essential oils: Bergamot, Sweet Orange and Rose. Those who read my other posts may have noticed that I love citrus essential oils as I use them in many skincare recipes. This time I wanted my DIY body butter to smell a little bit more sensual, so I also added rose essential oil. This blend smells really nice and reminds me of wild roses with some citrus kick.
Pin for later: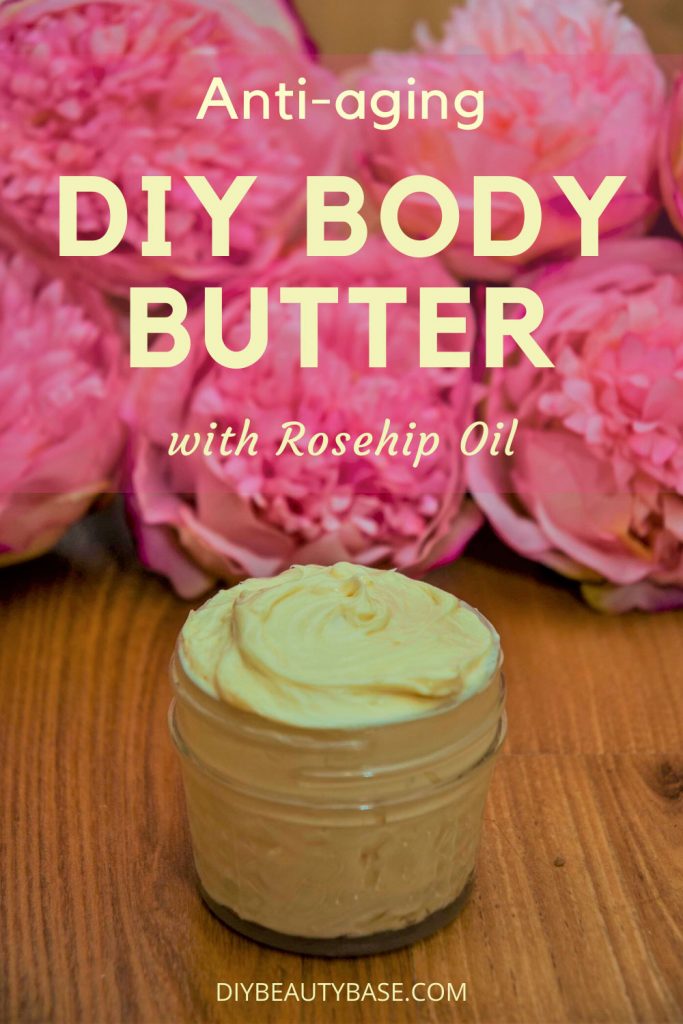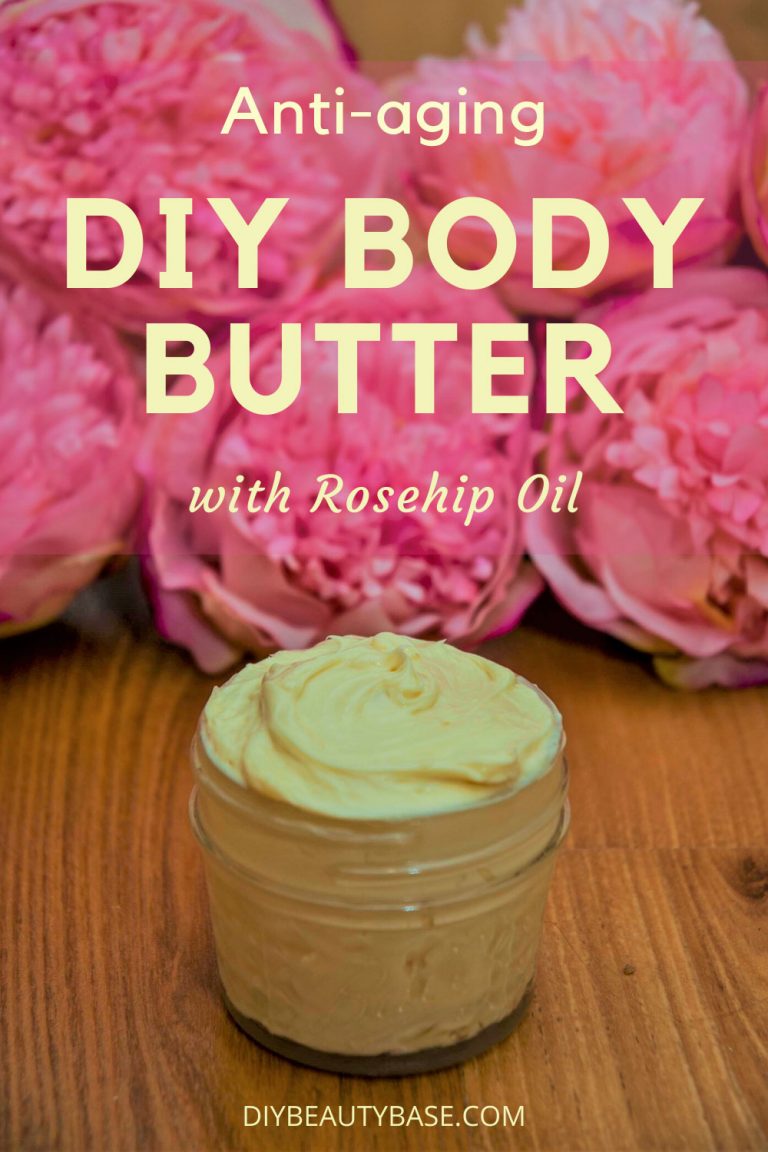 How to make anti-aging body butter
Ingredients
85 g | 3 oz  – Shea butter
28 g | 1 oz – Rosehip Seed Oil
1/2 tbsp – Arrowroot powder or tapioca starch
1/4 tsp – Vitamin E  
1.2 ml  (1% of the recipe, approx. 20-25 drops) – Essential oils:
– 8 drops Bergamot essential oil
– 8 drops Sweet orange essential oil
– 8 drops Rose Absolute essential oil in jojoba,
if you have pure 100% Rose Damascena essential oil then add only 3 drops or so. I got the 5% version since it is cheaper and the smell is still beautiful and potent.
– 120 ml | 4 oz – Ball jar
Is your shea butter grainy?
Making this anti-aging body butter is very easy. However, before you start, you need to check your shea butter for graininess. Shea butter is known for becoming grainy. Grainy shea butter is still good but not as pleasant to use. If the texture of your shea butter is smooth, then go ahead and start making the body butter. If the texture is grainy, then you'll need to fix your shea butter first.
Just a quick note: shea butter becomes grainy when it melts and then cools down unevenly. It does not mean your shea butter is bad, it just how shea behaves.
So to fix grainy shea butter follow these steps: 
1. Melt your shea butter on a low heat.
2. Take of the heat and stir at a room temperature till it starts to harden.
3. Then put shea butter into fridge for 24 hours.
Your shea butter will come out very smooth and you will be able to use it to make this anti-aging Rosehip body butter.
To make anti-aging body butter with Rosehip oil:
1. Measure your shea butter and place it in a bowl. Whip it with a stand or hand mixer until you reach a creamy texture.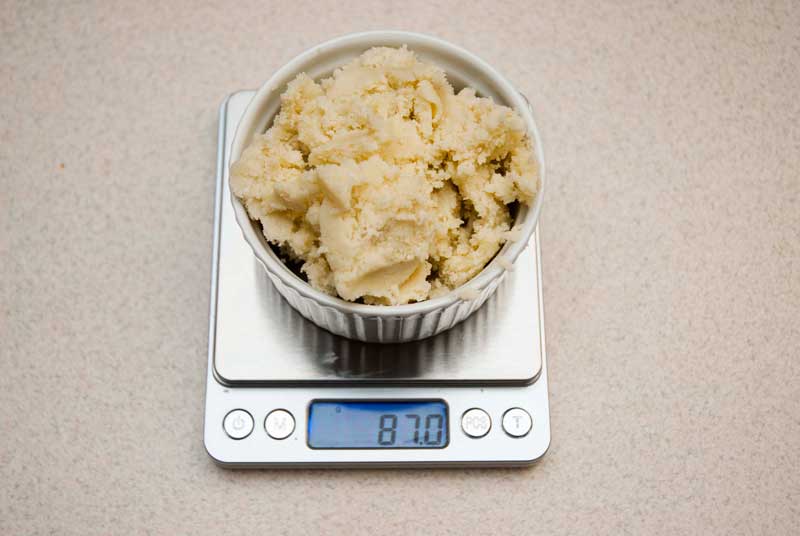 2. Add Rosehip oil, vitamin E, essential oils and Arrowroot/tapioca starch and whip until the ingredients are well combined and the mixture is fluffy.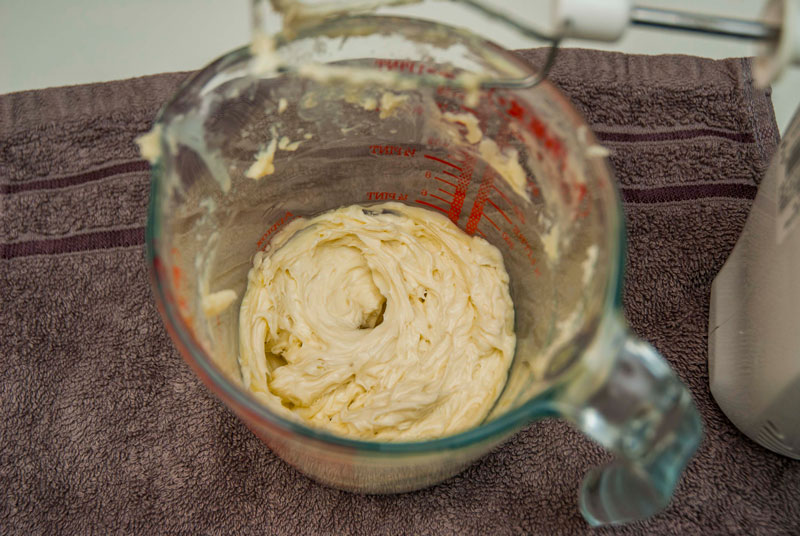 3. Transfer to a small container or jar and store in a cool place. Simple!
How to use this body butter
I like using my body butter just after the shower on the damp skin. This way, it locks all the moisture inside the skin and improves the moisturizing effect.
I hope you like the recipe 🙂 Enjoy!