Body Oil Recipe For Barrier Repair
This post contains affiliate links. If you click and make a purchase, I may receive a commission. Thanks.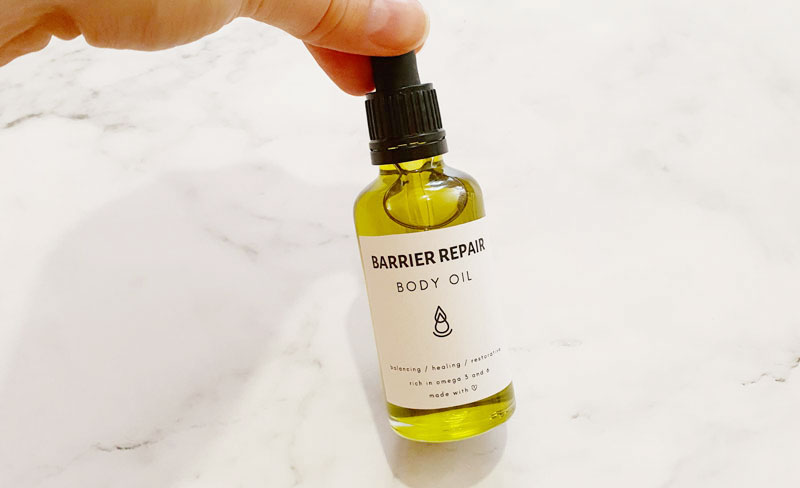 I would like to share with you a body oil recipe that I formulated to help our skin heal and repair its barrier. Don't worry, effective doesn't mean complicated. This body oil recipe is very easy to make. The secret lies in choosing oils wisely.
Not so long ago, I published a very long (and very informative) article about choosing best oils for the skin. In the article I discuss carrier oils, their fatty acid composition, and how it affects our skin. It is a great read for everyone who enjoys using oils on their skin. The article may be an eye opener for some as I discuss why some oils are healing for the skin while other can be damaging.
The body oil recipe that I will share today is based on this article and research I found while writing it. I highly suggest reading it if you want to understand how I selected the oils for this recipe. A quick recap: The research suggests that oils high in oleic acid (omega-9) are damaging to the skin, while oils high in linoleic acid (omega-6) are beneficial for the skin and can help with dry, inflammatory skin conditions such as eczema, psoriasis and more. Additionally alpha-linolenic (omega-3), gamma-linoleic, punicic and palmitic acids work synergistically with linoleic acid to help our skin heal, produce ceramides and repair its barrier function.
Pin it for later: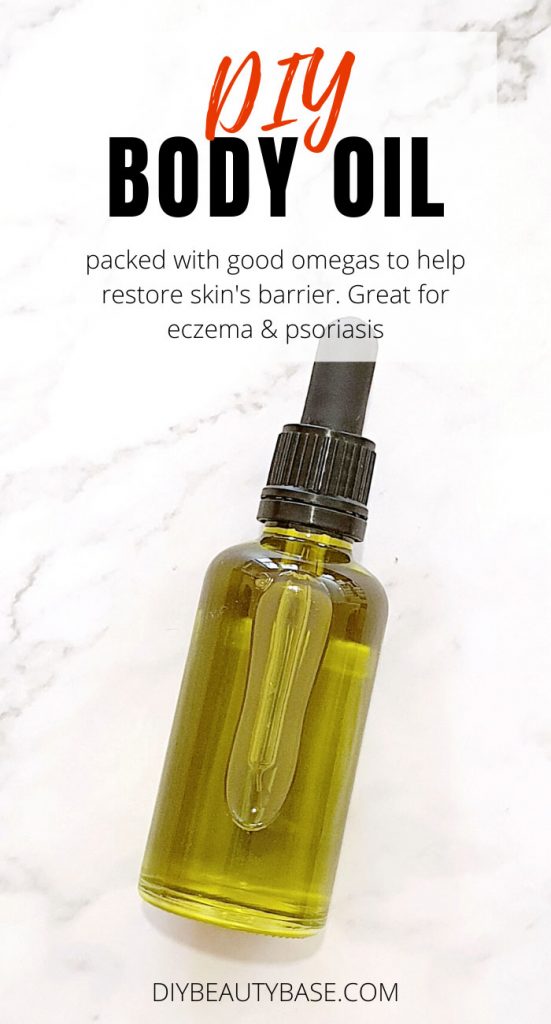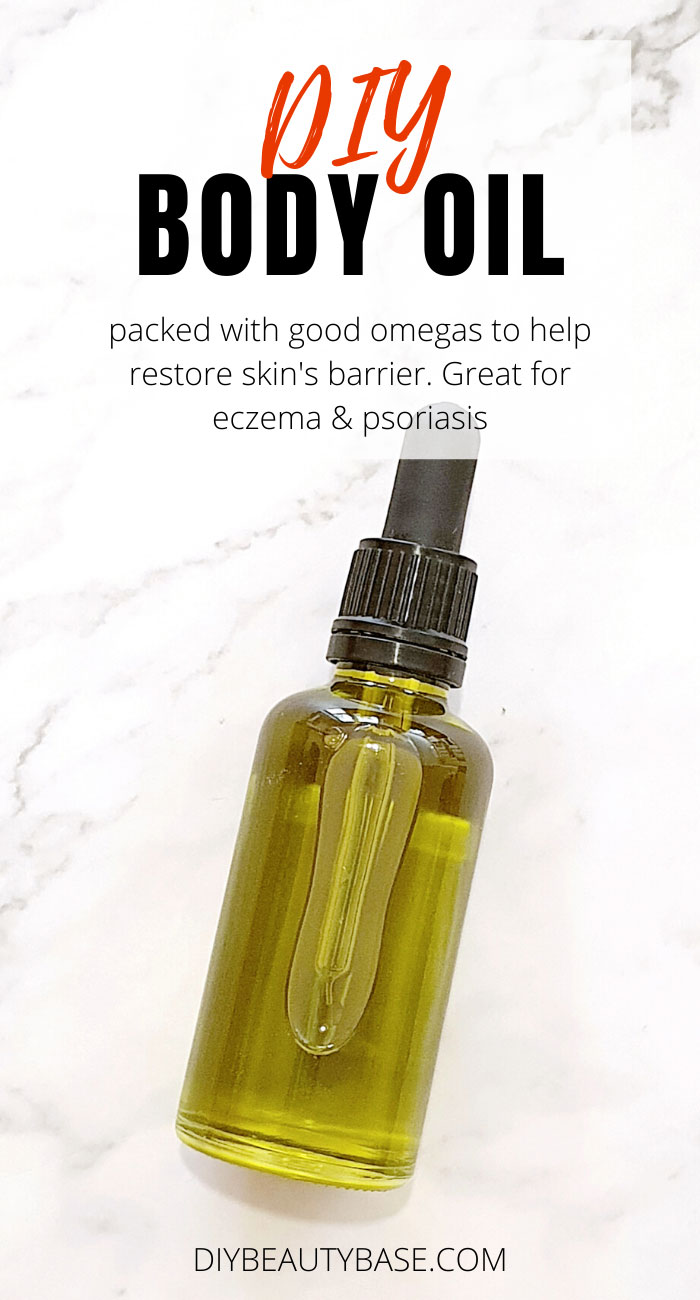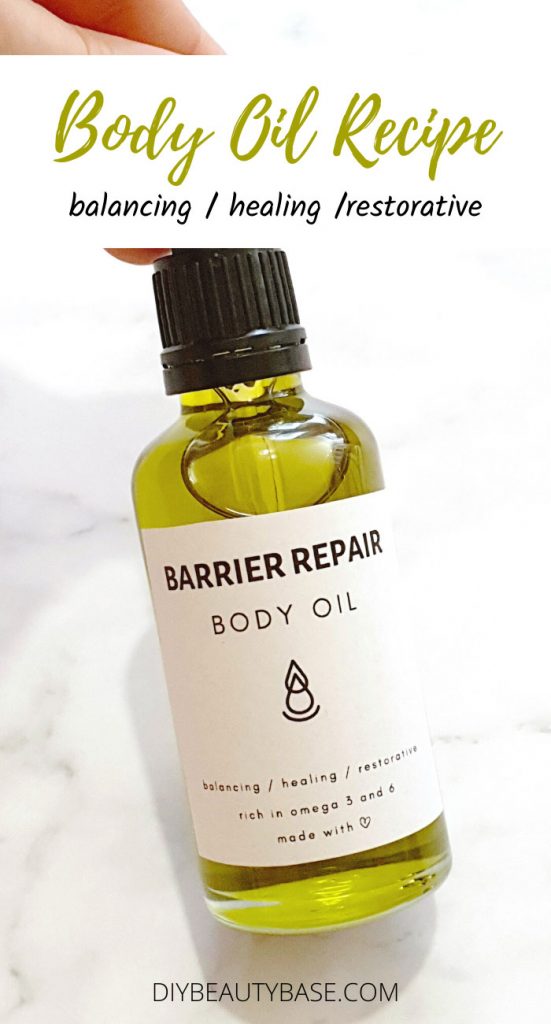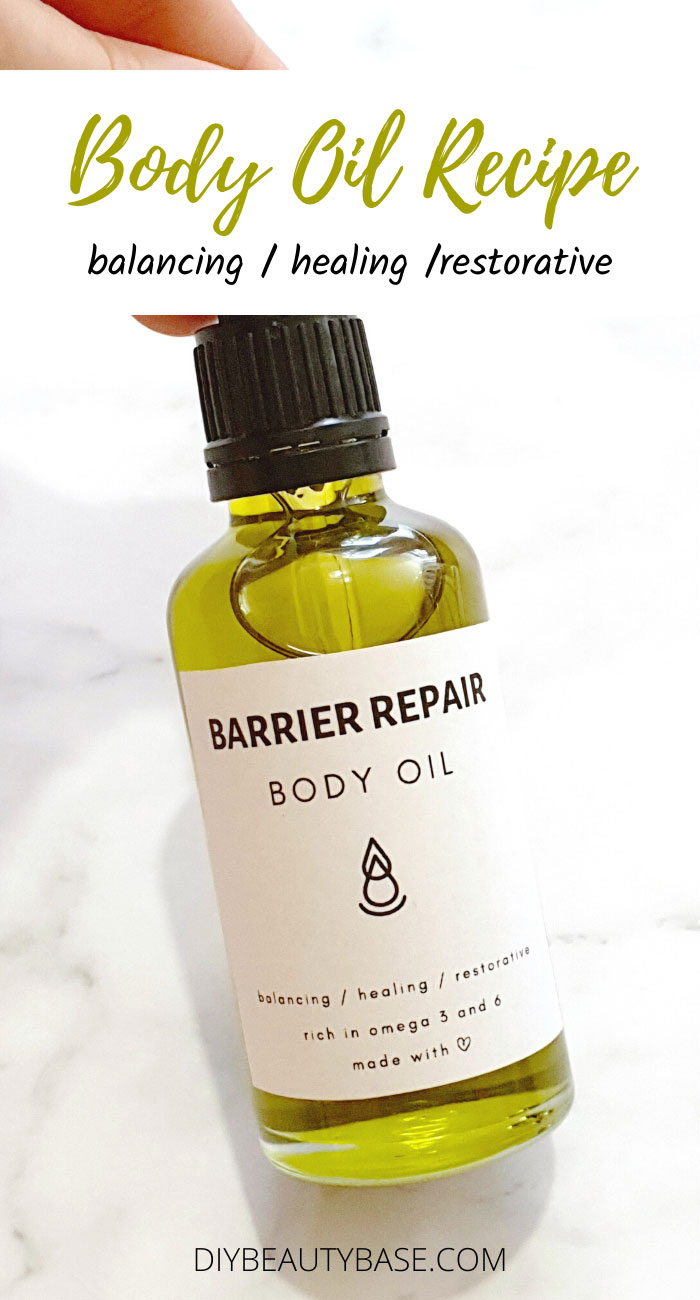 What to expect from barrier repair body oil?
This barrier repair body oil recipe includes some of the best natural oils that are full of omegas that our skin needs. The blend provides a full array of the good fatty acids that don't just mask dry skin but actually work to prevent it over time. I like to think of this blend as a topical supplement for skin.
The goal of barrier repair body oil recipe is not only to make it healing and restorative but also pleasant to use. Scent, look, spreadability, absorption are all very important. If you enjoy using the product, you will use it more consistently which will lead to better results. For this reason, the biggest part of the blend consists of fast to average absorbing oils such as hemp and safflower. The body oil gives you enough time to spread it all over the skin but then absorbs without feeling greasy.
How to use barrier repair body oil
I like to apply my body oils after the shower when my skin is still a little bit damp. This way I not only nourish the skin with oils but lock some moisture as well. Body oils can be applied to the dry skin too.
Or, you can leave this DIY body oil unscented, and add couple drops to your body moisturizer each time you use it.
Choose what works best for you. Consistency is the key here. The more you use the oil, the better your skin will look and feel.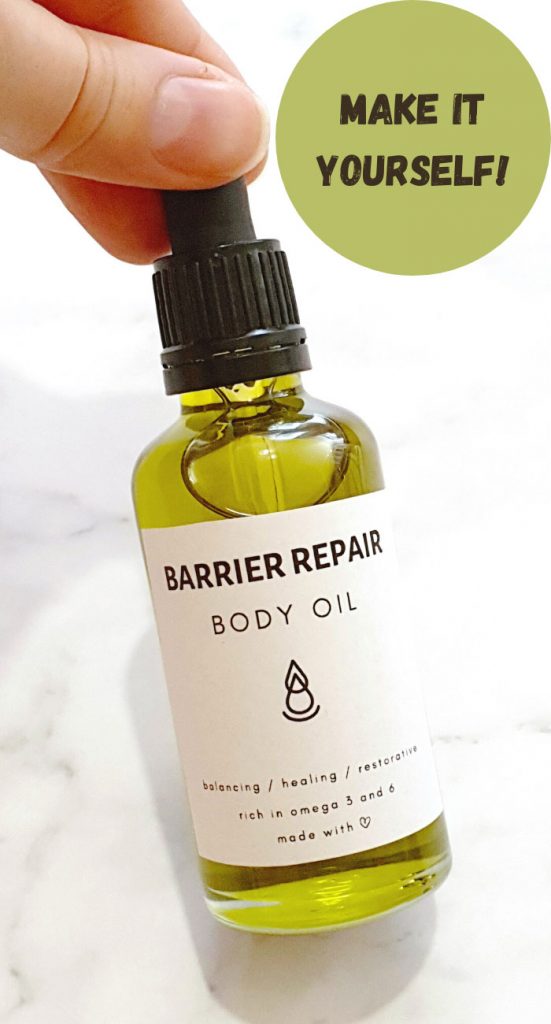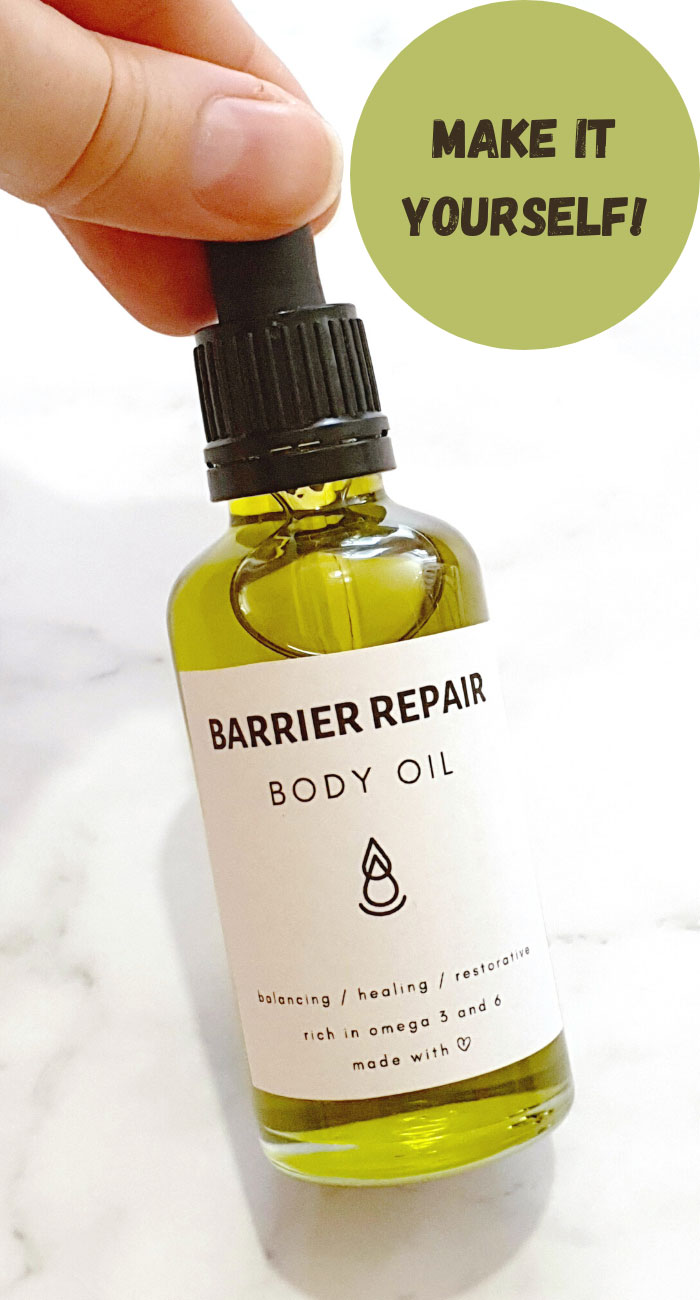 Body Oil Recipe
Ingredients
For this body oil recipe I picked oils that are high in linoleic acid (omega-6) and that also have alpha-linolenic (omega-3), gamma-linoleic, punicic and palmitic acids to make sure that the skin will get a cocktail of various fatty acids.
Hemp seed oil (unrefined) – hemp seed oil is a fantastic choice for our skin. It is very high in linoleic acid (omega-6) – 55% and alpha-linolenic acid (omega-3) – 20% and low on oleic acid (omega-9). Its absorption rate is low-average.
Grapeseed oil – light, fast absorbing and inexpensive oil that is very high in linoleic acid. Absolutely lovely to use on the skin. You can add more of it if you like particularly fast absorbing body oils.
Jojoba oil – Jojoba oil is technically a wax ester and not an oil. It resembles human sebum and everyone's skin loves it.
Evening primrose oil – is a slow absorbing oil which makes it a less desirable option for body oil formulations. However, I wanted this homemade body oil to include a variety of good fatty acids, including some gamma-linolenic acid. Few oils have this fatty acid in their composition: evening primrose, borage seed, black current. Unfortunately, all these oils are slow absorbing. For this reason I only added a little bit and made sure I include fast absorbing oils in the body oil recipe such as grapeseed oil.
Pomegranate oil – the only oil that has punicic acid (omega 5) in its composition (70-80%). Punicic acid is anti-inflammatory and regenerates tissues (improves tissue repair and wound healing). This oil is more expensive than others, but you don't need a lot of it to get the benefits.
Vitamin E – Vitamin E is optional. I always add it to my recipes because it helps to extend shelf life of oils and adds anti-aging benefits.
Recipe
38% |38 g  – Hemp seed oil 
30% |30 g – Grapeseed oil
10% |10 g – Jojoba oil
10% |10 g – Evening primrose oil
10% |10 g – Pomegranate oil
0.5% |0.5 g – Vitamin E
1-1.5 % essential oils or fragrance. I used rose and citrus essential oil blend from my anti-aging body butter recipe:
– 6 drops Bergamot essential oil
– 6 drops Sweet orange essential oil
– 6 drops Rose Absolute essential oil in jojoba
Making body oil:
To make the body oil, simply weigh all your oils, pour them into the bottle and shake until fully mixed.
To make weighing ingredients easier, do this:
Place your bottle on the scale and then turn the scale on. This way the scale will account for the weight of the bottle and still show 0 grams. When you pour your ingredients, it will show only the weight of the ingredients.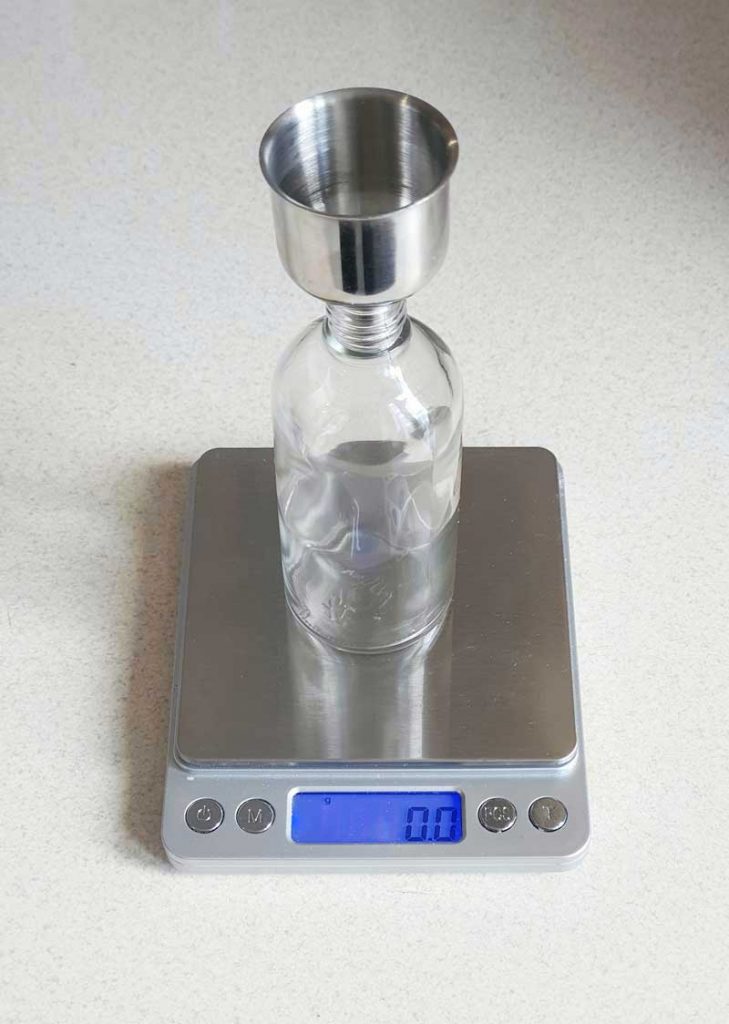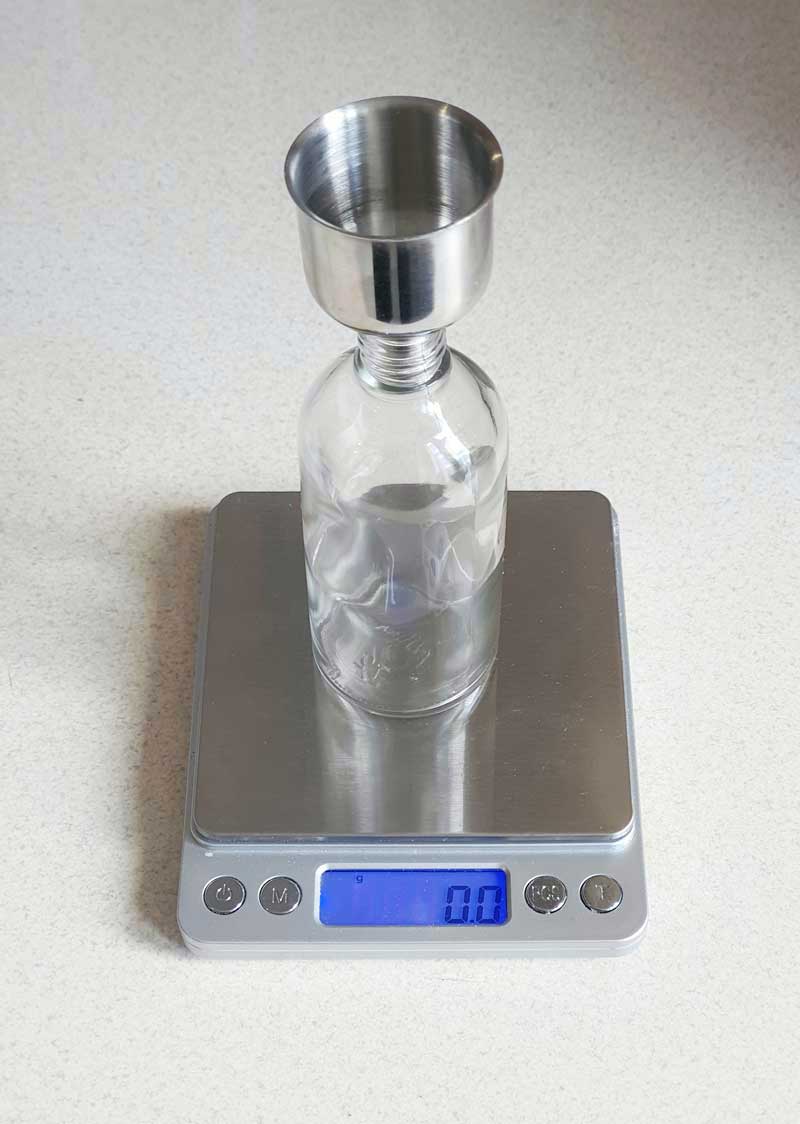 Free printable label for DIY body oil
I like putting labels on my homemade beauty products. I think they make homemade products look nicer and also help to differentiate between the formulas and bottles. If you like the label I made (as in the photos), you can download it here:
BARRIER REPAIR BODY OIL LABEL. PDF
Print out the label on an adhesive paper sheet, cut out, and stick it on the bottle. You can also stick some transparent tape on the label to protect it from getting greasy.
Enjoy and don't forget to share this recipe with your friends 🙂