DIY Bath Salts As A Birthday Gift
This post contains affiliate links. If you click and make a purchase, I may receive a commission. Thanks.
DIY bath salts make amazing gifts. They are easy and inexpensive to make, and anyone who loves taking baths will appreciate the gift. Bath salts are a form of everyday luxury. So many people love using them but don't buy them regularly. Instead, people buy bath salts to treat themselves. Thus, gifting some homemade bath salts is a great way to treat your friends and family.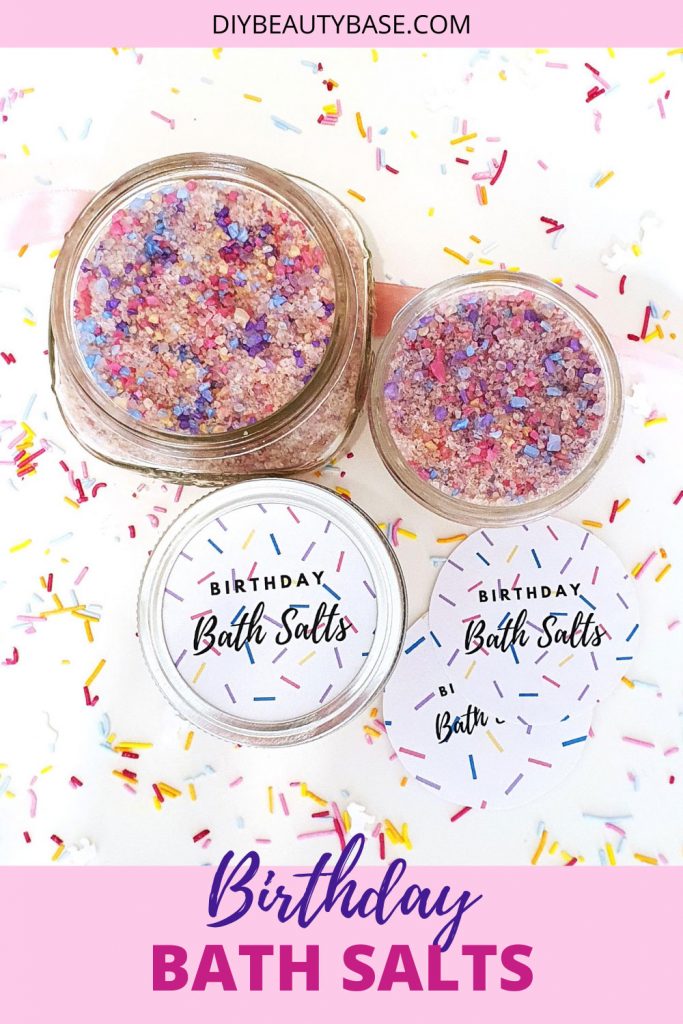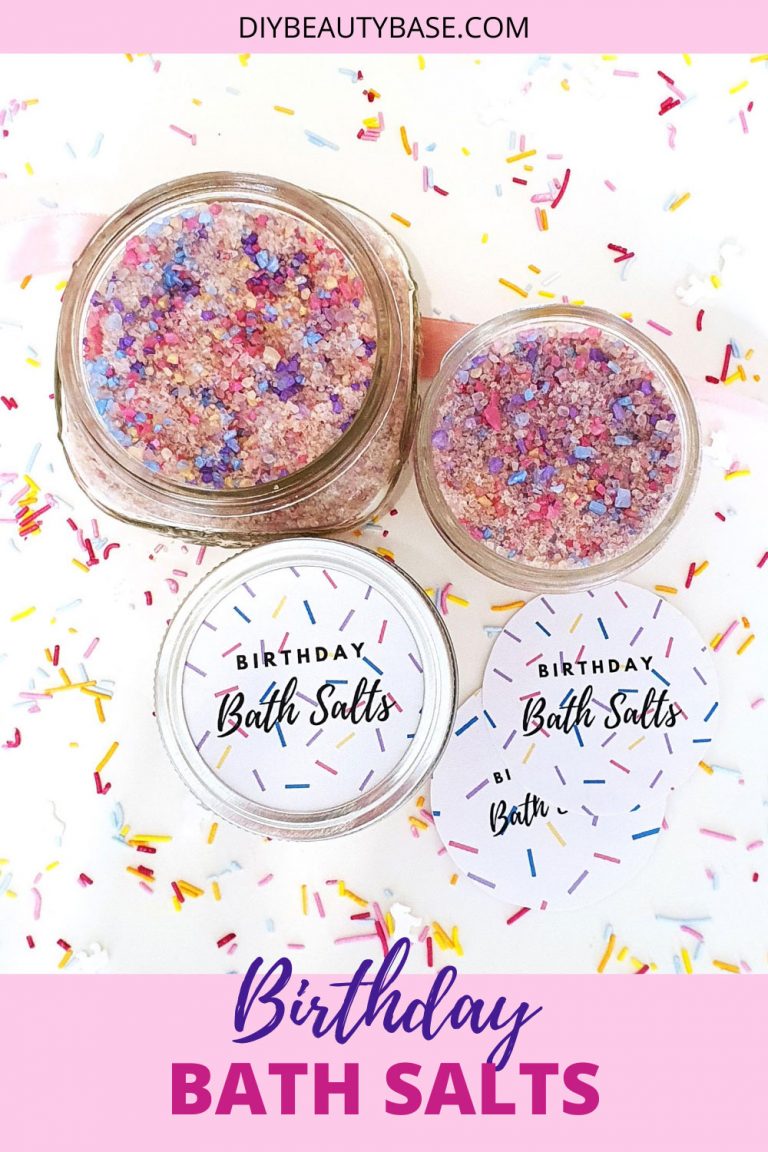 Any type of bath salts can be made into a gorgeous DIY gift with a cute jar and a ribbon. But I went an extra mile and created a special birthday bath salts recipe. I wanted these bath salts to resemble a birthday cake with all the colorful sprinkles and a sweet scent, just like a cake would. I also created some "Birthday Bath Salts" labels for the jars to make the whole project more put together.
The bath salts are pretty simple to make and I find the making process really fun (because colors!). Finished bath salts are colorful, but not too much. The bath water will turn very pale purple with lots of shimmer. If you use soap dye (or food dye) instead of mica powder for color, you will get richer and more vibrant colors.
Birthday Bath Salts Recipe
♥ 2.5 cup of Epsom salts
♥ 1.5 cup of Sea salt
♥ 3 tbsp of carrier oil (I used sweet almond oil)
♥ 2 tbsp Polysorbate 80
♥ Mica powder (I used golden, blue, pink and purple)—you will need less than half a teaspoon of each.
♥ 20 drops of Birthday cake fragrance
OR approx. 30 drops of Birthday cake essential oil blend (16 drops Vanilla / 6 drops Lemon / 4 drops Coffee / 2 drops Ylang ylang)
Tips for choosing ingredients:
Epsom and Sea salts – the reason I went for both is that Epsom salts are smaller and Sea salt come in larger granules. This helps for colored sea salt to stand out. Your DIY bath salts won't come out the same if you use only Epsom salts, but you could try the recipe with only sea salts.
Carrier oil – any carrier oil that is light in color and scent. If you use dark oils such as olive or avocado, it will stain your bath salts.
Polysorbate 80 – is highly recommended for this recipe. It is a solubilizer. It helps the oils and mica powder to mix with water and disperse evenly. Without it mica powder and oils would just float on top of bath water. It also prevents mica powder from sticking to the bath.
Scent – depending on your preference, you can use fragrance or essential oils.
Pin for later: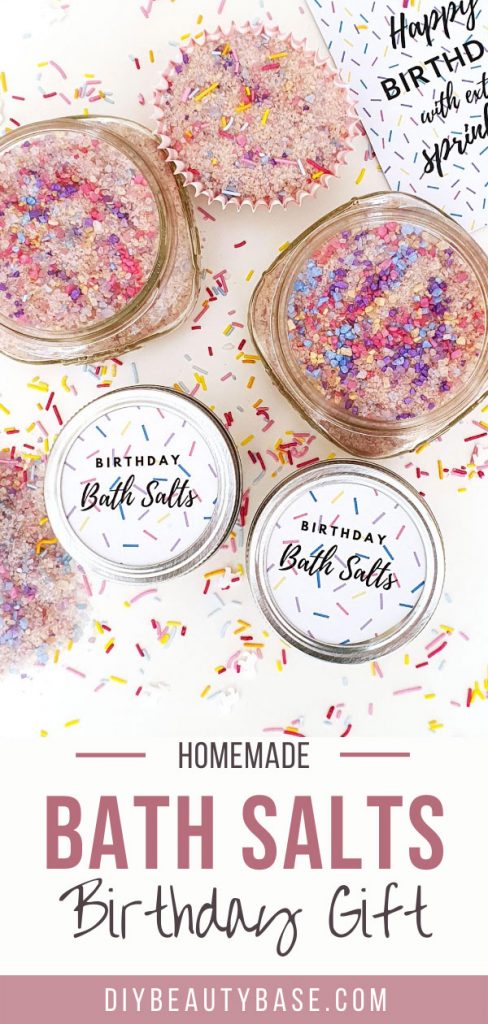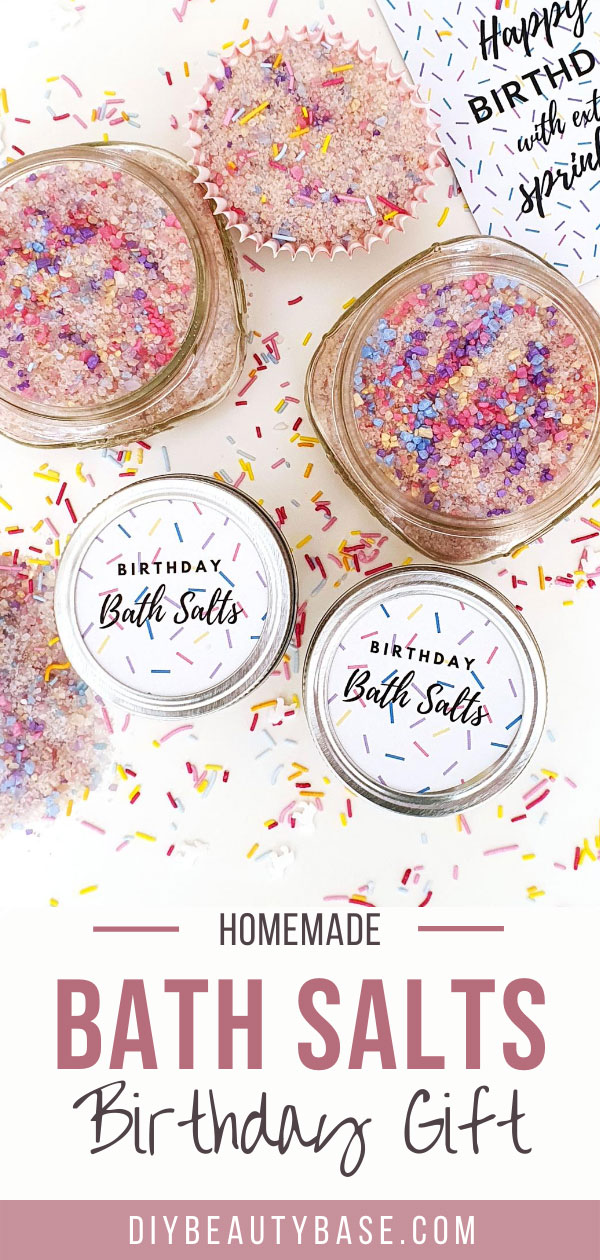 How to make Birthday bath salts
1. First, we need to prepare the base. Place your Epsom salts into a large bowl. I colored mine with a gold mica to give Epsom salt a beautiful creamy-yellow color. Half of a teaspoon of mica should be enough. You can also leave Epsom salts uncolored. It will give less glitter in the bath but will look just as stunning in the jars.
2. In a separate small container mix your carrier oil, Polysorbate 80 and essential oils or fragrance. Mix the oils with Epsom salt using a whisk. Your base is ready.
3. Split your sea salt more or less equally between 4 bowls. Add mica powder to each and mix well. Keep adding mica powder until you are happy with the color.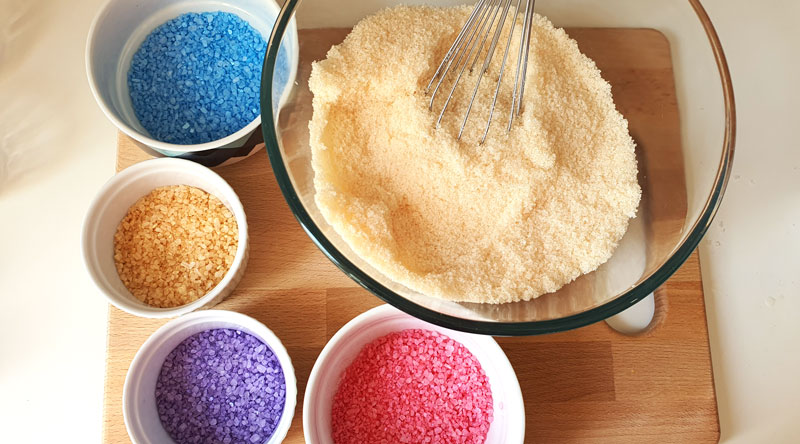 4. Put a little bit of colored sea salt on the side (less than a teaspoon of each color). Then pour the rest of colored sea salt into the large bowl and mix with the Epsom salt. Don't mix long, you don't want your sea salt to lose color.
5. Pour your birthday salt into containers and sprinkle some colored sea salt you previously put aside on top. This way bath salts will look even nicer and brighter once the person opens up the jar.
Your birthday bath salts are ready. To go one step further, you can decorate your jars with the "Birthday Bath Salts" labels.
6. Download the labels here BIRTHDAY BATH SALTS LABELS.PDF and print them on a thicker paper or an adhesive paper sheet (depending on what jars you are using). My Ball jars allow me to insert my labels in the lid, so I printed my labels on a thicker paper. If you will use a different type of jars, print on an adhesive sheet of paper as it will allow you to stick the label anywhere on the jar.
Pin it for later: