DIY Cleansing Oil That Washes Off With Water (Basic & Advanced)
This post contains affiliate links. If you click and make a purchase, I may receive a commission. Thanks.
Today, I would like to share with you my DIY cleansing oil recipe that I use every day. It is very simple to make and fully rinses off with water. Also, making your own emulsifying cleansing oil will save you a ton of money!
I don't know about you, but ease of use is very important to me. The easier and more pleasant the product is to use, the more consistent I am with using it. And consistency is the key to seeing results!
I am saying this because I tried oil cleansing methods before by washing my face with just the oil first, followed up by using a second face wash. This didn't work for me. Using a mild 2nd cleanser would make it very hard to remove all the oil and using a harsher one would end up stripping my skin.
For this reason, I've created my own recipe that includes an emulsifier. I've been using this DIY cleansing oil for a couple of months now and I love it. It cleans my pores and removes sunscreen and makeup without leaving the skin feeling stripped. AND it is easy to use.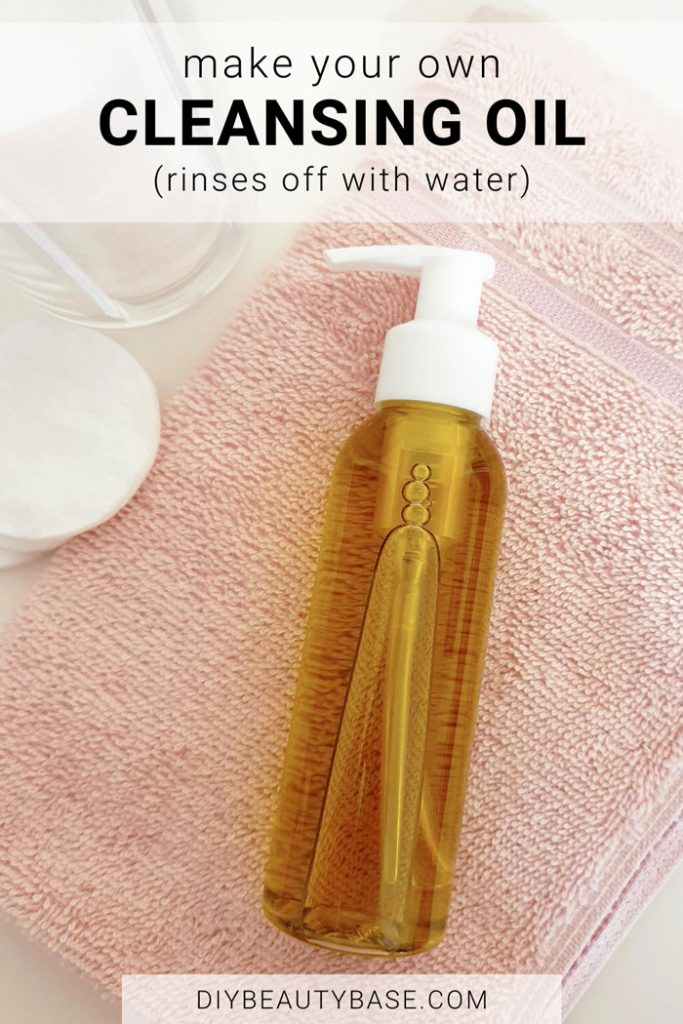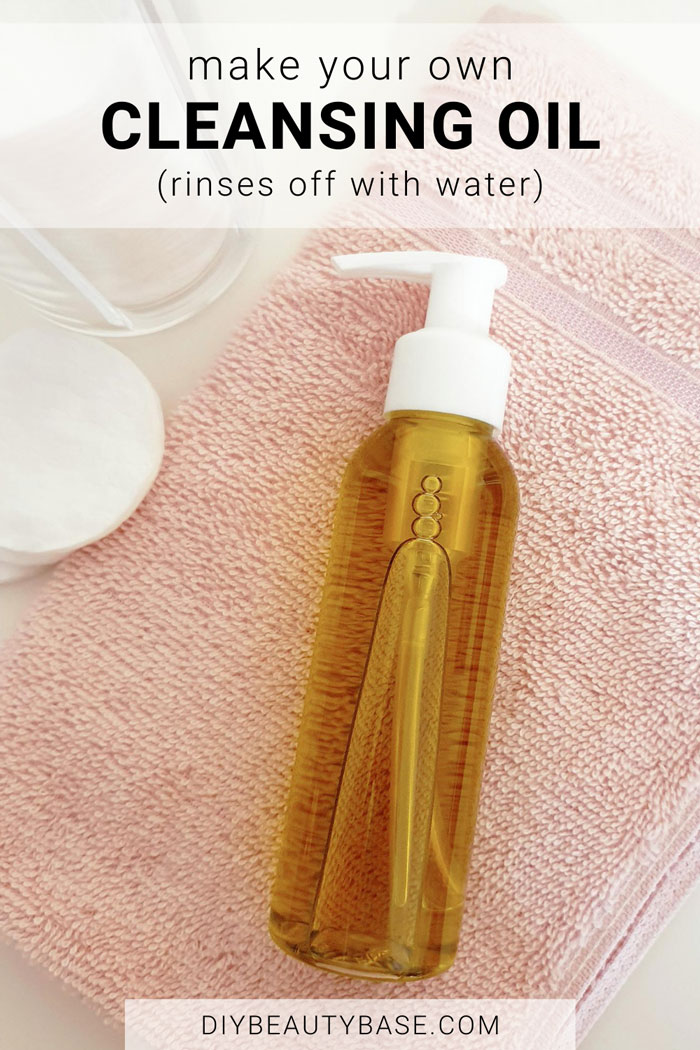 ---
What are the benefits of oil cleansing?
The biggest benefit of using oil cleansers is that they are effective but gentle to the skin. Traditional soap or detergents cleansers are designed to clean the skin (remove dirt and impurities) and they do that well.
Unfortunately, together with the dirt, they strip our skin of its natural oils and good bacteria that lives on the skin. This damages the skin barrier and weakens our skin over time. There are, of course, gentle soap cleansers, but those are usually not good enough for removing makeup and sunscreen.
On the other hand, oil cleansing allows us to remove excess oils and dirt without stripping the skin. The idea here is that "like dissolves like". Putting clean, nourishing oils on your skin will lift excess sebum, clean out clogged pores and remove makeup, sunscreen and pollutants. The clean oil does not clog the pores but instead is absorbed by the skin and reduces the need for our skin to produce more oil. For this reason, cleansing oils are recommended for both dry and oily skin types.
On top of that, oils used for cleansing can bring their own nourishing properties, nutrients, and skin-boosting benefits. Since you are making your own cleansing oil, you are in control of what natural oils and other ingredients you add.
How to use oil cleanser?
Rule #1 is that emulsifying cleansing oil needs to be applied to a dry skin. This allows natural oils to remove makeup and mix with sebum and dirty oil in the pores. Pump the oil cleanser and massage it into your face in gentle, upward, circular motions. DIY cleansing oil with jojoba has a very pleasant, slippery feel. It is easy to apply and distribute. There is zero drag even on dry skin.
I like to perform a mini face massage during this step. This improves blood circulation in my skin and also gives the oil more time to work its magic. Then add water to your face and massage again to emulsify the product (it will turn milky). Rinse off the oil cleanser until the skin is clean.
Basic 2-ingredient cleansing oil recipe
To make a cleansing oil that washes off, you mainly need two ingredients: oil and an emulsifier. Emulsifier allows water and oils to mix together and thus to wash off with warm water. These two ingredients are enough to make an effective homemade oil cleanser.
85% Jojoba oil
15% Cromollient SCE (emulsifier)
You will also need a small funnel, a mini scale and a pump bottle:
Advanced oil cleanser recipe
This more advanced recipe is for those who want to go an extra mile and add some more positive properties to the DIY cleansing oil. To do this, you can mix different oils together. You can experiment with thicker or thinner oils, which will affect how the cleansing oil spreads and feels on the skin. You can also add antioxidants such as Vitamin E, which will increase the shelf life of your oils and give you some anti-aging benefits.
This advanced cleansing oil recipe includes a mixture of oils. Jojoba oil because of its resemblance to our sebum and skin feel, some grape seed oil for linoleic acid (plus it's an affordable oil) and castor oil for its astringent properties.
50% Jojoba oil
29% Grape seed oil
5% Castor oil
15% Cromollient SCE
0.5% Vitamin E
a couple drops of lavender essential oil (essential oils can irritate sensitive skin, if you want to add some scent, only add a couple of drops)
Recipe notes:
– Cromollient SCE is a mild, multifunctional emollient. In a cleansing oil, it works as an emulsifier and gives it wash-off properties. Cromollient is very mild and is suitable for sensitive skin and baby products. In fact, it was specially developed to mitigate irritation from surfactants and is considered to be a counter-irritant product.
– Oils. The recipe calls for 85% of carrier oils. This can be one oil or a mixture of oils. If you don't have any oils and will be purchasing some for this recipe, I would recommend going for jojoba oil. Jojoba oil has one of the longest shelf life and is stable (won't degrade in a steamy bathroom). It is similar to our skin's sebum and works well for all skin types.
– When choosing oils, look for cold-pressed, unrefined, virgin oils that are meant to be used on the skin, rather that food-grade oils. Also, choose oils that are high in linoleic acid (omega-6) and low in oleic acid (omega-9). Despite the common belief that dry skin owners should use oils high in oleic acid (such as olive oil), it is not true. Oleic acid is proven to be damaging to the skin, while linoleic acid is proven to be beneficial for all skin types. You can learn all about oils and their suitability for our skin in my post "Understanding Oils".
– This cleansing oil recipe is water-free and requires no preservative. Shelf life of your cleansing oil will depend on the shortest shelf life of ingredients used. For example, if shelf life of Cromollient SCE is 2 years, jojoba oil is 2 years and castor oil is 6 months, then your cleansing oil will be good to use for 6 months. Adding vitamin E can extend the shelf life of oils for a month or so. I recommend using a pump bottle for this recipe. Choose between glass and plastic. Glass bottles look nicer and can be reused. Plastic bottles are safer if you tend to drop things and are worried about damaging bathroom tiles or sink.
Pin for later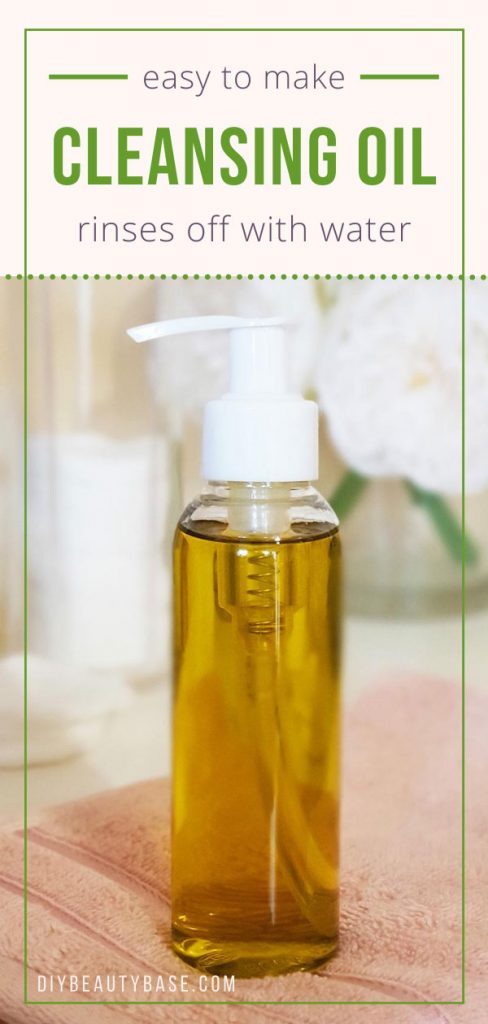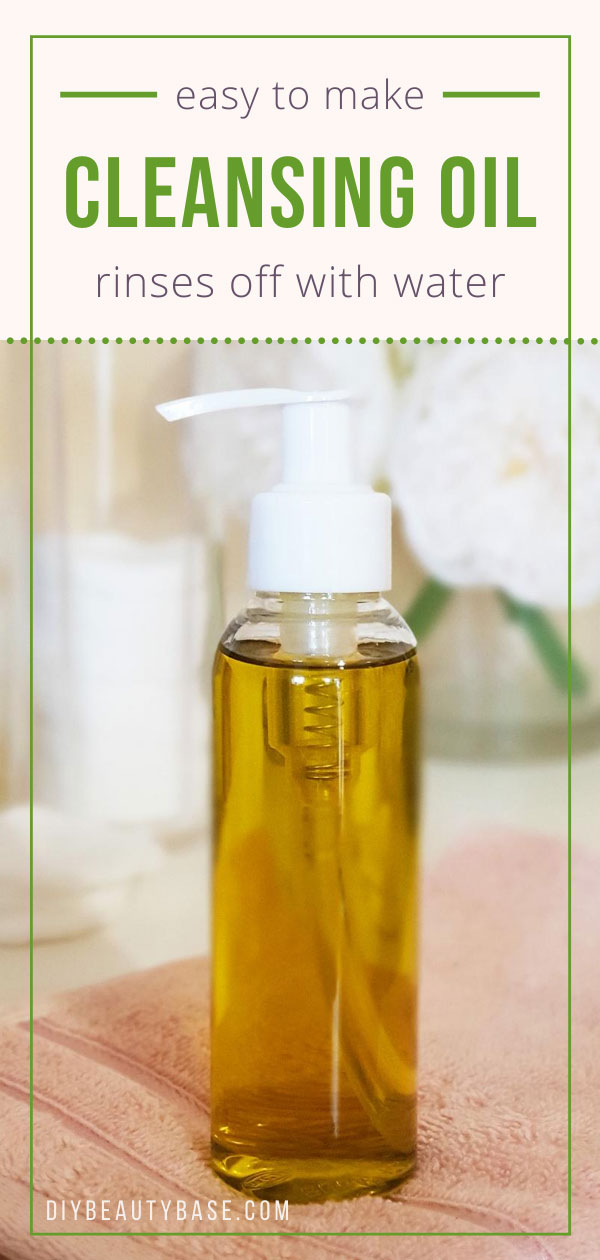 Making cleansing oil
To make the cleansing oil, simply weigh all your ingredients pour them into the bottle and shake until fully mixed.
To make weighing ingredients easier, do this:
Place your bottle on the scale and then turn the scale on. This way the scale will account for the weight of the bottle and still show 0 grams. When you pour your ingredients, it will show only the weight of the ingredients.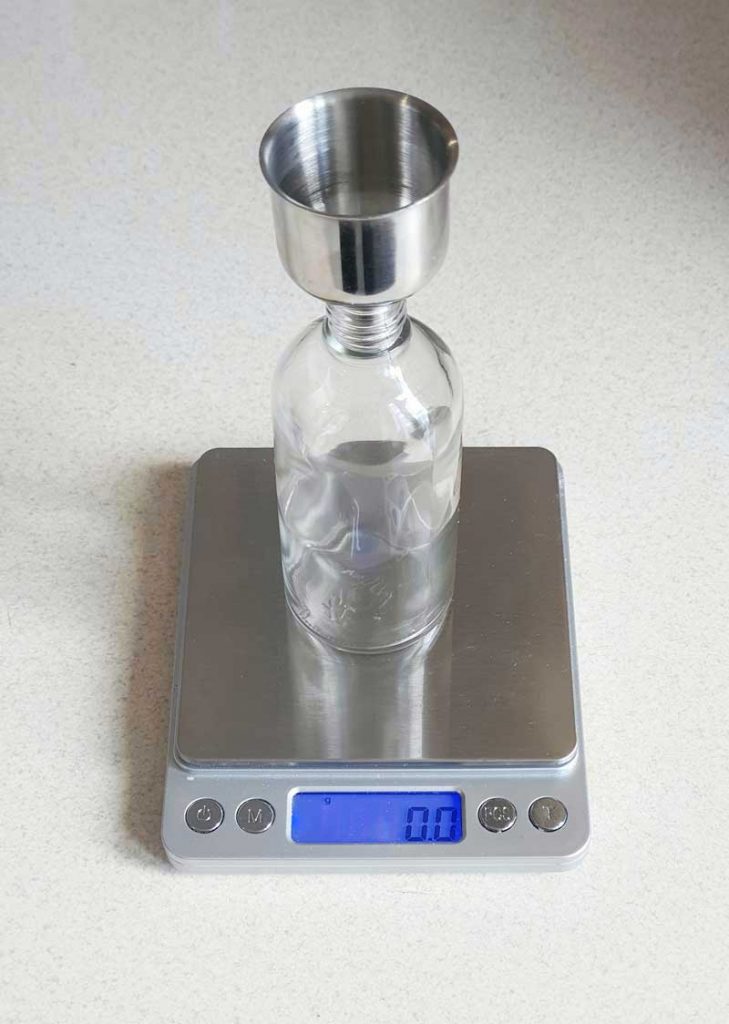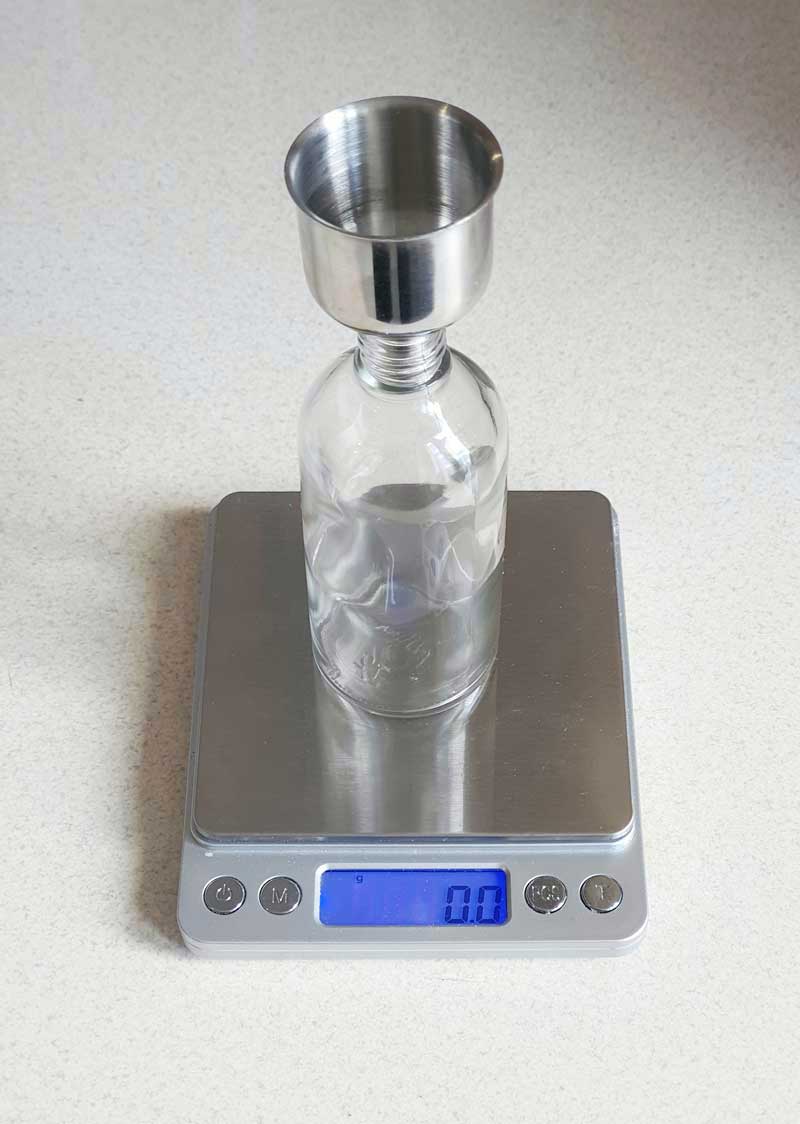 Enjoy and don't forget to share this recipe with your friends 🙂