DIY Bath Bomb "Chocolate Retreat"
This post contains affiliate links. If you click and make a purchase, I may receive a commission. Thanks.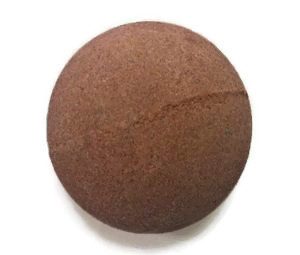 If you haven't tried chocolate smelling bath bomb yet you should definitively make one. It's AMAZING. Cacao smell is a real mood booster and added coconut will leave your skin feeling soft. Real spa experience that is so easy to make… You'll just need:
- 1 cup baking soda - 1/2 citric acid - 2 tbsp cocoa powder - 1 tbsp melted coconut oil - 7 drops cocoa essential oil - 5 drops vanilla essential oil - Brown food coloring or soap colorant (optional) - Witch hazel
The process of making this lovely fizzy is very simple. Just follow my instructions:
1. Take a bowl, add baking soda and citric acid. Mix well.
2. Add cocoa powder and mix well.
3. In a separate bowl combine melted coconut oil and essential oils. Mix well.
4. Combine dry mixture with your oil mix. Add some brown food coloring if you want your bath bomb to be darker. Mix well. Your final mixture should be similar to wet sand. If its too dry and does not stick together, add a little bit of witch hazel or coconut oil and mix again.
5. Stuff your bath bomb mold with prepared mixture and let it air dry 20 minutes or so. Then remove from the mold and air dry for another 24 hours. Enjoy.