Non-greasy DIY Hand Cream That Your Hands Will Love
This post contains affiliate links. If you click and make a purchase, I may receive a commission. Thanks.
Jump to recipe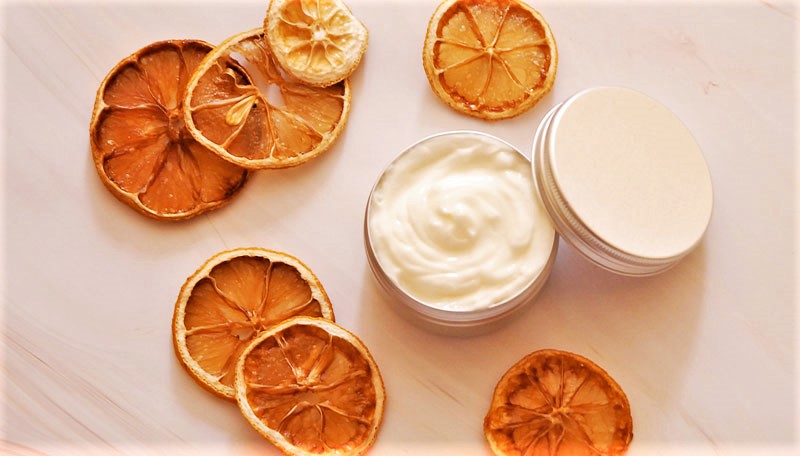 Did you know that hands are one of the first areas to show signs of aging? No wonder. Washing dishes, cleaning the house, soap and harsh weather, all affect our hands.
Our hands deserve a good moisturizing hand cream to keep them healthy and looking youthful. So today, I am sharing a DIY hand cream recipe that your skin will love!
This DIY hand cream has a very nice thick, creamy texture. However, the most important thing is that this DIY hand cream is non-greasy and absorbs fast. So if you tend to avoid using hand cream due to greasiness, you will like this recipe.
I formulated this hand cream recipe to have a thicker texture because I wanted to keep it in a jar. It is very easy to adjust this recipe to make a thinner hand lotion for a bottle with a pump. Just remove cetyl alcohol from the recipe and add more water or oil instead. I have tried this recipe without the cetyl alcohol and liked it very much. It just wasn't the consistency I was going for.
Save for later: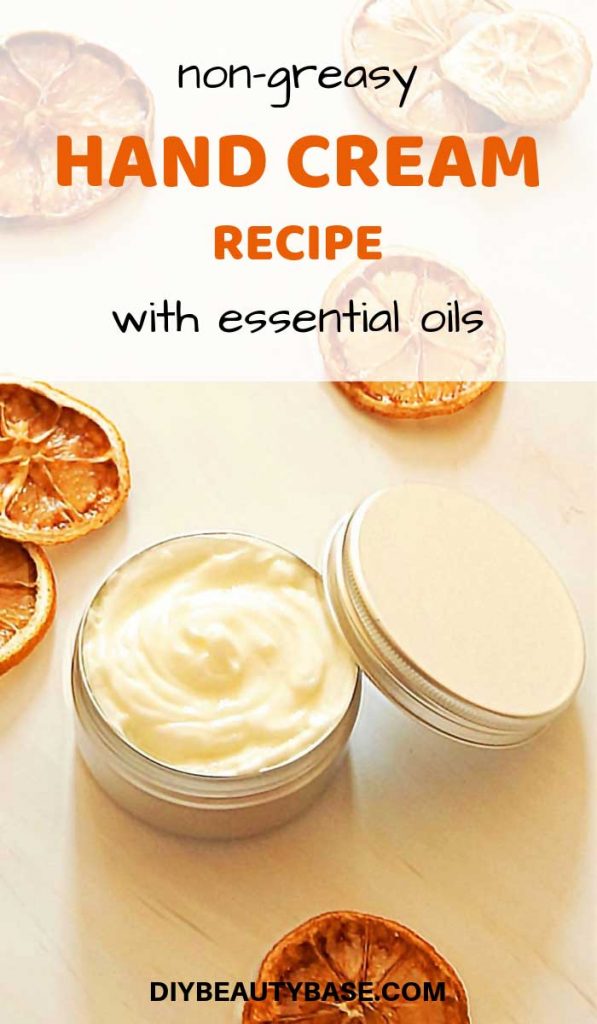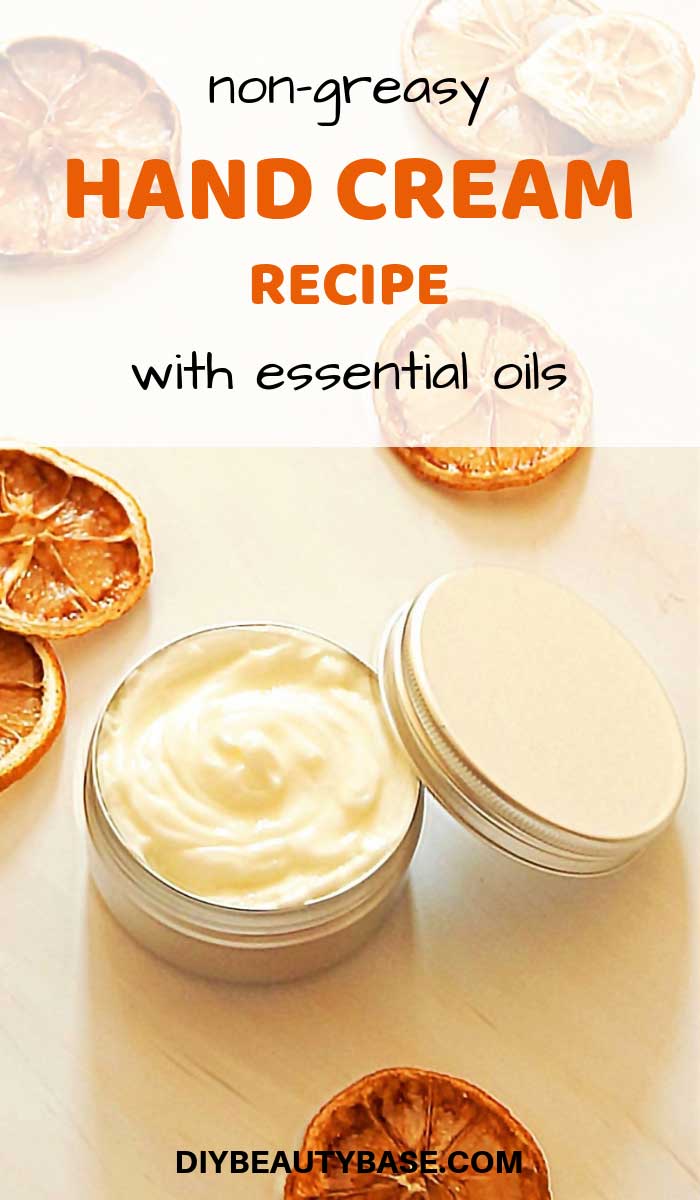 Let's talk DIY hand cream ingredients:
Cocoa butter
Before I even started formulating this hand cream recipe, I knew it will have cocoa butter in it. Cocoa butter is one of the few ingredients approved by FDA as barrier ingredient that provides an occlusive layer on our skin. This means it protects the skin from the harsh environment and from losing moisture better than shea or mango butter. This is a very important quality because we want the hand cream to protect our hands for hours after application.
On top of that, cocoa butter easily absorbs into the skin and offers great moisturizing and cell regenerating effects.
Fractionated coconut oil
For my liquid oil part, I wanted to use something that is lightweight and fast absorbing. Fractionated coconut oil is perfect for that. It is a great lightweight moisturizer, absorbs quickly, does not feel too greasy and leaves skin feeling moisturized. On top of that it is colorless and odorless, so goes well with any formulation.
Emulsifier BTMS-50
BTMS-50 is a conditioning agent and an emulsifier. Its job is to keep water and oils mixed together. Since we are using both water and oils in this hand cream recipe, using an emulsifier is a must.
For this hand cream recipe, I chose to use BTMS-50 because it provides a silky feel to the cream and feels a little bit less greasy than other emulsifiers. You can use Emulsifying Wax NF or Oliviem 1000 instead but BTMS-50 will feel silkier. This is because BTMS-50 is a conditioning emulsifier that is often used in hair conditioner recipes.
Cetyl alcohol
Cetyl alcohol is the "good" alcohol. It is derived from a fats, for example, vegetable oil. It comes in white, unscented pallets. In cosmetic formulations, cetyl alcohol is used as an additional emulsifier, thickener and opacifier. It is also an emollient that prevents drying and chapping of the skin.
So what does it do for our homemade hand cream recipe?
Cetyl alcohol will make our hand cream a lot thicker than it would be without it.
I first made this formula without it and it came out lovely but too runny to be kept in a jar. If you'd like to keep this hand cream in a bottle with a pump, go ahead and skip cetyl alcohol. You will get a runnier (but not too much) texture. If like me, you want to have it in a jar, then 2% of cetyl alcohol will make it perfect for that.
Cetyl alchol not only thickens, but also improves the texture and the feel of the cream. The cream will feel smoother and glide easier on the skin.
D-panthenol (pro-vitamin B5)
D-panthenol is a great hydrating ingredient. Just like glycerin, it attracts water and retains it deep within the skin tissues.
Panthenol is present in all living cells and our skin is able to absorb it very well. When absorbed by the skin, Panthenol is converted to vitamin B5, which is necessary for maintaining healthy skin (as per study).
Vitamin E, essential oils and preservative
Vitamin E helps extend the shelf life of oils and adds anti-aging properties. Our hands age very fast, so every anti-aging ingredient helps.
Essential oils. Feel free to use any essential oil that you like. I used two:
0.7% Pink grapefruit essential oil 
My hand cream came out smelling amazing. I could describe it as refreshing citrus with a hint of sweetness.
Preservative. This DIY hand cream recipe contains water, which makes it hydrating and non-greasy. That also means that a preservative is necessary. Without it, your homemade hand cream will only last a couple of days. Liquid Germall Plus is a good choice for DIY beauty recipes. It is a broad-spectrum and easy-to-use preservative that's effective in small amounts. It has a recommended usage of 0.1–0.5%, but since our kitchens are not very sterile, I would recommend using 0.5%.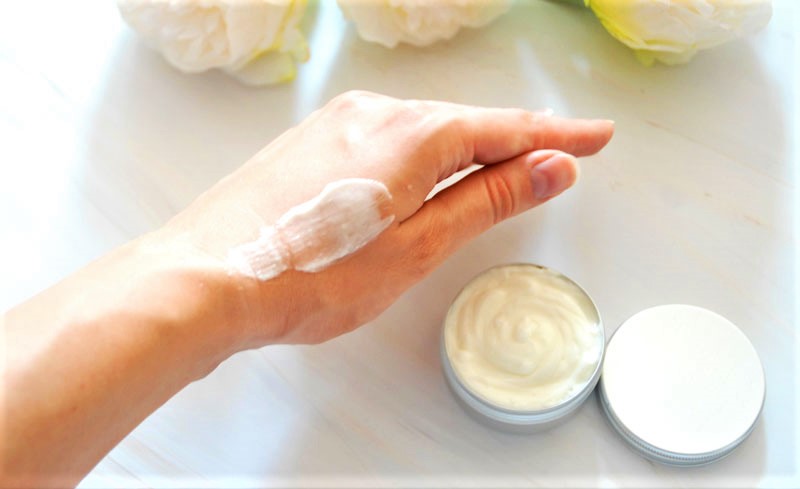 Non-greasy hand cream recipe
The recipe is for 60g of hand cream. I used 50ml/1.7oz container to store my cream. 60g is a bit more than needed for a 1.7oz jar but I always make a little bit more in case I waste some during the process.
You will need some sort of heat-resistant cups to heat up ingredients and a mini scale to measure small amounts.
70.5% | 42.3g Distilled Water + 10% | 4.5g to account for evaporation
10% | 6g Raw Cacao Butter
9% | 5.4g Fractionated Coconut Oil
5% | 3g BMTS-50 (or other emulsifier, for example Emulsifying Wax NF )
2% | 1.2g Cetyl Alcohol
2% | 1.2g D-Panthenol
0.9% | 0.54g Essential Oils
0.5% | 0.3g Paraben-free Wide Spectrum Preservative
0.1% | 0.06g (1 drop) Vitamin E
Non-greasy DIY Hand Cream That Your Hands Will Love

Ingredients
70.5% | 45g Distilled Water + 10% | 4.5g to account for evaporation
10% | 6g Raw Cacao Butter
9% | 5.4g Fractionated Coconut Oil
5% | 3g BTMS-50 (emulsifier)
2% | 1.2g Cetyl Alcohol
2% | 1.2g D-Panthenol
0.9% | 0.54g Essential Oils
0.5% | 0.3g Paraben-free Wide Spectrum Preservative
0.1% | 0.06g (1 drop) Vitamin E
Instructions
Prepare a water bath by filling the pan with water and bringing it to simmer over low heat.
Weigh your cocoa butter, coconut oil, BTMS-50 and cetyl alcohol in a small heat-resistant glass measuring cup. In a second heat-resistant cup weigh the distilled water you will add to the cream. Place both cups in the water bath and leave until all the ingredients have fully melted. BTMS-50 and cetyl alcohol will melt the slowest. Be patient and wait till they melt completely.
Remove both cups from the heat and pour the water into the oil part. Mix with a silicone spatula.
Blend your lotion with an immersion blender to fully incorporate the ingredients. Blend for a minute, then let it cool down for about 10. Repeat the process until your lotion has thickened and the cup is barely warm to the touch.
Measure your D- panthenol, essential oils and preservative, then mix them with the lotion. Mix with the blender for a couple more minutes. Be sure to only add these heat-sensitive ingredients once the hand cream is barely warm to the touch.
Once the lotion has fully cooled down, transfer it to the jar.
© 2023 DIY Beauty Base