The Perfect Bath Salt Recipe All Men Will Love: Manly DIY SPA Gift
This post contains affiliate links. If you click and make a purchase, I may receive a commission. Thanks.
When it comes to self-care, men often get a bad rap for not prioritizing it as much as they should. But the truth is, everyone can benefit from a little pampering every now and then.
So why not give the special man in your life the gift of relaxation with this easy and customizable bath salts recipe?
This bath salts recipe will not only add a touch of luxury to your man's bath routine, but it will also provide health benefits such as relieving muscle soreness.
Plus, with a manly twist on the scent and some black color, these homemade bath salts make the perfect manly DIY spa gift.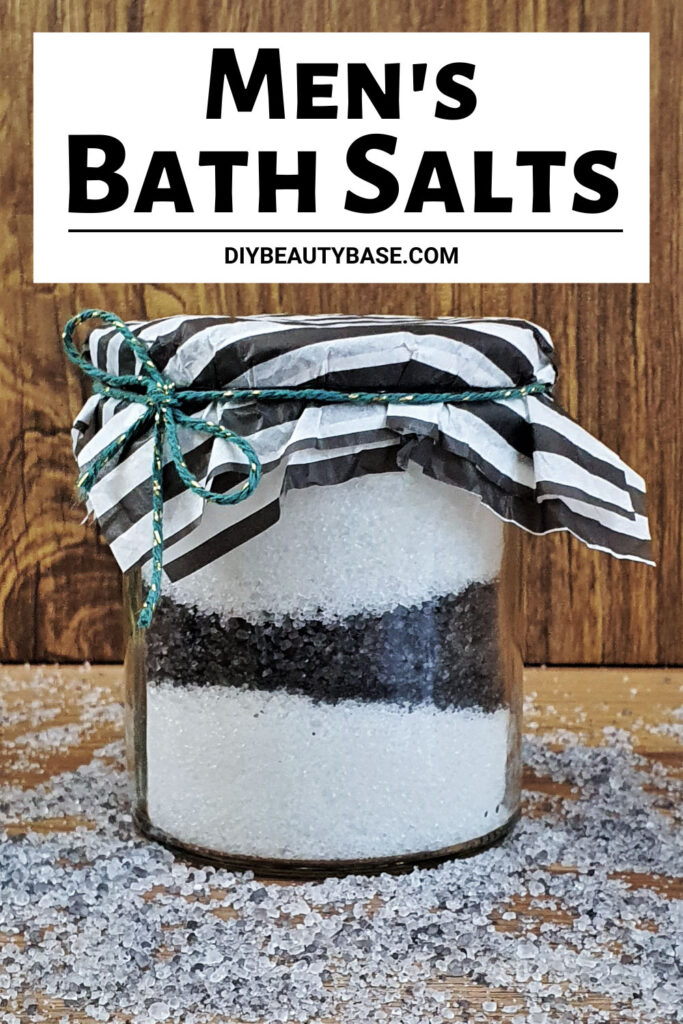 MASCULINE BATH SALTS RECIPE & INGREDIENTS
To make manly bath salts you only need a couple of ingredients:
– 2 cups of Epsom Salt,
– 1/4 tsp. of Charcoal powder (to color bath salts in black),
– 1 tsp of Emulsifier,
– 30 drops of Essential oils or fragrance oil.
Now let me explain what each of the ingredients does.
Epsom Salts
Epsom salts are the best choice for making bath salts because they are high in magnesium.
When we soak in Epsom salt, our skin absorbs the magnesium, which can help relax our muscles and ease soreness from sports or physical activity. This is especially beneficial for men who do sports or lead physically active lives.
Epsom salts also hold on to scents well and don't get too wet, making them easy to store. 
Emulsifier
It's important to use an emulsifier (solubilizer) in your bath salts recipe because it helps the oils mix into the water. Without an emulsifier, the oils will just float on the surface of the water. 
The most widely available, inexpensive and fool-proof emulsifier for essential oils and fragrances is Polysorbate 20. You can also use its stronger version Polysorbate 80 (use half the amount of Polysorbate 20). Both are food grade and can be found in many processed foods we eat. You can find out more about Polysorbate and how it works in this post.
Or if you prefer a fully natural option – Sorbitan Oleate.
Essential oils / Fragrance oils
While these bath salts can be used as is, adding masculine fragrance or an essential oil blend will take your DIY gift to the next level. Different scents can provide aromatherapy benefits such as increased confidence or better relaxation. You can find several essential oil blend ideas below.
FRAGRANCES AND ESSENTIAL OIL BLENDS FOR MEN
There are two ways you can add a masculine scent to your homemade bath salts: by adding fragrance oil or by adding essential oils.
The easiest and by far the cheapest option is to add a fragrance oil. Here are a couple of nice examples:
Sweet Tabaco fragrance oil – this fragrance starts with a sweet note and finishes with a smoky cigar type Tabaco scent.
Teakwood fragrance oil – earthy & masculine smelling, without being too strong. 
Forest Pine fragrance oil – the scent is intensely, unapologetically PINE, with some sweetness and menthol notes. If you close your eyes, you can imagine you are actually in the woods. The scent is pretty strong and may require fewer drops than in the recipe. Adjust to your liking.
Here are some nice essential oil blends for men:
Masculine blend – 2 parts Sandalwood / 1 part Frankincense / 1 part Lavender – think sweet, cozy sandalwood with piney and herbal notes.
Forest blend – 3 parts Pine / 1 parts Black Spruce / 1 parts Cedarwood – smells just like a forest.
Calm Man – 3 parts Lavender / 1 part Sandalwood / 1 part Frankincense  – a relaxing lavender scent with sweet woody notes.
WHAT OTHER INGREDIENTS CAN YOU ADD TO BATH SALTS?
Baking Soda
If you want to make the bath salts more soothing, you can add some baking soda. Baking soda in your bath can help reduce irritation, dryness, and itching on your skin. It can be especially helpful for those with eczema and psoriasis. Even National Eczema Association recommends baking soda baths to relieve eczema itching. 
The reason baking soda works is that it is alkaline and so makes bath water slightly more alkaline too. It also changes how the bath water feels, making it noticeably silkier. 
Add 1/4 cup of baking soda per 1cup of Epsom salts.
Carrier oils
If you want to make these bath salts for men more moisturizing, you can add a carrier oil such as sweet almond oil or jojoba oil to it.
If you decide to add some oils, add 1 tbsp. of oil per 1 cup of Epsom salts. And update the recipe to include an additional 1 tbsp. of emulsifier to handle the additional oils.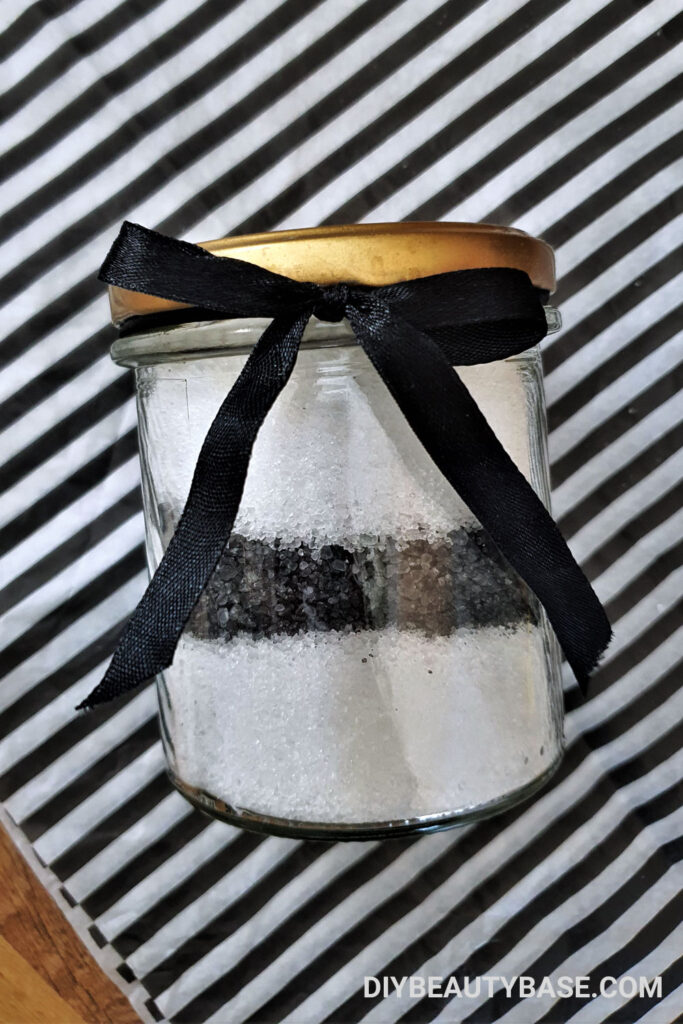 Yield: 2 cups
Bath Salts Recipe For Men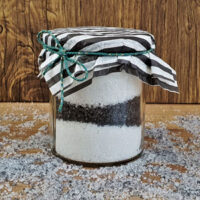 The bath salts recipe is easy to make and is perfect as a gift for the men in your life.
Ingredients
30 drops of Essential oils or Fragrance oil
Instructions
Take 2 bowls. Measure 1.5 cups of Epsom salt and add it to one bowl. Then measure 0.5 cup and add it to the second bowl.
Next, in a small separate container, mix an emulsifier with your choice of essential or fragrance oils. Pour most of this oil mixture into the bowl containing the larger amount of Epsom salt, and add the remaining mixture to the bowl containing the smaller amount.
Mix the contents of both bowls well, using a spoon or your hands (with gloves on).
Then add charcoal powder to the bowl containing the smaller amount of Epsom salt, and mix. I added about 1/3 of teaspoon - double the amount you see in the photo.
Finally, layer the white and black bath salts in a jar of your choice, and you are done.
SHELF LIFE & STORAGE OF HOMEMADE BATH SALTS
The shelf life of your homemade bath salts will be determined by the shortest expiration date of your ingredients. Epsom salts do not have an expiration date, so you only need to check expiry dates of your essential oils and emulsifier.
If unsure of the dates, simply use up your DIY bath salts within 3 months.
Store bath salts in an air-tight container, in a dry place, away from direct sunlight. Moisture can cause the Epsom salts to clump while exposure to sunlight can deteriorate the essential oils.