Self Love Bath Soak Recipe: Pamper Yourself with a Homemade Soak
This post contains affiliate links. If you click and make a purchase, I may receive a commission. Thanks.
In today's fast-paced and stressful world, it is very important to remember to take care of our mind and body. You should take time for yourself, to relax and recharge. And what better way to do that than with a relaxing, luxurious self-love bath soak?
In today's post I will show you how to make a luxurious rose milk bath soak that, I promise, will take your bath time to a new level.
Pamper yourself. You deserve it.
The recipe is easy to make and can be customized to your personal needs and preferences.
But first, let's talk about the benefits of a self-love bath soak.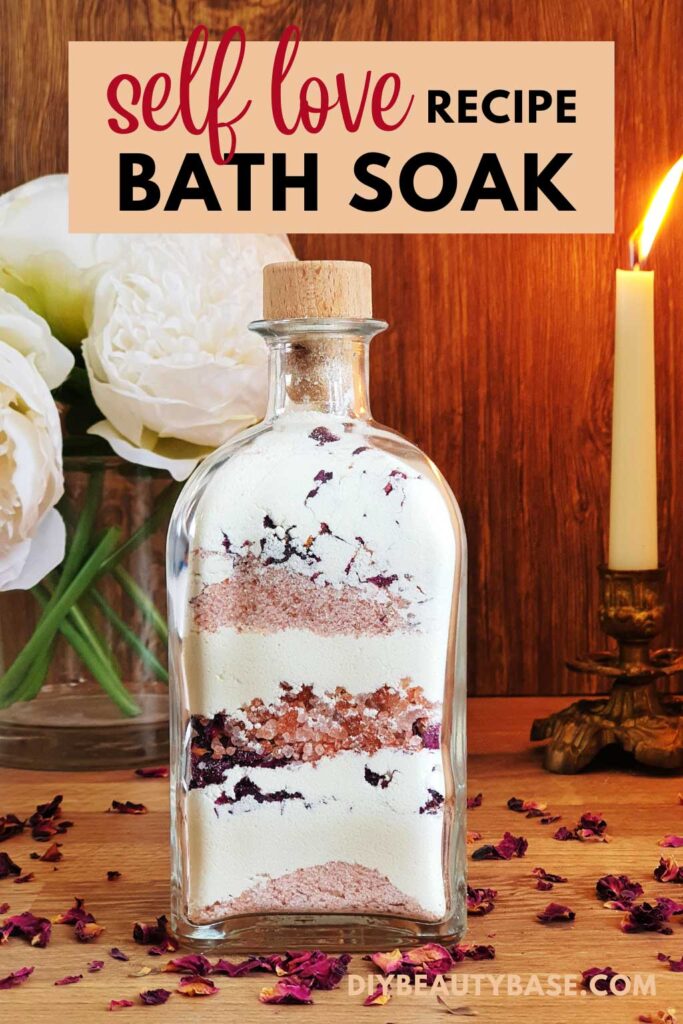 BENEFITS OF A SELF-LOVE BATH SOAK
Soaking in a warm bath with a homemade soak can have many benefits:
Relaxation of muscle – The warmth of the water can help reduce the pressure on the muscles, relaxing them, reducing tension and soreness.
Improved circulation – Soaking in a warm bath can give your circulation a boost. The heat of the water helps widen your blood vessels, which lets more blood flow through your body. More blood flow means more oxygen and nutrients get delivered to your cells and tissues, and waste products get carried away. A better circulation can lead to better muscle function and healthier skin.
Nourished skin – This self-love bath salts recipe includes milk powder, which is super beneficial for your skin. Whether you go for goat's milk powder, buttermilk, or vegan coconut milk powder, you'll be getting a healthy dose of saturated fats. These fats help moisturize our skin and protect it from aging, so you can feel pampered and nourished at the same time.
Improved mood and relaxation – soaking in a warm bath is known to have a very relaxing effect on one's mind. It calms us down, reduces stress and anxiety and can even help to improve sleep. This is especially true when a bath soak includes essential oils for additional aromatherapy benefits. I picked up some amazing aromatherapy blends for you that you can find further down in the post.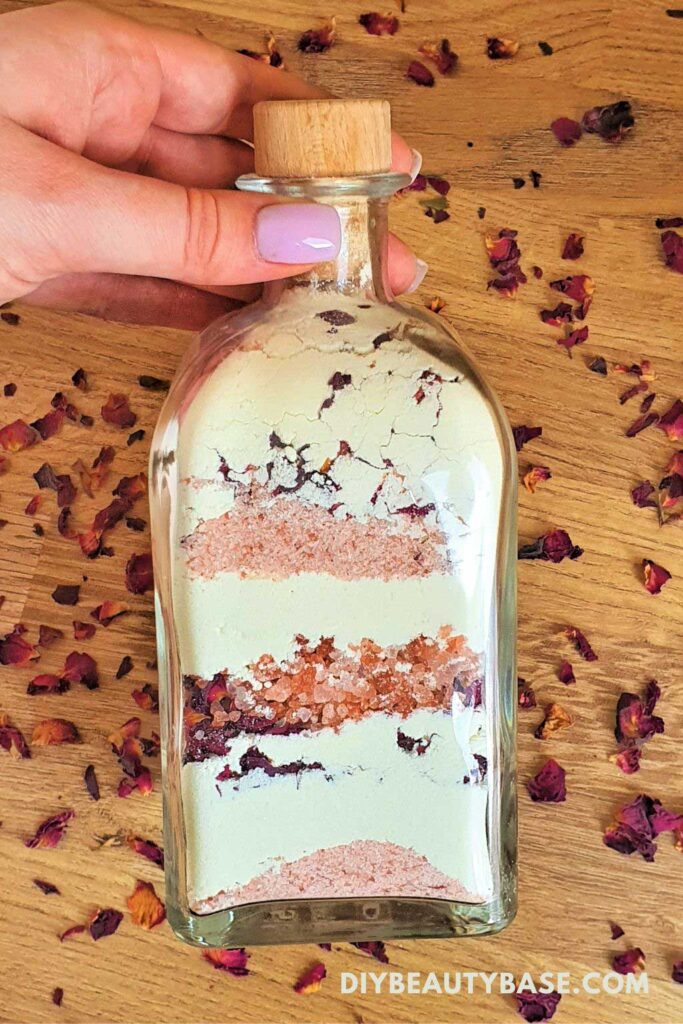 SELF LOVE BATH SOAK RECIPE
Ingredients:
– 1 cup of Milk powder (I used this but there are other substitutes discussed in this post);
– 1/2 cup of baking soda;
– 1/4 cup of cornstarch;
– 1/2 cup of Pink Himalayan salts (coarse grain);
– 1/2 cup of Pink Himalayan salts (fine grain) – alternatively, you can also grind coarse salt in a coffee grinder to make it fine;
– 1 tsp. of an Emulsifier;
– 40 drops of Essential oils;
– 1/2 cup of Dried rose petals;
Supplies:
– A jar or a bottle to store homemade bath soak;
– A large bowl;
– A small bowl/container to mix essential oils in;
Additional things you may want to include in your self-love bath ritual:
– Candles;
– Music;
– A face mask;
– A book;
– Your favorite moisturize for after bath pampering.
Let me talk in more details about each ingredient, its purpose and substitutes.
MILK POWDER
Milk powder is the main ingredient of this self-care bath soak recipe because it provides ample nourishment to our skin. Based on your preference, you can use goat's milk powder, buttermilk powder or a vegan option – coconut milk powder. All these options are packed with saturated fats that moisturize our skin and protect it from aging. Milk baths are especially beneficial for those with dry skin.
On top of that, milk powders dissolve in warm water very well and make your bath water beautiful milky white.
You will feel like a real Cleopatra (or Cezar!) soaking in a milk bath.
Despite all milk powders being beneficial to our skin, there are some differences:
Goat's milk powder
Goat's milk powder – is a natural emollient that helps soothe and moisturize the skin. It's packed with nutrients like lactic acid and vitamins A and D. Lactic acid helps to gently exfoliate and soften dead skin cells on your skin. I enjoy soaking in goat's milk and then using loofah to help remove dead skin cells fully. My skin feels smooth and supple afterwards.
Just a heads up, goat's milk has a bit of a distinct smell. You can add essential oils to mask the odor, but if you're sensitive to scents, it might not be for you.
Cow's milk powder
Cow's milk powder – this is the most popular choice for milk baths because it's easy to find, affordable, and most people already have it in their kitchen. It has the same benefits as goat's milk powder. Full-fat or whole milk will be the best for your skin.
Buttermilk powder
Buttermilk powder – has many of the same beneficial qualities as goat's milk, but with a bonus: it contains higher levels of lactic acid. This means that it can provide better exfoliation for your skin.
Another plus is that buttermilk powder has a much nicer scent. It's mild and has a natural sweetness to it, plus it's easy to mask with essential oils.
Coconut milk powder
Coconut milk powder – this is a great vegan option. Just like other milk powders it is full of saturated fats that soften and moisturize the skin. It's also packed with nutrients like potassium, folate, and vitamins C, E, and B. It has a sweet coconut aroma.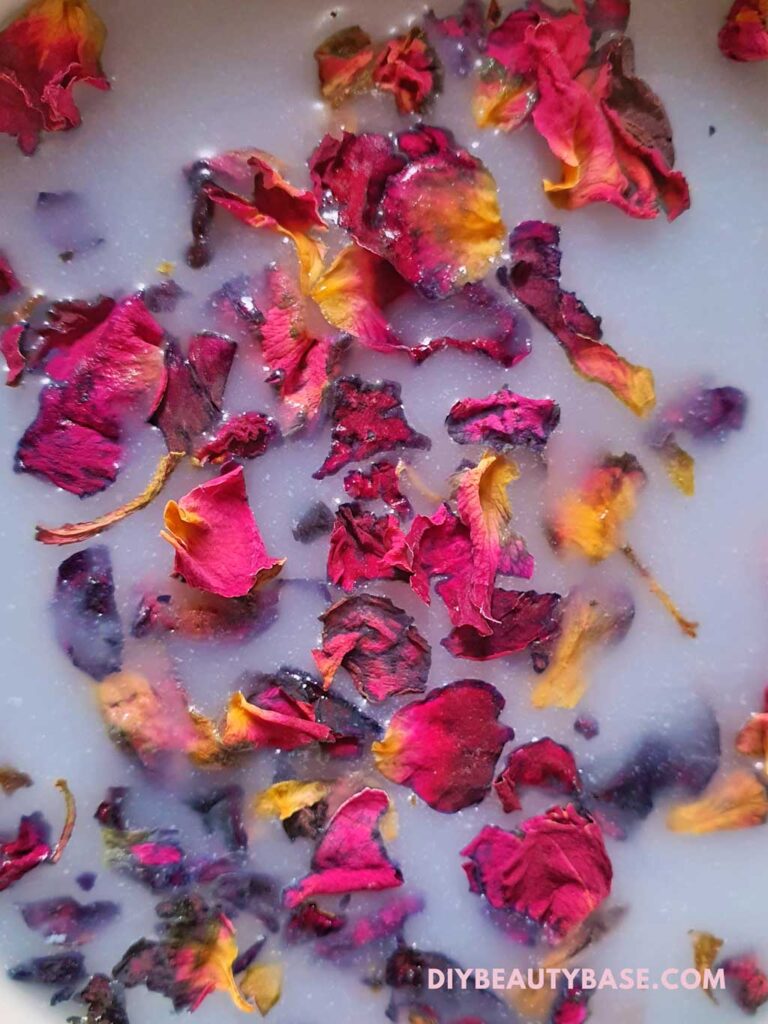 PINK HIMALAYAN SALT
Himalayan salt is pretty famous for its pretty pink color (thanks to all the iron it has naturally). It's also packed with all sorts of minerals that your body needs, like magnesium, phosphorus, calcium, and more.
Himalayan salt can help keep your skin hydrated and soft. When you soak in it, the salt gets stored in the top layer of your skin and plumps it up, creating a natural protective barrier to keep dryness away.
Can I use Epsom Salts or Dead Sea Salts in self-love bath soak?
Yes, you can modify ingredients to match your needs. Different salts do indeed provide different properties. I compare Himalayan, Epsom and Dead Sea salts at the beginning of this post that teaches you how to make bath salts yourself.
BAKING SODA
This recipe includes baking soda for its skin soothing properties. Soaking in a warm bath with baking soda can help reduce irritation, dryness, and itching on your skin. It can be especially helpful for those with eczema and psoriasis. Even National Eczema Association recommends baking soda baths to relieve eczema itching.
The reason baking soda works is that it is alkaline and so makes bath water slightly more alkaline too. It also changes how the bath water feels, making it noticeably silkier.
CORNSTARCH
Cornstarch is another beneficial ingredient to add to the bath, because it can help soothe and moisturize dry, irritated skin. When added to a bath, it forms a milky, silky solution that can help to soften and smooth the skin.
Additionally, it can help ease itching and inflammation caused by conditions such as eczema and psoriasis. It is also said to help with minor skin irritations such as sunburns, rashes, and insect bites.
ROSE PETALS
I am using dried rose petals for their aesthetic appeal – the delicate, fragrant petals add a romantic and luxurious touch to the bath. Rose symbolizes beauty, love and femininity but in a strong, powerful way (it has its thorns). That is how I want to feel when I soak in the bath – in my feminine energy but strong and independent.
And let me tell you, Rose petals in a milk bath is a vibe! Nothing says self love more than this.
There are many other beautiful dried flowers that you can use for this recipe. I covered all the different options of flowers that can be added to the bath in this post.
A tip from my personal experience: lavender buds are not the best choice for bath salts. They look like small bugs floating in bath water.
EMULSIFIER
Because you will use essential oils in this soak recipe, you also need to use an emulsifier. Emulsifier helps the oils mix into the water. Without an emulsifier, the oils will just float on the surface of the water. Floating droplets of essential oils are neither safe for your skin nor aesthetically pleasing, so you definitely want to use one.
The most popular, inexpensive and fool-proof emulsifier for essential oils and fragrances is Polysorbate 20. You can also use its stronger version Polysorbate 80 (use half the amount of Polysorbate 20). Both are food grade and can be found in many processed foods we eat. You can find out more about Polysorbate and how it works in this post. If you prefer to pay a little bit more but get a fully natural option, I recommend – Sorbitan Oleate.
CAN I ADD A CARRIER OIL?
If you want to make this rose milk bath soak even more moisturizing, you can add a carrier oil such as coconut oil or jojoba oil to it. However, it is not necessary because the lipids in the milk powder will be moisturizing on their own.
If you decide to add some oils, add 1 tbsp of oil per 1 cup of milk powder. And update the recipe to include an additional 1 tbsp of emulsifier to be able to handle the additional oils.
ESSENTIAL OILS FOR SELF LOVE BATH
Here are some really nice essential oil blends for self love bath together with affirmations. You will need approximately 40 drops of essential oils per 1 cup of dry ingredients (milk powder, constarch, baking soda). This means you will need to quadruple each of the below essential oil blend recipes.
You can also replace essential oils with fragrance oils such as this.
"I am beautiful"
4 drops of Geranium – to accept and love your body,
3 drops of Lavender – to find inner peace,
2 drops of Rose – to promote femininity and intuition;
"My life is a blessing"
3 drops of Ylang Ylang – to elevate mood and radiate happiness,
2 drops of Sandalwood – to clear all the negative thoughts,
2 drops of Bergamot – to encourage self acceptance;
"I am enough"
4 drops of Lavender – to find inner peace,
3 drops of Sweet Orange – to promote self-confidence,
3 drops of Frankincense – to connect the heart and mind;
"I love myself unconditionally"
3 drops of Lavender – to promote inner peace,
3 drops of Sweet Orange – to promote self-confidence,
2 drops of Geranium – to accept and love your body,
2 drops of Clary Sage – to see yourself more clearly;
"I believe in myself"
5 drops of Sandalwood – to clear all the negative thoughts,
3 drops of Ylang Ylang – to elevate mood and radiate happiness,
2 drops of Bergamot – to encourage self acceptance,
1 drops of Vetiver – to clean the mind from doubt;
"I am worthy"
4 drops of Rose – to promote femininity and intuition,
3 drops of Sweet Orange – to promote self-confidence,
3 drops of Bergamot – to encourage self acceptance.
Pin for later: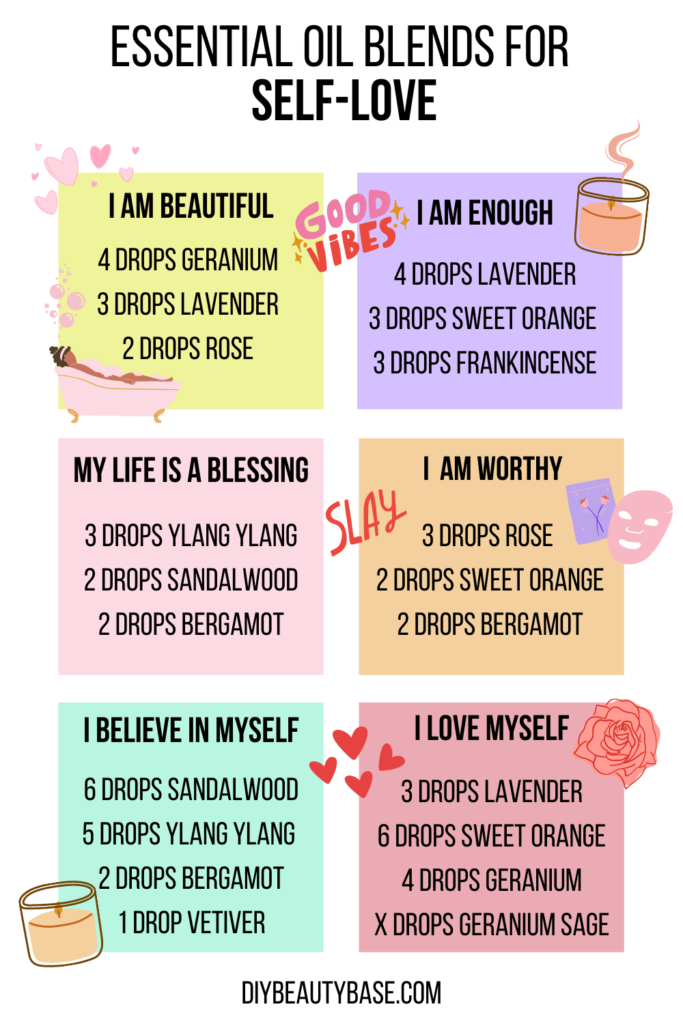 Yield: 2 cups
Rose Milk Bath Soak Recipe For Self-Love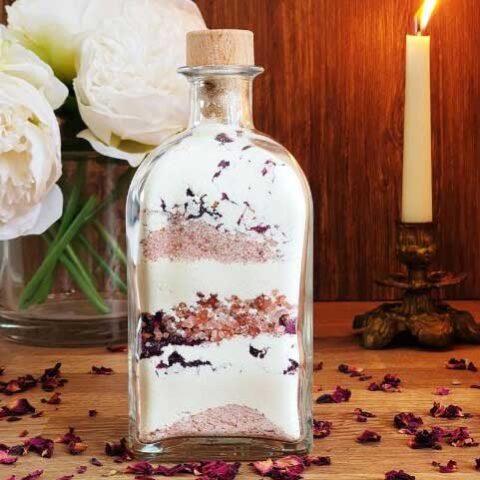 Luxurious yet easy to make bath soak with milk, Himalayan salt, rose petals and sensual essential oils for ultimate self love spa experience.
Instructions
Start by mixing together milk powder, baking soda, and cornstarch in a large bowl.
Next, in a small container, combine essential oils and an emulsifier.
Then, add the oil mixture to the bath soak and mix everything together using your hands (with gloves) for at least 2 minutes to ensure the oils are evenly distributed. To simplify the recipe, we will only add essential oils to powder ingredients and not Himalayan salts.
Lastly, you can either combine scented milk bath soak with Himalayan salts and rose petals, or layer them in your jar for a visually pleasing presentation.
HOW TO USE SELF LOVE BATH SOAK?
For the most relaxing experience prepare your bathroom in advance by cleaning it and making sure it is clutter free. If you like, light some candles or put some music on. You can also prepare yourself a face mask or a book to read while you soak.
Fill your bathtub with warm water and add the desired amount of your homemade bath soak – preferably into the running water – to dissolve milk powder. You can use about 1/2 to 1 cup of the soak for a standard size bathtub, but you can adjust the amount based on your preference.
As you're running your bath, be sure to take a few deep breaths to focus on the present moment. When you step into the tub, allow yourself to let go of any stress or tension and simply enjoy the relaxing experience. Let the warmth of the water and the aroma of the essential oils surround you, and take some time to reflect on the things you love about yourself. Remember that this time is dedicated to self-care and self-love, so be kind and gentle with yourself as you soak.
Once you've finished your bath, gently pat your skin dry and apply your favorite moisturizer or body oil.
HOW TO STORE YOUR HOMEMADE MILK BATH SOAK
To extend the shelf life of your homemade bath soak, be sure to keep it in an air-tight container, stored in a dry area away from direct sunlight. Moisture can cause the Himalayan salts (or any other type of salts) to dissolve while exposure to sunlight can deteriorate the essential oils used.
WHAT IS THE SHELF LIFE OF THIS RECIPE?
The shelf life of your homemade rose milk bath soak will be determined by the shortest expiration date of your ingredients. Himalayan salts do not have an expiration date, so you only need to check your milk powder, essential oils and emulsifier.
If unsure of the dates, simply use up your DIY bath soak within 3 months.