How To Make Bath Salts [Full Guide+Recipe]
This post contains affiliate links. If you click and make a purchase, I may receive a commission. Thanks.
Wondering how to make bath salts? You came to the right place.
I've been making bath salts for myself and others for at least 3 years now. I've learnt a lot on the way and I'd like to share it with you.
This is a complete guide to help you learn how to make bath salts. Once you finish reading this one post, you will know all you need to make homemade bath salts. You will be able to make your own unique recipes or follow one of my DIY bath salts recipes with ease.
In this guide you'll learn:
– What salts can be used to make bath salts.
– How to add scent to homemade bath salts.
– What other ingredients can be added to bath salts.
– Step-by-step tutorial on how to make bath salts (with pictures).
– Packaging your homemade bath salts.
– Common questions about bath salts.
Let's dive right in.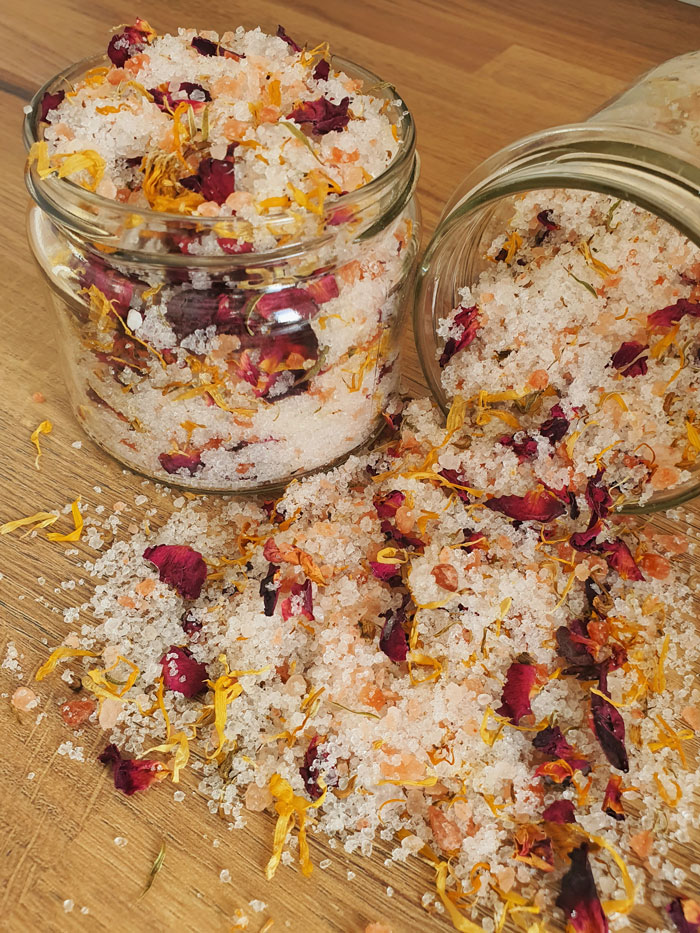 WHAT SALTS CAN BE USED TO MAKE BATH SALTS
As the name suggests the main ingredient in bath salts are salts. There is a variety of salts that you can choose from. You can choose one type or combine a couple of different salts.
Before we dive into the 3 main salts, I want to answer a common question by saying that a table salt cannot be used to make bath salts. It has a very different composition to the salts described below in the post and would irritate and dry out your skin.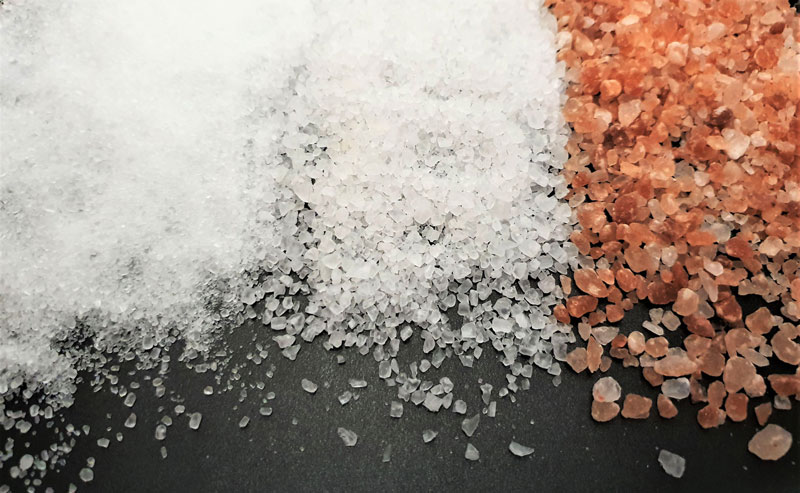 Epsom salts
You might be surprised to hear but Epsom salts are not in fact salts. They are a crystalized mixture of high levels of magnesium and sulfate. Epsom salts don't contain sodium chloride, which is the active ingredient in salt.
Epsom salts are the most popular option for making bath salts. The main benefit of using Epsom salts comes from its high content of magnesium. Magnesium can be absorbed into bloodstream through skin, which is why soaking in Epsom salt is so effective.
Because of the high magnesium content, Epsom salts have a key function in soothing sore muscles and aiding recovery from sporting injuries, swollen joints, and aches and pains.
Epsom salts are the easiest to work with. They hold scent well and don't attract water as much as Dead Sea salt does, so are easier to store.
You can get Epsom salts here.
Dead Sea salts
Dead Sea salt, on the other hand, is a legitimate sea salt. There are certain properties that come with being salt, such as, being anti-microbial, anti-fungal, and anti-bacterial. On top of that, Dead Sea salt contains a rich mixture of other nutrients such as magnesium, calcium, sulfur, bromide, iodine, sodium, zinc and potassium.
Dead Sea salt provides lower levels of magnesium and is mainly used for skin's health. The minerals in Dead Sea salt soften and soothes dry, itchy skin. Dead Sea salt soaks a recommended for those with eczema, acne & psoriasis as they detoxify the skin and support natural skin healing.
Dead Sea salts are hygroscopic, meaning they draw water from the atmosphere. This makes them more difficult to store since they tend to clump up. When storing plain Dead Sea salts, make sure the container is sealed tight and consider throwing in a silica package.
Sea salt is available as fine grain or as coarse salts.
Himalayan salts
Himalayan Salt is famous for its pink (salmon) color, caused by the high levels of iron found naturally in the salt. It is also known for containing all 84 minerals needed by the body, such as magnesium, phosphorus, calcium, potassium and chloride, as well as traces of boron, fluoride, iodine, zinc, selenium and copper.
Himalayan Salt is a powerful detoxifier, that helps extract the toxins from your skin and tissues.
It also promotes better skin hydration, leaving it softer and smoother. The salt gets stored in the upper layer of the skin, plumping it up and creating a natural protective film preventing it from dryness.
Pink Himalayan salts are available in fine grain or coarse grain.
HOW TO ADD SCENT TO HOMEMADE BATH SALTS
For the best bath experience you may want to add a scent to your homemade soak. When scenting your DIY bath salts, you have two options: essential oils and/or fragrance. Yes, you can combine the two. LUSH does it.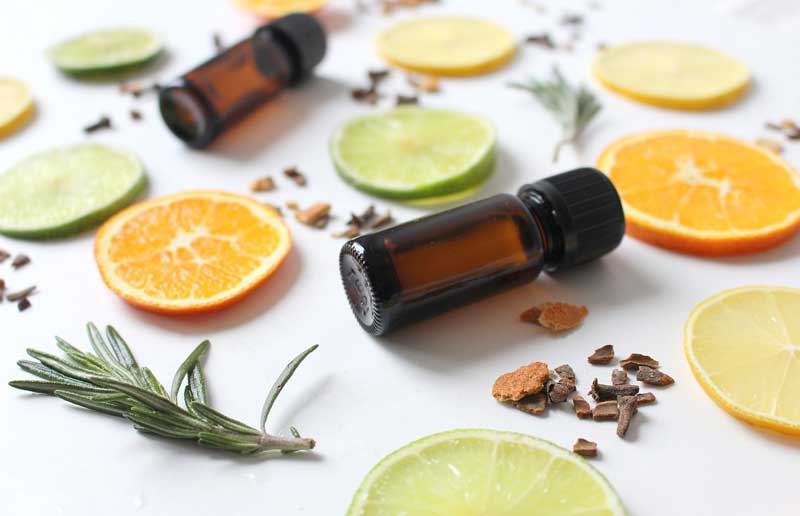 Essential oils in bath salts
Essential oils are the most popular choice for scenting bath salts. Using essential oils in your bath salts opens a door to a wonderful aromatherapy world. People usually use bath salt soaks to relax, so adding a relaxing essential oil aromatherapy blend adds a benefit of relaxing the mind as well as the body.
Aromatherapy is thought to work by stimulating smell receptors in the nose which then send messages through the nervous system to the limbic system — the part of the brain that controls emotions. 
I have some nice aromatherapy blends to share with you, but first let's see how to use essential oils in bath safely.
How much essential oils should you add to bath salts?
There is no defined limit on how much essential oils should be added to bath salts but I recommend to not add more than 3% of your total formula. I like to add 10-15 drops of essential oils per 1 cup of salts.
There is one VERY IMPORATNT RULE that you absolutely must follow if you want to add essential oils to your bath salts safely. You must dilute essential oils before adding.
Essential oils are not water soluble, so they don't disperse in bath water. Instead, they float on top of it, waiting patiently for your tender flesh to enter the water. Undiluted essential oil can irritate and even burn the skin.
This unpleasant experience can be easily avoided by simply diluting essential oils before adding them to the bath salts OR by adding a solubiliser that disperses essential oils in water.
How to dilute essential oils?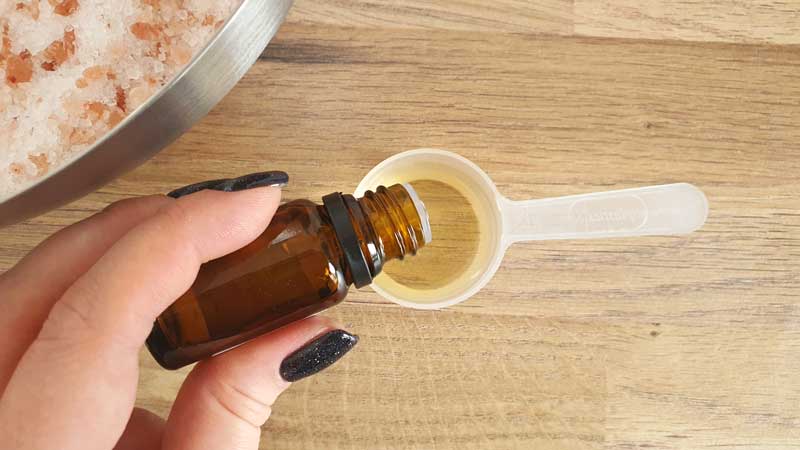 The easiest and the most popular way to dilute essential oils is to dilute them in a carrier oil. The Tisserand Institute, the expert in using essential oils safely, recommends mixing 5–20 drops (1–4% dilution) of essential oil into 1 tablespoon of a carrier oil like apricot kernel, grapeseed, jojoba, or sweet almond. 
I like to use fractionated coconut oil in my homemade bath salts. It is colorless, has no scent on its own, non-greasy and has a light, silky feel. 
Something to keep in mind when adding vegetable oils to your bath salts is that just like essential oils, they do not disperse in water. This means that you may see droplets of oil floating on top of your bath water. The difference is that these oil droplets contain diluted essential oils and are totally safe. You can even rub it on your skin. 
If you want your essential oils to fully emulsify with water, consider using a solubiliser.
(If for any reason you don't want to use a solubiliser, I suggest experimenting with Fractionated Coconut oil. In my experience, it gives the best results without using solubiliser)
What solubiliser to use for bath salts?
Solubiliser (dispersing agent) is an ingredient that is used to disperse oils into water or water-based products. If you use a solubiliser, you no longer need to dilute your essential oils with a carrier oil (unless you want to) since it will do an excellent job at solubilizing essential oils in water. 
There are quite a few options when it comes to solubilising essential oils and/or carrier oils in water. I am preparing a more in-depth post about the options available (including natural alternatives) and will link to it here once ready (post in progress).
In this post, however, I would like to cover 2 most widely available, inexpensive and fool-proof solubilisers – Polysorbate 20 and Polysorbate 80.
Both are food grade and can be found in many processed foods we eat. 
Polysorbate 20 does an excellent job at solubilizing essential oils in water. The usage ratio is 1:1 (Polysorbate 20 to essential oils). Polysorbate 20 can solubilize essential oils in water but will struggle to emulsify vegetable oils.
If you want to add vegetable oils to your salts and want them to be fully emulsified with water, consider using Polysorbate 80. It is a slightly stronger version of Polysorbate 20. I use it in my bath bombs. The ratio for Polysorbate 80 is 1:2 (1 part Polysorbate 80 to 2 parts carrier oil).
I would also like to add that despite a popular belief the following things are not suitable to dilute/disperse essential oils:
– Milk
– Epsom salt
– Baking soda
– Glycerin
– Aloe gel
Don't use these oils in a bath
Even though you just learnt how to dilute essential oils, there are some oils that don't belong in the tub. Avoid essential oils that can irritate the skin or mucous membranes. This includes cinnamon, clove, black pepper, basil, oregano, thyme, nutmeg, and bay.
Mix up the perfect blend
There are a lot of essential oil blends you can use in your DIY bath salts. Essential oils make bath salts fun, but the huge variety of choices can be intimidating when you start.
Choose your essential oils based on your goal. Are you stressed? Cannot sleep? Sore from a workout? Want something sweet and feminine for your pamper evening?
I have picked some favorite blends of mine to help you started:
Pin for later: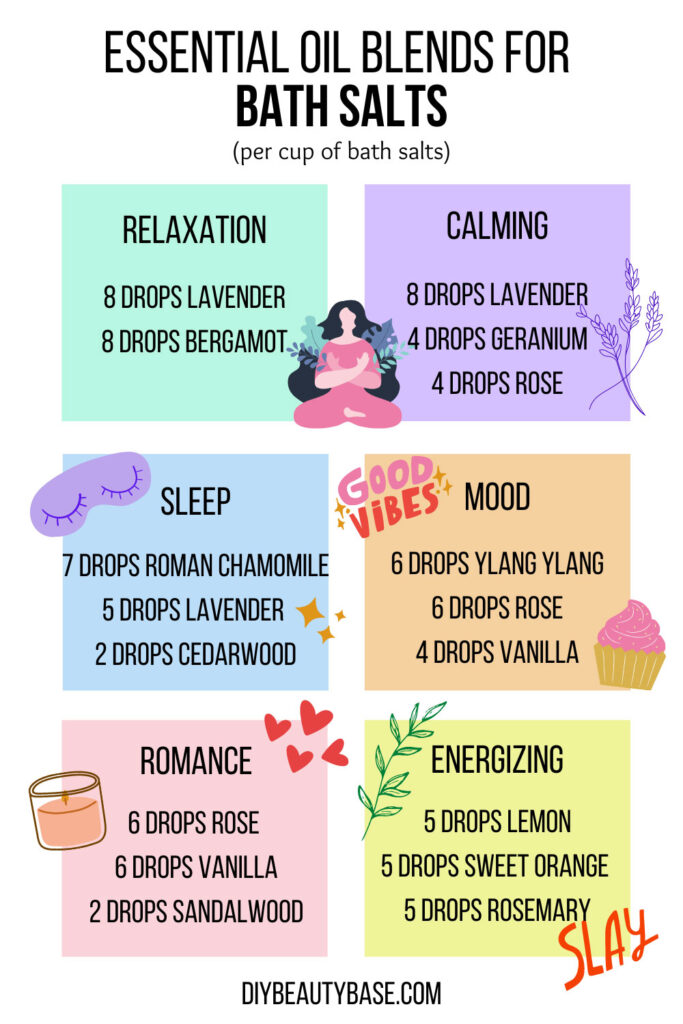 You can also search for blends online based on the essential oils you already own. If you are new to essential oils, you may be interested in getting an essential oil set. It is usually less expensive this way and allows you to experiment with a variety of scents.
Safe essential oil options to go for beginners are: Lavender, Sweet orange, Pink grapefruit, Rose. These scents are very universal, included in many blends and smell good for most people.
Alternatively, you can get a ready blend based on the aromatherapy purpose. For example, to help you destress and sleep better you could use one of these blends: Sleep Tight blend, Relax blend, Worry Free blend.
Fragrance oils in bath salts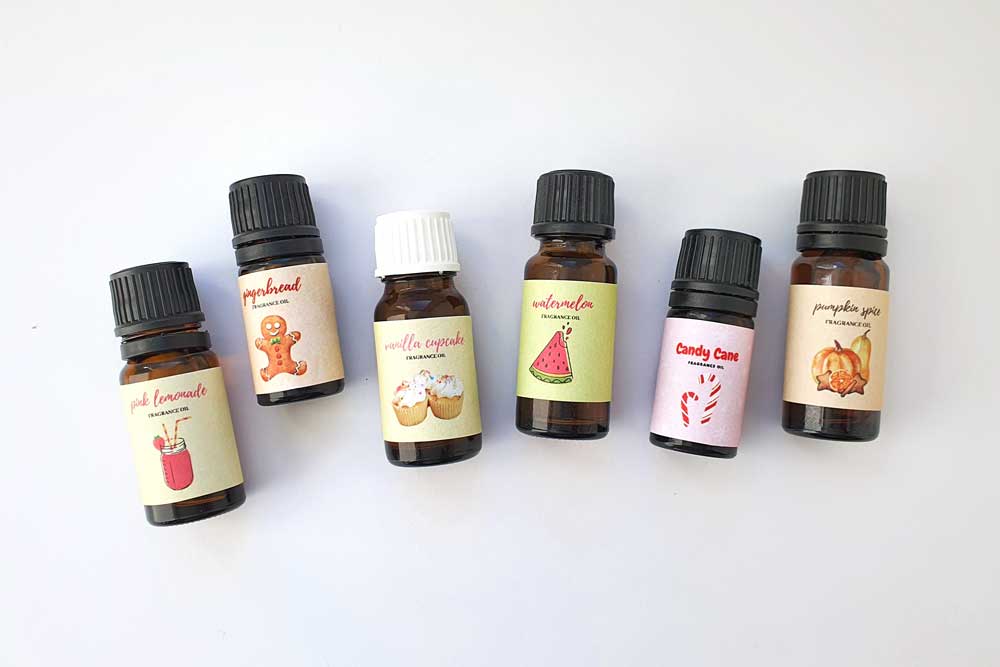 Essential oils are a more popular choice when it comes to bath salts and aromatherapy. However, fragrance oils can also bring mood related benefits.
Did you know that sweet scents (natural or not) improve mood?
Fun fact: The Sloan-Kettering Cancer Center in New York has used vanilla aromatherapy during patient MRI scans for nearly 30 years based on their study that showed that vanilla scent calms feelings of anxiety and claustrophobia.
The biggest advantages of using fragrance oils in your bath salts are:
1. A wide range of fun scents that would be difficult to recreate with essential oils. Examples of some fun scents: Snickerdoodle, Blueberry, Cupcake, Cucumber Melon.
2. The price. Fragrance oils are usually 2-3 times cheaper than essential oils. 
Usage: Fragrance Oils can be used at around 2–5% in bath salts. 
Tip: One thing to look for when selecting a fragrance oil is whether it contains Vanillin. Vanillin is a substance that is used to create sweet, vanilla-like fragrances and can cause browning. If you decide to use fragrance oil that contains Vanillin, make sure you use darker colorants to hide the browning.
If you want to make light colored bath salts and use a fragrance with Vanillin, consider purchasing Vanilla stabilizer. This is what professional bath salt makers use to avoid browning. 
WHAT OTHER INGREDIENTS CAN BE ADDED TO BATH SALTS?
Baking soda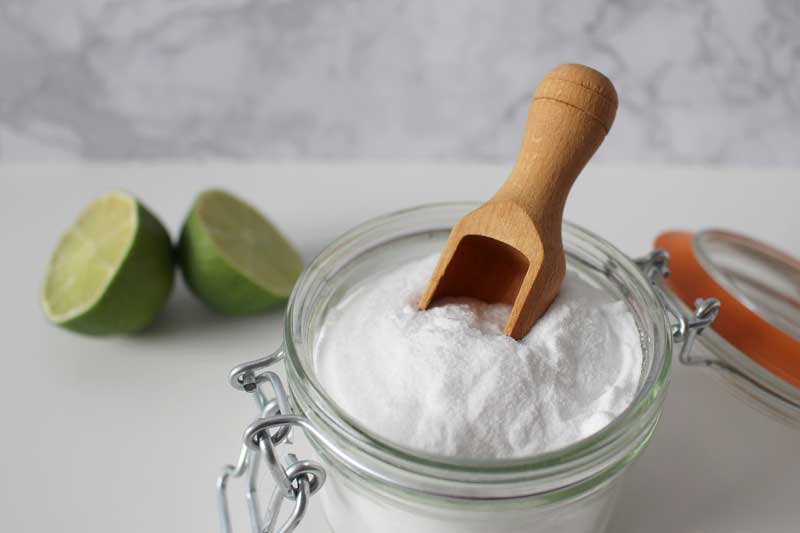 When searching for DIY bath salts recipes online you will find that many include baking soda in the recipe.
What does baking soda do for bath salts?
Baking soda is added to bath salts for its soothing properties. Baking soda bath can help with skin irritation, scaly skin and itching. It can be a big relief for those with eczema and psoriasis. Even National Eczema Association recommends baking soda baths to relieve eczema itching. 
The reason baking soda works is because it is alkaline and so makes bath water slightly more alkaline too. It also changes how the bath water feels, making it noticeably silkier. 
Do you need baking soda in bath salts?
No. It is an optional ingredient that you may or may not add. When deciding about adding baking soda, consider not only the benefits but the final look of your bath salts. If you want a clean, crystal-like looking bath salts – skip the baking soda. If you add baking soda, your bath salts mix will look more like a bath soak.
Another benefit of baking soda is that it is very good at removing bad odor. It is a must ingredient in my foot soaks. Check my very popular recipe with Epsom Salts and baking soda – Tea Tree Oil Foot Soak Recipe For Healthy Feet.
Dried flowers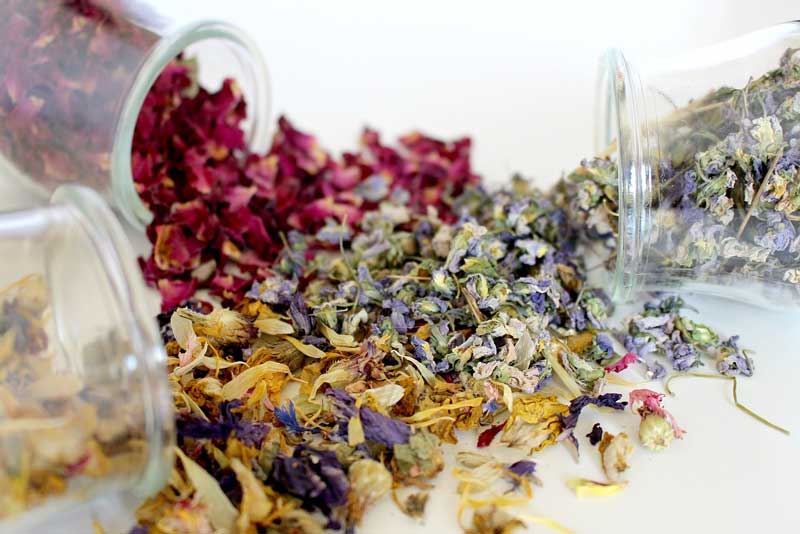 There is a wide selection of beautiful dried flower petals you can add to your homemade bath salts. Some of the more popular choices are:
Colorful Chrysanthemum (sometimes called mums or chrysanths)
Globe amaranth (Gomphrena globosa)
Blue Cornflower petals or Cornflower Fireworks Petals
Calendula petals (I used calendula petals in my Calendula Bath salts recipe)
Rose buds: pink rose buds, red rose buds, Phnom Penh Rose buds, Crimson Glory Rose buds.
Hibiscus (Hibiscus may not look as gorgeous as dried rose petals, but it is very potent in color. When in hot water it will slowly release it's natural color and paint water a beautiful pink color. Think hibiscus tea.)
Blue Mallow (Don't Forget Me Flower)
Butterfly Pea (releases beautiful blue color in hot bath water)
Pin for later: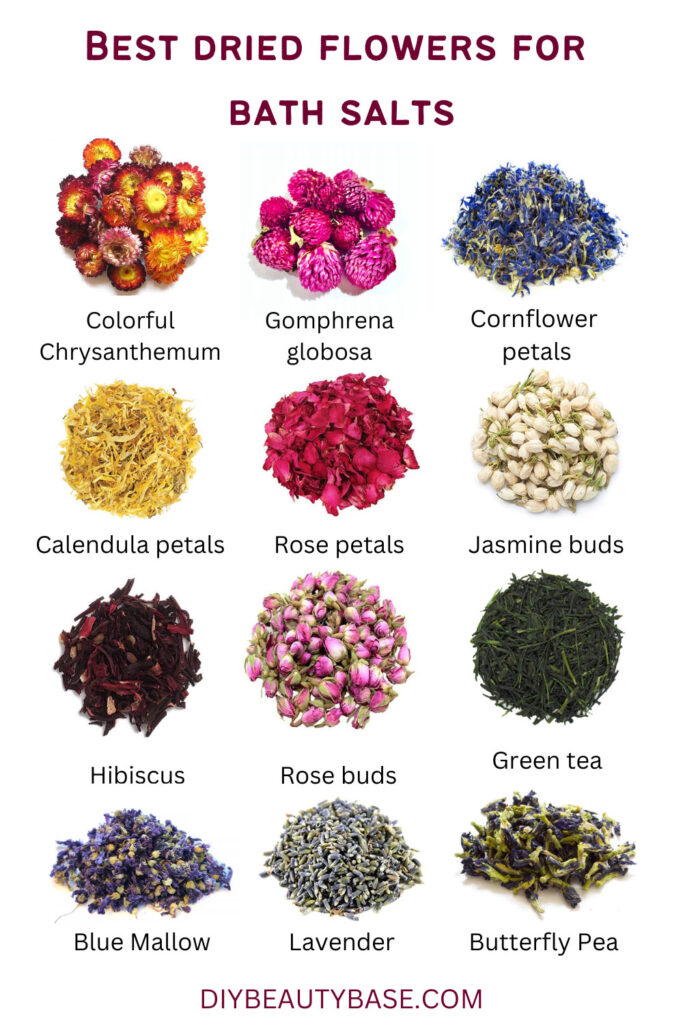 If you can't decide what flowers you want to use or want to try a couple, you may be interested in a dried flower sets like these:
A tip from my personal experience: lavender buds are not the best choice for bath salts. They look like small bugs floating in bath water. Choose colorful flower petals instead.
A really nice trick that makes floral salts look luxurious is adding full dried flowers instead of petals. It is less often used, probably because of costs and availability. But it adds this uniqueness to the look and whole flowers look amazing floating in a tub. In particular, I like whole dried Chrysanthemum like these and these.
Other popular options are: green tea leaves and dried orange slices.
Carrier oils
Carrier oils (vegetable oils) can be added to bath salts for 2 reasons:
1) to dilute essential oils and/or
2) to make bath salts more moisturizing.
The general guideline is to go for oils that are:
– light in color (example: green avocado oil may stain your salts).
– light in scent (example: olive oil scent is difficult to hide with essential oils).
– not heavy (example: heavy oils, such as olive oil will visibly float on top of your bath water. Light oils, such as safflower oil or fractionated coconut oil, will be a lot less visible).
You can use a solubiliser such as Polysorbate 80 to disperse the oil throughout the bath water and prevent it from pooling on top.
Clays & Dry Muds
Clays and Muds are rich in toning and detoxifying minerals. They can add color and cleansing power to your bath salts. You can layer them with your salts or use them to coat the salts in a dusty powder.
Milk powders
Milk powders are a very popular choice for bath soaks, but can also be a great addition to your bath salts.
According to legend, Cleopatra got her famous complexion by bathing in milk and honey. This could be because fats in the milk moisturize the skin. Or it could be because milk powders, especially buttermilk, contain a gentle exfoliator called lactic acid. This mild acid can gently loosen hardened sebum and dead skin, allowing it to be gently buffed away with the help of a washcloth or body brush. You will be left with soft, glowing skin.
There are a couple of great options when it comes to milk powders:
Buttermilk powder – contains more lactic acid than other milk powders and thus offers the best exfoliating properties. It has a mild sweetish-sour scent but it can be covered by most essential oils and fragrances.
Goat's milk powder – has more butterfat than other powders and because of that offers better moisturizing properties. It will also make your bath water feel creamier and more luxurious. Goat's milk powder has a strong aroma. It can be paired well with other strong aromas, but may not work if you are going for gentle scent.
Coconut milk powder – a very popular option because it is vegan. It has a yummy coconut scent and is creamy. It contains many essential fatty acids that help to hydrate and balances the skins' ph. The result is balanced, healthy, and glowing skin.
HOW TO COLOR BATH SALTS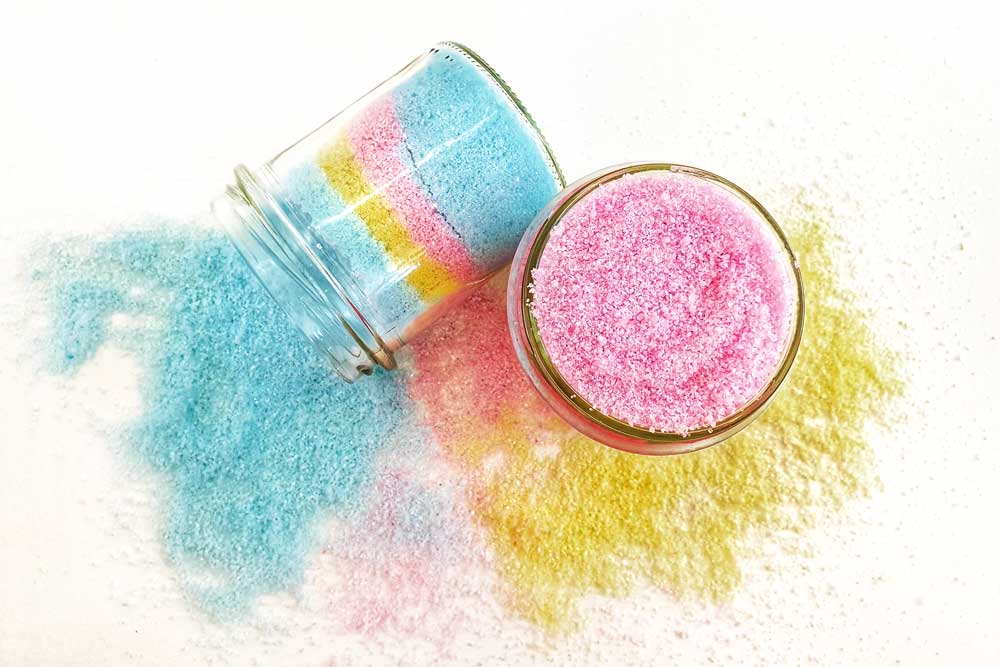 Mica powder
Mica is a naturally occurring mineral found all over the world. When mica is ground into a powder, you get mica powder. Once in a powder form, mica is coated with either other natural minerals such as iron oxide and tin oxide, or artificially dyed.
Cosmetic mica powders are very popular colourants and come in a wide variety of shades and effects. They are often used in cosmetics and skincare, making it a great choice for bath salts.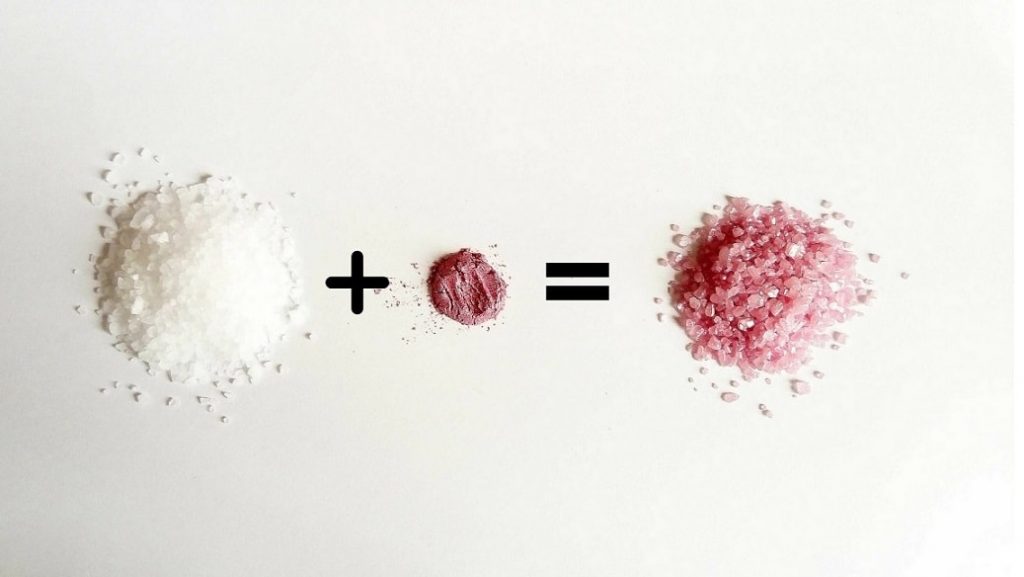 Will it color bath water? Yes, but not as well as liquid dyes.
Mica powder is not fully water-soluble. When in hot water, it will color the water but will not dissolve completely. It will give a beautiful shimmer though. You can see a comparison in the photo.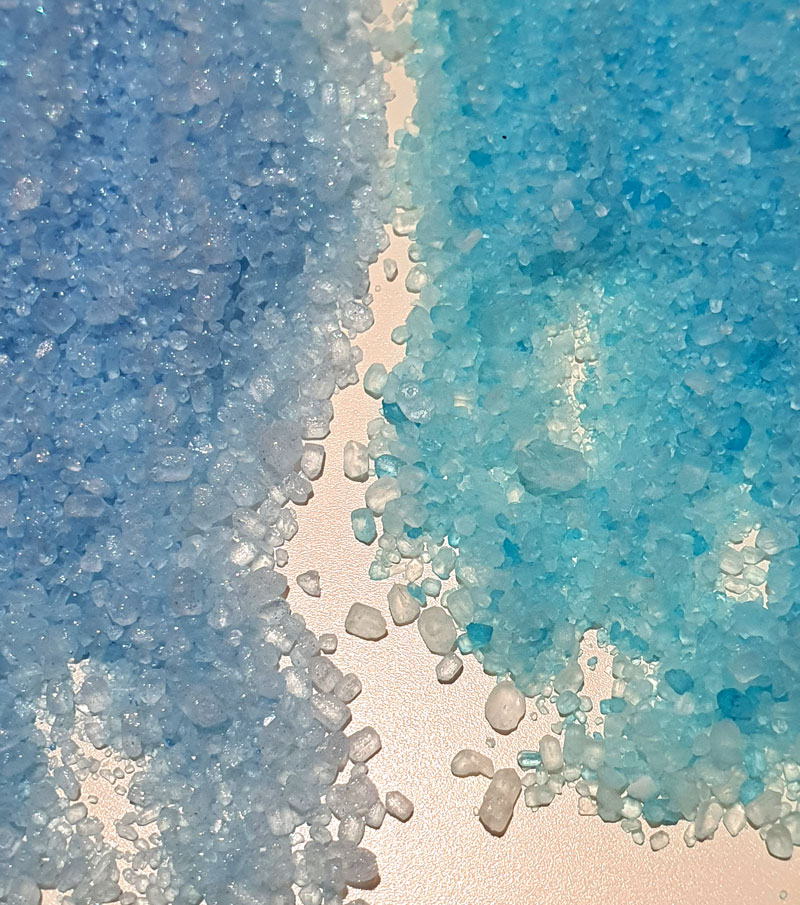 In my experiments, mica powder performed very similar with and without solubiliser (such as polysorbate 80). However, your bath salts recipe will most likely have some sort of oils (essential oils, fragrance oils or vegetable oils) and that changes how mica powder performs. Mica clumps together with oils and floats on top of water. To prevent that, you need to use a solubiliser such as polysorbate 80 to disperse oils in water.
| | | |
| --- | --- | --- |
| Colorant | Mica Powder | Liquid Dye |
| Choice of colors | A wide variety of colors. All have at least a bit of shimmer | Usually only most common colors available. But can be mixed to achieve different shades. |
| Colors bath water? | Yes, but not as well as liquid dyes | Yes, very well |
| Easy to work with? | Yes | Yes |
| Additional differences | Creates a beautiful shimmer in bath water | – |
HOW TO MAKE BATH SALTS – RECIPE & STEP BY STEP TUTORIAL
HOW TO MAKE BATH SALTS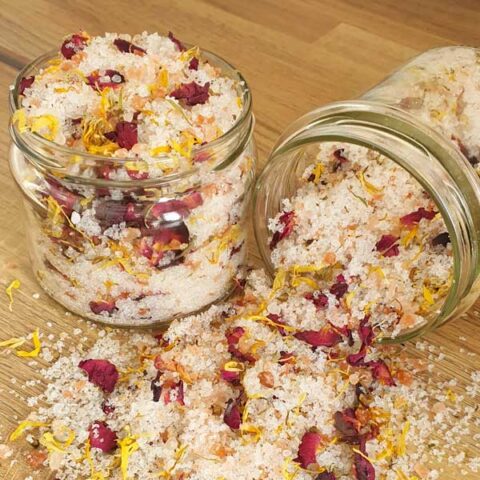 Easy to make floral bath salts with Epsom and Himalayan salt.
Instructions
In a large bowl combine Epsom salts and Himalayan salts.
In a separate small cup combine fractionated coconut oil, Polysorbate 80 and essential oils.
Add the oils to the salts and mix well. Mixing with hands works best for me (use gloves!)
Add your calendula and rose petals and mix some more.
You are done! Store it in an airtight container in a cool dry place.
My favorite bath salts recipes that you may like:
HOW TO STORE BATH SALTS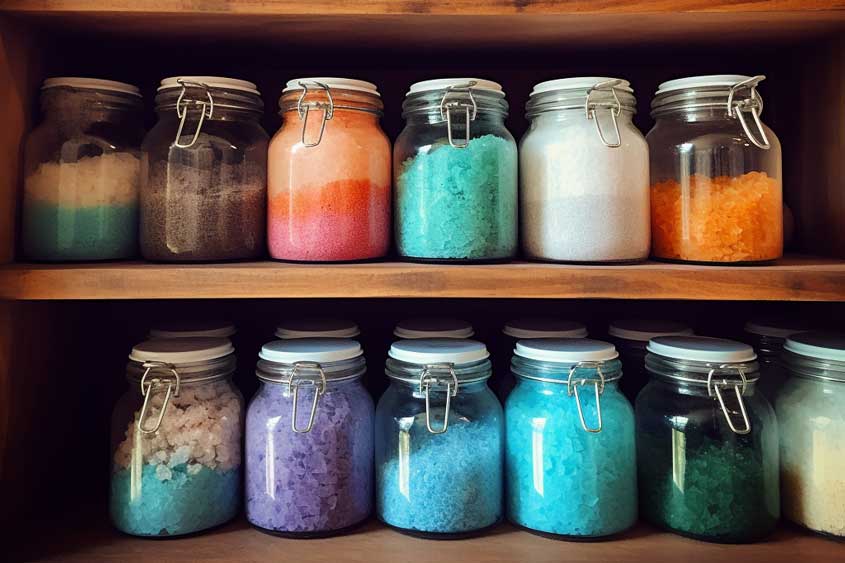 To prevent your homemade bath salts from getting wet and hardening, always store them in an air-tight container. Keep your salts in a dry place, away from the sun and heat. 
If stored in an air-tight container, homemade bath salts can last for 6 months to 24 months.
The salts themselves do not have an expiry date and can be stored for years. However, if your bath salts include other ingredients, such as carrier oils, fragrance, etc. they won't last as long.
To determine the expiry date of your DIY recipe, check expiry dates of all the ingredients you use. Your bath salts will last as long as the ingredient with shortest expiry date (usually the carrier oil). For example, if your carrier oil expires in 8 months and essential oil expires in 2 years, then your bath recipe will expire in 8 months.
Packaging your homemade bath salts
Once you have created a bath salt recipe you love, you'll need to package it. Humidity can ruin salts, so it is important that you choose an airtight container for long-term storage.
Zip Lock Stand Up Bags – an attractive and rather inexpensive way to package salts. And here are some of my favorite sellers that use such bags to package their bath salts. 
Glass Jars – Lets admit, everything looks better in glass jars. They come in different shapes and sizes and can be reused for many other beauty recipes.
PET Jars – clear plastic jars come in a wide range of shapes and sizes. I like to use PET jars for my DIY bath products because they won't damage by bath if I accidentally drop a jar.
PET jars can be reused but there are 2 things to keep in mind. First, plastic jars scratch easily and will not look as nice when reused. Second, plastic absorbs the scent. I find it difficult to remove some scents from the jars.
Decorative jars with airtight lids. These are the "dream bathroom" type of jars that on top of storing your bath salts also serve as a decorative peace. 
You can also find more information and tips in the post "How to store bath salts".
COMMON QUESTIONS ASKED ABOUT BATH SALTS
Why are my bath salts not dissolving?
All bath salts dissolve in warm water, eventually. To speed up the dissolving make sure you are adding your bath salts to warm to hot bath water. Pour the salt into running water and use your hand to stir the water to help dissolve all the grains.
Why are my bath salts wet?
Bath salts can attract moisture from the air and become wet. A bit of moisture is totally fine, but a lot of moisture may cause your salts to melt and clump up.
To keep your salts dry make sure you are storing them in an air-tight container, in a dry place. Avoid storing your bath salts in a sunny place as condensation may form inside the packaging and create moisture. Consider throwing in a silica package to the packaging to prevent moisture.
Additionally, you should know that Dea Sea salts attract moisture from the air more than other salts. In my experience, when someone complains of wet bath salts it is almost always bath salts with a high amount of Dead Sea salts. For beginners, I recommend either skipping Dead Sea salts altogether or using a salt mix with only 20% of Dead Sea salts.
Also, keep in mind that some recipes are supposed to look and feel "wet". This is particularly true for moisturizing baths alts that have a high amount of oils. If you look at these 4 Lavender Bath salts recipes, you'll see that the moisturizing one looks more wet than others.
Why are my bath salts melting?
Bath salts melt when they become wet. To prevent it from getting wet, make sure you are storing them in an air-tight container, in a dry place, away from the sun. Heat and moisture form the air can make your salts wet. For more details refer to question "Why are my bath salts wet?"
Why do my bath salts clump?
Bath salts clump up if they become wet. Moisture in the packaging can cause your salts to melt. When bath salts melt and then dry out, they usually stick to each other and clump up. You can still use clumped up bath salts, they are just not as pretty.
Pin for later: