Easy Rose Bath Salts ~ Cutest DIY Gift Ever
This post contains affiliate links. If you click and make a purchase, I may receive a commission. Thanks.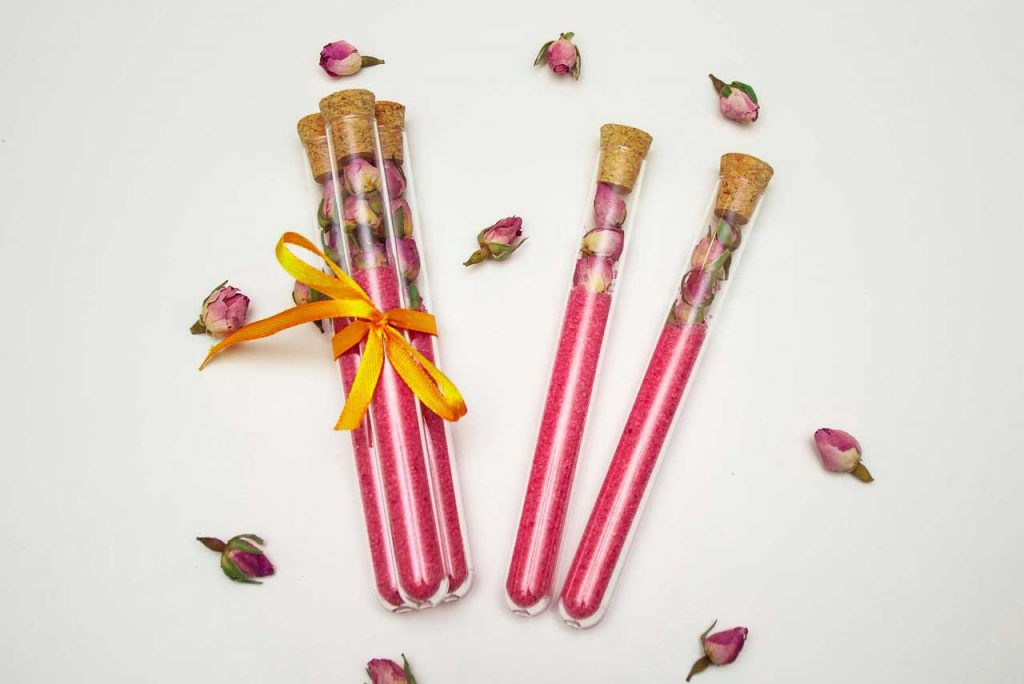 If you are looking for an easy but cute DIY bath salts recipe for yourself or to make as a gift then you came to the right place. These rose bath salts look and smell amazing, and only take about 10 minutes to make. On top of that, using bath salts is healthy. Epsom salts provide your body with magnesium, reduce stress, muscle pain and swelling.
I have prepared 2 versions of this DIY rose bath salts recipe for you. A basic one and a nourishing one. Both take less than 10 minutes to make but the basic bath salts recipe requires fewer ingredients.
Pin for later: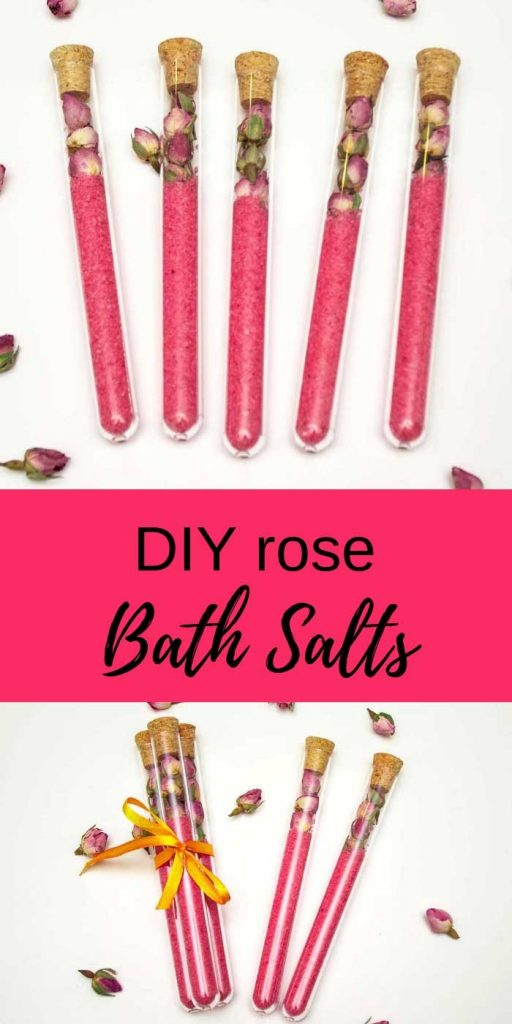 Ingredients for homemade bath salts
So let's see what you will need for this recipe:
♥ 1 cup of Epsom Salts
♥ 2-6 drops of pink soap or food dye (depending on the color you want to achieve)
♥ Dried rose buds. Dried flowers rarely have a strong smell. But rose buds smell amazing and the smell itself is quite strong.
♥ Test tubes (or a simple jar). I used these test tubes. If you want slightly wider ones so you could fit in more bath salt then get these.
Additionally, for the nourishing version of rose bath salts recipe you will need:
♥ 1 tsp of oil (for example sweet almond oil or fractionated coconut oil). Oils will moisturize the skin while in the bath.
♥ 10 drops of Rose Otto essential oil. It smells amazing and helps with stress and anxiety. Rose essential oil is also a natural antioxidant with anti-bacterial properties.
In order to safely use essential oils in the bath, they first must be diluted in a carrier oil (almond oil, coconut oil, etc.). If you are adding essential oils, do not skip the carrier oil.
[adinserter block="5"]
If you want to take this recipe to the next level you can also add ½ tsp of Polysorbate 80.
Polysorbate mixes water with oils, which means that color, carrier oils and essential oils will mix with water seamlessly. It also prevents skin and bathtub from staining. So if you want to add lots of dye, you may need to use Polysorbate.
You can read more about this ingredient in my article here. Examples provided are for bath bombs but it's the same for all bath products.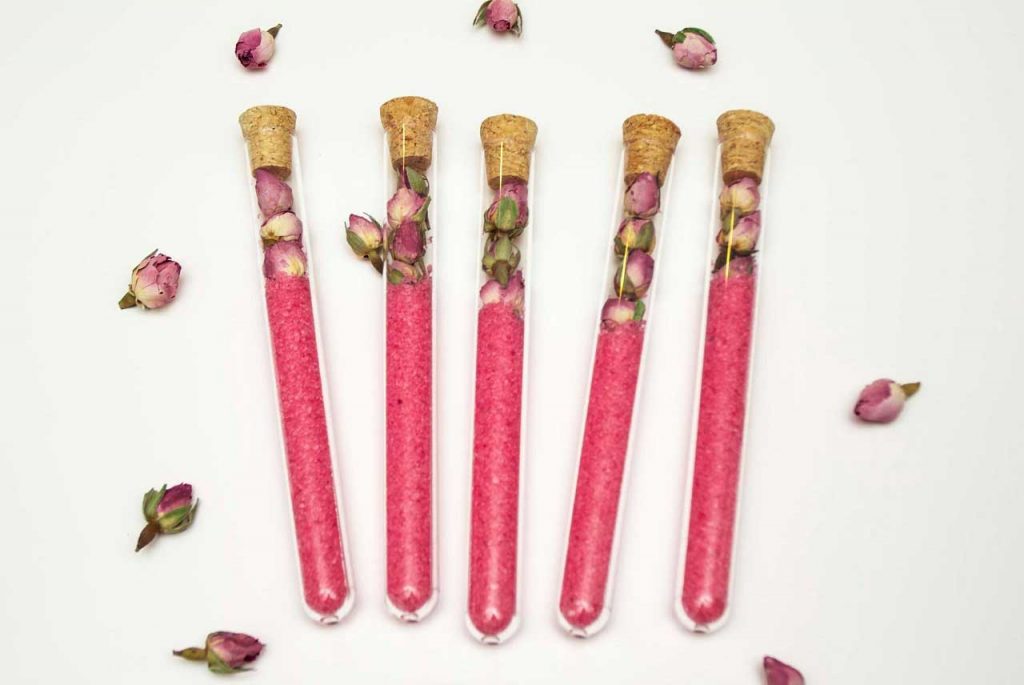 How to make rose bath salts
1. Combine Epsom salt and pink dye in a bowl. Start by adding 1-2 drops of color. Add more depending on the color you want to get.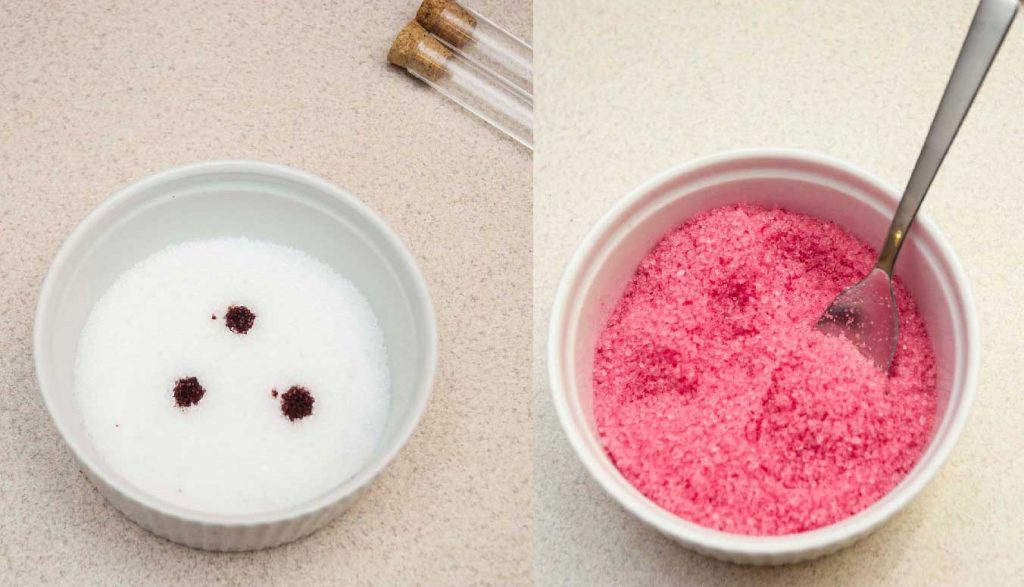 2. If you are using essential oils and carrier oils, then first combine them in a small cup, and then pour into the colored bath salts and mix. If using Polysorbate 80, add it together with the oils.
3. Pour colored bath salts into the tubes and add some dried rose buds. Close the tubes and you're done.