DIY Brown Sugar Scrub With Ingredients You Have At Home
This post contains affiliate links. If you click and make a purchase, I may receive a commission. Thanks.
If you ever wondered how to make sugar scrub, you will be delighted with this brown sugar scrub recipe and tutorial.
The recipe is incredibly easy to make and you most likely have all the ingredients in your home already. Once you see how inexpensive and easy to make this DIY sugar scrub is, you will never need to buy one again. Neither will you want to 😉
You might also be interested in my other sugar scrub recipes. Here are some that are easy to make:
Sugar scrub made with Castile soap
Coffee scrub for smooth & cellulite-free skin
Pin for later: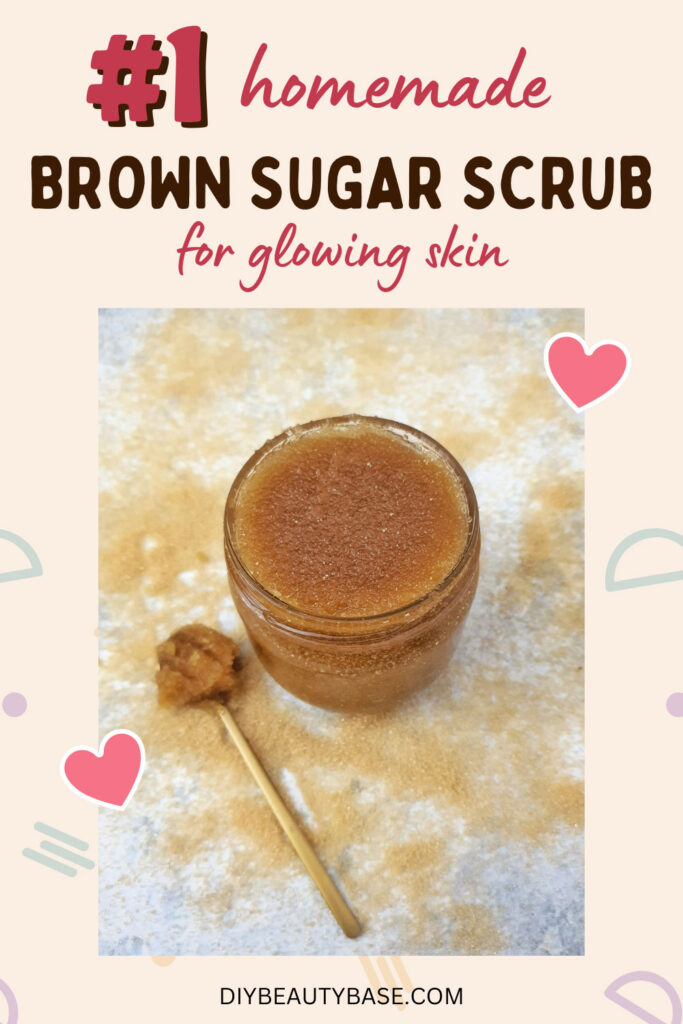 USES AND BENEFITS OF BROWN SUGAR SCRUB
You can use it on your back, legs, hands, feet, private area – entire body.
It exfoliates really well and gets rid of all the dead skin. The oils in the scrub lock the moisture in and continue to moisturize the skin for the whole day after the shower. When I'm done, my skin is silky smooth and glowing.
Because a thin layer of oils stays on your skin and moisturizes and protects it throughout the day, so you don't need (though you absolutely can) to use any moisturizer after the shower. This dramatically improved my skin's appearance and got rid of strawberry legs. My biggest sin was always forgetting to moisturize after the shower. With this scrub, exfoliation and moisturizing happens right there in the shower, so I don't need to remember to moisturize after.
CAN BROWN SUGAR SCRUB BE USED FOR FACE?
Sugar scrubs are too harsh to be used for the face. Sugar crystals are too big and too sharp to be used on the sensitive skin of your face. Using it for the face once or twice may be ok if your skin can tolerate it. However, if used regularly it would do more damage than good.
WHAT INGREDIENTS WILL YOU NEED TO MAKE BROWN SUGAR SCRUB?
In simple words, you will need some sugar, carrier oils and if you want the scrub to smell like a cookie dough – vanilla extract.
Let me tell you more about the ingredients and how you can substitute them if needed:
SUGAR – WHAT KIND TO CHOOSE?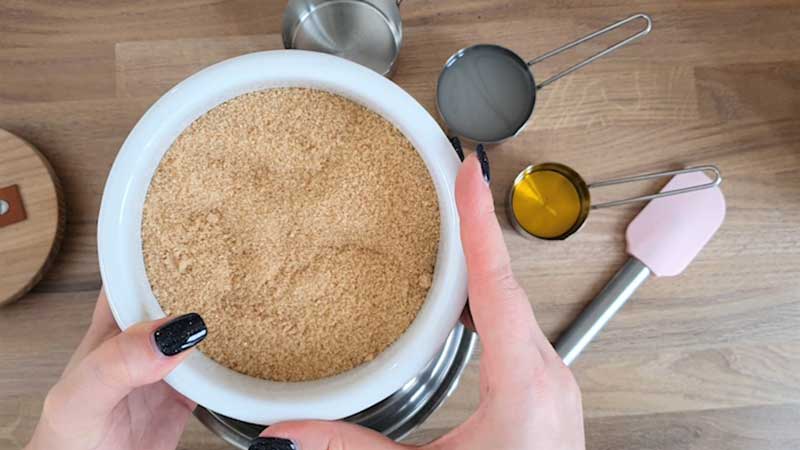 Sugar is the exfoliator in this recipe. You can use brown sugar, white sugar or even table salt.
I chose brown sugar for this body scrub recipe because it works well as exfoliator and it smells amazing on its own. My goal is to show you a sugar scrub recipe you can make with ingredients from your cupboard. So my goal is to use nice smelling ingredients that will need nothing extra to look and smell great in your shower.
When buying your brown sugar, go for the fine grain one.
White sugar is cheaper than brown sugar and is a great alternative. The only difference is color and lack of scent.
Table salt – might sting a little if you have very dry skin.
COCONUT OIL
Coconut oil is it a kitchen cupboard staple. It is very popular and inexpensive, smells great on its own and it feels less greasy than most other oils and butters. Choosing coconut oil for this DIY brown sugar scrub is a no brainer.
ANOTHER CARRIER OIL
This recipe requires you to use another oil on to of the coconut oil. This is because coconut oil is temperature sensitive and solidifies at cooler temperatures. When in sugar scrub it hardens over time making it difficult to use. Unfortunately, this happens even if you store it in the shower.
But don't worry! An easy solution is to add another liquid oil to the scrub. The oil will mix with coconut oil and will prevent it from solidifying.
Simple!
You can use any oil your heart desires (or whatever you have at home at the moment). Some recommendations: sweet almond oil, grapeseed oil, jojoba oil, fractionated coconut oil.
Fractionated coconut oil is my favorite for all DIY beauty recipes because it is one of the least greasy feeling oils.
Olive oil is my least favorite because it has a dark color and a strong smell. But if you like it, you can use it as well.
Today, for this brown sugar recipe I will use sweet almond oil. It is relatively inexpensive and has no strong odor.
VANILLA EXTRACT (OPTIONAL)
This is an optional ingredient. Your brown sugar scrub will smell great even without it because coconut oil and brown sugar both have natural scents that smell fantastic.
But if you add some simple vanilla extract (same as used for baking) your scrub will smell like a cookie dough.
Alternatively, you can add 15 drops of your favorite essential oils.
HOW TO STORE MY HOMEMADE SUGAR SCRUB?
You can store your homemade brown sugar scrub in any container with a lid.
I like to store mine in glass jars or mason jars because they're easy to clean and reuse. For scrubs, I recommend choosing wide mouth jars such as these because they make it easy to get all of scrub out when you're using it.
You can keep the scrub in your bathroom cupboard or in the shower. No need to keep it in the fridge. The high sugar content acts as a preservative, just like in a berry jam.
HOW LONG WILL THIS SUGAR SCRUB LAST?
Your homemade sugar scrub will last up to a year (as long as you used fresh oils). I always recommend using up homemade products within 6 months. You can always make more if you run out.
Yield: 2 cups
Brown Sugar Scrub With Coconut Oil Recipe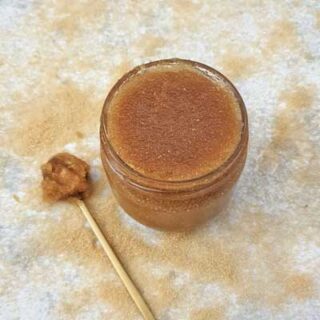 Easy to make brown sugar scrub from ingredients that you have in your cupboard.
Ingredients
Instructions
In a large bowl combine brown sugar and coconut oil.
Add sweet almond oil (or other oi of your choice).
Add vanilla extract if you want your homemade scrub to smell like a cookie dough (optional).
Mix well and scoop it into a jar.