DIY Moisturizing Bath Bomb Recipe That Will Make You Feel like a Goddess
This post contains affiliate links. If you click and make a purchase, I may receive a commission. Thanks.
I take my bath time seriously. I spend long hours at work and often come back tired. So when I'm having a bath, I want to feel like "I'm worth it".
To help you feel this way too, I created a shimmery bath bomb recipe. This luxurious DIY bath bomb is very moisturizing, and it creates just the right amount of action in the bathtub.
I called it the "Golden Goddess". My boyfriend says it's too cheesy... How would you call it?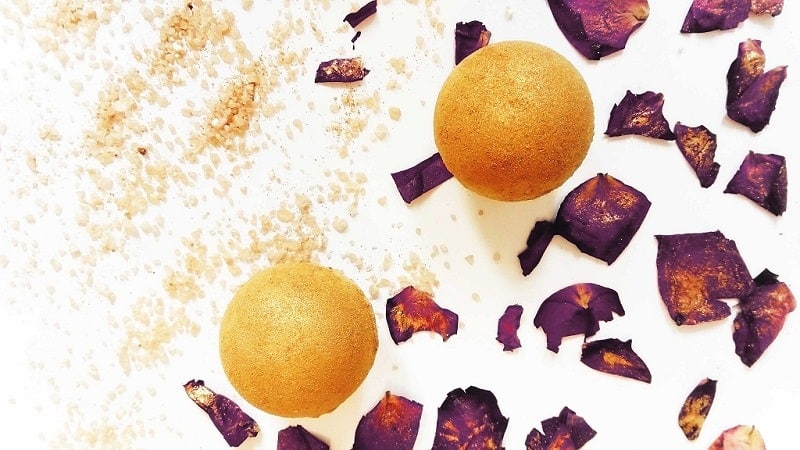 This DIY gold bath bomb is quite easy to make. But, if it's your first time making bath bombs, you may want to practice following a more basic bath bomb recipe first. For example, my Bubble Gum bath bomb recipe.
What to expect from this DIY gold bath bomb?
This moisturizing bath bomb recipe is all about luxury and making you feel like a queen. Treat it like a little confidence boost packed in a bubble.
It paints your bath water in gold and provides lots of shimmer. You will feel like bathing in Rihanna's Fenty Beauty Gold Lava. Who wouldn't like that?
A little sneak peek of what to expect from this bath bomb recipe:
The shimmer stays only while you bath, don't worry. Polysorbate 80, used in this recipe, will not allow colors and mica powder to stick to your skin or bathtub. Everything will wash off easily. I mean, what kind of goddess scrubs the bath after, right?
To further enhance the luxury feel this recipe calls for a Champagne Fragrance oil. It smells fantastic!
So let's see… this bath bomb will make you feel like you're bathing in champagne and gold… Anything else?
Oh, yes. This golden bath bomb recipe is especially moisturizing. It includes natural sweet almond oil and cocoa butter that moisturize your skin. Sweet almond oil sinks into your skin while you're soaking in the bathtub. It is my favorite because it is able to penetrate deeper into the skin than most other oils. If you're not familiar with sweet almond oil, then you can read about its skincare benefits in my post here.
Meanwhile, cocoa butter provides a moisturizing barrier that seals water in your skin. Your skin will be soft and beautiful.
Supplies needed for DIY moisturizing gold bath bombs
- 1 cup baking soda
- ½ cup citric acid
- ¼ cup cornstarch
- 1 tbsp of sweet almond oil
- 1 tbsp of melted cocoa butter
- 1 tbsp of Polysorbate 80. Polysorbate 80 is pretty much a must in bath bomb recipes with mica powder. It helps mica powder and oils mix with the water and prevents any staining. I personally love it and I even wrote an in-depth post about it - Polysorbate 80 in bath bombs.
- 4 ml Champagne Fragrance Oil
- 1-2 tsp of gold mica powder. Consider this offer if you are planning to do more projects with mica powders. It is way cheaper to buy bundles like that. Mica powders are used in soaps, bath bombs, body butter, DIY makeup, etc. If you only want the gold mica, then this is a good option.
- yellow water-soluble dye
- brown water-soluble dye (I will discuss how to achieve the golden shade with different colors later in the post)
If you're new to bath bomb making, then you might want to get this bath bomb starter kit which has bath bomb molds, dyes and other accessories.
- rubbing alcohol
- a little spray bottle for rubbing alcohol (optional)
- bath bomb molds
- a big mixing bowl
- gloves
-a sieve (optional)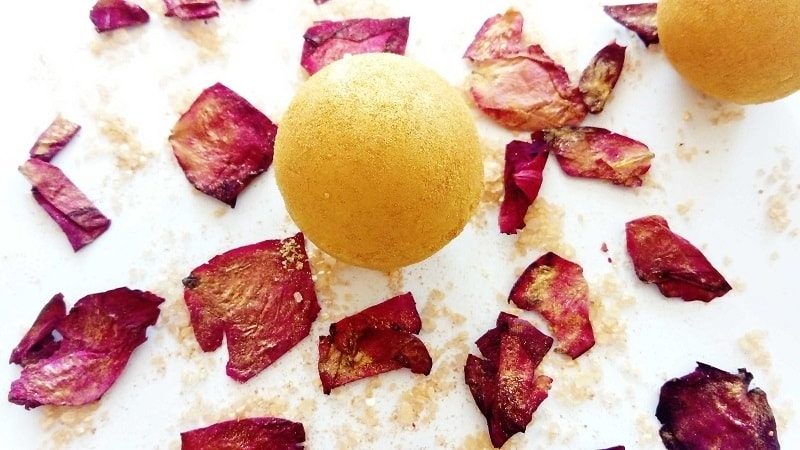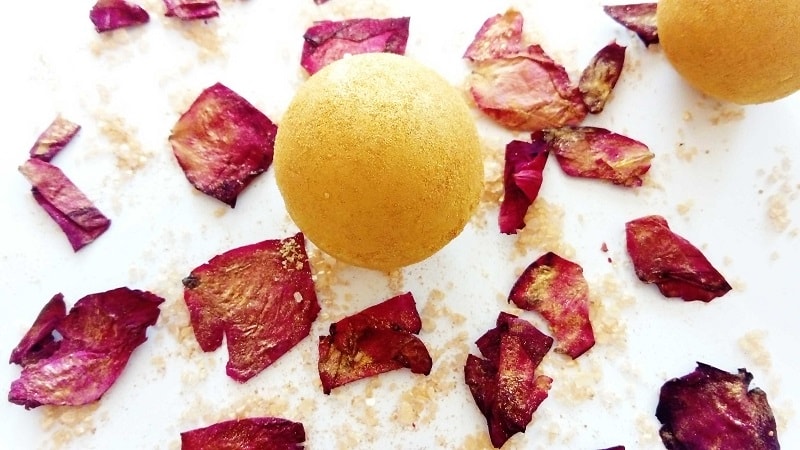 How to make this moisturizing gold bath bomb
1. The first step when making bath bombs with water-soluble dyes is to color the baking soda.
I used a color mixer tool to help me understand how to get the desired golden shade.
The best way to get a golden shade is to mix 12 drops of yellow with 3 drops of brown. An alternative option is to mix 12 drops of yellow, 1 drop of blue and 2 drops of red. I used brown and yellow for my bath bombs.
Go ahead and mix your colors with a teaspoon of water in a small bowl. Once mixed, pour it into a bowl with baking soda, and mix until color is even. Allow the baking soda to dry.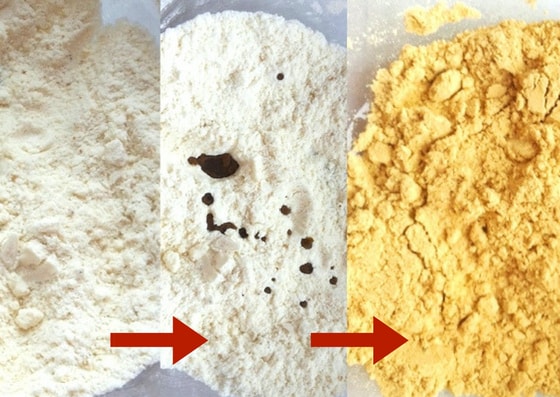 2. Use a sieve to sift your colored baking soda. This is not mandatory, but it helps to get smoother looking bath bombs. Add half a spoon of golden mica powder, cornstarch, and citric acid then mix well.
3. In a separate bowl, combine your wet ingredients: sweet almond oil, melted cocoa butter, polysorbate 80 and fragrance.
4. Add wet ingredients to the bowl with the dry bath bomb mix. Mix well until the mixture starts looking like wet sand. Squeeze some mixture in your hand. If it sticks and stays together then the mixture is ready. If it's too dry, add a little bit of rubbing alcohol.
5. Pack your bath bomb molds with the mix. Let it stay in the molds for a couple minutes and then remove. Let the bath bombs dry for 12-24 hours.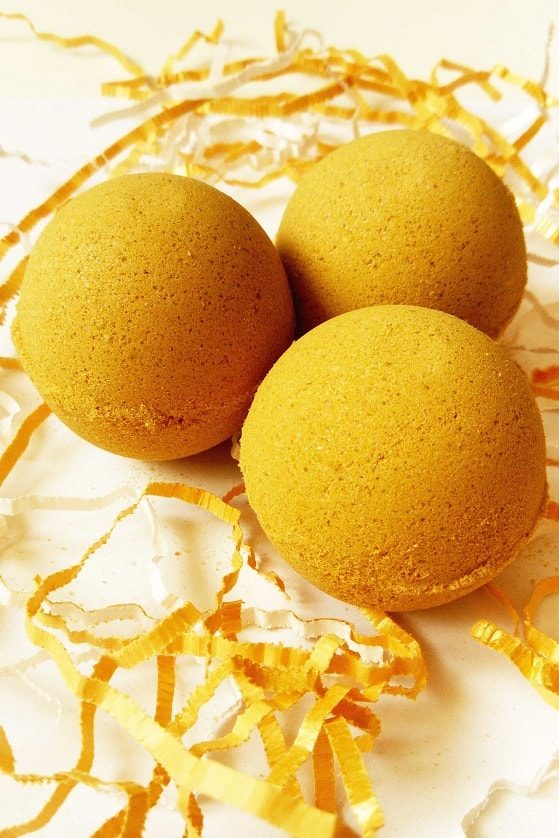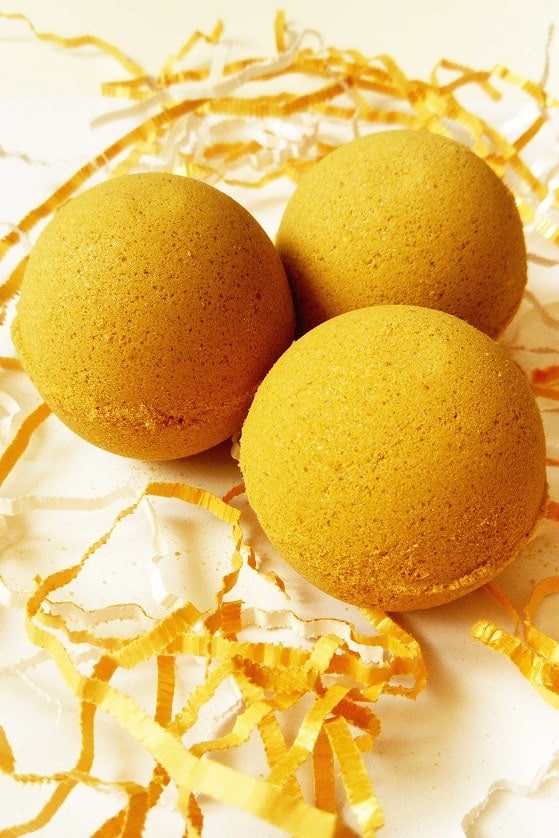 At this point, your moisturizing bath bombs will already look great. The color will resemble gold and you will see some shimmer from the golden mica. Mine shimmered way more in reality than in the pictures!
But let's go the extra mile and make them even more luxurious. Add some golden mica to a bowl and start coloring your bath bombs with it. You can use a small brush to add mica powder to your bath bombs or you can use your fingers to gently rub it in.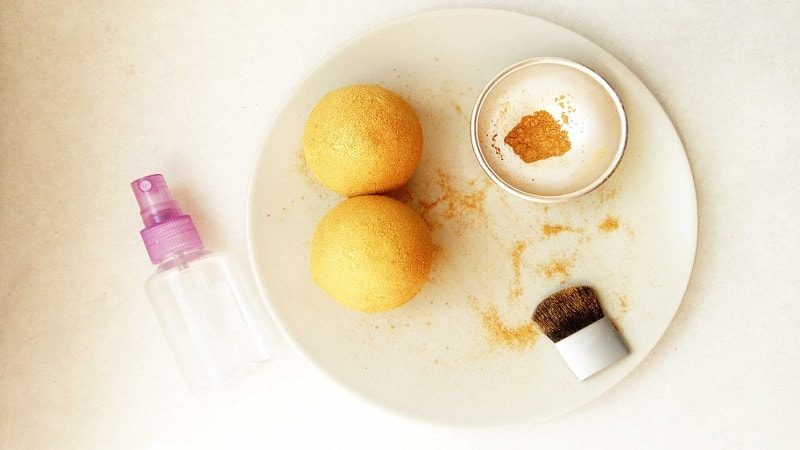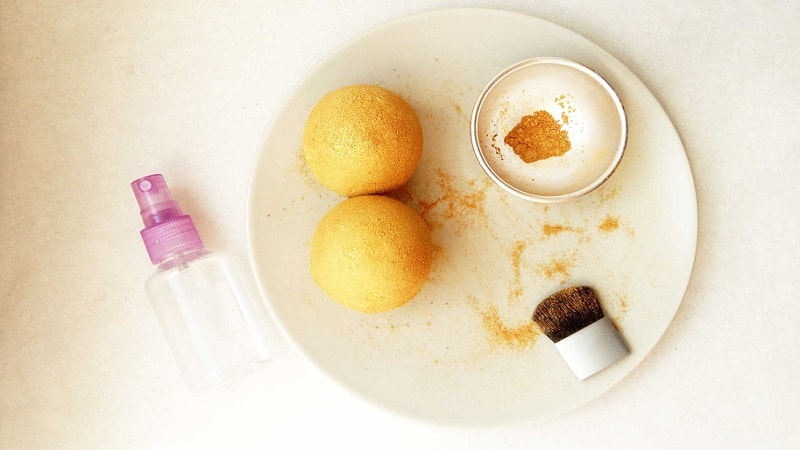 After this, your bath bombs will be ready. You can even use one straight away. If you like this recipe, please spread the love and share with your friends!