How to make DIY bath bombs
Everyone loves bath bombs. They're great. The fizzy bubbles, colors and heavenly scents are a real treat for the senses. It is like taking a bath in champagne… but way more fun. But buying these luxurious, well-made beauties can be quite expensive. The good news is that bath bombs are really easy to make. Really! We all love LUSH bath bombs and the fact that they use simple, natural ingredients in their products. This makes it really easy and inexpensive to duplicate their bath bombs at home. Plus, making bath bombs is so much fun. You can customize scent, color and shape to create your perfect bath bomb. Are you ready? Here's a simple step-by-step process to make your own natural bath bombs.
Bath bomb ingredients and supplies
Making bath bombs is simple. There are three main ingredients that each bomb must have: citric acid, baking soda and Epsom Salts. You know that enjoyable fizz that bath bombs create when you place them in the water? It is produced by baking soda and citric acid reacting to water. Epsom salt adds minerals and magnesium to ease muscle aches and pains.
Once we have the main trio, we need to add some skin nourishing oil (of your choice) and some essential oils to give your bomb that divine smell. That is where all the fun and customization begins. You can experiment with oils you add. Popular choices are coconut and almond oils. Which essential oils to use? It is up to you. Use lavender oil if you want to de-stress and relax before bedtime. Use jasmine oil for stimulating effects or rose oil for a hint of luxury. To take your bombs to a new level you can use various add-ins that will make your bomb stand out: natural food coloring, dried roses, green tea leaves or even biodegradable glitter.
You will also need some molds to shape your bath products. You can purchase these molds inexpensively online, like this traditional sphere shape mold – round metal bath bomb mold. Or you can use some sort of silicone baking molds or ice cube trays that you have at home. Choosing a bath bomb mold is another way you can make your bath product stand out.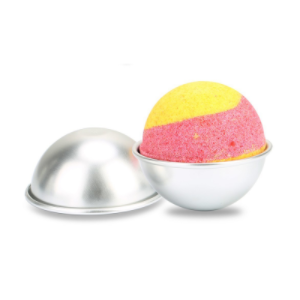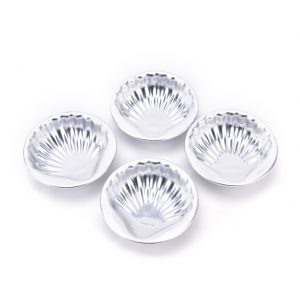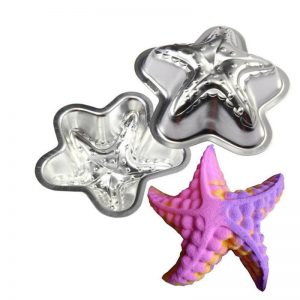 Sooo, are you excited? I know I am. Let's get started.
Things you will need:
(approx. 4 bombs)
Supplies:
– Two bowls
– Whisk
– Molds
Ingredients:
– 3/4 tablespoon which Hazel or water
– 2 tsp Essential oil
– Food coloring 1-2 drops (optional)
– 1/2 cup Cornstarch
– 1/2 cup Mineral salt
– 1/2 cup Citric acid
– 1 cup Baking soda
– 5 Tbsp Vegetable oil (light) (examples with links)
Play around with ingredients yourself. There are many bath bomb recipes out there. Try a couple and you will find what works best for you.
Mixing and building bath bombs
1.  Place all the dry ingredients in the first bowl and mix it.
2.  Place all wet ingredients in the second bowl and mix.
* If you are using coconut oil, melt it before so it could be easily combined with the other ingredients.
3.  Slowly pour wet ingredients into the bowl with dry ingredients. Very slowly. Whisk it together as you go and slow down if mixture starts fizzing. Finished mixture should barely stick together, like damp sand. If your mixture is too dry, try adding some more oils or water.
4.  Now when you have mixed all ingredients in one bowl you can pack the mixture into your molds. Make sure your molds are fully filled to ensure that your bombs will be dense.
5.  Now when your molds are full, you have two options:
A) Keep mixture in the mold for 20 min then carefully remove and let bombs dry for 24h.
B) Place filled-in molds in the freezer and freeze for 30-45min, then remove from the molds.
*If you struggle to release bath bomb from the mold, tap the outside mold shell in couple places with a spoon to loosen it.
* If you are using a mold with a lot of details, leave the mixture in the mold until dry. Otherwise, it might crumble when you try to take it out.
6.  Store your bath bombs in an airtight container, such as plastic Tupperware. Fresher bombs fizz and bubble more when dropped in a bath, so storing your products well will keep them at the highest level of quality.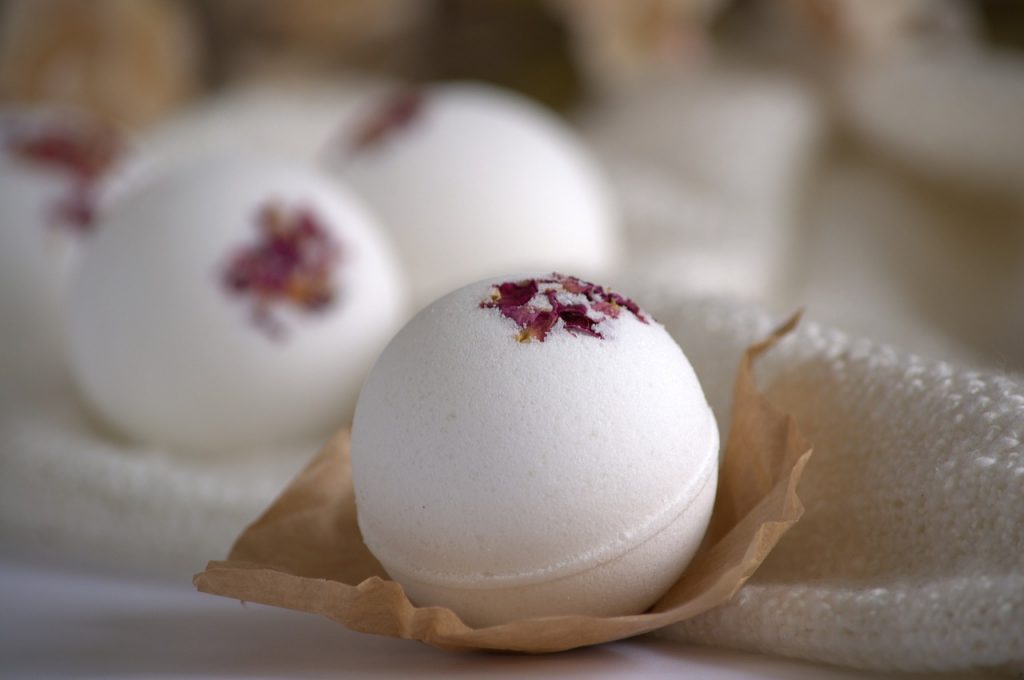 Ta-dam! Your bath bombs are ready. Beautiful aren't they? What makes it exciting about making these at home is that you can customize the oils and colors to create the best experience for you. Whether you want something relaxing, luxurious or fun and glittery, you can achieve that just by tweaking the recipe.